NFL: 5 Best Denver Broncos Players of All Time
Denver Broncos football brings to mind a rocking Mile High stadium, cold weather games, bright orange uniforms, 3-4 defense, and spectacular quarterback plays from a perennial contender and one of the more respected franchises out of the American Football Conference. Throughout the '70s and '80s, however, legions of NFL fans mocked the Broncos for "not being able to win the Big One." The Broncos, of course, had been on the wrong end of blowout Super Bowl losses to the NFC, in 1977, 1986, 1987, and 1989.
In Hollywood fashion, an aging John Elway finally led the Broncos to the Promised Land, in claiming back-to-back Lombardi trophies in 1997 and 1998. It follows, then, that many of the greatest players in franchise history would have been instrumental to the title runs that swung the perception of this franchise.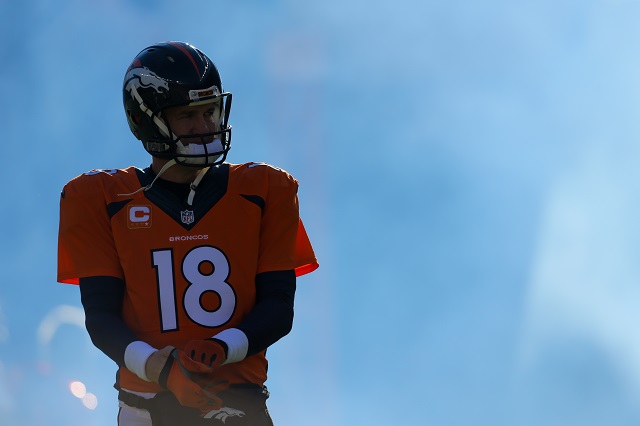 1. Peyton Manning
In Denver, Peyton Manning has been a glorified hired gun, signed to win a Super Bowl as soon as possible. That doesn't mean he's not an incredible player. As part of this "win now" mentality, John Elway successfully recruited Manning to Denver in 2012. From there, Denver followed that with the acquisition of Wes Welker, a safety valve for Manning out of the slot, and after suffering a blowout Super Bowl XLVIII loss to the Seahawks, the Broncos rebuilt their defense, in picking up Aqib Talib and DeMarcus Ware as high profile free agents.
As a Bronco, Peyton Manning has compiled a 38-10 regular season record. This record includes a 2013 run when the then-37-year-old lit up the League for 5,477 yards and 55 touchdowns. By retirement, Peyton Manning is likely to surpass Brett Favre's one-time ownership of every major passing record, and one more title run may complete the final chapter of this storybook career.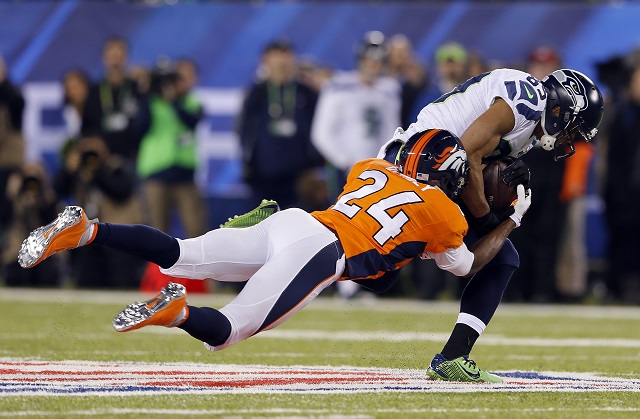 2. Champ Bailey
Likely a first-ballot Hall-of-Famer, Champ Bailey is already hailed as one of the greatest cornerbacks of all time. In 2004, the Washington Redskins and Denver Broncos completed a straight-up trade of Clinton Portis and Champ Bailey. At the time, the two were deemed equals, but the Broncos came out on top in retrospect, as the franchise kept cranking out 1,000-yard rushers Reuben Droughns, Tatum Bell, Travis Henry, and Mike Anderson, byproducts of Mike Shanahan's zone-blocking scheme.
In his prime, Bailey emerged as the league's most prominent shut down corner. In 2006, Bailey led the NFL with 10 interceptions. In run support, Bailey would shed blockers and make form tackles out on the edge. As an added bonus, he would often blitz off the slot to harass the quarterback in passing situations. Bailey racked up 522 tackles, 34 interceptions, and 3 return touchdowns, in 10 years of service with the Broncos.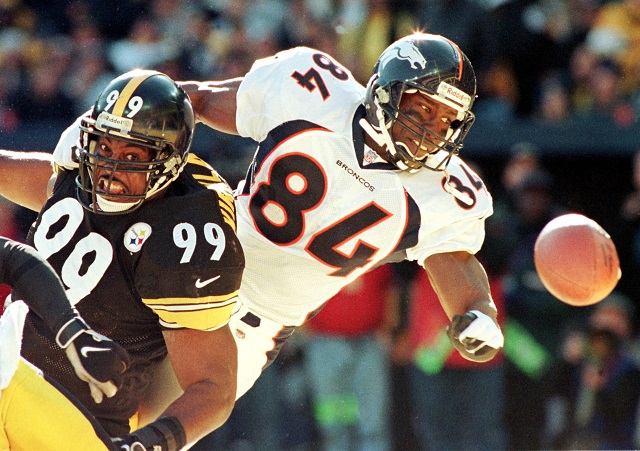 3. Shannon Sharpe
In true rags-to-riches form, the Denver Broncos selected Shannon Sharpe out of tiny Savannah State with the 192nd overall pick (7th round) in the 1990 NFL Draft. By 1992, Sharpe had worked his way into the starting lineup, before making a name for himself as a fierce competitor, brash trash talker, and one of the most prolific tight ends of all-time. At 6-foot-2 and 230 pounds, Sharpe was too fast for linebackers to cover in space, and too physical for defensive backs to handle on jump balls and post corner routes toward the back of the end zone.
As a Denver Bronco, Sharpe hauled in 675 receptions for 8,439 yards and 55 touchdowns. He was especially instrumental in winning back-to-back 1997-1998 titles for Denver. In 1997, Sharpe was a big play threat at tight end, as his 1,107 yards on 72 catches broke down to 15.4 yards-per-catch. The following season, he emerged as the go-to guy at the goal line with 10 touchdown receptions.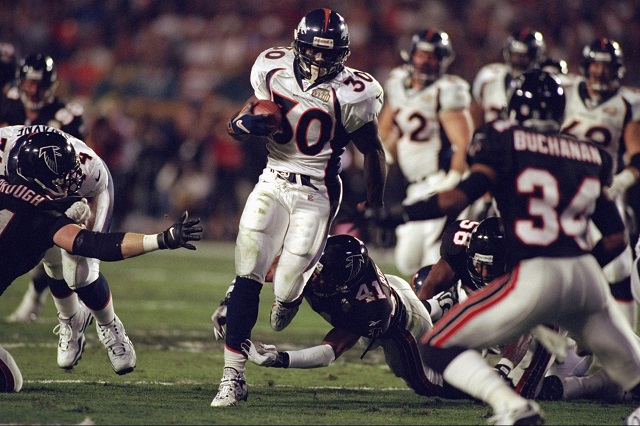 4. Terrell Davis
For one quick flash in time, Terrell Davis was the most dominant running back in the National Football League. As a sixth-round pick out of Georgia, Davis immediately took the league by storm, racking up 6,413 rushing yards and 61 total touchdowns through his first four seasons as a Bronco. As a complete back with vision and balance, TD was the perfect fit for Mike Shanahan's zone blocking scheme, where linemen would clear out a particular space rather than grappling with one man.
In Super Bowl XXXII, Terrell Davis ran for 157 yards and 3 touchdowns to take home MVP honors. Ironically, it was the running game that carried Hall of Fame quarterback John Elway and the Denver Broncos to their first Super Bowl win, which came against the Green Bay Packers. The following season, Davis cracked the 2000-yard plateau, while also hitting pay dirt 21 times on the ground. The Broncos, again, went on to repeat as champions, with TD picking up 102 rushing yards against the Falcons.
Three years later, however, Terrell Davis was already out of football, his career was cut all too short by an assortment of knee and leg injuries.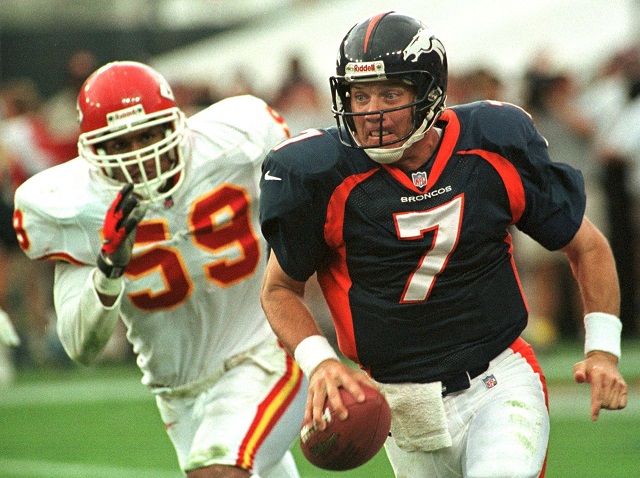 5. John Elway
John Elway was the Golden Boy. At Stanford, Elway was a star quarterback and baseball player, while also majoring in economics. In 1982, he was actually drafted into the New York Yankees farm system. In 1983, Elway effectively forced a trade to Denver after being drafted by the Colts, torching defenses with both his rocket arm and his scrambling, the ability to convert broken plays into first downs.
The Drive best captured Elway's young career. In 1987, John Elway marched the Broncos 98 yards downfield for the winning touchdown in the AFC Championship Game at Cleveland. After advancing to the Super Bowl, however, the Washington Redskins dismantled the Broncos 42-10. In four years, John Elway lost three Super Bowls by a combined 136-40 score, to the Giants, Redskins, and 49ers.
In the twilight of his career, Elway joined forces with head coach Mike Shanahan, and Shanahan worked to install a dominant running game in order to finally take the pressure off of Elway. In Super Bowl XXXII, John Elway (then 37) tucked the ball in and took off on third-and-six in the red zone. Shortly thereafter, Elway absorbed a vicious hit from Packers safety LeRoy, but still picked up the first down. Eventually Elway would bring home the first out of two Lombardi trophies to the city of Denver.