NFL: The 10 Greatest Green Bay Packers of All Time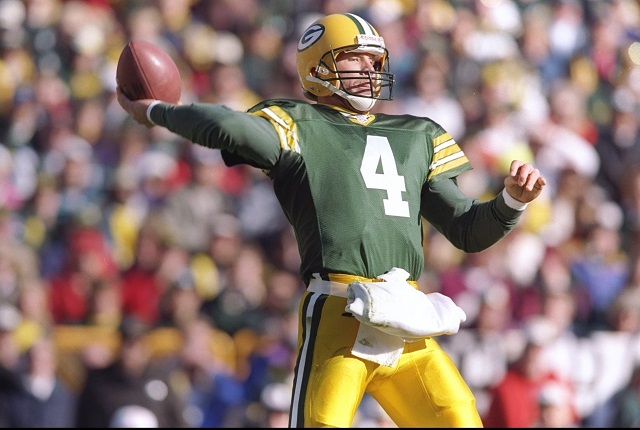 From the bright green and gold uniforms to the perpetually frozen tundra of Lambeau Field, the Green Bay Packers franchise is both unique to the NFL and a classic mainstay.
With the Packers' long history comes a tradition of putting winning teams on the gridiron. Green Bay's footprint on NFL history would be faint without Bart Starr dropping back to pass in Super Bowl I; Ray Nitschke laying down the hardest hits; and the image of Vince Lombardi marching along the sideline in his overcoat and hat.
The list of Packers' greats is quite long. Of course, the star power of some have outlasted the rest. Here is a look at the top 10 Green Bay Packers of all time.
10. Jerry Kramer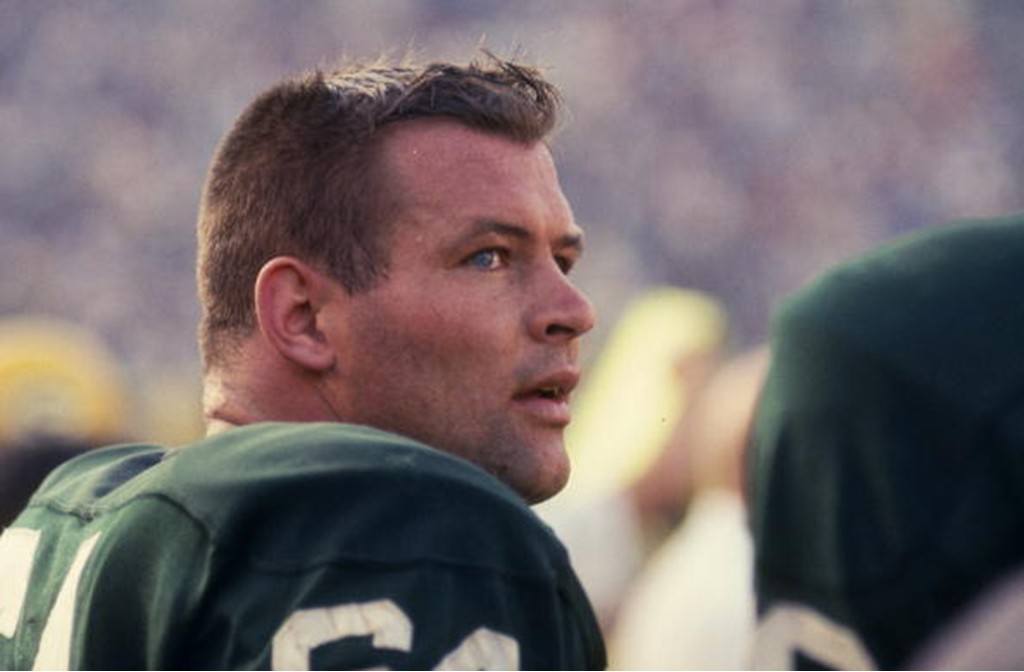 Many consider vintage Packers guard Jerry Kramer to be one of the greatest absences from the Pro Football Hall of Fame. The Sporting News called him "the most egregious omission in the Pro Football Hall of Fame, and arguably in any sports hall of fame."
Kramer is probably best known for his participation in the 1967 Championship Game, better known as the Ice Bowl. With the temperature a ghastly -15 degrees at Lambeau, Kramer blocked Starr's quarterback sneak that helped win the game.
9. Paul Hornung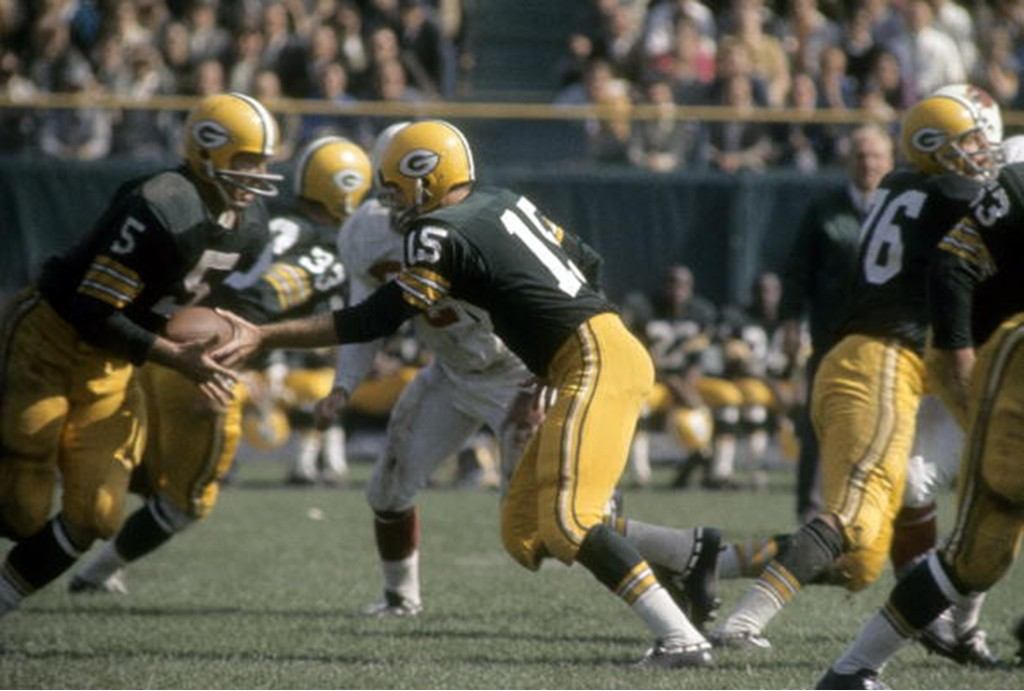 Nowadays, Paul Hornung's on-field spectacle isn't remembered without all the trouble he got into off the field. But before the league suspended him in 1963, the running back put up big numbers for the Packers. Hornung's greatest accomplishment came in 1960 when he scored 176 points on the season. The record stood just short of 50 years, when San Diego Chargers running back LaDanian Tomlinson broke it in 2006.
8. Jim Taylor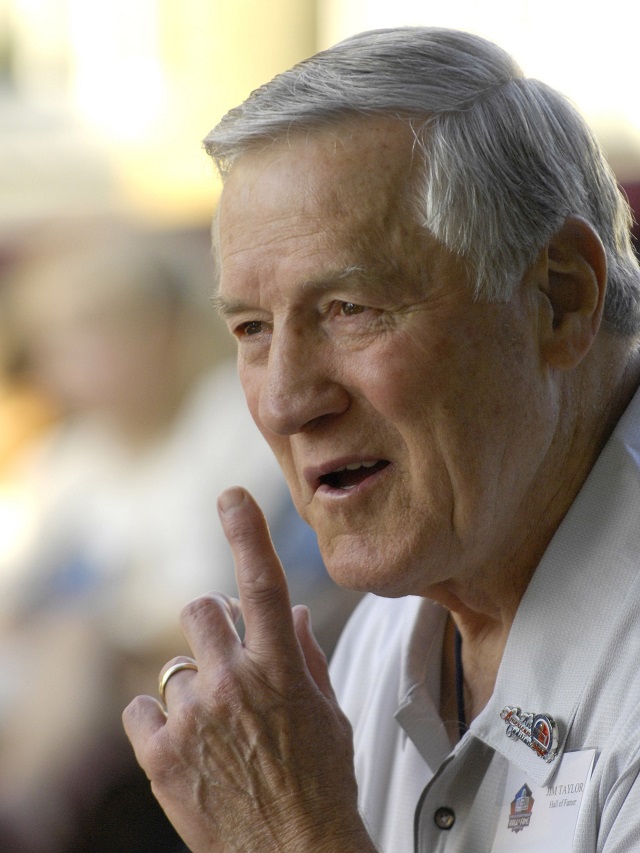 Jim Taylor was the Thunder to Hornung's Lightning out of the Packer backfield. On the chalkboard, coach Lombardi would drill his troops on his bread-and-butter running play, with a "seal here and a seal there." On game day, Taylor would rumble through the "alley" of a perfectly executed power sweep en route to picking up big chunks of yardage; a straight-line runner that never shied away from contact.
For years, Taylor was second only to Jim Brown as the best running back in the NFL. In 1962, he led the league with 1,474 rushing yards and 19 touchdowns, upon 272 carries. Besides Brown, Taylor was the only back to claim the rushing title between 1957 and 1965. For the Packers, Taylor racked up 8,207 rushing yards and 91 total touchdowns in nine years of service, helping to bring four titles back to Green Bay, including a 35-10 blowout victory over the Kansas City Chiefs in Super Bowl I.
7. Don Hutson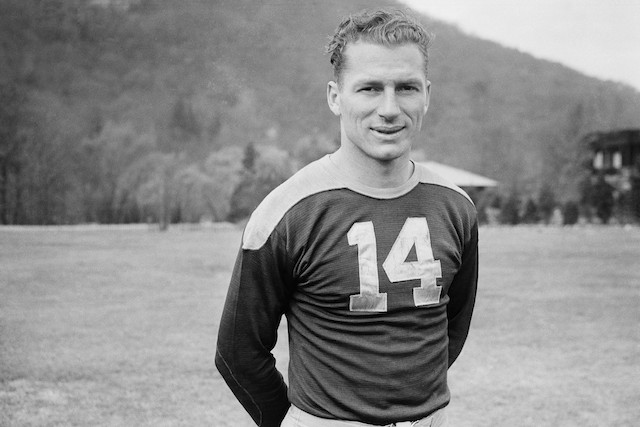 Don Hutson may be largely credited for introducing the idea of the forward pass to the game of football. At end, or wide receiver, he first worked timing patterns that evolved into the slants, square-ins, deep outs, and post corners of today's route tree. Prior to Hutson, NFL offense was mostly relegated to "three yards and a cloud of dust" out of the Wing-Tee formation.
As a specialist, Hutson dominated his position like no other athlete in all of sports. In 1942, he hauled in 74 receptions, for 1,211 yards, and 17 touchdowns during the 11-game season. That year, Pop Ivy of the Chicago Cardinals was the second-most prolific receiver in the NFL, with a mere 27 catches to his credit. Over the course of his 11-year career, Hutson led the league in receptions, yards, and touchdowns (concurrently) through five separate seasons. He also claimed three NFL Championships and was enshrined as a charter member of the Hall of Fame.
6. Forrest Gregg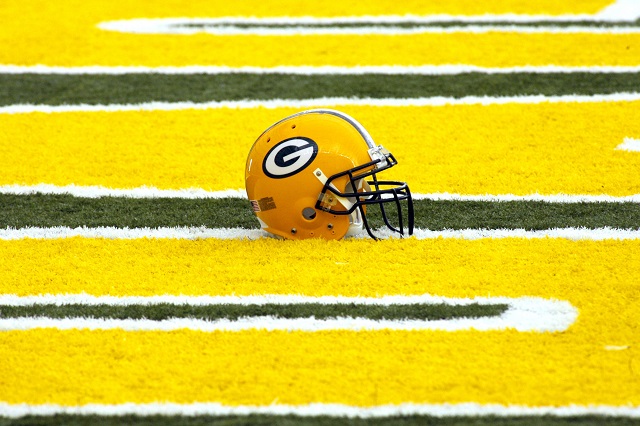 Lauded by Vince Lombardi as the finest player he ever coached, offensive tackle Forrest Gregg was part of five championship clubs in Green Bay before moving on to claim one more Super Bowl trophy with the Dallas Cowboys.
Prior to Brett Favre, Gregg was the ultimate Iron Man, as he appeared in 188 straight games from 1956–71. During this stretch, Gregg made nine trips to the Pro Bowl and was named First-Team All-Pro on seven separate occasions. At right tackle, Gregg helped to popularize Lombadi's zone blocking scheme, where a lineman would block out a space rather than honing in upon one particular man. From there, Packer ball carriers would "run to daylight."
5. Herb Adderley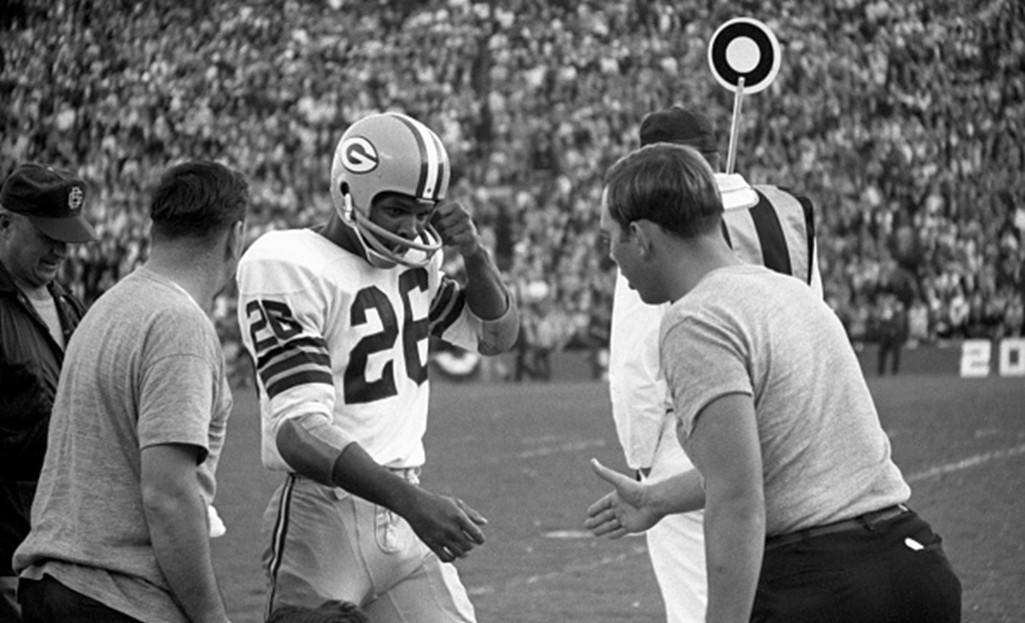 Herb Adderley was a fixture for the Lombardi Era Packers, a threat on the secondary and on kick returns. He and Bob Jeter ranked No. 4 on NFL.com's "Top Ten Cornerback Tandems." Adderley is best known for the role he played in Super Bowl II. Green Bay already had control of the game by the fourth quarter, but Adderley made his mark with an interception return for 60 yards. The OaPackers won that game 33-14.
4. Reggie White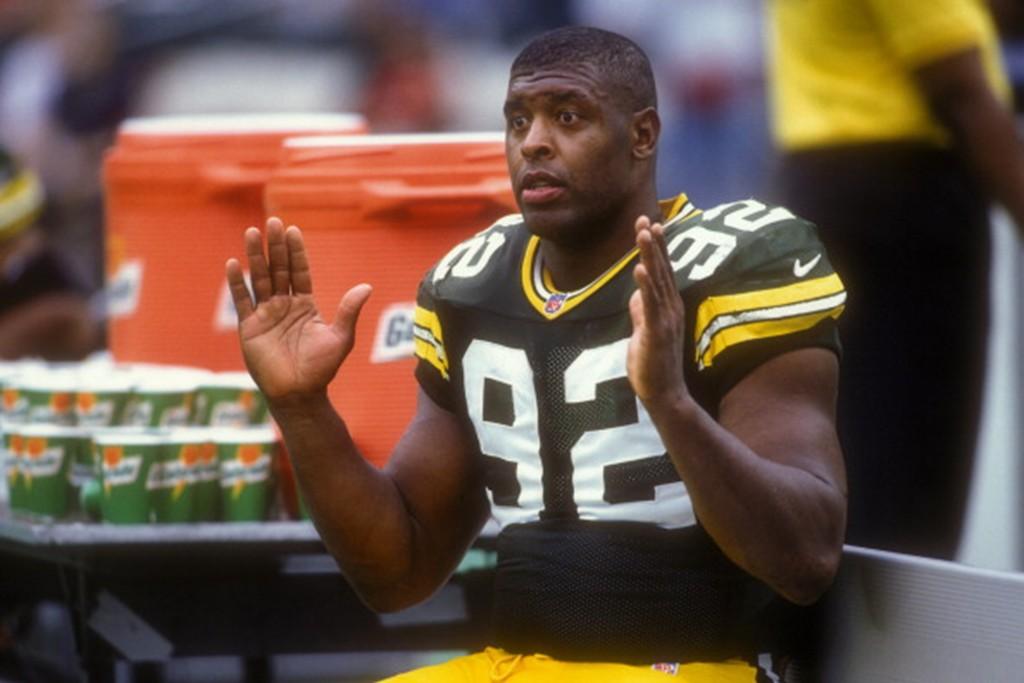 They didn't call him the Minister of Defense for nothing. Sure the 10-time first team All Pro and two-time Defensive Player of the year spent some time with the Philadelphia Eagles. But Reggie White was known most notably for winning a championship with the Green and Gold. White signing with the Packers as a free agent in 1993 is viewed as a key to the Packers resurgence. Green Bay's defense to was the best in the NFL when the team won the Super Bowl in 1996.
3. Ray Nitschke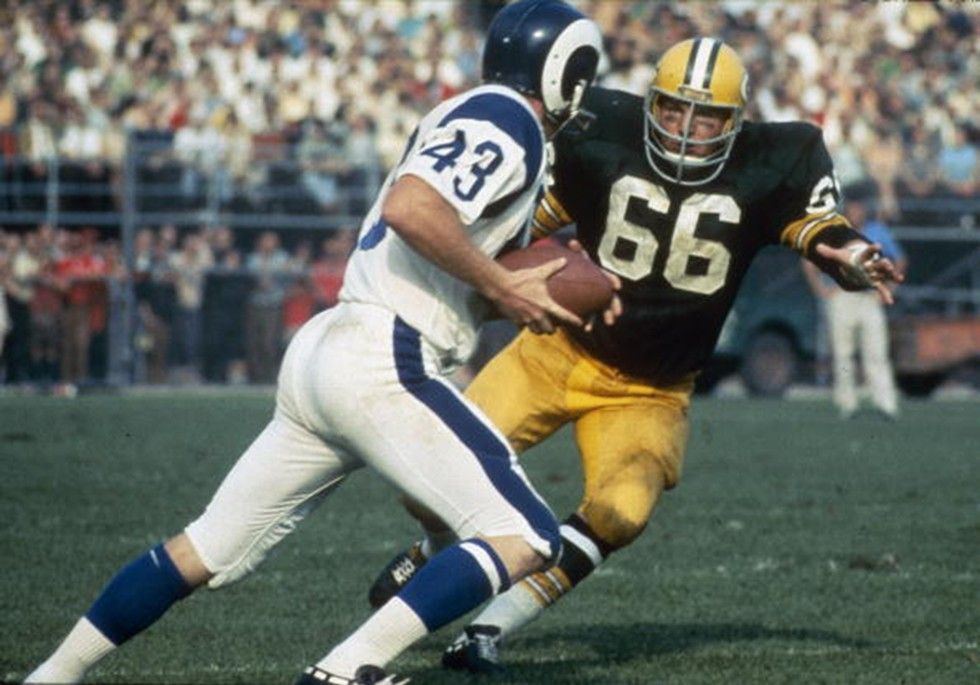 Nitschke was more than just Starr's defensive counterpart for the Lombardi-led Packers. He was part of the reason that Green Bay team won five NFL championships and the first two Super Bowls. We cannot forget that Nitschke was the poster boy for the mean defenseman. He was, without a doubt, one of the most vicious linebackers of his era — with a highlight reel of hits to go along with it.
2. Brett Favre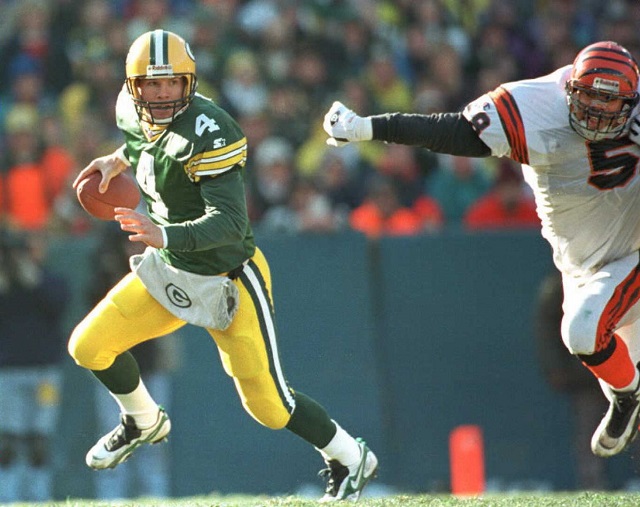 Favre, despite his stints for Atlanta, New York [Jets], and arch–rival Minnesota, will always be a Green Bay Packer. Vintage Favre would spin out of pressure behind the line of scrimmage, stumble to collect himself, and somehow manage to set his feet, before firing a laser to the back corner of the end zone for six.
Brett Favre is largely credited with revitalizing Green Bay football. Favre led the Packers to back-to-back Super Bowl appearances in 1996 and 1997, winning Super Bowl XXXI against the New England Patriots. In 1996, he torched defenses through the air for 3,899 yards and 39 touchdowns, completing 60% of his passes.
At 41, the Iron Man retired after making 297 consecutive starts, having owned every significant passing record. In all, Favre completed 6,300 passes for 71,838 yards and 508 touchdowns through 20 years of NFL service.
1. Bart Starr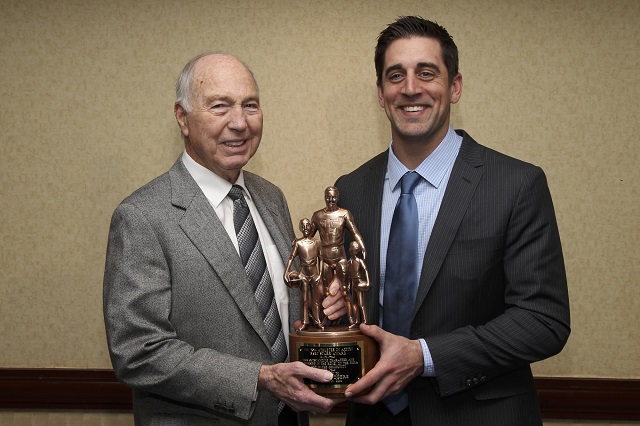 As a player, Starr was the greatest winner to ever put on a Packer uniform. At quarterback, he led the Packer Dynasty to five NFL titles between 1961 and 1967. Starr won Super Bowls I and II during this run, as part of an NFL title three-peat. In all, he went 9-1 through the playoffs, while also carrying a record 104.8 postseason passer rating. As a throwback and clutch performer, Starr may come in second only to Otto Graham, who won seven league titles for the Browns.
Starr led the league in completion percentage upon three separate occasions during the Packer Dynasty run. Coach Lombardi, of course, praised him for his precision passing and decision making. As such, Starr was tasked with calling his own plays. In 1967, he ran a quarterback sneak to dive into the end zone and claim the NFL Championship 21-17 over the Dallas Cowboys in -15 degrees Fahrenheit temperatures.
Statistics courtesy of ESPN and Pro-Football-Reference.
Kofi Bofa also contributed to this piece.