NFL: The 5 Best Miami Dolphins of All Time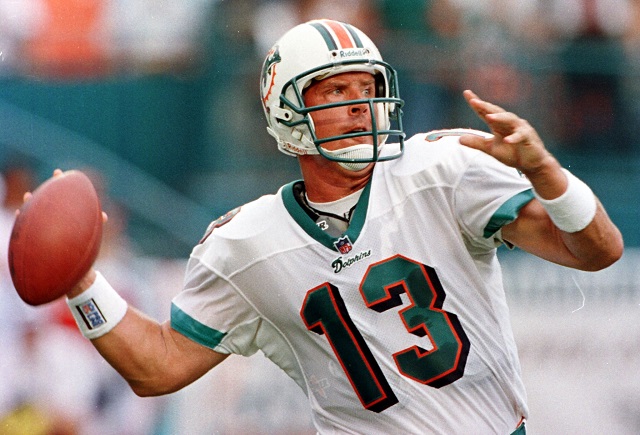 Any discussion of great Miami Dolphins will begin with the 1972 club that finished out the regular season at 14-0, before going on to claim the Super Bowl VII title. The perfect season was part of a stretch where the Dolphins made three consecutive trips to the Super Bowl, winning two back-to-back championships in 1973 and 1974 on the back of their defense, and a ball control offense that drove the franchise to the pinnacle of the sport.
In 1983 the Dolphins took quarterback Dan Marino with the 27th overall pick in the draft. From there, Miami reinvented their team with a high octane passing attack, to balance out a "bend, but don't break" defensive mentality. The five greatest Dolphins in the franchise's history come from both of those eras — golden years that Miami has struggled to match ever since.
1. Dan Marino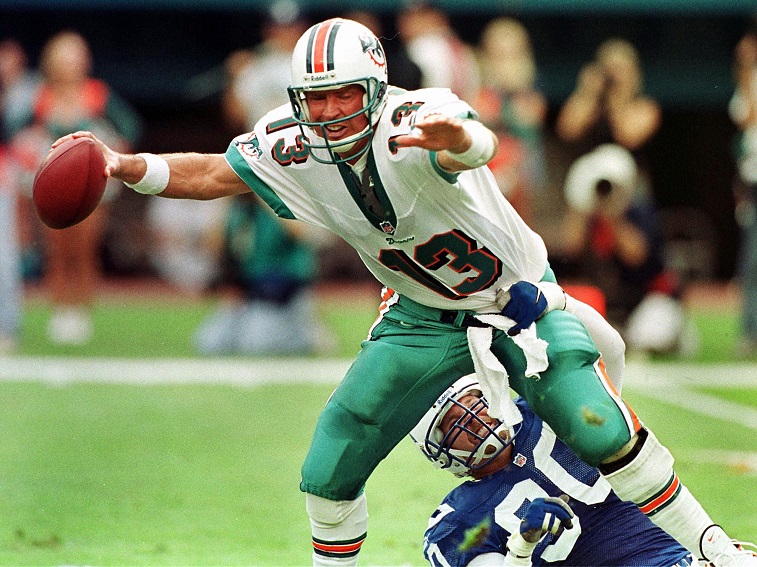 Marino was the greatest pure passer in the game of football. In his prime, Marino could make all of the throws, and was very much celebrated for his quick release. A confident Dan Marino would often fire completions into double coverage, proving that no strategy could defend the perfect pass.
In 1984, as a second-year player, Dan Marino torched defenses for a then-record 5,084 yards and 48 touchdowns. From there, Marino went on to lead the NFL in passing in four separate seasons. In all, Marino completed 59% of his passes for 61,361 yards and 420 touchdowns, over the course of 17 years in Miami, a legacy that left him with all the major passing records when he retired.
'84 will always represent a bittersweet year for Miami fans. At 23, Dan Marino led the Dolphins to a 14-2 record before rolling through the AFC Playoffs. In Super Bowl XIX, Marino went up against Joe Montana, and suffered a blowout loss to a budding 49ers dynasty. He would never make it back.
2. Larry Csonka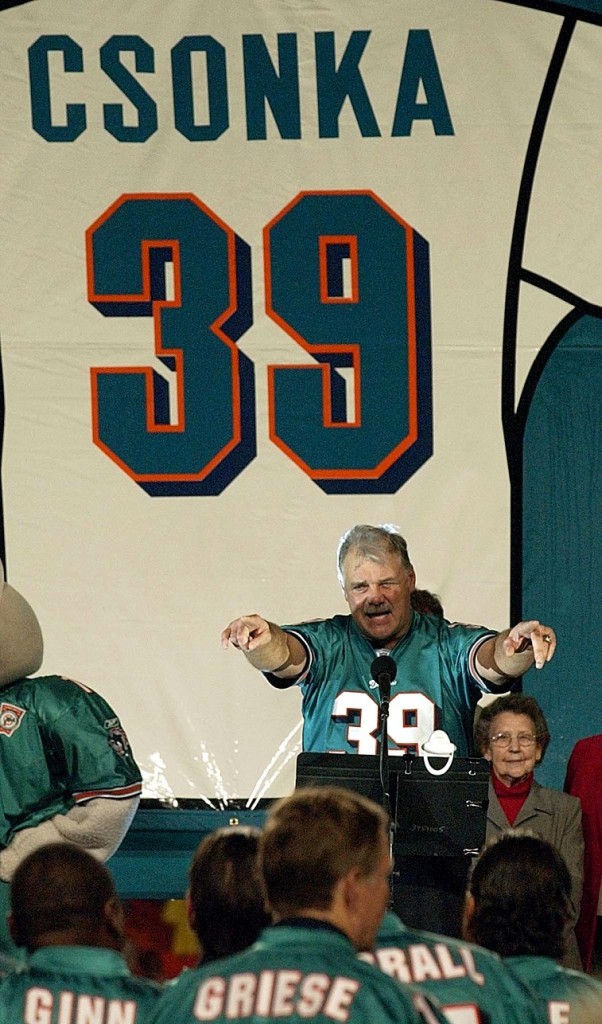 Csonka paced the Miami Dolphins through their halcyon days of the early 1970s, and at 6-foot-3 235 pounds, he was nearly impossible to bring down at the point of attack without an all-hands-on-deck approach to gang tackling. For Miami, Larry Csonka put together three consecutive 1,000-plus rushing yard seasons in 1971, 1972, and 1973, which coincided directly with the team's three straight trips to the Super Bowl. In 1971, Csonka actually led the NFL in yards per carry, at 5.4, which was all but unheard of for a big back, and part of the reason he'll go down as one of the greatest power runners of all time.
Larry Csonka was at his best beneath the bright lights of Super Bowl VIII, against the Minnesota Vikings. In taking Super Bowl MVP honors, Csonka ran for 145 yards and two touchdowns on 33 carries.
3. Jason Taylor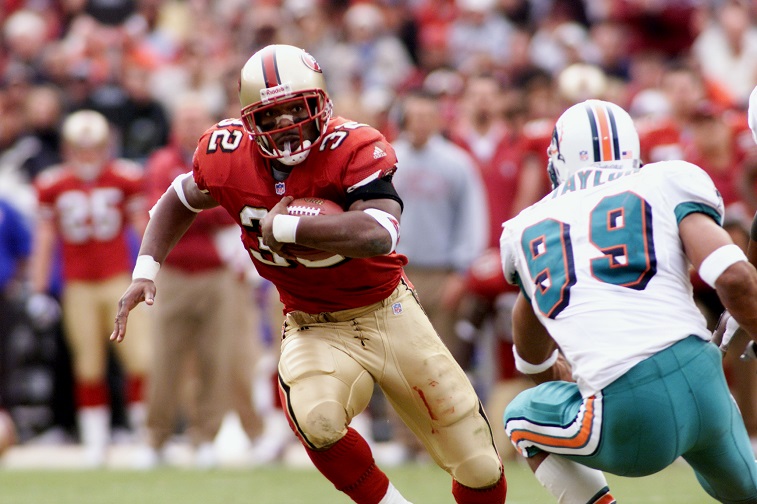 At 6-foot-6 and 255 pounds, Jason Taylor was significantly undersized for a defensive end. That didn't matter, as he more than made up for his lack of size through the use of quickness, textbook technique, and the will to compete. Especially good at anticipating the snap count, Taylor would beat his man off the ball and use a speed rush off the edge, often delivering a forearm shiver to knock the tackle off balance, and before spinning back into the action.
In 2002, Jason Taylor led the NFL with 18.5 sacks. Four seasons later, in 2006, Taylor had followed this effort up with 40 tackles, 13.5 sacks, 2 interception-return touchdowns, and 9 forced fumbles. In response, the league rewarded Jason Taylor with the 2006 NFL Defensive Player of the Year award. In 13 years as a Dolphin, Taylor wreaked absolute havoc, for 479 tackles, 131 sacks, 43 forced fumbles, 8 interceptions, and 9 return touchdowns.
4. Paul Warfield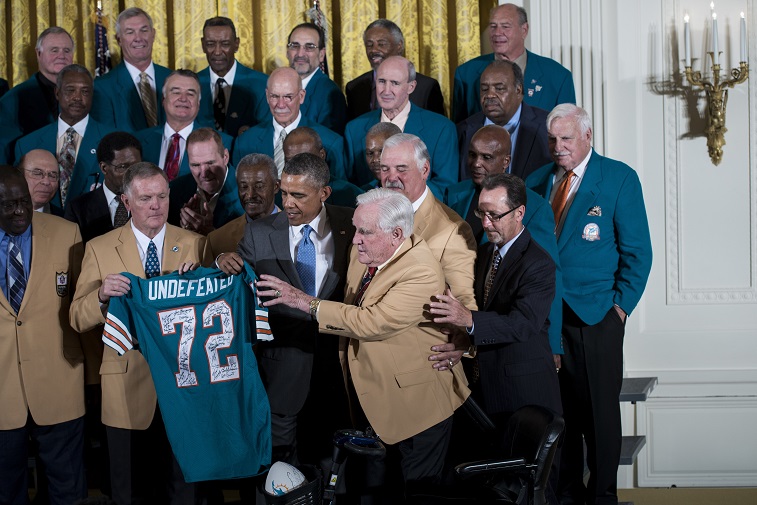 In 1970, the Dolphins acquired Paul Warfield from the Browns in exchange for a future draft pick, which Cleveland eventually used to select Mike Phipps out of Purdue. Legions of analysts have since ripped this move as one of the most lopsided trades in the history of sports. Paul Warfield, of course, went on to put the finishing touches on a Hall of Fame career in Miami.
The big-play threat for the Miami Dolphins through the early '70s glory years,  Warfield posted 28 catches and 703 yards, for a 25.1 yard-per-catch average in 1970, and hauled in 43 receptions for 996 yards and a league leading 11 touchdowns the following year. Over the course of five years in Miami, the receiver caught 156 balls for 3,355 yards and 33 touchdowns, in helping the Dolphins claim two Lombardi Trophies.
5. Bob Griese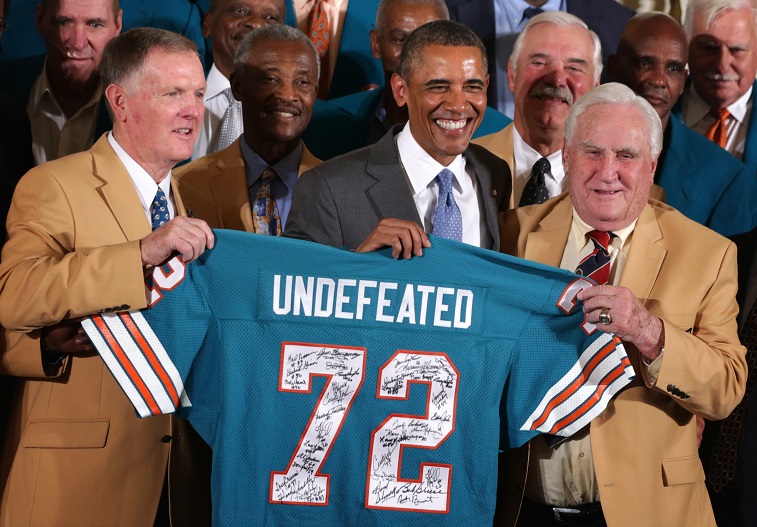 Misguided NFL analysts may write off Bob Griese as a mere game manager who leveraged a dominant defense and powerful running game to glory. For his part, Griese was named to 8 Pro Bowls and led the league in touchdown passes with 22 in 1977. The following season, he was a model of efficiency, completing a league-leading 63% of his passes.
Griese helped lead the Miami Dolphins to three straight Super Bowls, winning two, at the end of the 1972 and 1973 seasons. In 1972, Griese had the Dolphins at 5-0, before being felled by injury. From there, back-up quarterback Earl Morrell preserved the undefeated run through the AFC Championship Game. For Super Bowl VII, Bob Griese returned as the starter, in closing out the perfect season with a 14-7 win over the Washington Redskins.