The 5 Greatest New York Giants of All Time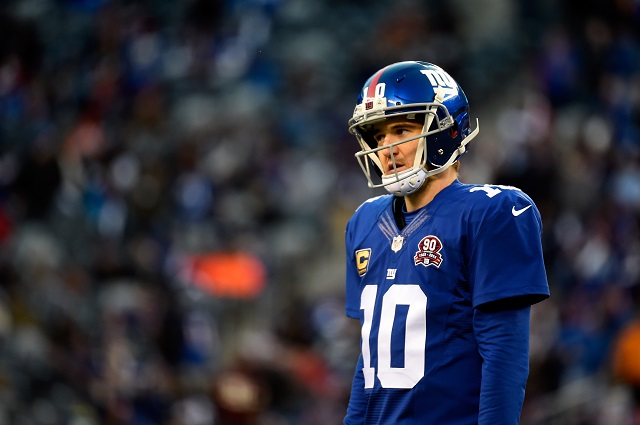 New York is the largest media market in the NFL. Everyone knows this, and it's common knowledge that all New York athletes have performed under heavy scrutiny, for better or worse. When they win, the city's rabid fans are the best in the business, and they're merciless when a team is losing (just ask the Knicks). For their part, the New York Giants brought home NFL Championships in 1927, 1934, 1938, and 1956, prior to the NFL-AFL merger, and the advent of the Super Bowl.
In the modern era, the Giants claimed Lombardi trophies in 1986, 1990, 2007, and 2011. Over time, winning Giants football has showcased stout defense, ball control, and efficient quarterback play. The greatest five Giants of all time have each spectacularly risen to the occasion.
1. Frank Gifford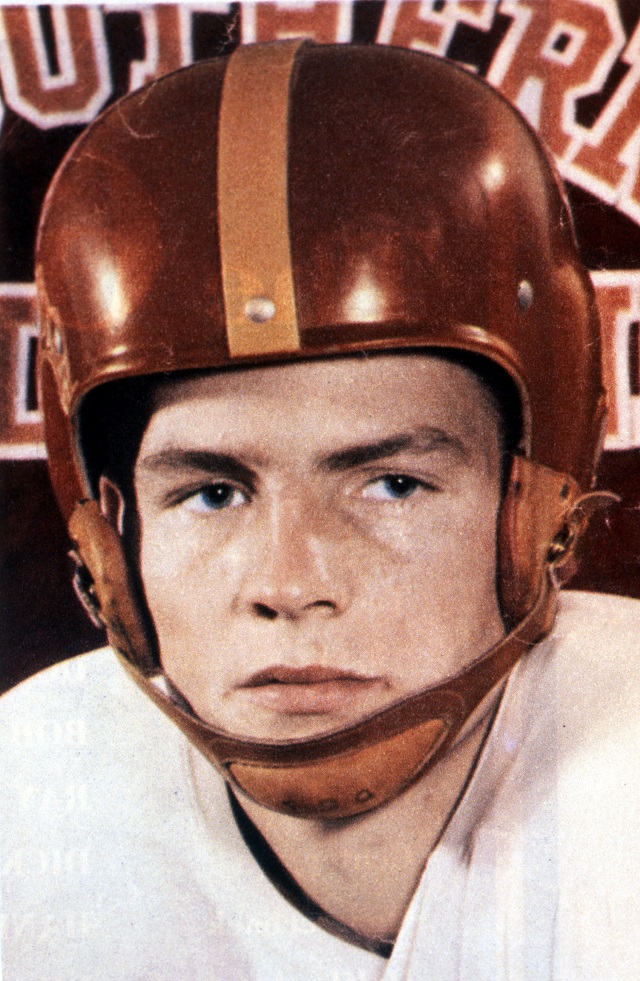 Before his time in broadcast journalism, Frank Gifford was once arguably the most celebrated athlete in America. In his prime, Gifford was a full-time, two-way player who started at running back and cornerback, and could rotate back under center to sling passes as quarterback in a pinch.
In 1956, Gifford led the NFL in yards from scrimmage, with 819 yards on the ground and 603 receiving yards. That year he accounted for 11 total touchdowns en route to NFL MVP honors. To close out the season, Gifford racked up 131 receiving yards out of the backfield, as part of a 47-7 route over the Chicago Bears to win the NFL Championship.
In 1958, Gifford helped lead the Giants back to the NFL Championship game against the Baltimore Colts. The Giants, however, went on to lose the "Greatest Game Ever Played", 23-17 against the Baltimore Colts, in overtime. At the time, the Giants had Vince Lombardi and Tom Landry working the sidelines as offensive and defensive coordinators, respectively
2. Eli Manning
Bonafide NFL royalty, fans could have simply referred to young Eli Manning as "Archie's son," or "Peyton's little brother." Fresh out of Mississippi, Eli Manning's legions of critics ripped his proclivity for taking sacks, firing the football into triple coverage, giving up ill-timed interceptions, and offering up blank stares.
In 2007, Eli Manning led the league in interceptions, with 20. Fan perception toward Eli Manning, however, decisively changed in a New York minute that postseason. In these playoffs, a white-hot Manning led the Giants to three straight road victories as a 10-6 NFC Wild Card, before staring down the then 18-0 New England Patriots in Super Bowl XLII.
On third down, late in the game, Eli Manning spun out of the pressure, and fired a bullet down the seam to David Tyree. Tyree caught the ball with his helmet and went down in a heap with Patriots safety Rodney Harrison to pick up the first down. Moments later, Manning would toss the winning score to Plaxico Burress on a fade pattern, before the quarterback walked away with MVP hardware.
In 2011, Manning led a 9-7 NFC Wild Card team back to the Promised Land, after completing 65% of his passes for 1,219 yards and 9 touchdowns through the postseason. In Super Bowl XLVI, the Giants dispatched of the Patriots again with Eli Manning bringing home his second MVP award.
3. Michael Strahan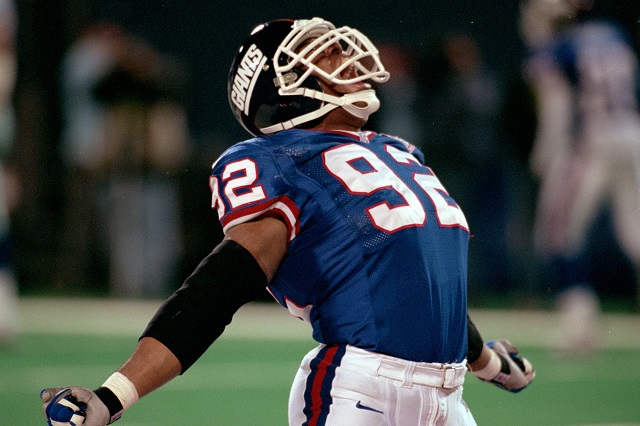 At his best, Michael Strahan was the greatest sack artist of his generation. With his size and strength, Strahan would often pin his ears back, and bull rush tackles into the ground before making his way to the quarterback. He could also simply beat his man upfield, spin, and work his way back to the quarterback for a devastating hit, displaying his uncommon quickness.
In all, Strahan closed out his 15-year career as a Giant with 141.5 sacks, then good for fifth of all time. That included a 2001 season where he powered his way to 22.5 sacks, the standing single-season record. For the 2007 postseason run, Strahan emerged as the elder statesman and heart and soul of the New York Giants. Prior to every game, he led the Giants onto the field with his "Stomp You Out" chant. From there, Strahan backed up his talk with two timely sacks in the Playoffs.
Most importantly, Michael Strahan, Justin Tuck, and Osi Umenyiora were part of an aggressive defensive front that harassed Golden Boy quarterback Tom Brady into several critical mistakes throughout Super Bowl XLII. For the game, Brady took five sacks, including one from Strahan.
4. Lawrence Taylor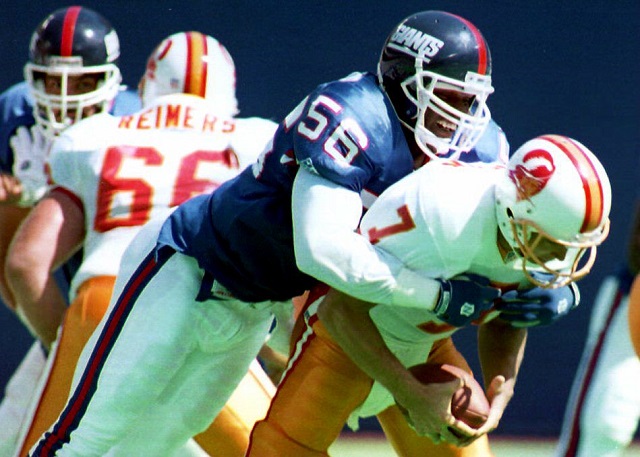 In the hands of Bill Parcells and defensive coordinator Bill Belichick, Lawrence Taylor was free to blitz off the edge, match up one-on-one against backs and tight ends in coverage, or drop off into the short zone. In either scenario, LT roamed free to wreak havoc and blow up opposing offenses. Two tight end sets and single-back formations came back into vogue throughout the '80s, largely as gimmicks to neutralize and confuse No. 56. Still, nothing worked — Taylor was arguably the greatest defensive weapon of all time.
Taylor took home NFL MVP honors in 1986 after terrorizing offenses for 20.5 sacks. Behind LT, the 1986 Giants gave up a mere 14.8 points per game, going 14-2 overall. This 1986 postseason was somewhat of a coronation for the G-Men, as they rolled to take the Lombardi trophy with a combined 105-23 score in three games. On the backstretch of his career, Lawrence Taylor helped the Giants claim another Super Bowl, against the Bills in 1990.
5. Phil Simms
You could (erroneously) dismiss Phil Simms as a game manager who rode the coattails of a dominant defense and running game to glory. In 1983, even Bill Parcells himself made the mistake of benching him. That year, without Simms in command, the Giants collapsed to 3-12. The following year, Parcells went back to Simms as the starting quarterback, and the Giants closed out the regular 1984 season at 9-7, before losing to the 49ers in the Divisional Playoff round.
Over time, Phil Simms emerged as the perfect fit to lead the Giants' ball-control offense. He favored tight end Mark Bavaro as a security blanket, while also mixing in deep throws to his wide receivers to keep defenses honest. In 1986, Simms was at his best in Super Bowl XXI against the Denver Broncos. In taking MVP honors, Simms worked the short zone for 268 yards passing and 3 touchdowns. For the game, Simms went 22 for 25, which set a record for Super Bowl completion percentage, at 88%.
Statistics courtesy of ESPN and Pro-Football-Reference.