NFL: 5 Greatest Players to Ever Play for the Raiders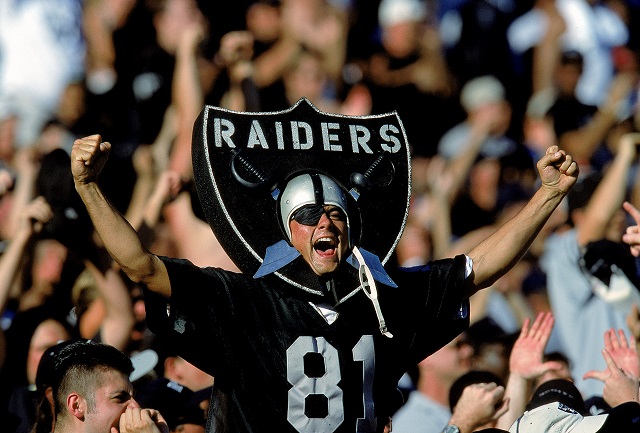 Just win, baby. No matter what happens to the franchise, the Oakland Raiders will always be inexorably linked to Al Davis, their late (and cantankerous) owner. After a series of well-documented spats, Davis moved the franchise from Oakland to Los Angeles in 1982, before reversing course, and packing back up to Oakland in 1995.
On the field, the Raiders' win-at-all-costs mentality came from the top down, as Davis emphasized mental toughness and taking big risks out in the vertical passing game. The Raiders were especially dominant through the 1970s and early '80s, when they claimed 8 AFC West titles over the span of 15 years. At this apex, the Silver and Black went on to win three Super Bowls in 1976, 1980, and 1983. Many of the all-time great Raiders have direct links to these glory years.
1. Tim Brown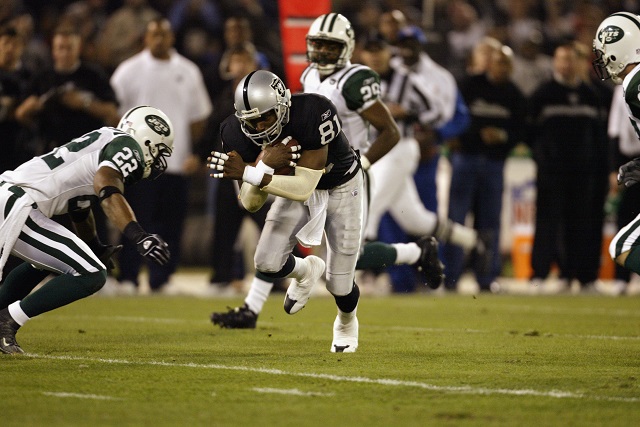 Tim Brown may always be historically underrated, but that's what happens when you're forever juxtaposed against Jerry Rice. Back to that in a moment. In his prime, Brown was unstoppable. After winning the Heisman at Notre Dame, he emerged as one of the more dangerous receivers and return men in the game of football. As a threat to score from anywhere on the field, Brown was especially adept at getting open, and shaking tacklers in space. As a rookie, Brown led the NFL in all-purpose yards, with 2,317. In all, he hauled in 1,070 receptions for 14,734 yards and 99 touchdowns over 16 years for the Raiders.
Back to the Rice-Brown comparison: Rice and Brown actually joined forces as Raiders from 2001 to 2003. On the back end of their careers, both receivers were capable of racking up 1,000 yards and multiple touchdowns throughout the regular season, as starters. In 2001, the pair lost to the "Tuck Rule" Divisional Playoff to New England Patriots, in a snowbound Foxboro. The following season, former coach Jon Gruden and the Buccaneers blew out this aging, but celebrated wide receiver duo in the Super Bowl XXXVII 48-21.
2. Jim Otto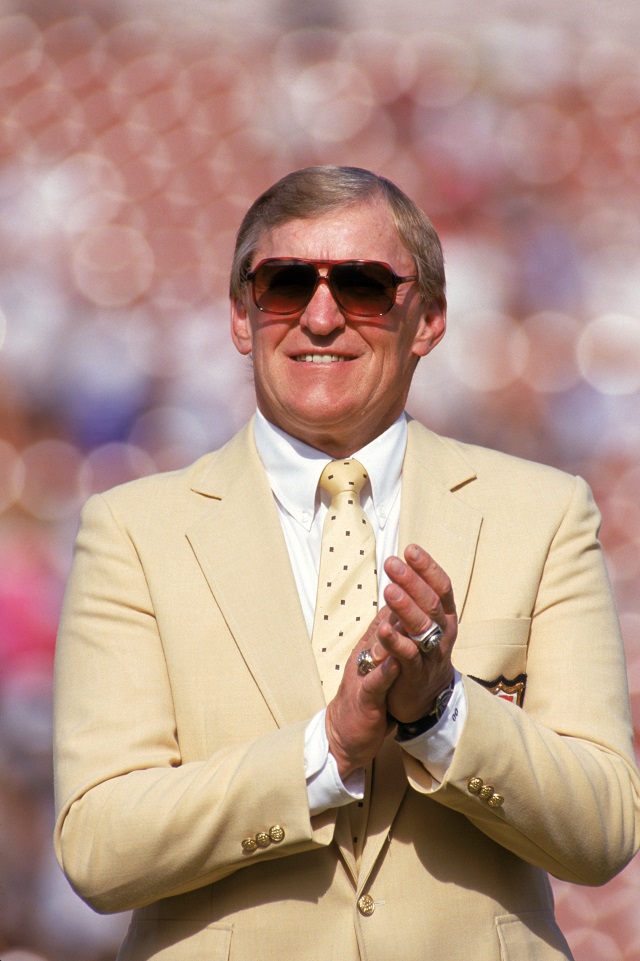 At center, Jim Otto lead the Raiders' offensive line between 1960 and 1974. As a model for toughness, Otto never missed one game, over the span of his 15-year career. As a devastating blocker and master technician, Jim Otto made every AFL All-Star Game through its 10-year existence. After the AFL-NFL merger, Jim Otto also made three straight Pro Bowls.
In 1967, Jim Otto emerged as a leader of the most prolific offense in the AFL, at 33.4 points per game. In doing so, Otto cleared passing lanes up front for quarterback Daryle Lamonica to throw 30 touchdowns through the 14-game regular season. The Green Bay Dynasty, however, ultimately blew out the 13-1 Oakland Raiders 33-14, in Super Bowl II.
3. Gene Upshaw and Art Shell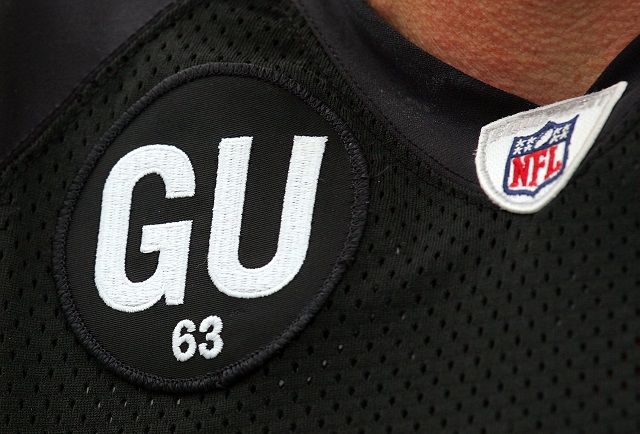 A package deal on the left side of the offensive line between 1968 and 1981, Upshaw and Shell actually teamed up with the aforementioned Jim Otto, between 1968 and 1974, up front. Behind Gene Upshaw and Art Shell, the Raiders graduated from something of an AFL curiosity, to League-wide dominance. The pair won two Super Bowls for the Silver and Black, in 1976 and 1980. Upshaw and Shell also combined for 15 trips to the Pro Bowl.
In 1976, Art Shell was masterful in his Super Bowl XI performance against the Minnesota Vikings. In this game, Shell dominated Purple People Eater defensive end Jim Marshall at the line of scrimmage. Marshall was a non-factor in this blowout, as he failed to make one tackle during the game. At corner, Willie Brown put the final stamp on this game, after taking an interception run back to the house.
At left guard, Gene Upshaw was literally Art Shell's right-hand man. Upshaw was at his best out in space, on toss sweep and counter plays. As a pulling guard, he would terrorize defenses, by taking out linebackers and diminutive defensive backs, for big plays on the ground. In the passing game, Upshaw was especially adept at blitz pick-up, and keeping quarterback Ken Stabler upright for launching deep bombs.
4. Marcus Allen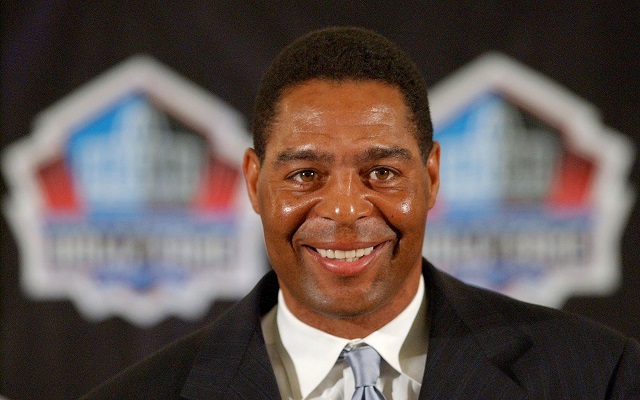 Marcus Allen, at one point in time, was the unquestioned toast of Los Angeles. After winning the Heisman Trophy during his tenure with USC in 1981, Allen literally went crosstown to slap on Raiders gear. As a rookie, Marcus Allen led the NFL in both rushing touchdowns (11) and yards from scrimmage (1098). In 1983, Allen topped 1,000 yards rushing and paced the 12-4 Raiders towards Super Bowl XVIII.
Against the Redskins, Marcus Allen took the handoff, and veered left on a sweep. The Redskins, however, had quickly collapsed upon Allen out on the edge. From there, Marcus Allen stopped on a dime, turned a pirouette, hit the hole up the middle, and high-stepped into the clear, for a classic 74-yard touchdown run. In this Super Bowl, Marcus Allen took home MVP honors after galloping for 191 yards and 2 touchdowns on only 20 carries.
5. Ken Stabler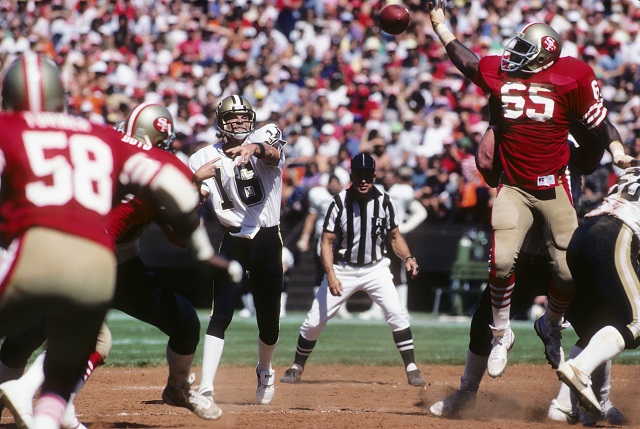 More than any other player Ken Stabler embodied the vertical passing attack out of Oakland. As a gunslinger, Stabler made the most of a receiving corps that included the likes of Fred Biletnikoff, Cliff Branch, and Dave Casper. In Biletnikoff and Casper, the Oakland quarterback had a wide receiver and tight end at his disposal both capable of running precise routes and coming down with the football in traffic. Utilizing Cliff Branch, Stabler worked with the speedster to consistently torch defenses for the big play.
In 1976, Ken Stabler and the Oakland Raiders put everything together. En route to winning the Super Bowl, Stabler completed 67% of his passes, for 2,737 yards and a league-leading 27 touchdowns. For the season, Cliff Branch racked up 1,111 yards upon 46 receptions, which broke down further into a game breaking 24 yards-per-catch. For this Super Bowl XI, the sure-handed Fred Biletnikoff claimed MVP honors, after making 4 catches for 79 yards. Ken Stabler, of course, was at the heart of it all.