The 5 Greatest Peyton Manning Commercials Ever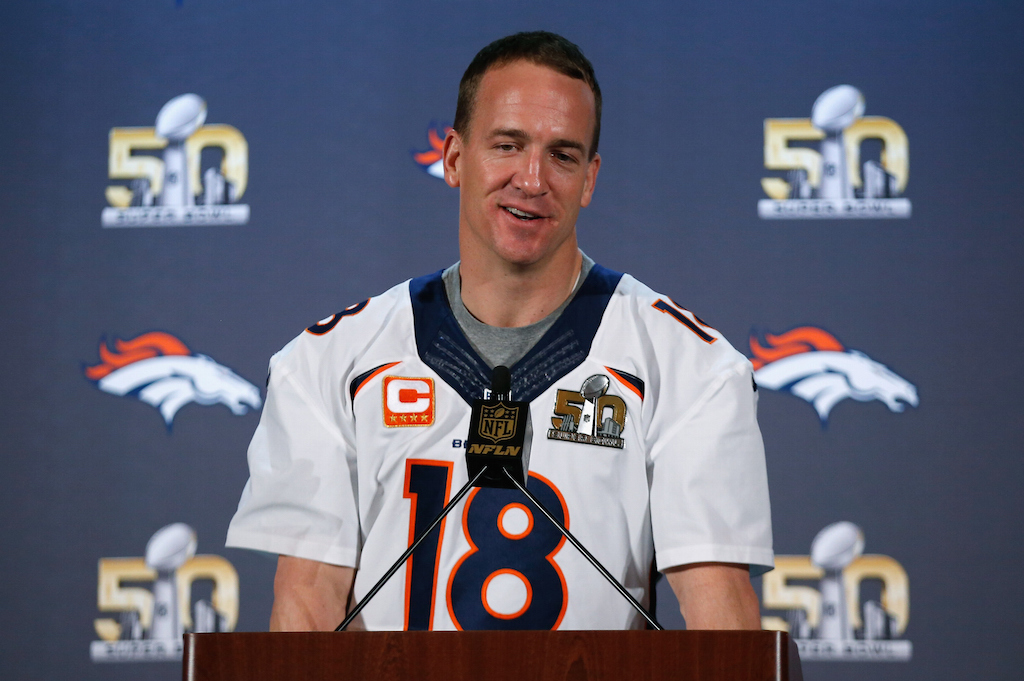 Peyton Manning is everywhere. As one of the faces of the NFL, that's just how it is. Which is why, even after the Broncos defeated the Carolina Panthers in Super Bowl 50, you're going to see plenty of the future Hall of Famer. This shouldn't be that different from how it's been since the Denver quarterback starting making a name for himself through another form of entertainment: commercials.
Throughout the years, Manning has starred in tons of commercials, showing off his comedic chops in the process. Whether he's been self-deprecating, deadpan, or absolutely goofy, No. 18 shines each and every time he lends his image to a commercial. Of course, we happen to like some of his spots more than others. So, with his retirement potentially on the horizon, we pay tribute to Peyton Manning's other career by looking at, in our opinion, his top five commercials ever.
5. DirecTV – "Football Cops"

While TV is full of shows that are destined to get axed, we guarantee you that a program featuring Peyton and Eli Manning as "Football Cops" would not be one of them. And thanks to this hilarious DirecTV ad, which doubles as an explosive trailer, we know exactly how this show would play out: Manning and Manning, tossing footballs, taking down bad guys, and reminding folks that "justice is a team sport." We couldn't agree more, Peyton. We couldn't agree more.
4. Nationwide – "Jingle, Featuring Peyton Manning"
We know we're not the only ones who can't get enough of Peyton Manning using the Nationwide jingle as part of his everyday life. This is the commercial that started it all. Honestly, thanks to this piece of gold, no longer can we look at a chicken parm sandwich without echoing the following: "Chicken parm you taste so good."
3. Papa John's – "Kickoff Special Press Conference"
Peyton Manning makes a living — literally — doing Papa John's commercials. While there are so many classics to choose from, this one featuring a press conference to promote the pizza giant's "Kickoff Special" is by far our favorite. Could you imagine a media session where folks only want to ask Papa John questions, as opposed to the legendary quarterback? Of course you can't. It would never happen. Not in a million years. And that's why we dig this ad. It's just a crazy fantasy.
Speaking of fantasy …
2. DirecTV – "Fantasy Football Fantasy"

Not many things are better than a "Manning Brothers Music Video." And while we can't get enough of Peyton and Eli rapping about being able to watch football on their phones, DirecTV takes things to the next level with this "Fantasy Football Fantasy" jam. Thanks to a video that shows things like Peyton throwing a football filled with nacho cheese; Eli going auto-tune in outer space; and Joe Namath making stew with "your mom," we've never felt the need to watch the Fantasy Zone channel more. And we never want to stop feeling that way.
1. MasterCard – "Peyton Manning is a Fan"
When Peyton Manning and his Denver Broncos take the field at Super Bowl 50, the fans — even celebrity supporters — will be out in full force. But that doesn't mean Peyton, himself, isn't a fan. And as you can see from this MasterCard spot, Peyton has nothing but love for insurance adjusters, deli counter employees, folks filling their cars up with gas, and most importantly, accountants. Now that's "priceless."