The 5 Greatest Philadelphia Eagles of All Time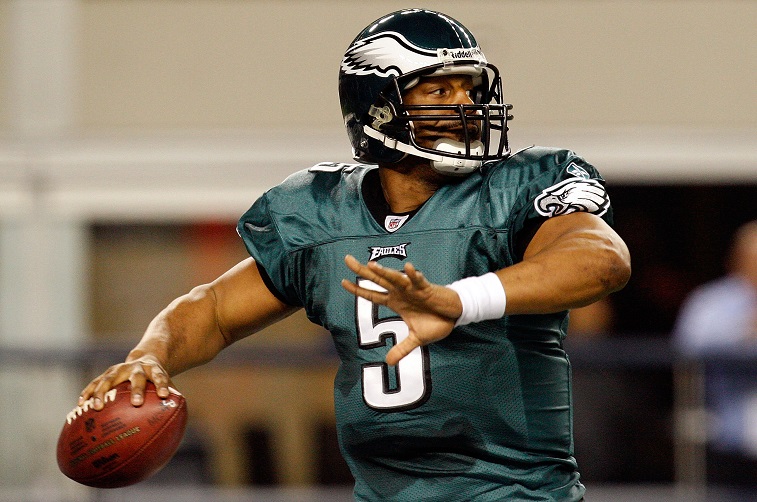 The Philadelphia Eagles exemplify the values of their hometown like no other team in sports. Over time, the Eagles have come to be identified with mobile quarterbacks, swarming defense, and above all else, mental toughness. Philadelphia fans, of course, once pelted Santa Claus with snowballs at Veterans Stadium, and demand nothing less than true grit out of their beloved football team.
The best Eagles teams have all played with a chip upon their collective shoulder, as the New York Giants, Washington Redskins, and Dallas Cowboys have often overshadowed the franchise within the division. The Eagles have made two appearances in the Super Bowl, in 1980 and 2004, losing both. The 2004 Super Bowl run was part of a dominant stretch where Philadelphia made four consecutive trips to the NFC Championship Game. Taken as a group, the five greatest Philadelphia Eagles of all time laid everything out on the line to deliver this franchise to the Promised Land, even if they ultimately came up short.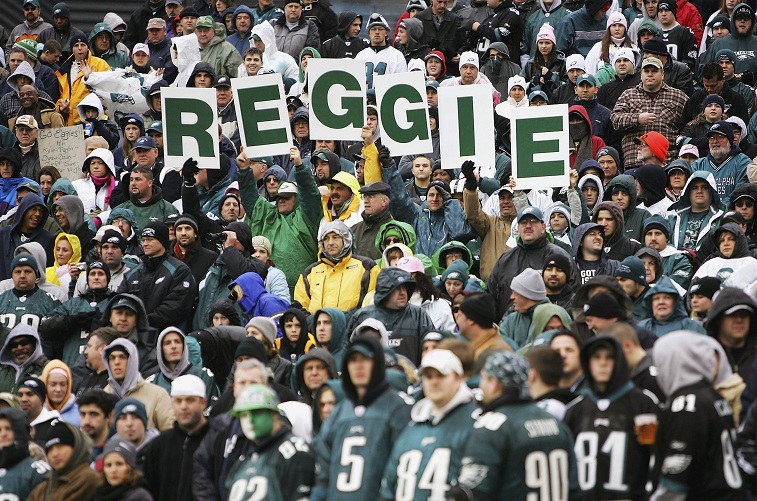 1. Reggie White
Reggie White earned the title "Minister of Defense" in Philadelphia at left defensive end, and was especially notable for his hump move, where he would explode off the line, shrug his shoulders, and club the opposing tackle with a forearm shiver before cutting back to the inside. In run support, Reggie White would often chase down ball carriers from the weak side to make tackles. As a pass rusher, Reggie White terrorized quarterbacks for 124 sacks in Philadelphia. In 1987 and 1988, Reggie White took home back-to-back Defensive Player of the Year awards, after racking up 39 sacks over the course of two seasons.
White was the lynchpin of a Gang Green defense that also featured Clyde Simmons, Ron Pitts, and Jerome Brown on the defensive line. With this group controlling the line of scrimmage, Seth Joyner and Eric Allen were both free to make plays in space. Head coach Buddy Ryan favored an attacking defensive scheme, unleashing White to work against one-on-one blocking. Over eight seasons with the Eagles, though, Reggie White never advanced past the Divisional Playoff round.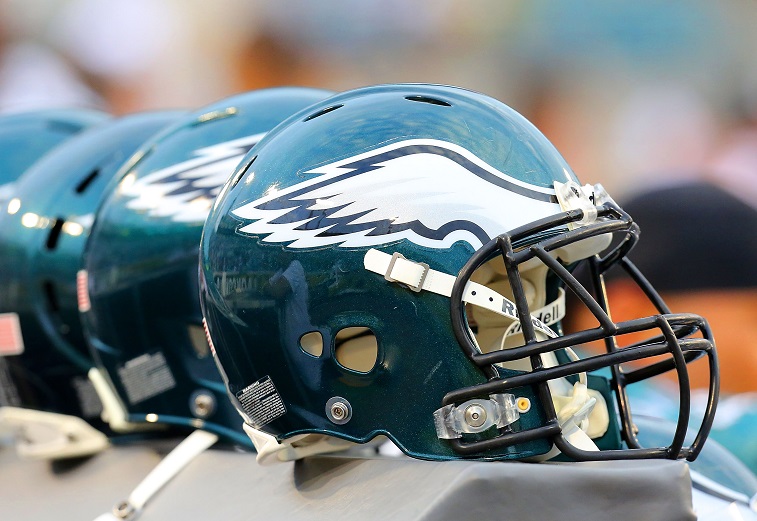 2. Chuck Bednarik
Chuck Bednarik was the last great two-way player in the game of football. At linebacker, Concrete Charlie would flow toward the point of attack and punish the ball carrier. In 1961, Chuck Bednarik leveled Frank Gifford on a swing pass out in space at Yankee Stadium. Chasing Gifford down from behind, Bednarik went high and pummeled the future Hall of Famer down to the ground with one arm. Upon contact, Gifford immediately fumbled the ball, before lying prone on the field, and sitting out the game of football through the entire next season. This vicious hit secured Chuck Bednarik's second NFL title as a Philadelphia Eagle.
As a 60-minute man, Bednarik would remain on the field to control the line of scrimmage at center. In 1953, Chuck Bednarik even boomed 12 kicks for 483 yards, as a punter. He was also a World War II veteran.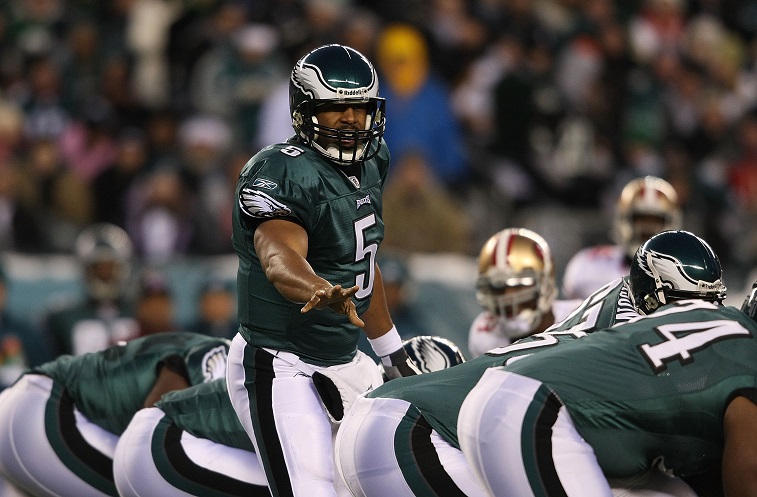 3. Donovan McNabb
The most successful quarterback out of a group of dual threats that also included Randall Cunningham and Michael Vick, Donovan McNabb also threw for more yards (32,873 to 26,963) and touchdowns (216 to 175) than fan favorite Ron Jaworski. Much maligned, McNabb led Philadelphia to a .647 winning record as the starting quarterback. This run also included five trips to the NFC Championship Game (2001, 2002, 2003, 2004, 2008) and one Super Bowl appearance.
McNabb was at his best in Andy Reid's West Coast offense, on three- and five-step drops, where he would work the seams, fire quick outs, set up screens, and hit receivers across the middle. Reid often called designed rollouts for McNabb, allowing the team quarterback to stretch the defense, before dropping a deep bomb over the top of the secondary. On broken plays, Donovan McNabb would take off to rack up chunks of yardage and first downs with his feet. As a scrambler, McNabb picked up 3,249 yards and 28 touchdowns on the ground in Philadelphia.
McNabb, however, will always remain a polarizing figure. In Philadelphia, he often took the bulk of the blame for failing to lead a series of stacked teams to Super Bowl victory, and legions of football fans remember a winded Donovan McNabb burning through clock and dry heaving late in a 24-21 Super Bowl XXXIX loss to the budding Patriot dynasty.
4. Randall Cunningham
As a raw athlete, Randall Cunningham was second only to Michael Vick in the history of Eagles signal callers. On any given Sunday, Cunningham would put together a highlight reel of spins, flips, jukes, high-stepping scrambles, and deep bombs. In 1990, Randall Cunningham ducked a Bruce Smith sack out of his own end zone and rolled left, before setting his feet and effortlessly firing the football 60 yards through the air to Fred Barnett. Moments later, Cunningham had completed a 95-yard pass play, in front of a stunned Buffalo crowd.
Randall Cunningham, of course, was far more than a sideshow at quarterback. In 1990, Cunningham completed 58% of his passes for 3,466 yards and 30 touchdowns against only 13 interceptions. That season, Cunningham also picked up 942 yards and 5 touchdowns on the ground. As an Eagle, he torched defenses for 22,877 passing yards, 4,482 rushing yards, and 182 total touchdowns, over the course of 11 years. In a pinch, Randall Cunningham would also serve as an emergency punter, as he boomed 12 kicks for 620 yards (51.7-yard average) in Philadelphia.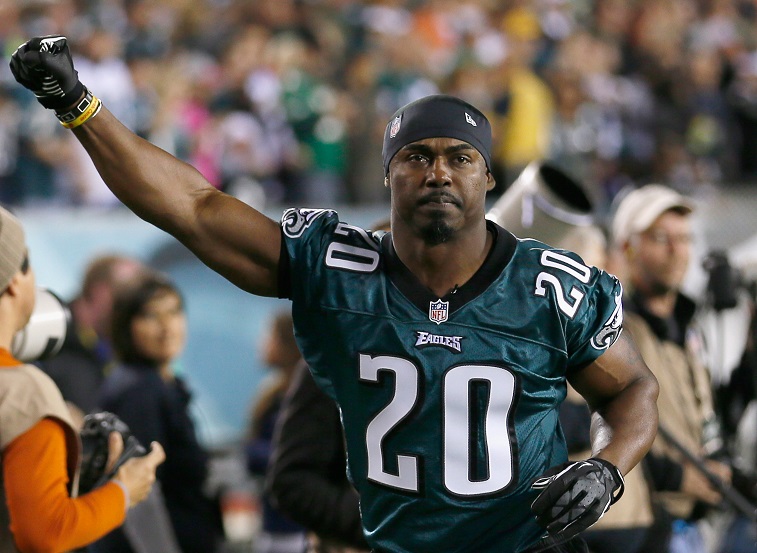 5. Brian Dawkins
Brian Dawkins was arguably the greatest run-support safety of his generation. At a built 6-foot-0 and 210 pounds, B-Dawk would often slide down toward the line of scrimmage, to effectively operate as a fourth linebacker, out of coordinator Jim Johnson's defensive scheme. In passing situations, Dawkins would control the deep middle, and level wide receivers and tight ends that drifted into his zone.
Because of this versatility, Jim Johnson was free to dial up an array of blitz packages to harass and confuse the competition. To mix things up, Dawkins himself would often anticipate the snap count, shoot the gap, and slam into the quarterback. In all, B-Dawk racked up 707 tackles, 34 interceptions, and 21 sacks, through 13 years in Philadelphia.