The 5 Greatest San Francisco 49ers of All Time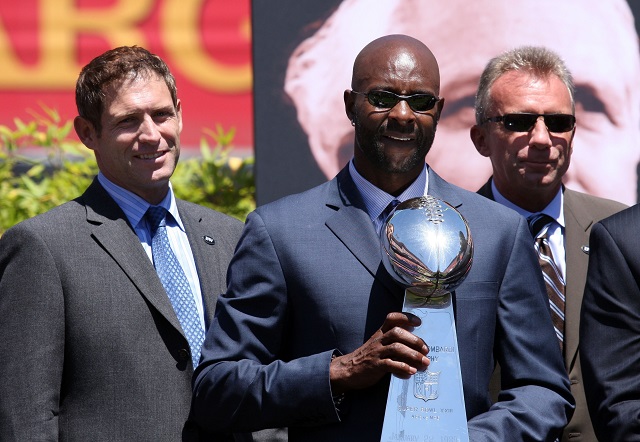 Fans of high-octane offense will always relish images of Joe Montana hitting Jerry Rice in stride across the middle on a perfectly timed crossing route, a byproduct of Bill Walsh's offensive genius, a school of thought that revolutionized football by using the pass to set up the run. The San Francisco 49ers, who have won five Super Bowl titles (all five coming between 1981 and 1994), often bristled at their reputation for "finesse" in winning classic postseason bloodbaths against allegedly more physical Bears, Giants, and Cowboys teams.
Comparatively speaking, though, the description fits them like a glove, and you can see the seeds of their glory in the more modern disciples of the West Coast offense, coaches like Mike Holmgren, Andy Reid, John Gruden, George Seifert, and Mike Shanahan.
Is it any surprise, then, that the five greatest players in 49ers history are the ones who were integral to carving out that dynasty? It shouldn't be.
1. Roger Craig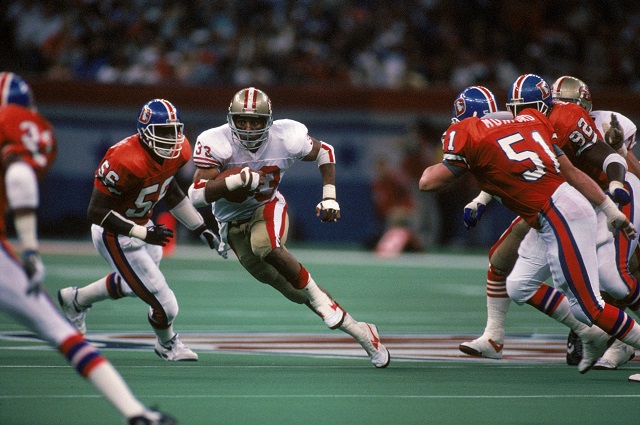 Historically underrated, Roger Craig made the Pro Bowl at halfback and fullback, a dual threat that stands tall alongside franchise luminaries like Jerry Rice, John Taylor, Ricky Watters, and Frank Gore. In fact Roger Craig became the first NFL player to top 1,000 yards in both rushing and receiving in 1985. (Since then, only Marshall Faulk has been able to match this feat.)
That year, Craig led the NFL in receptions, with 92 out of the backfield, while he lead the league with 2,036 yards from scrimmage in 1988. He topped off his career year by pacing the 49ers with 172 total yards from scrimmage through a Super Bowl win over the Cincinnati Bengals.
2. Ronnie Lott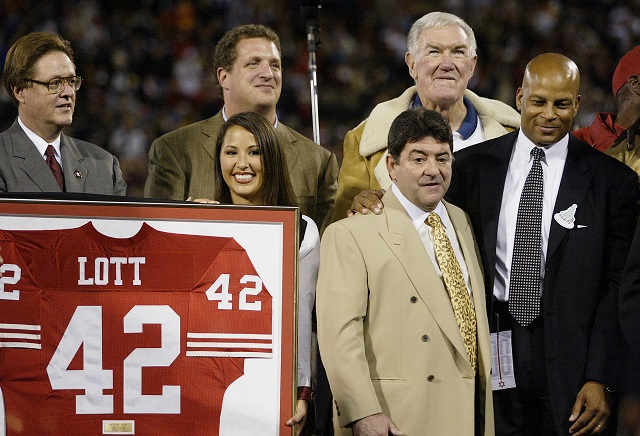 Ronnie Lott put in some serious work at both cornerback and safety, and eventually retired as as one of the greatest defensive backs of all time. In all, he racked up 1,113 tackles, 63 interceptions, 17 fumble recoveries, and 5 touchdowns, over the course of a 14-year career that included short stints with the Raiders and Jets, after San Francisco. As a 49er, Lott installed his own brand of toughness onto a franchise more associated with finesse — famously solidifying his tough guy image after having the tip of his pinky finger amputated from the sidelines during a game, a game that saw him return to the football field afterward.
Simply, Lott had to be accounted for at all times. At any moment, No. 42 may have been locking down a wide out in single coverage, cheating up to the line of scrimmage for run support, or even blitzing off the edge to pressure the quarterback into costly mistakes. Also of note: his vicious hits and the bodies of prone receivers left in his wake.
3. Steve Young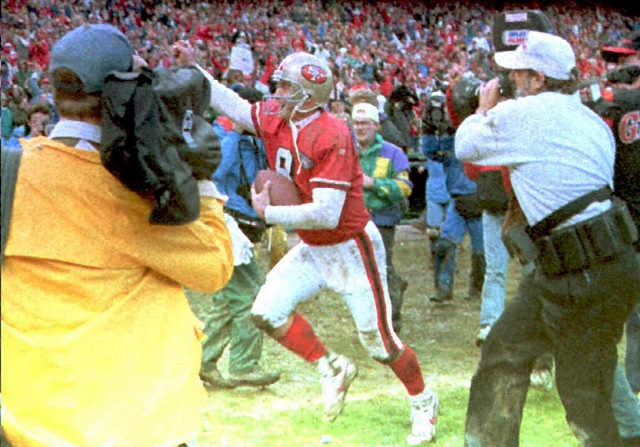 More than anyone else, Steve Young took the West Coast offense to new heights with his left-handed delivery, fiery leadership, and drive-extending scrambles. Over the course of his stay in San Francisco, Young transformed his game from that of a raw athlete known to take off and run at inopportune times into that of a poised pocket passer, and was the ultimate difference maker in classic battles against the up-and-coming Dallas Cowboys, meeting three straight times in the NFC Championship Game between '92-'93 and '94-'95.
In 1994, Young put together one of the most storied campaigns in league history, completing more than 70% of his passes to torch defenses for 3,969 yards, 35 touchdowns, and a then record 112.8 quarterback rating in the regular season. That year, the 49ers went 13-3 before outlasting the Cowboys for the NFC Championship 38-28, and eventually dominating the San Diego Chargers 49-26 in Super Bowl XXIX — a game that saw Young throw for 325 yards and a record 6 touchdowns.
4. Jerry Rice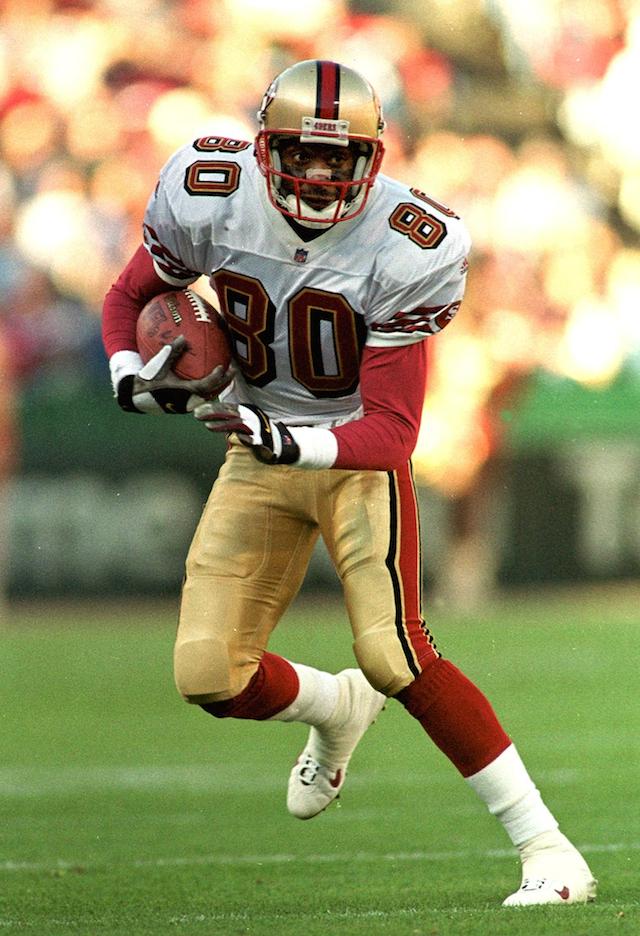 The son of a bricklayer, Jerry Rice was never offered an NCAA Division I-A scholarship out of high school. Instead, he found his way to tiny Mississippi Valley State University, where he dominated the Division I-AA competition. Thought to be too small and too slow to compete in the NFL, Rice was taken with the 16th overall pick in the 1985 draft by the San Francisco 49ers, where he promptly began a legacy that would leave him as the greatest receiver of all time.
A a cornerstone of the West Coast offense, Rice ran quick slants, crossing routes, and hitch patterns, especially excelling in short timing routes where he would catch the football in space, make one move, and sprint through the secondary to rack up chunks of yardage after the catch. For the 12-game, strike-shortened 1987 season, Jerry Rice rang up 22 touchdown catches. In 1995, Rice hauled in 122 receptions for 1,848 yards, and 15 touchdowns. By his 2004 retirement, Jerry Rice had caught 1,549 passes for 22,895 yards and 197 receiving touchdowns. Rice also helped bring three Lombardi trophies back to San Francisco, with 28 catches for 512 yards and 7 touchdowns in three epic Super Bowl performances.
5. Joe Montana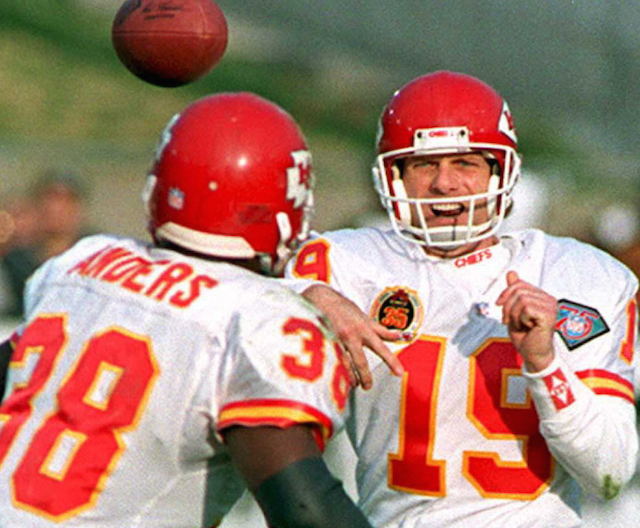 Thanks to Tom Brady and the New England Patriots, Montana's four Super Bowl titles (and three accompanying MVP awards) are not as singularly his as they once were, opening up another avenue for debate about the greatest quarterbacks in the league. We're not here for that. We're here to talk about Joe Montana.
He became a household name with The Catch, which closed out the 1981 NFC Championship versus the Dallas Cowboys. To cap an 83-yard, game winning drive, Joe Montana rolled out to the right and lofted a pass over the 6-foot-9 Ed "Too Tall" Jones toward the back of the end zone, before wide receiver Dwight Clark leapt to bring the ball down by his fingertips.That play allowed Montana and the 49ers the opportunity to dispatch the Cincinnati Bengals 26-21 in Super Bowl XVI.
Montana's Super Bowl resume included another epic comeback drive against the Bengals in Super Bowl XXIII, alongside blowout wins against Dan Marino and John Elway. As a clutch performer, Montana completed 68% of his passes for 1,142 yards, 11 touchdowns, and zero interceptions in four Super Bowl appearances. On the field, Joe Montana was the heart-and-soul of the 49ers franchise.