The 5 Greatest Scoring Quarterbacks Ever (Until the Season Starts)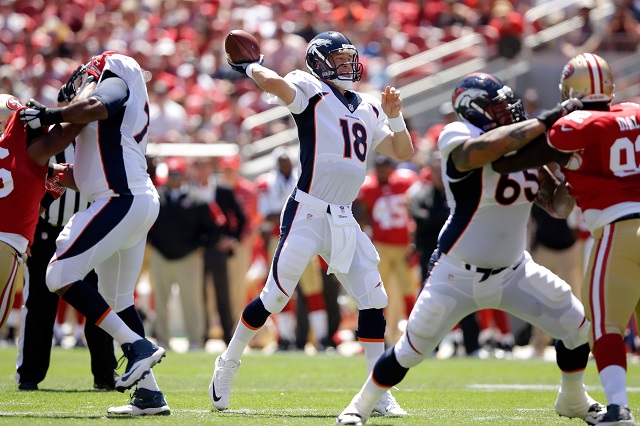 While total touchdowns can't ever tell the entire story about an NFL quarterback, it stands to reason that one of the best ways to tell a quality signal-calling career is by looking at the number of points that a player has been directly responsible for. It's that number, rather than the number of yards thrown or the net effectiveness of each pass, that comes closest to the primal worth of a player that fans of the game know as well as anyone knows anything — the reason people buy jerseys, tickets, bumperstickers, and all sorts of cultural ephemera in order to support the guys who make the teams worth rooting for.
Points on the board matter, and the quarterback is the guy in charge of the team's efforts to make each drive wind up with an impact on the final outcome of the game. It's possible to posit that this is one of the reasons why, despite the fact that football is a team game which can be lost by almost any of the forty-six players that will see the field on any given night, the quarterback is still showered with the lion's share of the credit, or the blame, that comes after the clock has expired.
The other best thing about this sort of measurement is that it's endlessly close and contested in a way that really visibly matters. While the more effective ways of measuring QB efficiency and ability are just that — more effective and (probably) more accurate — you'd be hard pressed to really know the difference between, say, 8.71 ANY/A and 8.31 ANY/A (that'd be average net yards over average). But the difference between 300 and 400 passing touchdowns? That's something that's so tangible you can visualize it in your mind's eye. So, without further delay, here are the five most score-friendly quarterbacks in NFL history, as well as why there's so much chance for upheaval when the season actually starts next week. All data courtesy of Pro Football Reference.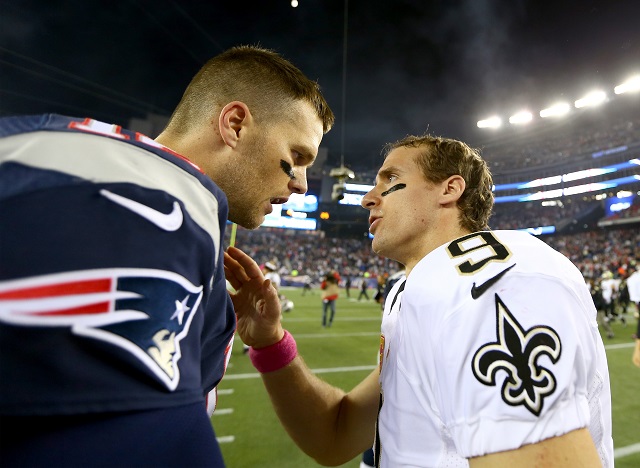 5. Tom Brady, 359 passing touchdowns
One of the most consistent passers in the last decade and a half of NFL Football, New England's Tom Brady has thrown for 359 touchdowns since he first entered into the league. For one thing, that number feels sort of low. For another, it's wild how close Brady is to New Orleans quarterback Drew Brees, sitting just four touchdowns behind. Both players have made careers out of their extraordinary passing acumen, and any team would be excited about having them under center. And the fact that they're so close in career totals means that we're actually privy to the competition, which neither will acknowledge but both are assuredly aware of, as it plays out in real time.
4. Drew Brees, 363 passing touchdowns
What's really interesting, though, is that both Brady and Drew Brees have solid shots at overtaking the number three spot in this list. Over his career, Brady has averaged just over 29 passing touchdowns a season — once you factor in that he only played in one game during both the 2000 and 2008 seasons– while Brees has managed just over 30 TD's each year (again, leaving out his single appearance in 2001). Assuming that both of them wind up playing at a similar level for two more years, they could each wind up moving past the number three slot, although it's unlikely that either will breach the wall this season, as it will take Brady 61 touchdowns and Brees 58.
Also of note: Tom Brady could make the case for 'best quarterback of all time forever' if he manages to hit 61 touchdowns. Not only would it be a new NFL record, but have you seen who he's passing too? This is not a squad that inspires confidence.
3. Dan Marino, 420 passing touchdowns
That Dan Marino could throw a football very far is part of NFL lore. That Dan Marino could throw a football very often is also part of football lore. That Dan Marino was able to throw a football very far and very often before the National Football League shifted the rules around to emphasize protecting the quarterback and encouraging more aerial play is not, perhaps, as much a part of football lore as it should be. Seriously.
Marino, a lifelong Dolphin, wound up throwing for an average of just under 25 touchdowns a game (24.7, to be precise) if you count the eight touchdowns he threw during the five games he played during the '93 season, and just over 26 touchdowns if you don't. That's part of the reason why his position is in danger of being usurped by either Brady or Brees — or both of them –  but, again, Marino was playing in a different era of football, with decidedly less pass-friendly rules and officiating.
2. Peyton Manning, 491 passing touchdowns
Peyton Manning's imminent accomplishments are the reason this entire list is likely to be in need of revision once the 2014 season is in the books. Passing for an average of 32 touchdowns an active season, owing to his absence from the league in 2011, the 38-year-old is just 18 touchdowns away from taking the number one spot on this list, a number that seems very, very achievable on a team that spent all of last year breaking every offensive record they could find.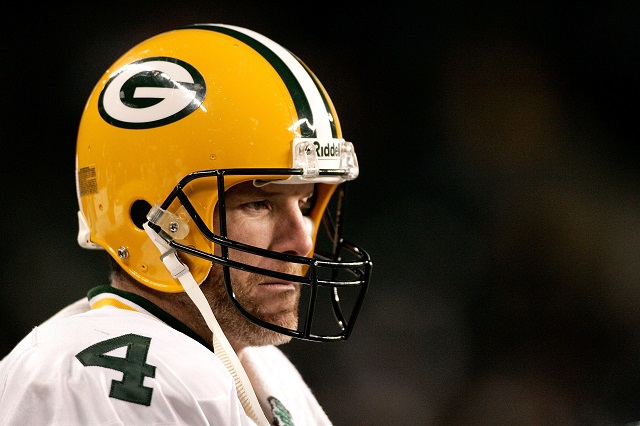 1. Brett Favre, 508 passing touchdowns
With his record in jeopardy, could Brett Favre unretire again to join, say, the St. Louis Rams, and attempt to fend of Peyton Manning? No, probably not, but it's fun to think about for a few seconds, before realizing that Favre is 44 and, as the most-sacked quarterback in league history (525 times), is already suffering from memory problems. Which is not the most awesome thing in the world. Instead, he'll likely watch from the couch as Manning completes his 18th touchdown of the season to take the number one spot on this list.
Favre is still the all time NFL leader in passes completed, passes attempted, and passes intercepted, as well as leading the lead in games started and fumbles.
More From Personal Finance Cheat Sheet: