The 5 Greatest Tampa Bay Buccaneers of All Time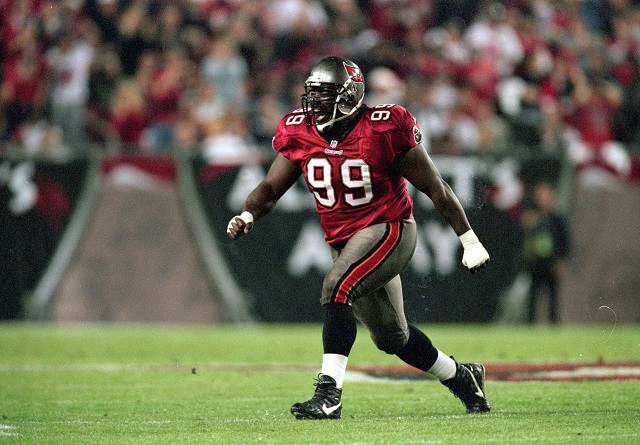 For years, the Tampa Bay Buccaneers were somewhat of a laughing stock of the NFL. In 1976, the Buccaneers went 0-14, suffering through blowout after blowout. In 1987, Tampa declared Steve Young a bust at quarterback, and promptly traded him to the 49ers for pennies on the dollar — Young went on to establish a Hall-of-Fame career in San Francisco. To top it all off, Tampa Bay famously wore garishly bright orange uniforms and helmets featuring Buccaneer Jack clenching a sword in his mouth, resembling little more than flailing road cones.
In 1996, Tony Dungy arrived to help resurrect the franchise. Dungy immediately installed what would become the Tampa 2 defense. Tampa Bay, with its refashioned uniforms and state-of-the art stadium, emerged as a perennial contender, in making the playoffs seven times over the next 10 years. In 2002, Jon Gruden took the reins as head coach, installed the West Coast offense, and brought a Super Bowl XXXVII trophy back home to Tampa. Many of the all-time great Buccaneers will maintain direct links to these Dungy/Gruden glory years.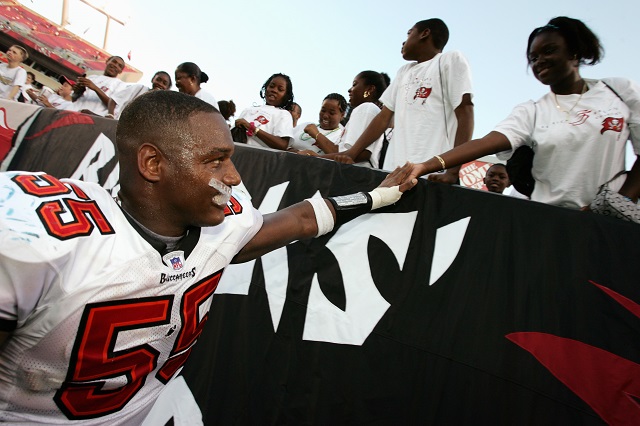 1. Derrick Brooks
Derrick Brooks was one of the most technically sound linebackers of his era. In the Tampa 2 defense, Brooks was responsible for both weak-side run support and the short passing zone within 10-15 yards of the line of scrimmage. To do so, Derrick Brooks relied upon his speed to cover large amounts of territory. At the point of attack, Brooks was a sure tackler that rarely got beaten for big plays.
Derrick Brooks made 11 trips to the Pro Bowl between 1997 and 2008, as part of the Tampa Bay resurgence. In 2002, Derrick Brooks took home the Defensive Player of the Year award, after posting 87 tackles, 5 interceptions, and 1 sack. As a playmaker, Brooks scored 4 touchdowns, on 3 interceptions, and 1 fumble recovery this season. In Super Bowl XXXVII, Derrick Brooks capped off his career year with another interception and 44-yard touchdown rumble.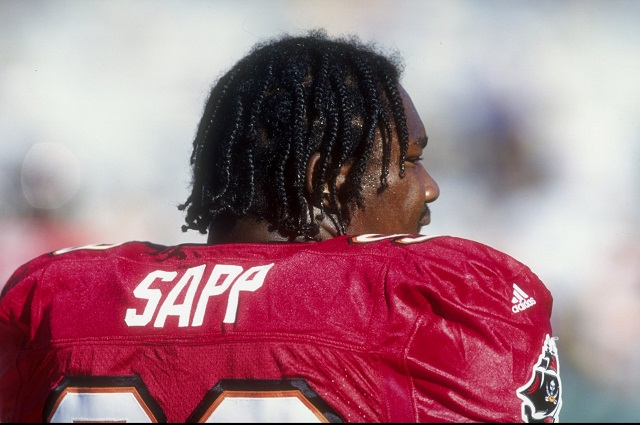 2. Warren Sapp
The heart and soul of the Tampa 2 defense, Warren Sapp would often occupy multiple blockers so that linebackers could roam free and make tackles. In passing situations, the Tampa 2 scheme relied upon its four down linemen to pressure the quarterback, so that all linebackers and defensive backs could drop into zone coverage.
Nearly unblockable one-on-one, Sapp also took home Defensive Player of the Year honors in 1999 after recording 12.5 sacks, 27 tackles, and 4 forced fumbles. The next season, he followed up this campaign with 16.5 sacks and 43 tackles. In all, Sapp claimed 307 tackles, 77 sacks, 15 forced fumbles, and 3 interceptions, over the course of 9 seasons of wreaking havoc for the Tampa Bay Buccaneers.
Picking one outstanding year, Sapp was a part of the 2002 Buccaneer roster that led the league in defense, in giving up a meager 12 points per game. This team, of course, went on to dominate the Raiders 48-21 in Super Bowl XXXVII.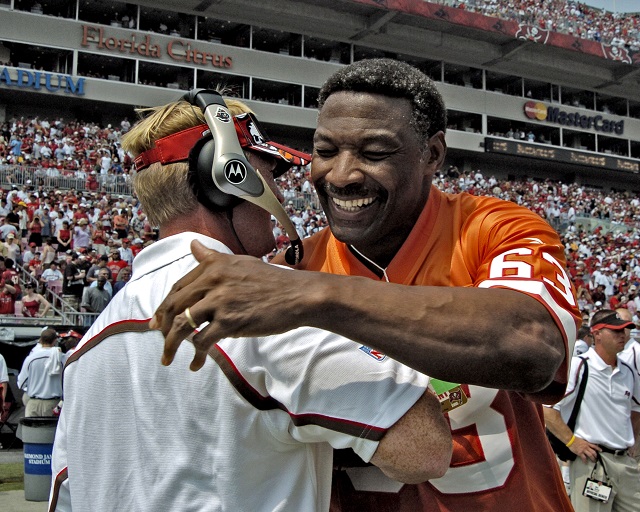 3. Lee Roy Selmon
Lee Roy Selmon may always be historically underrated, as the most talented player through the down years in Tampa Bay. As a rookie out of Oklahoma, Selmon was part of the Buccaneer squad that went winless in 1976. From there, he only went on to play in four total playoff games, over the course of 9 years in Tampa. For his part, Lee Roy Selmon came up with one sack in every postseason game in which he appeared.
At 6-foot-3 250 pounds, Selmon was a beast and especially adept at the bull rush. A defensive end, Lee Roy Selmon would simply take his man and drive him into the backfield. With the tackle off balance, Selmon would hit his man with a forearm shiver, before running free to crush the quarterback. In 1979, Selmon also took home an NFL Defensive Player of the Year award, and went on to be enshrined into the Hall of Fame in 1999.
4. Mike Alstott
Mike Alstott was one of the best power runners of all time in football. At 6-foot-1 250 pounds, Alstott was a battering ram who plunged into the end zone 71 times, over the course of his 11-year career in Tampa Bay. At fullback, he had the nimble feet to sort through felled bodies at the line of scrimmage before bursting through the hole, accelerating, and powering through linebackers and defensive backs. Rumbling for 5,088 yards on the ground in Tampa Bay, he was also a sure-handed safety valve, who also hauled in 305 receptions out in the flat for 2,284 yards.
Super Bowl XXXVII, as you might expect, was the pinnacle of Alstott's time with Tampa Bay. As a utility man, he threw timely blocks, carried the football 10 times, hauled in 5 passes out of the backfield, and scored 1 touchdown, in this blowout win versus the Oakland Raiders.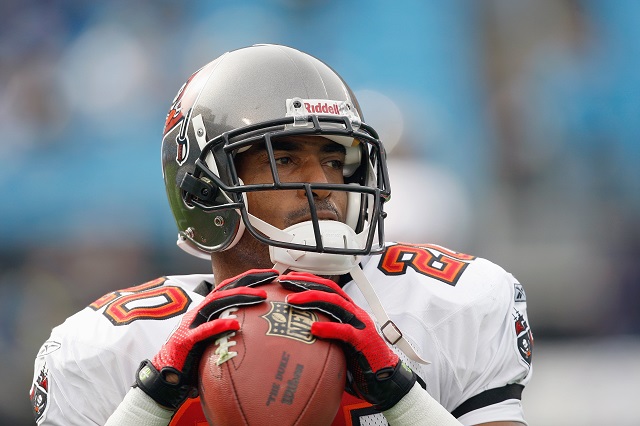 5. Ronde Barber
Ronde Barber emerged as a physical cornerback and electric playmaker out of the Tampa 2 defense. In coverage, Barber would jam receivers at the line of scrimmage, before backing off, and patrolling the sideline zone 15-20 yards deep. In run support, he would execute perfect form tackles out on the edge to corral much larger running backs. To mix things up, Ronde would sometimes blitz off the slot to harass the quarterback into mistakes.
Barber was free to gamble out of the Tampa 2, knowing full well that he had safety help over the top. In 2000, Ronde came up with 5.5 sacks and led the NFL in interceptions the following season with 10. Overall, he racked up 1,028 tackles, 47 sacks, 15 forced fumbles, and 13 return touchdowns through 16 years in with the Buccaneers.