NBA
The 5 Best NBA Duos to Ever Play on the Court Together
Drama, excitement, heartbreak, and the thrill of victory. These are just a few things that make sports so powerful. Fortunately for us, through the masterful storytelling of ESPN's 30 for 30 documentaries, we've had the opportunity to gain insight into past events that embody these characteristics (and so much more). Yet, in spite of the importance of said traits, there just so happens to be one major theme we haven't touched upon; one theme that tends to have a significant place throughout the history of sports. The simple, yet painstakingly gut-wrenching question that has plagued many teams and individuals: What if?
With the release of the 30 for 30 documentary, "This Magic Moment," we were given the chance to look at this theme by focusing on the Orlando Magic of the mid-'90s; a team with infinite potential. That is, until Shaquille O'Neal left for Los Angeles, breaking up the dynamic duo of Shaq and Anfernee "Penny" Hardaway.
So, we got to thinking about NBA duos in general. While Shaq and Penny never fully realized their potential, others throughout history took full advantage of the power that comes with a lethal one-two punch. With that in mind, here's a look at who we believe represent the five most accomplished best NBA duos of all time.
5. Bob Cousy and Bill Russell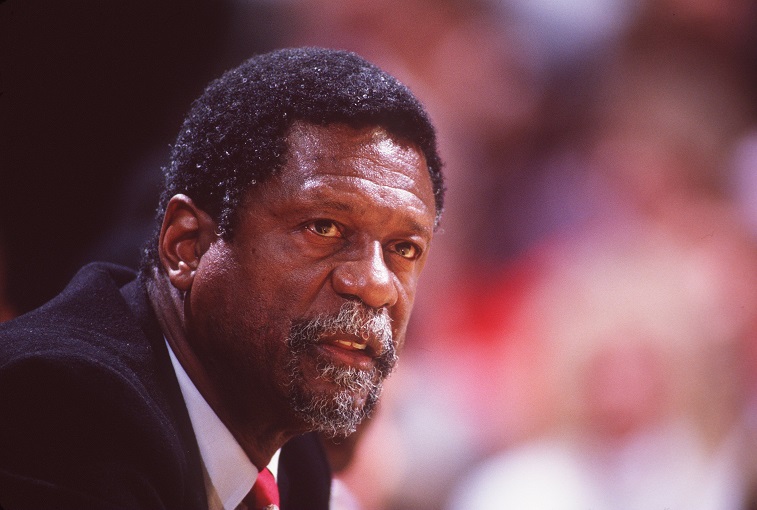 Bob Cousy and Bill Russell (pictured) were the building blocks of a Celtics tradition. Together, Cousy and Russell won six championships in seven years, between 1956 and 1963, through solid fundamentals and team play.
While Cousy retired after the '63 season (he would later play seven games for the Cincinnati Royals in the '69-'70 season), Russell went on to claim five more rings before passing the torch over to John Havlicek.
At center, Russell anchored the Celtics defense, as he mastered the art of both anticipating shot caroms for rebounds and rotating into the paint for weak-side blocks. After controlling the possession, Russell would outlet the ball to the Cooz, who would lead the break.
At the opposite end, Cousy would often reward the hustling big man with a sweet pass at the front of the rim. It's no coincidence that Russell and Cousy led the NBA in rebounds and assists per game, respectively, through three consecutive seasons.
4. John Stockton and Karl Malone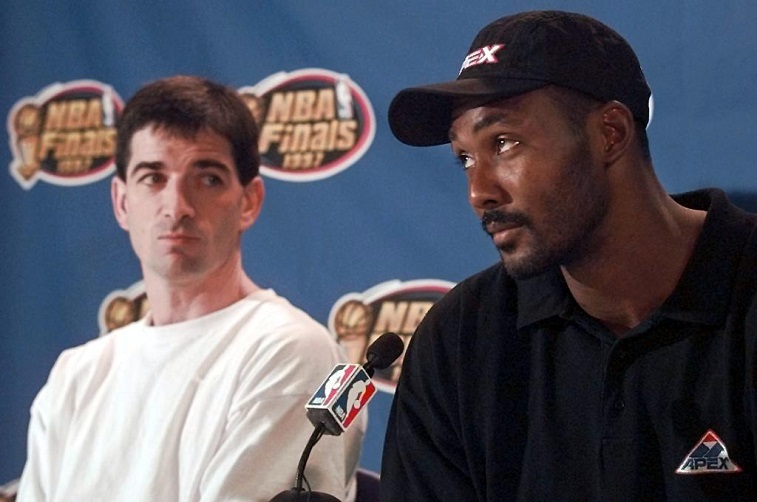 John Stockton and Karl Malone are two of the greatest individual performers to have never won a championship. On a near-nightly basis, Stockton and Malone would compete against the likes of Magic and Kareem, Tim Duncan and David Robinson, Gary Payton and Shawn Kemp, and Kobe Bryant and Shaquille O'Neal simply to get out of the rugged West.
As individuals, Stockton dished out a record 15,806 assists, while the Mailman racked up 36,928 career points, a total still good for second most in NBA history. The phrase "Stockton to Malone" delighted the Jazz faithful between 1985 and 2003, and the two even took home co-MVP awards at the 1993 All-Star Game in Salt Lake City.
On the pick and roll, Stockton would repeatedly hit Malone in stride for layups, baby hooks, scoop shots, and behind-the-head dunks. If left alone, Stockton would simply curl off a Malone screen to knock down a deep three-point bomb and swing the momentum.
In making two back-to-back trips to the NBA Finals, in 1997 and 1998, Stockton and Malone went down to the all-around play and heroics of Scottie Pippen and Michael Jordan. With time winding down, Jordan feinted a hard to the right from the top of the key before planting hard, crossing back over to the left, and burying the game winning jump shot to close out the 1998 Finals in front of Bryon Russell and a shocked Utah crowd.
3. Kareem Abdul-Jabbar and Magic Johnson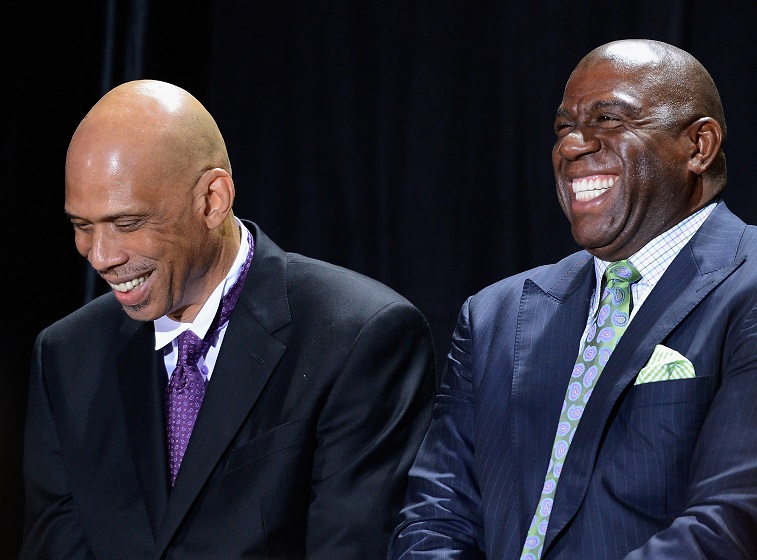 As teammates, Magic Johnson and Kareem Abdul-Jabbar represented both a devastating inside-out combination and a changing of the guard in Laker Land and atop the NBA. As a 20-year-old rookie, Magic filled in for the injured elder statesman (Kareem was 32 at the time)  at center in Game 6 of the 1980 Finals. That evening, Johnson blitzed Dr. J and the Philadelphia 76ers for 42 points, 15 rebounds, and 7 assists in claiming Finals MVP honors. The NBA was officially on notice.
By midpoint of the 1981-1982 season, Showtime was born. As a one-man fast break, Johnson would crash the boards, control the basketball, and run the team at a breakneck pace. As a passer, Magic would thread the needle through impossible angles to wings James Worthy and Scott for easy dunks and wide-open jump shots.
In half-court sets, Magic would dump the ball down to Kareem, where the most prolific scorer of all time would go to work. In the post, Kareem would pound the ball for two dribbles before pushing off the floor with his off leg and dropping a sky hook into the bottom of the net.
In Game 4 of the 1987 Finals, Magic took a page out of Kareems's book in driving toward the middle of the paint and hitting his own game-winning baby sky-hook as time expired. Ultimately, Johnson and Abdul-Jabbar would win five championships together, in 1980, 1982, 1985, 1987, and 1988.
2. Kobe Bryant and Shaquille O'Neal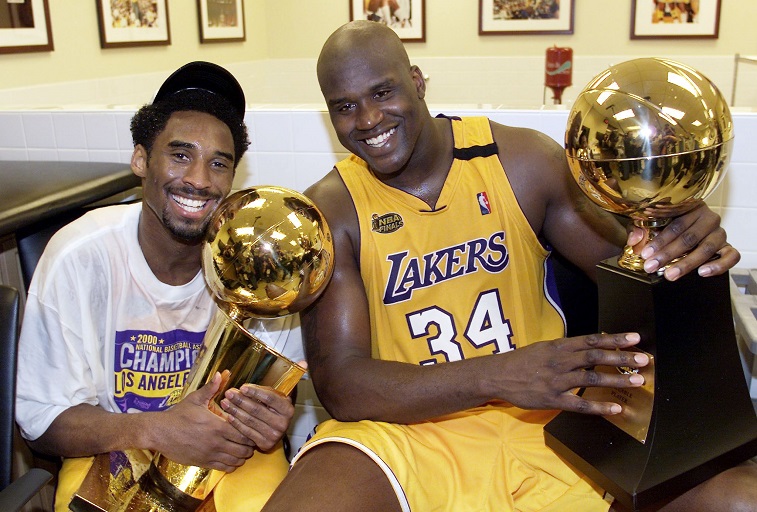 In 1996, Laker legend and General Manager Jerry West negotiated a series of trades and draft day deals that landed both Shaquille O'Neal and Kobe Bryant in Los Angeles. For O'Neal, this was his second rodeo, after starring alongside Anfernee "Penny" Hardaway in Orlando and losing his then only trip to the Finals. Bryant, however, was a wunderkind fresh out of high school who would spend his rookie year providing instant offense off the bench behind Eddie Jones.
With time, of course, Bryant improved his outside shooting touch while also adding a series of crafty post moves to his offensive repertoire. By his fourth year in the league, at 21, Kobe Bryant was putting up 23 points, 6 rebounds, and 5 assists per game, and being compared to Michael Jordan.
That season, Shaq was an unstoppable force in dominating opposing big men for 30 points, 14 rebounds, 4 assists, and 3 blocks per game. In the Western Conference Finals, the Lakers capped a feverish Game 7 comeback against the Portland Trail Blazers, with Kobe chasing down a loose ball at the top of the key and tossing up a lob pass to O'Neal for a one-handed jam.
In all, Shaq and Kobe made four trips to the Finals, winning three, in 2000, 2001, and 2002, as part of a threepeat. By 2004, however, the Lakers had degenerated into dysfunction, with Bryant and O'Neal wrestling for control over the team. While the Lakers did return to the Finals that year, they were blown out in five games by a cohesive Detroit Pistons group that many saw as the antithesis to the star-studded Lakers lineup.
After that the Buss family shipped O'Neal off to Miami and handed the keys of the franchise over to Bryant. For years, Kobe and Shaq continued to trade barbs with each other through interviews, championship parades, and awkward freestyle raps.
1. Michael Jordan and Scottie Pippen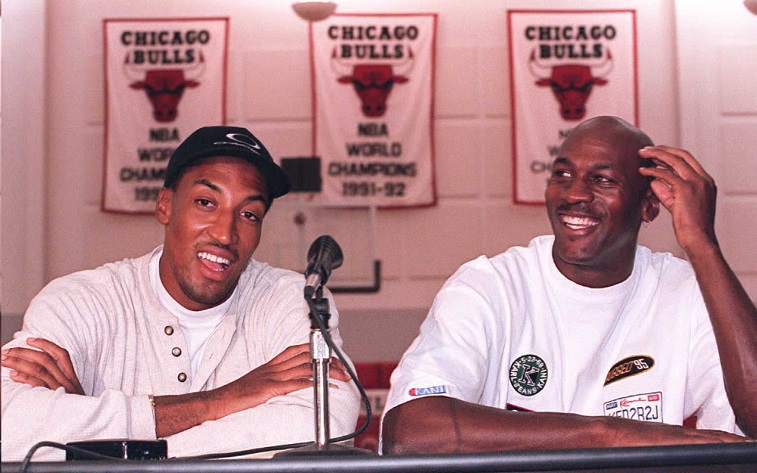 In terms of basketball pedigree, you couldn't find two more polar opposites than the wings for the Chicago Bulls' enduring dynasty: Michael Jordan and Scottie Pippen. Jordan, of course, introduced himself to the world immediately after hitting a deep corner jumper late in the game to take the NCAA Championship for Carolina.
As a rookie, in 1984, M.J. immediately went to work to eviscerate all comers for 28 points per game. Alternatively, the SuperSonics drafted Pippen out of Central Arkansas in 1987 and promptly traded his rights to the Bulls. A defensive specialist, Pip would develop his game over time after going toe-to-toe against the mercurial Jordan behind closed doors in heated practices.
The strength of the Jordan-Pippen partnership was largely forged in playoff runs against the Bad Boy Pistons group that turned back the Bulls in 1988, 1989, and 1990.
In 1991, however, the Bulls were back, and a more determined squad swept the Pistons, 4-0, in the Eastern Conference Finals. From there, Jordan and Pippen went on to bring home six championships. Perhaps no more lasting image of the pair exists than Pippen carrying His Airness, the flu-ridden Finals MVP, off the floor in Utah.
Statistics courtesy of Basketball-Reference.com and ESPN.com.