The 5 Most Hated NBA Players to Ever Step on the Court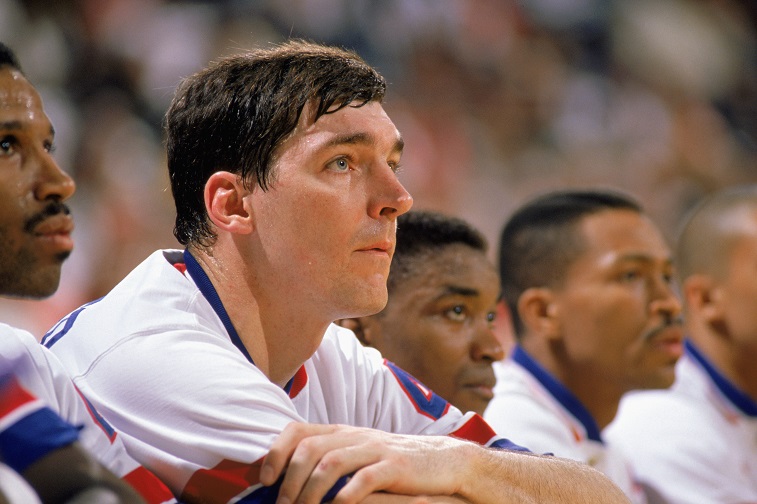 To be a classic sports villain is to be beloved by  teammates and fans, while being roundly despised anywhere outside of the friendly confines of his home arena. At the very least, sports villains bring the drama, as caricatures that fans apparently love to hate. Ironically, the most vilified sports villains are often the most sought after player personnel acquisitions, as was the case with the free agent bidding war for NFL defensive tackle Ndamukong Suh.
NBA villains, of course, are at their best when the artistry of basketball degenerates into something similar to a football scrum. By definition, these characters live on the edge between tough competitiveness and outright dirty play. Players who are limited athletically often work to level the playing field through mind games, brazen trash talk, grabbing, holding, and flailing away to clear out space. At their worst, however, rogue NBA players may dole out cheap shots, throw punches, wolf at fans and find themselves thrown out of games.
Some NBA players have appeared to relish their respective roles of WWE-like heels, and in response to the ugly half court sets and outright brawls the league office has instituted harsh penalties to clean up the physical play and constant jawing. Retrospectively, each of the five most hated villains in the history of the NBA looks more and more like a dying breed — or a throwback to another era. Even LeBron James has said that he would be more likely to retaliate against hard fouls out on the floor if this were "'80s or '90s basketball."
5. Charles Oakley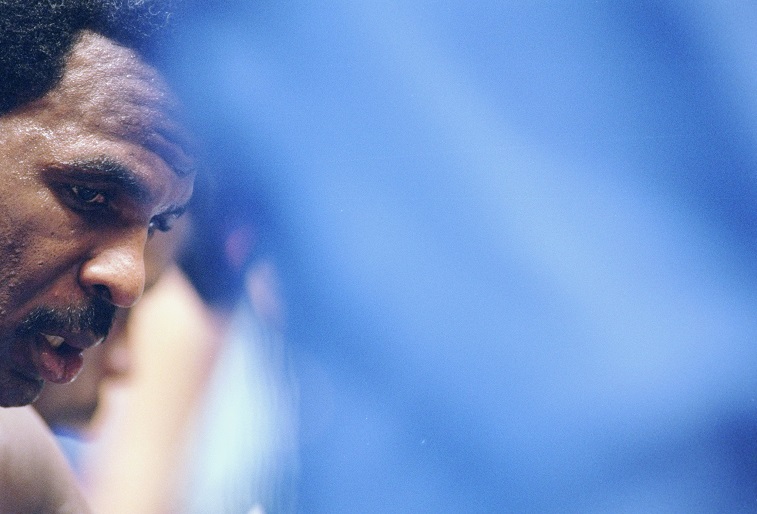 Charles Oakley was as the ninth overall pick in the 1985 draft out of a Virginia Union University that has sent a total of seven players to the NBA. In forging a 19-year career, Oak laid out the blueprint for any small school star hoping to carve out a niche in the NBA: durability, hard work, mental toughness, and the willingness to get down and dirty. It may not have been direct, but Ben Wallace was also a VUU alumni.
Oakley first made a name for himself in blue collar Chicago, where he emerged as Michael Jordan's most trusted bodyguard both on and off the court. For two seasons in Chicago, Oakley led the league in total rebounding. At 6-foot-8, Oakley scowled and elbowed his way into the paint, before clearing the glass, and firing out an outlet pass to a streaking Air Jordan to take flight for an easy jam.
The Chicago Bulls dealt Oakley to the New York Knicks in 1988, in exchange for Bill Cartwright. The Bulls and Knicks went on to meet six times in the playoffs, between 1988 and 1996, with Chicago prevailing in 1989, 1991, 1992, 1993, and 1996. In any event, Oakley was the ringleader of a rough-and-tumble bunch that also included Patrick Ewing, John Starks, Anthony Mason, and Xavier McDaniel. With Pat Riley at the helm, the Knick game plan called for the "no lay-up" rule, where the Knicks tried intimidate the increasingly battle tested Bulls.
As a tough guy, Oakley was known to slap box and brawl with the likes of Doc Rivers, Karl Malone, and Charles Barkley. In 1996, Oak squared off and went toe to toe against Sir Charles, after grabbing for a rebound and body-slamming Barkley onto the court, in a preseason game. From there, even the affable Shaquille O'Neal went on to challenge Oakley to a fight. For his part, Oakley likened his role on the court to that of a cop acting in self-defense.
4. Allen Iverson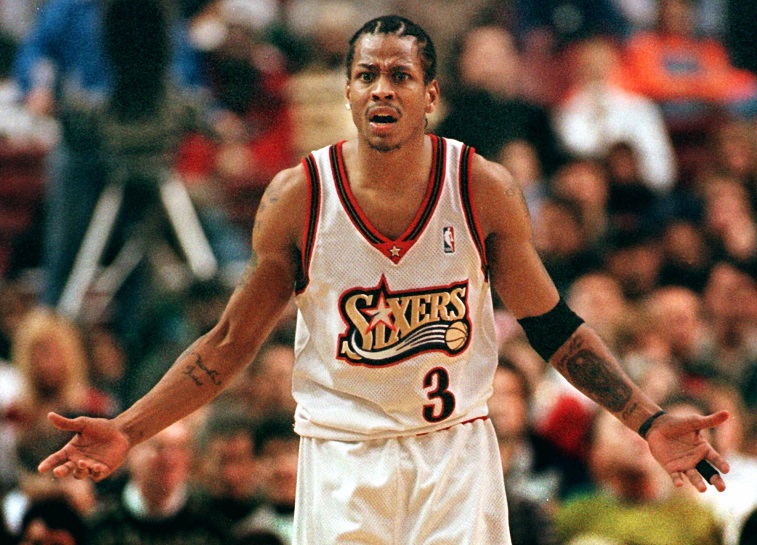 Allen Iverson makes this list as a villain, but mostly because he simply refused to back down from anybody.
A warrior, Iverson poured in 27 points per game through his 14-year career, after bringing home four separate scoring titles. In the 2001 NBA Finals, Iverson torched Kobe Bryant, Shaquille O'Neal and handed the Los Angeles Lakers their only loss of the entire postseason, although the Sixers went down four games to one. After that, AI only made one more trip back to the Eastern Conference Semifinals, and in the twilight of his career, Iverson ultimately wore out his welcome with the Nuggets, Pistons, and Grizzlies, and his lack of sports vindication (aka a championship) makes him an easy caricature and scapegoat for those looking to gripe about sports.
Those detractors will inevitably highlight his infamous practice rant, as evidence of his "me-first" primadonna attitude, but his villainous status was cemented by David Stern and the NBA's reaction to his style. At the podium, Iverson also greeted reporters in his then custom baggy tee shirt, baseball cap, cornrows, and neck tattoos. From there, the powers that be promptly instituted a dress code, where players were mandated to wear a jacket and tie during league functions. You can draw your own conclusions about why.
3. Dennis Rodman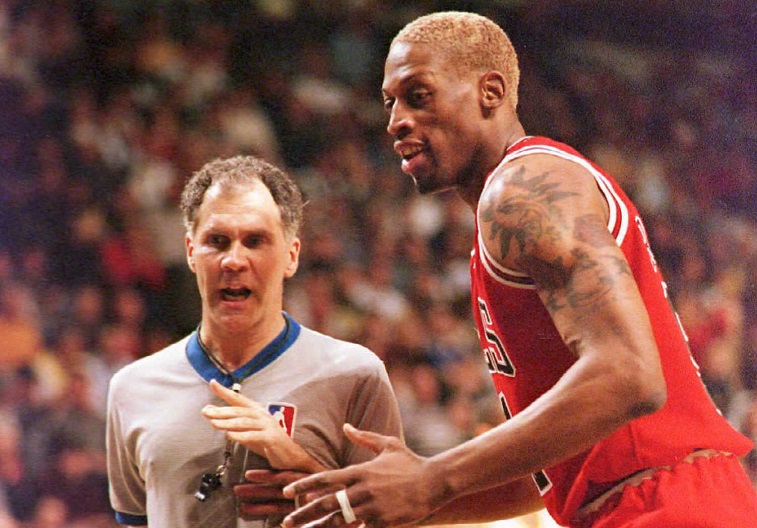 Rodman predated AI, J.R. Smith, and Chris "Birdman" Andersen as a player with the wild hair, full body tattoos, and crazy antics, both on and off the floor. In Detroit, a quiet Rodman first made a name for himself as a rebounder and defensive specialist capable of shutting down all five positions out on the floor. As a key member of the Bad Boy Pistons, Rodman was part of a group that won back-to-back titles, in 1989 and 1990, and smacked around Michael Jordan and the Bulls. The Worm was especially rough with Scottie Pippen, who he repeatedly bullied and slammed into the basketball support.
In 1993, The Worm was traded to San Antonio, where he emerged the new Rodman re-emerged with multi-colored hair, sleeve tattoos, and body piercing. After hauling in a rebound, The Worm often flailed out his arms and legs, before firing out an outlet pass, and running down the court with an exaggerated gait.
As a Spur, Rodman averaged a gaudy 17 rebounds per game. Still, he wore out his welcome in two short years, after multiple clashes with teammates, executives, referees and cameramen. He was enough of a strain on the button-down San Antonio culture that the Spurs dealt the greatest defensive forward of all time to Chicago in exchange for backup center Will Purdue.
Ironically, Rodman rehabilitated his reputation in Chicago, after teaming up with Michael Jordan and Scottie Pippen, who he had both tormented as a Bad Boy Piston. As a Bull, Rodman won three championships and three rebounding titles in three years. Rodman, then in his 30s, was especially effective in bodying up against the likes of Shaquille O'Neal, Shawn Kemp, and Karl Malone deep into the playoffs.
2. Bill Lambeer
Bill Laimbeer was the most despised member of a Detroit Bad Boy group that also included the aforementioned Dennis Rodman. As a Piston, Laimbeer got into frequent altercations and fist fights with Alonzo Mourning, Charles Barkley, Robert Parish, and Larry Bird, as a literal who's who, for '80s and '90s big men. In one episode, an incensed Larry Bird fired a basketball at Laimbeer's face, before the two players squared up and were ultimately ejected (In a recent interview, Larry Legend went so far as to dismiss Laimbeer as a dirty player, out to inflict pain upon the opposition).
In grappling for position, Laimbeer flailed his elbows and push, hold, and hip check players out of the paint. On the perimeter, Laimbeer was also known to slip his feet beneath airborne jump shooters, to take out their legs. Laimbeer also popularized the flop,taking a dive when wing scorers drove the paint in an effort and draw the charge. After every foul call, Laimbeer either pumped his fist or feigned total ignorance, to further get beneath the skin of his opposition.
At power forward, Laimbeer helped solidify the back line of the "Jordan Rules" defense, which dispatched the Bulls out of the playoffs in three consecutive postseasons: Isiah Thomas and Joe Dumars funneled Michael Jordan into the paint, where Laimbeer lay in wait to hammer the young superstar into the hardwood. In 1991, a more seasoned Chicago roster played through the physicality and mind games, to sweep the Detroit out of the Eastern Conference Finals. Laimbeer and his teammates simply walked off the Palace floor and refused to shake hands with the Bulls, as their Bad Boy era had come to close.
1. Ron Artest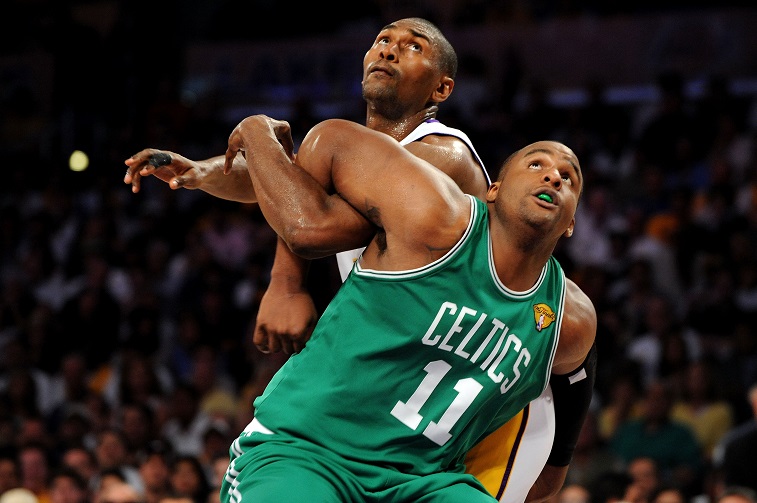 Ron Artest, in his prime, was one of the better two-way players of his generation. Controlling the game from end-to-end, Artest played lockdown perimeter defense, before rotating into the paint to contest a shot and crash the boards. After controlling the basketball, Artest turned up court and push the pace out on the break, where he either finished himself at the front of the rim or threaded the needle to an open teammate for an easy score.
In 2004, Artest was set to put together his best season yet, filling up the stat sheet for an up and coming Pacers roster with 25 points, six rebounds, and three assists per game. As an efficient scorer, Artest was shooting 50% from the field, 40% from three, and 90% from the free throw line. This 2004 season, however, will always go down in infamy, due to the assembled cast of characters at the Malice at the Palace.
For his part, Artest retreated back to lie out on the scorer's table, after dishing out a hard foul upon an incensed Ben Wallace. From there, raucous Piston fans began throwing beer onto a prone Artest. A few moments later, cameras cut away to shocking scenes of Artest and teammate Stephen Jackson climbing into the stands to beat down Detroit spectators.
Ron Ron was unceremoniously suspended for the rest of the season (75 games), for his role as an instigator in this melee. As an added bonus, league executives and referees doubled down upon penalizing hand checking, rough fouls, showboating, arguing calls, and extracurricular trash talk. Modern Day Critics that rail against today's game as "soft," must also recognize that Artest and the Malice at the Palace was the last stand for any old school enforcer.
Similar to Dennis Rodman, Artest was able to rehabilitate his image beneath the paternal guidance of Phil Jackson and menacing glare of Kobe Bryant, after exasperating coaching staffs in Indiana, Sacramento, and Houston. In 2010, Artest hit two clutch jump shots in the waning moments of Game Five versus the Phoenix Suns and the Game Seven Finals close out of Boston Celtics. With age, Artest ultimately changed his name to Metta World Peace and rode off into the sunset as a champion and very much bizarre, yet cuddly teddy bear.