The 5 Most Likely Super Bowl MVP Winners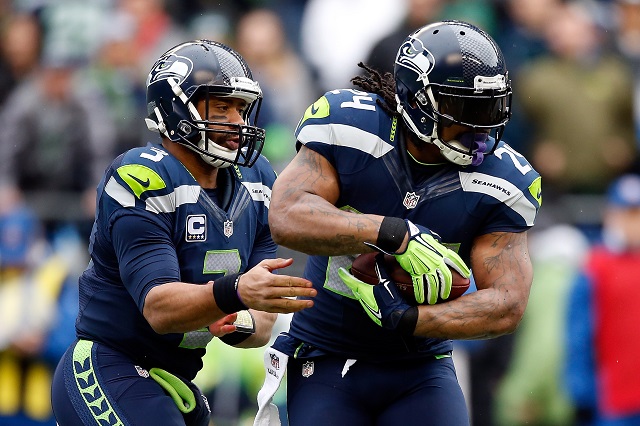 Big time performances in the Big Game form the bedrock of NFL lore. Even casual fans may be familiar with Joe Montana leading a fourth quarter comeback drive, John Elway going helicopter to pick up a first down, Eli Manning shaking off the blitz to connect with David Tyree's helmet, and Ben Roethlisberger throwing a strike to Santonio Holmes in the back of the end zone, en route to Super Bowl victory, MVP hardware, and possibly a bronzed bust at Canton.
The looming Super Bowl XLIX is shaping up as a classic matchup between the New England Patriots, in the twilight of a dynasty run, and a Seattle Seahawks franchise that may just be getting started. As far as individual accolades are concerned, each of the five most likely MVP winners would enhance their Hall of Fame resumes with a victory in Arizona.
5. Rob Gronkowski
Rob Gronkowski has been favorably compared to The Terminator out on the gridiron. In Week 11, Gronk arguably turned in the NFL play of the year. Against the Colts, Gronk hauled in a five-yard out pass against the Indianapolis Colts. From there, he juked the outside linebacker with a spin move, before turning up field to stiff-arm diminutive defensive backs and break multiple tackles en route to a 26-yard touchdown. On the previous drive, he escorted Colts safety Sergio Brown "out of the club," by blocking him out of the end zone and into the camera truck away from the action on a one-yard touchdown run.
In all, Gronkowski closed out the 2014 season with 1,124 yards and 12 touchdowns on 82 receptions. Still, Seattle nickel-back Jeremy Lane recently dismissed Gronkowski as "not that good." At tight end, Gronk will be too physical for defensive backs to jam at the line of scrimmage, and too fast for linebackers to cover in space, a match-up nightmare for the Seahawks.
To claim MVP hardware, Gronkowski would have to rack up more than 100 yards receiving, along with more than one touchdown, in a win.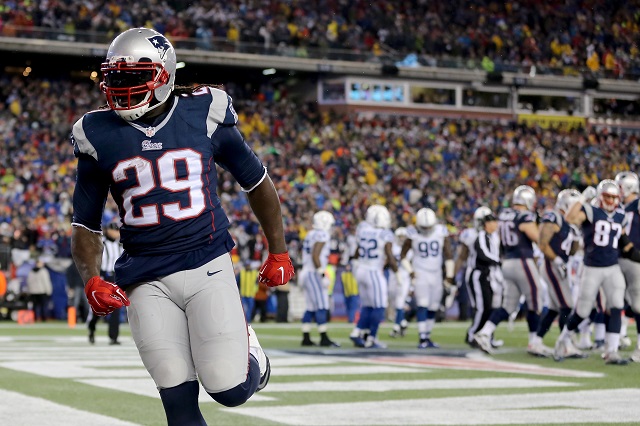 4. LaGarrette Blount
For LaGarrette Blount, a Super Bowl MVP performance would be poetic justice. Blount has always filled in as a model Patriot despite his reputation as a malcontent with both the Oregon Ducks and the Pittsburgh Steelers. Over the past two years, Blount has racked up 314 yards and 7 touchdowns off 54 carries in two monster playoff games versus the Indianapolis Colts.
Defensive tackle Kevin Williams, at 311 pounds, is the largest man on the Seahawk defensive line. At both ends, Cliff Avril and Michael Bennett weigh in at a relatively svelte 260-275 pounds. As such, New England can rely upon a power running game, to neutralize the speed and quickness of the Seattle front seven, while also playing keep away from ballhawk Richard Sherman and the rest of the Legion of Boom.
At 6-foot-1 and 250 pounds, Blount is a big back who is also deceptively fast. A steady dosage of punishing Blount carries early in the game could wear down the Seattle defense. By the fourth quarter, Blount may be bowling over safeties Kam Chancellor and Earl Thomas, picking up larger chunks of yardage, moving the chains, and eating up time of possession. There's no doubt that Blount can emerge as the Super Bowl XLIX MVP if the Patriots commit to old school, smash mouth football.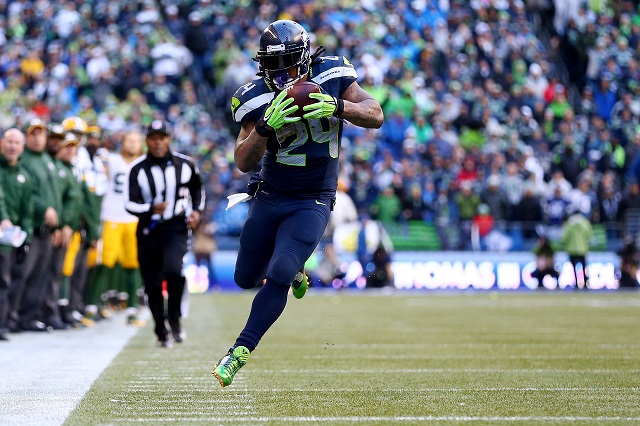 3. Marshawn Lynch
The Seattle Seahawks will win Super Bowl XLIX, if Marshawn Lynch goes full on "Beast Mode." An all-around back, Lynch closed out the 2014 season with 1,306 rushing yards and 13 touchdowns over 280 carries (4.7 yard-per-carry average). Out of the backfield, Lynch also hauled in 37 receptions for 367 yards and 4 touchdowns. For Seattle, No. 24 was the lynchpin of the miraculous 28-22 overtime NFC Championship victory over the Green Bay Packers.
To pace the Seahawks, Lynch rumbled for 157 yards and one touchdown upon 25 attempts. After keeping the game close, the Seahawks benefitted from a fake field goal, onside kick recovery, winning coin flip, and 35-yard bomb to win the game in sudden death. Lynch could take home MVP honors if he can rack up more than 125 rushing yards and at least one touchdown in a victory.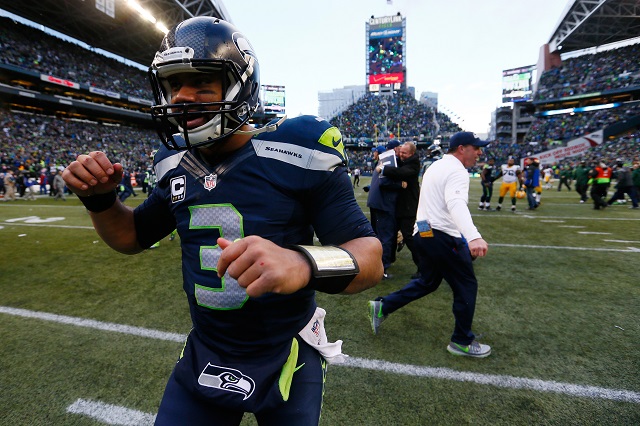 2. Russell Wilson
A breakout Super Bowl XLIX performance out of the Seattle starting quarterback would put to rest rumblings that Russell Wilson is a mere game manager. Wilson, the consummate winner, must be chomping at the bit to definitively add his name to the list of elite NFL quarterbacks. Last year, the Super Bowl XLVIII MVP award went to Malcolm Smith, after the linebacker recorded nine tackles, recovered a fumble, and took one interception back to the house, as part of Seattle's 43-8 defensive masterpiece. Wilson threw for 206 yards and tossed 2 touchdowns in that win.
For 2014, Wilson followed up his Super Bowl XLIII performance with 3,475 passing yards and 849 yards on the ground through the regular season. He actually led the league in yards-per-carry, at 7.2. In all, Russell Wilson accounted for 4,324 yards of total offense and 26 touchdowns. As a third-year pro, he has already emerged as the best dual-threat quarterback in the game of football.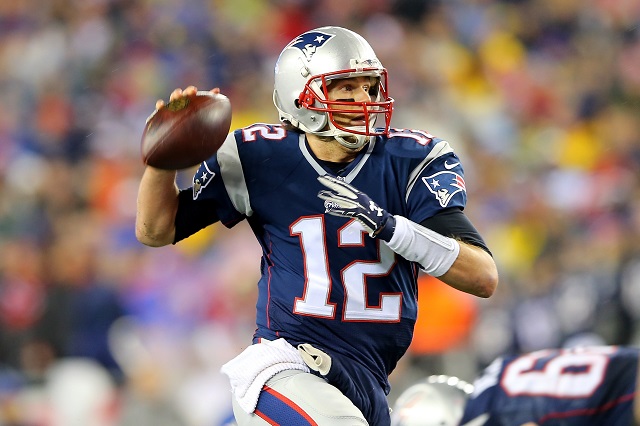 1. Tom Brady
In the AFC Championship Game, Tom Brady threw a pick to Colts linebacker D'Qwell Jackson, with the Patriots on the march deep within the red zone. After the play, Colts equipment managers on the sideline claimed that the intercepted ball was underinflated. From there, League officials went on to confirm that 11 out of the 12 footballs used by the Patriots were underinflated by two pounds per square inch, according to NFL specifications. DeflateGate, as it came to be known, called attention away from the fact that the New England Patriots shellacked the Indianapolis Colts 45-7 to take the AFC Championship.
If anything, this latest debacle will only fuel Brady to cement his legacy as one of the greatest quarterbacks and competitors in the history of the NFL. At stake is the opportunity to claim his fourth Lombardi Trophy in six trips to the Big Game. With his fourth Super Bowl title, Tom Brady would join the ranks of Terry Bradshaw and Joe Montana.
As a winning quarterback, Tom Brady can take home Super Bowl MVP XLIX honors if he can spread the football around, and pass for more than 250 yards with multiple touchdowns. Throughout the regular season, he led a balanced passing attack, with Brandon LaFell, Julian Edelman, and Rob Gronkowski each going for more than 950 receiving yards. For Brady, a third Super Bowl MVP award would tie Joe Montana for the all-time record.