NFL: 5 Quarterbacks Signings That May Have Been a Mistake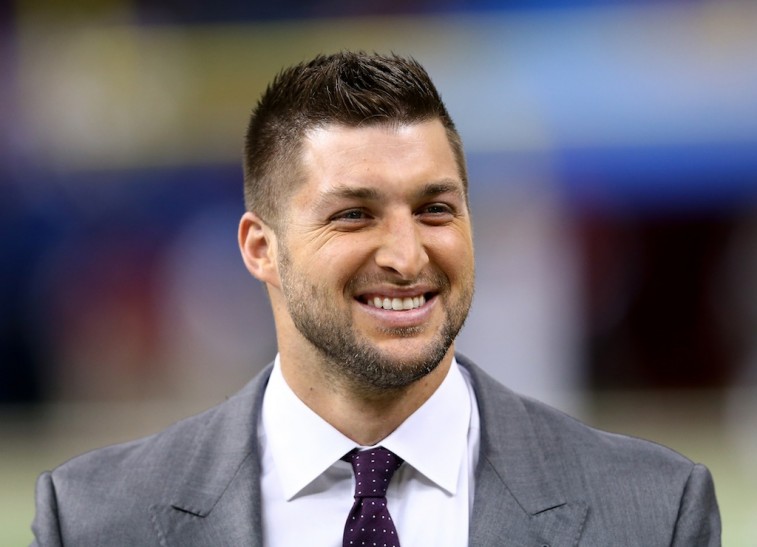 Just when we thought this NFL offseason couldn't get any crazier, Chip Kelly reminded us that he is anything but conventional.
In a move that had the whole sports world buzzing, the Philadelphia Eagles have officially signed Tim Tebow to a one-year deal. Forget the fact that the Eagles already seem to be pretty crowded at the quarterback position. Kelly has no problem reminding everyone that he's running the show in Philadelphia and he'll do whatever he wants — even if that means bringing in an individual who many believe has no business playing the position. (The Eagles would ultimately agree, cutting the Teebs and putting the wheels in motion for his return to ESPN.)
And yet, when it comes to the history of the quarterback position in the NFL, this wouldn't be the first time a team has done something that is head-scratching. Who could forget the 2006 offseason, when the Miami Dolphins were in desperate need of a new quarterback?
They opted to pass over Drew Brees and make a trade for Daunte Culpepper. We bet the franchise would do anything to go back and rectify that mistake. But here's the thing: It probably didn't seem like a mistake at the time. Fortunately for us, we have the luxury of hindsight. And that's the position we find ourselves in with this latest situation.
So Tebow started with a bang and ended with a whimper, but some of the strangest QB decisions have worked out differently in the past. With that in mind, here are the five most questionable quarterback signings in NFL history.
1. Matt Cassel, Kansas City Chiefs, 2009
Contract details: 6 years, $63 million ($28 million guaranteed)
When Matt Cassel was tasked with stepping in for the injured Tom Brady in 2008, the fourth-year quarterback out of USC showed he had some chops. He led the New England Patriots to an 11-5 record, throwing for 3,693 yards, 21 touchdowns, 11 interceptions, and a 63.4% completion percentage. Come the 2009 offseason, Cassel was a hot commodity, and the Pats rewarded him with the franchise tag worth $14.561 million.
However, he was then traded to the Kansas City Chiefs, where he was able to work out a long-term deal that would pay him $63 million over six years, with $28 million guaranteed. The Chiefs thought they had found a franchise quarterback, and Cassel thought he had found the perfect home. Both sides were wrong.
The quarterback never lived up to that lofty contract. In his four seasons as the starter in Kansas City, Cassel had a 19-28 record, 57.4% completion percentage, 59 touchdown passes, and 44 interceptions. While Cassel did make the Pro Bowl in 2010, it wasn't enough to keep him from getting released prior to the 2013 season.
2. Scott Mitchell, Detroit Lions, 1997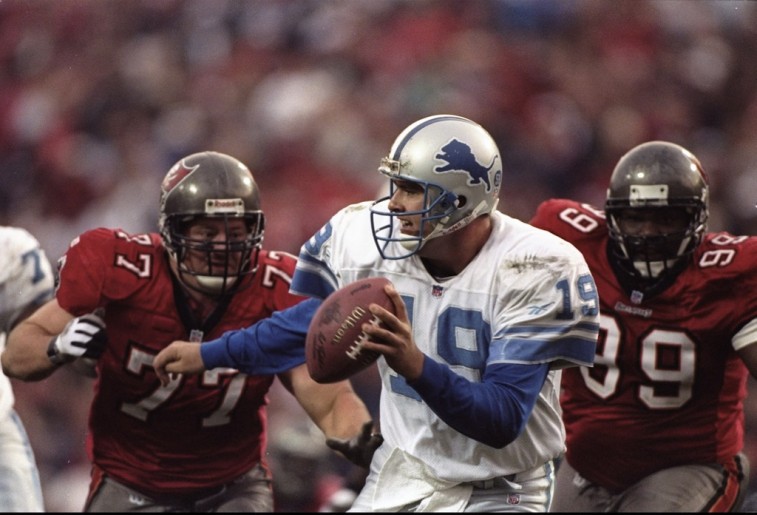 Contract details: 4 years, $21 million ($8 million guaranteed)
The Detroit Lions misjudged Scott Mitchell's quarterbacking skills prior to the 1994 season, when they gave him a three-year, $11 million contract. But in their defense, Mitchell did perform adequately the year before in Miami, when he stepped in for the injured Dan Marino. Mitchell also rewarded the team's faith in him with one solid season in 1995, when he threw for 4,338 yards and 32 touchdowns. But we don't think he did enough to warrant the $21 million extension he received in 1997.
He would have one more full year for the Lions, throwing for 3,484 yards, 19 touchdowns, and 14 interceptions. Still, everyone knew that Detroit's 9-7 record and trip to the playoffs had mostly to do with running back Barry Sanders going for 2,053 yards on the ground and 11 touchdowns. The proof was in the pudding, as Mitchell lost his job just two games into the 2008 season.
3. Jeff Garcia, Cleveland Browns, 2004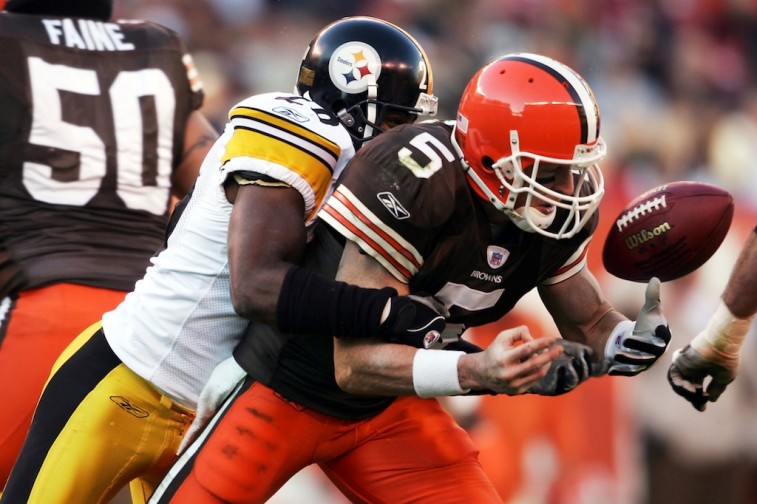 Contract details: 4 years, $25 million
In 2004, after three Pro Bowl seasons with the San Francisco 49ers, quarterback Jeff Garcia found himself in need of a new team. Enter the Cleveland Browns, who believed that Garcia would be the right guy to put under center, so they signed him to a four-year, $25 million deal. The Browns had to have known that Garcia was already 34 years old, right? No matter. The marriage between the two sides did not last long.
Garcia's tenure in Cleveland lasted all of one season. He would finish with a 3-7 record as a starter, throwing for 10 touchdowns and 9 interceptions. His 57.1% completion percentage would be the worst of his career. Despite this terrible season, Garcia would end up making one more Pro Bowl in 2007, as a member of the Tampa Bay Buccaneers.
To this day, the Cleveland Browns are still in search of a legitimate franchise quarterback.
4. Neil O'Donnell, New York Jets, 1996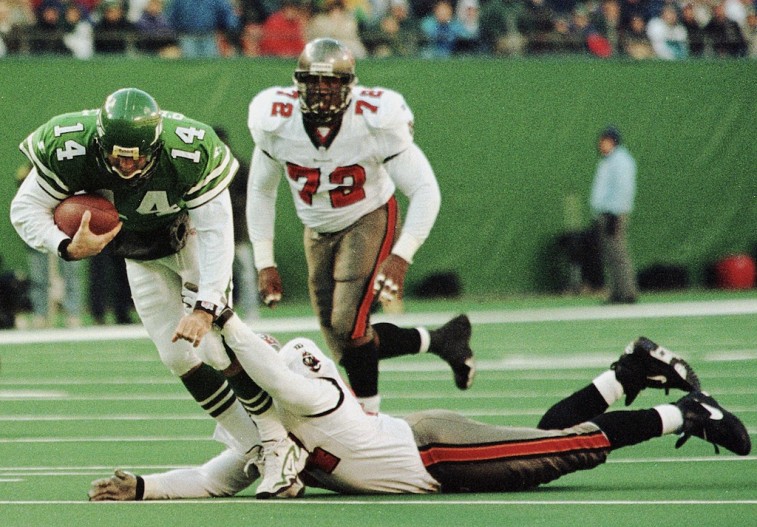 Contract details: 5 years, $25 million
Neil O'Donnell led the Pittsburgh Steelers to the Super Bowl in 1995. He was rewarded for his efforts the following season with a five-year, $25 million contract from the New York Jets. He would prove his worth in the 1996 season by only lasting six games under center. The Jets would lose all of those contests, and O'Donnell would throw 4 touchdowns and 7 interceptions.
Things did get better in 1997. O'Donnell started in 14 of 15 games, and New York was 8-6 in those match-ups. He threw for 2,796 yards, 17 touchdowns, and 7 interceptions; those numbers were fairly accurate to the ones he put up in his final season as a Steeler. But in the end, it didn't matter. By 1998, the O'Donnell experiment in New York was over, and the quarterback would find himself under center in Cincinnati.
5. Michael Vick, Philadelphia Eagles, 2011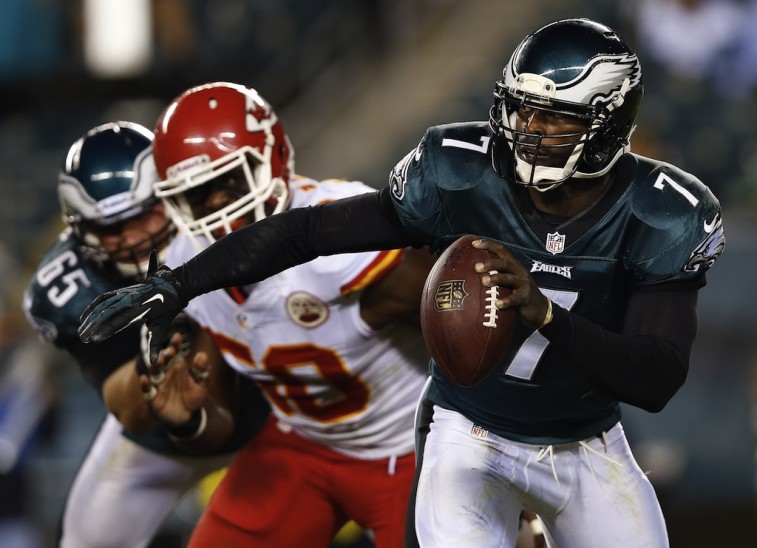 Contract details: 6 years, $100 million ($40 million guaranteed)
In 2009, the Philadelphia Eagles and then-coach Andy Reid decided to give Michael Vick another shot in the NFL. They signed the former Atlanta Falcon to a two-year deal, and it was up to the embattled QB to prove he deserved to be a part of the league. Vick made the most of his second chance. By 2010, he was the Eagles' starting quarterback and had been selected to the fourth Pro Bowl of his career. It was truly one of the biggest turnarounds the sport had seen in years. But it wasn't over.
What would a great comeback story be if it didn't follow with massive contract at the end? Which is exactly what happened here. Prior to the 2011 season, the Eagles made Vick one of the highest-paid players in the NFL, signing him to a six-year, $100 million deal. On top of that, the contract was worth roughly $40 million in guaranteed money. Talk about rising from the ashes. And yet, this fairytale would end up being short-lived.
Despite winning the starting quarterback position during the 2013 training camp, injuries throughout the season knocked Vick out of the starting position. The following season, the speedy quarterback may have still been sporting green and white, but those colors would belong to the New York Jets.
All statistics are courtesy of Pro-Football-Reference.com and ESPN.go.com.