The 5 Most Surprising Teams of the 2015 NFL Season
The wheat has begun to separate itself from the chaff, and by now the outsized expectations of training camp have long since given way to the harsh realities of the NFL's regular season. The truly elite teams, of course, have already begun to run away from their respective divisions, eyes drifting toward first-round byes and home-field advantage through the playoffs. For the real contenders, any result less than a Super Bowl ring would be a bitter disappointment. Heading into 2015, it was largely assumed that the New England Patriots, Seattle Seahawks, Dallas Cowboys, and Green Bay Packers would perform as the teams to beat.
By Week 6, however, five other teams have joined the ranks of the Patriots and Packers, at the top of the order. The following five teams have surprised many, but each have clinched signature wins, to prove that they are not exactly flukes that somehow "got lucky" against inferior competition. At this point, no team with a winning record, let alone an undefeated mark, shall be taken lightly.
5. Denver Broncos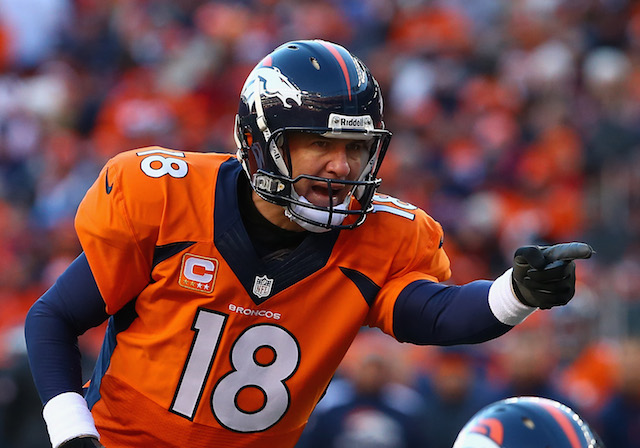 The Denver Broncos are winning ugly, but 5-0 is 5-0. The Broncos are putting up a mere 22.6 points per game, which is now good for 17th in the league, and Peyton Manning has looked every bit and day of his 39 years of age. You could be forgiven for mistaking Manning for a literal statue in the pocket — even when given time to throw his passes lack zip and are regularly picked off. This season, Manning has completed 64% of his passes, for 1,234 yards and six touchdowns, against seven INTs.
As recently as 2013, Manning was lighting up the league, in going over the top for a record 5,477 yards and 55 touchdowns. That season, the Broncos went 13-3, before being blown out of Super Bowl XLVIII, 43-8, by the Seattle Seahawks. Wholesale changes were made, with Gary Kubiak and Wade Phillips ultimately being brought in to remake the Broncos in the waning light of Manning's career, but starting running back C.J. Anderson has only eked out a mere 2.6 yards per carry this season, as the opposition now crowd the line of scrimmage and brazenly dare Manning to take shots downfield.
For 2015, the story is all defense at Mile High. This stacked unit features Aqib Talib going man-to-man and locking down his side of the field, while DeMarcus Ware and Von Miller attack off the edge to wreak havoc, sack the quarterback, and strip out the football. So far, the stingy defense — only giving up 15.8 points per game — has kept every game close, and set the table for the old man at quarterback to reach into his bag of tricks and pull out some late game heroics. In Week 2, Manning engineered a fourth quarter drive to tie up the score, before the defense ran a fumble back to paydirt to win the game in Kansas City, in the closing seconds. The catcalls out of cynics screaming for Manning to retire may be a bit premature.
4. Arizona Cardinals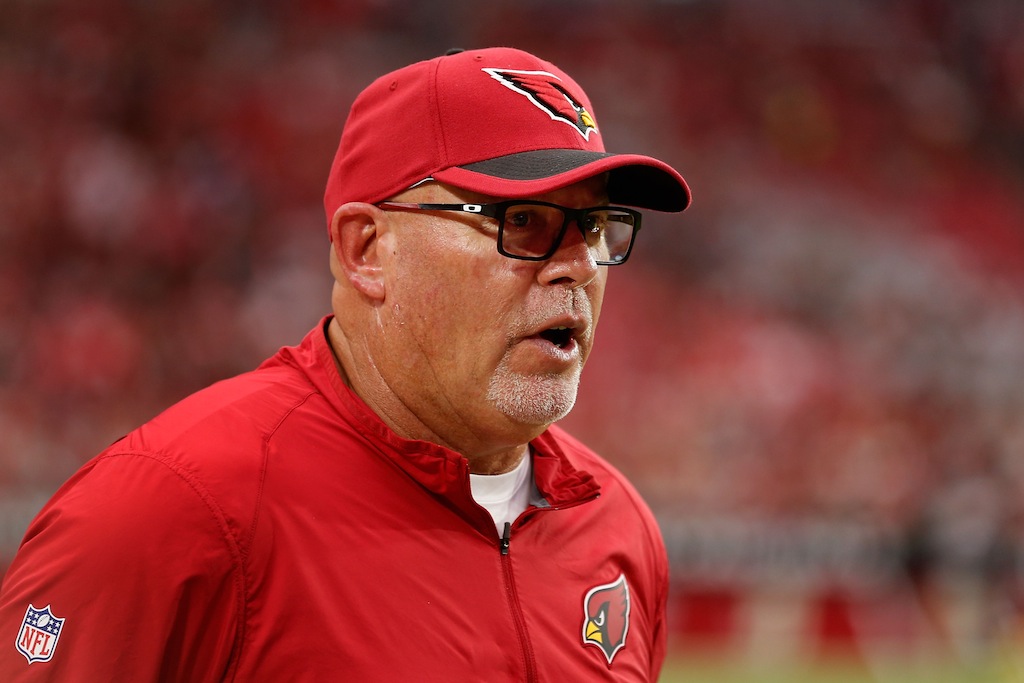 The Arizona Cardinals were at 9-1 last season and heading into an NFC West showdown against the Seattle Seahawks when a mid-season ACL injury shut Carson Palmer down for the rest of the year. From there, Arizona lost both games against the Seahawks and four of their last six total, limping into the playoffs with a Wild Card berth at 11-5. Their playoff dreams were shattered when Arizona went on the road to Carolina, a game that saw them get blown out of the building in a driving rain with third-string quarterback Ryan Lindley at the controls.
In effect, it was rather easy to forget about the Cards this season, even if their lineup does read like a who's who of 2000s football: with Heisman Trophy winner Carson Palmer handing off to 2,000-yard man Chris Johnson, before dropping in beautiful deep bombs to Larry Fitzgerald. Each of these stars are now well past the age of 30, yet have proven to have something left in the tank even as the phrase "washed up" lingers as a real concern. Johnson, for his part, is now averaging 5.1 yards per carry out in the desert, after languishing at the end of the bench last season in New York City.
Carson Palmer, at 36, is now playing the best football of his career and is the unquestioned leader of the most prolific offense in the NFL. This season, Palmer has completed 65% of his passes, for 1,316 yards and 13 touchdowns, with the high-octane 4-1 Cardinals putting up 38 points per game. On the other side of the football, Tyrann Mathieu and Patrick Peterson are two of the best young defensive backs in the league, and are made all the more important against pass happy schemes.
Meanwhile, division rival Seattle has stumbled out to 2-3, setting the stage for the Cards to emerge at the head of the NFC if Carson Palmer can stay healthy and the team can lock down a home playoff game.
3. Carolina Panthers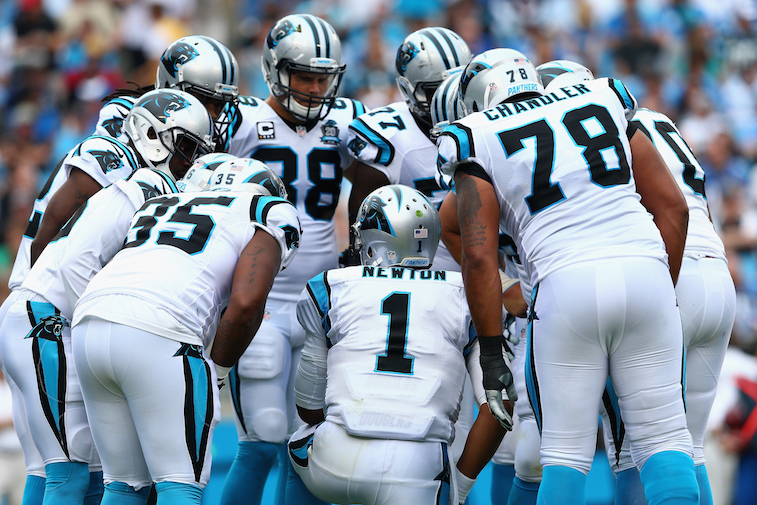 In 2011, Cam Newton put together a rookie season for the ages, airing out the football for 4,051 yards and 21 touchdowns while also racking up 706 yards and 14 touchdowns on the ground. The shotgun-spread attack was the plan for Carolina, and Newton would often take off and high step into daylight if his first read was covered. NFL defenses, of course, quickly caught up with the option-read, as evidenced by the crash-and-burn career of Robert Griffin III. For his part, Cam also appeared to have largely regressed from his rookie year and was passing for less yardage with every successive season.
Last year, a maddeningly inconsistent Newton and the Panthers went 7-8-1 and backed into the playoffs, somehow winning the much-maligned NFC South. For this, Carolina was rewarded with a home playoff game against Arizona, which it won, before going on the road to Seattle and getting spanked 31-17 in the Divisional Round. To close out this up-and-down season, then rookie receiver Kelvin Benjamin showed great promise, in hauling in 73 receptions for 1,008 yards.
Benjamin, however, blew out his knee this offseason, and will likely remain out for all of 2015. This apparently disastrous Carolina offseason also featured footage of Newton, franchise quarterback, brawling with his own teammates. Still, Newton now has the Panthers at 4-0, despite relying upon tight end Greg Olsen, as both his underneath security blanket and deep threat. Newton is also the second leading rusher on the team, with only 25 fewer yards rushing than Jonathan Stewart. Newton's image, in a flash, has suddenly transformed from the team goat into that of a dark horse MVP candidate.
2. Cincinnati Bengals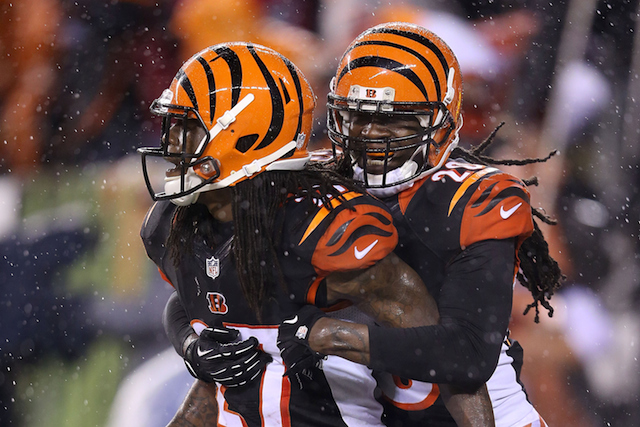 For years, the Cincinnati Bengals, or Cincinnattica Bungles, have been the butt of jokes for their propensity for losing, their garish uniforms, and some extensive rap sheets. In more recent times, the Bengals have indeed clawed their way back to respectability taking four consecutive trips to the playoffs behind a stout defense and solid quarterback play. The Bengals, however, have lost every opening round playoff game through this four-year run, with quarterback Andy Dalton throwing only one touchdown against six interceptions for his postseason career.
As such Dalton, at 28, has already been written off as a game manager, who would never get this team over the hump, let alone win the Big One. Ironically, it is now Dalton who leads the league in passing through five games with 1,518 yards, 11 touchdowns, and a big-play 14.1 yards per completion average. The Red Rifle has been playing pitch-and-catch with A.J. Green, who now rivals Julio Jones as the best young wide receiver in all of football.
The Bengals have quietly rolled to 5-0, with blow out wins over the Oakland Raiders and Kansas City Chiefs, before stealing a win against the Seahawks, in overtime. Heading into this season, many analysts assumed that it would have been Andrew Luck, or even Ryan Tannehill, who would have made "the leap," and not "game manager" Andy Dalton.
1. Atlanta Falcons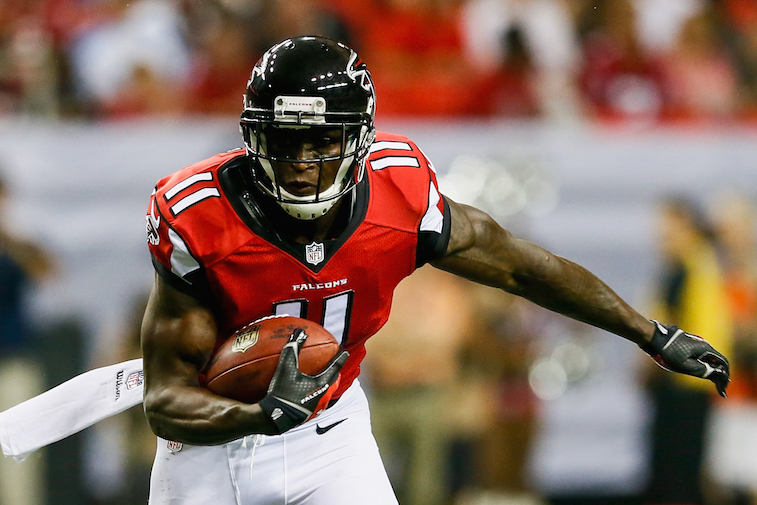 The Atlanta Falcons are suddenly the most exciting team in football. For this season, Matt Ryan, Devonta Freeman, and Julio Jones are each top-five statistical performers at their respective positions and have improbably replaced Tony Romo, DeMarco Murray, and Dez Bryant as the best trio in the sport. Out of the Atlanta group, it's Freeman who has come out of nowhere to lead the league in rushing touchdowns, after Atlanta took him as a fourth round pick out of Florida State last season.
The emergence of Freeman has added another dimension to the Atlanta attack —  this diminutive back can quickly take the edge and sweep past lumbering linebackers at the point of attack. In passing situations, Freeman is much improved as a blocker in blitz pick-up, and can also release into the flat as the ultimate safety valve. By keeping defenses honest, Freeman has further helped to unleash Julio Jones, who is a match-up nightmare on the outside against one-on-one coverage. Jones, of course, is putting in a solid case for being the best wide receiver in the NFL.
In Week 5, Redskin quarterback Kirk Cousins sailed a ball out toward the left sideline. Falcon cornerback Robert Alford immediately broke on the pattern, came up with the pick, kept his feet in bounds, and then took off for six, to win the game in sudden death. So far, in 2015, everything has gone right for the 5-0 Falcons.