The 5 NCAA Football Coaching Staffs With the Highest Salaries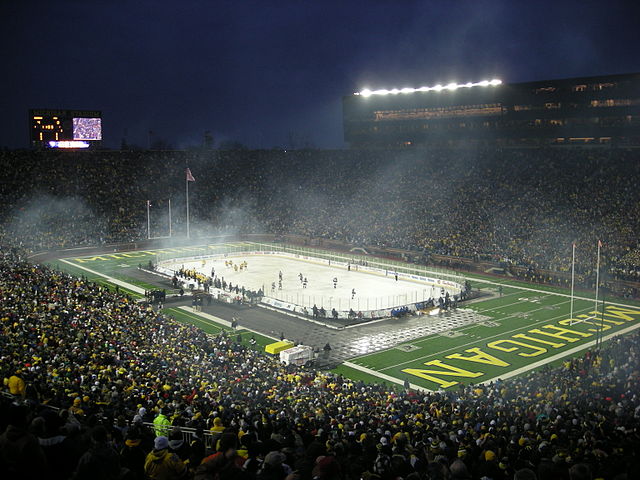 Breaking: The NCAA generates a ton of money. Billions of dollars. Most of the information about the NCAA's profit is, understandably, tied to the fact that their athletes get exactly none of it because they're student-athletes, and paying them for their performances on the field — the performances that directly affect how much money the universities bring in through their sports programs — would be unethical. Obviously.
Most people outside the NCAA think paying players for the insane amounts of revenue they deliver an idea that seems easier and easier to stomach once you see where the rest of the money is allocated. ESPN recently published an article about how the business of college sports is still growing despite the recession. The numbers are staggering.
Taking that data in a different direction (and there's a mountain of it — we'll link to the database at the end of the article), we decided to look at the highest paid football coaching staffs from last season, 2013, and see how well they did to justify their paychecks and benefits.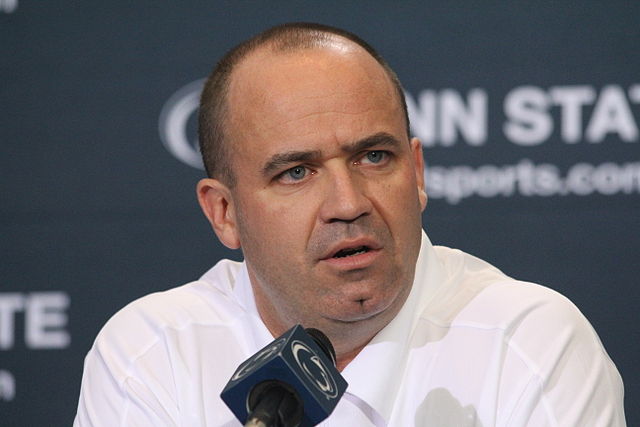 5.  Bill O'Brien — Penn State, $20 Million
That's right. In his stopgap stay at the heavily sanctioned Penn State, the now new coach of the Houston Texans — he replaces Gary Kubiak, who suffered a stroke on the field during one of the games in Houston's 2-14 season — Bill O'Brien and his crew pocketed $20 million for his 2013 coaching job with the Nittany Lions. The Lions were halfway through their forced absence from the postseason that year, so while the Lions finished a strong 7-5 (and brought in $33 million in tickets sales), there wasn't any reckoning to be had for the Lions or for O'Brien's paycheck (or the Penn State scandal, as the NCAA recently reduced the penalties against the school for the first time in the organization's history.)
Once O'Brien was officially outside the auspices of college football, he labelled the bowl ban for Penn State "ridiculous," and reiterated to the media that he had tried to contact each player before taking the Texans gig. At the time the sanctions were handed down from the NCAA, O'Brien issued a statement that said, in part, "I will do everything in my power to not only comply, but help guide the University forward to become a national leader in ethics, compliance, and operational excellence. I knew when I accepted the position that there would be tough times ahead. But I am committed for the long-term to Penn State and our student athletes."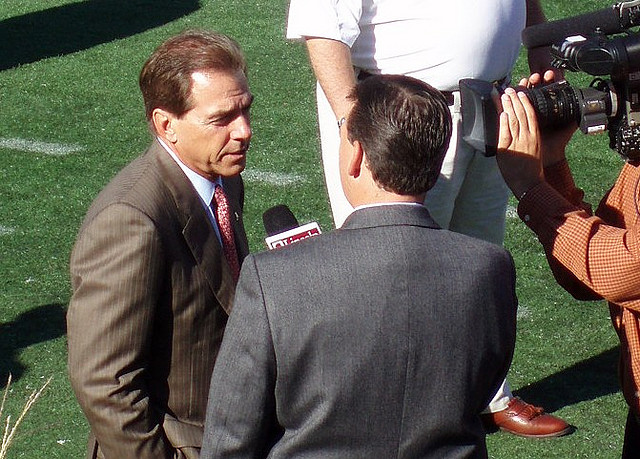 4. Nick Saban — Alabama, $20.9 Million
One coach who hasn't been distracted or even thought about anything other than winning since he was born in 1951 is Alabama's Nick Saban — by all accounts terrifyingly dedicated to the farming of football recruits. Indeed, Saban is the highest paid head coach in the league, earning over $7 million dollars a season. That said, there's no wonder why him and his staff are paid so well  if it really only takes twenty minutes of questions for an out-of-town journalist to get at least one "Saban's nuts" story:
"That damn game cost me a week of recruiting," Saban grumbled into the phone. Rumsey pointed out that Saban and his team had just been on national television before millions of people — including, most likely, every high school recruit in the country — and reminded Saban that they had won the national championship.
"I said, 'I'm not sure, but I think that helped you,'" Rumsey recalled to the magazine. "And he said, 'I just don't know. Maybe. Maybe that was good,' [italicized emphasis from GQ]." Then it's possible Alabama's not paying Nick Saban enough. They're definitely not paying him for his Electric Slide.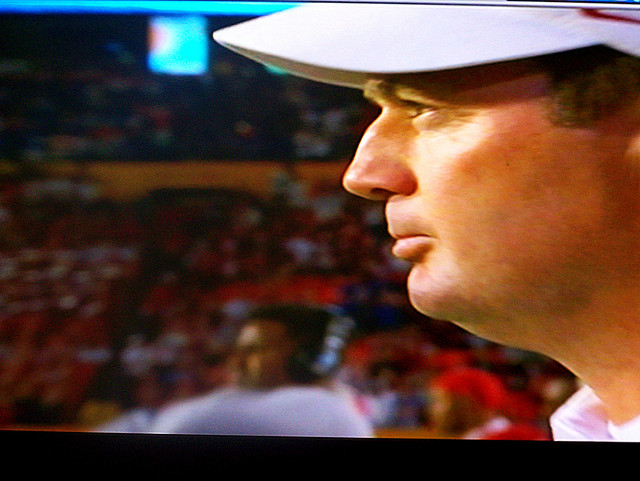 3. Bob Stoops — Oklahoma, $21.2 million

Bob Stoops to conquer. The Oklahoma Sooners, which employ Stoops at the very generous pay plus benefits rate of $21.2 million, finished their 2013 campaign at an above solid 11-2 record. With the Sooner's win over Alabama in last year's Sugar Bowl, Stoops' lifetime coaching record — he's been the OU coach since 1999 — with the Sooners stands heavily favored to the win column, a 160-39 tally that's over 80 percent victories.
Recently ranked the best coach of the Big 12 (and the fourth best coach in all of D-1 athletics) by SportingNews.com, Stoops has been involved with college football since a stint at Iowa in 1983 where he played defensive back from '79 'til '82. He has 8 Bowl titles to his credit. Him and his crew certainly look lined up to have a lot of it. Credit, that is. Lots of available credit.
2. Mack Brown — Texas, $24.4 million
First thing's first — Mac Brown won't be the head coach of the Longhorns when the season starts up again. The 62-year-old told the team he was ready to retire after their involvement in the Alamo Bowl. The timing wasn't great, as the Oregon Ducks blew the Longhorns out and handed Brown a 30-7 to send him off into that cold night. Despite that less than ideal sendoff, Brown finished his time at Texas with a 158-48 record in total. That's not so awful. Neither is the paycheck he and his team collectively earned from the Longhorns in 2013.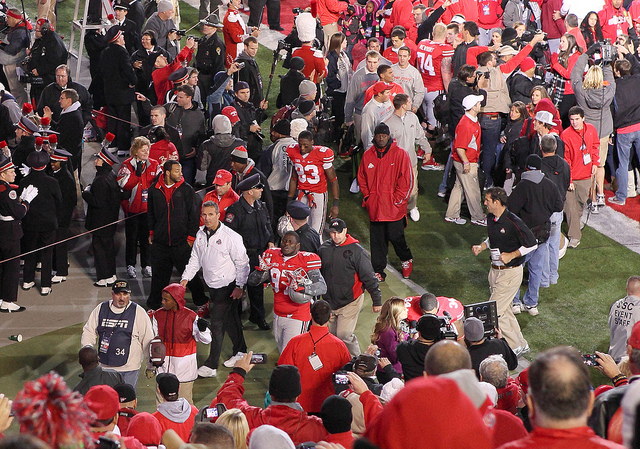 1. Urban Meyer — Ohio State, $28.4 million
While many of these other coaches have been rewarded with massive economic packages from their universities by virtue of their tenure with the program — that might qualify as the most 'educational sounding' thing ever written about the NCAA — Urban Meyer has only been with Ohio State since 2012. As a coach, anyway.
Meyer's association with Ohio goes back a long, long way — he graduated from the university with a Master's degree in sports administration in 1988. After a coaching career that's seen him zoom all the way around the country, starting at Cincinnati and hitting Ohio State (for the first time), then Illinois State, Colorado State, Notre Dame, Utah, and Florida — where he coached Aaron Hernandez and Tim Tebow. Now he's back at his alma mater, and, along with the rest of his staff, is being rewarded handsomely for it. For more ESPN data on NCAA football, click here.