The 5 Worst NBA Free Agent Contracts This Offseason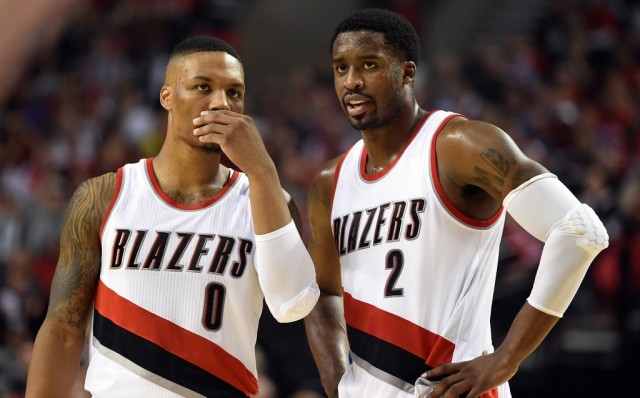 In 2011, the NBA ironed out a collective bargaining agreement that was designed to maintain league parity between glamour franchises and small-market clubs, while also openly, if quietly, protecting owners from themselves. What the league couldn't have forseen in 2011, though, was the rapidly expanding salary cap (set to rise to over $100 million in the next couple of years,) and, as always, this offseason has been characterized by bidding wars between free spending general managers for the proverbial "missing piece," or a glamorized role player. So far, the five worst 2015-2016 free agent deals have each been the result  each the result of teams trying to spend their way to contention in the face of an uncertain future.
5. Wesley Matthews
Wesley Matthews (above, right), with Chandler Parsons filling in as lead recruiter, was part of a free agency package for the Dallas Mavericks that also included DeAndre Jordan, On paper, the Mavericks then appeared set for a deep postseason run, with Jordan anchoring the middle, Parsons making plays as a point forward, and a battle-tested Dirk Nowitzki still proving he had something left in the tank. In Matthews, these new look Mavs would be getting one of the better complimentary "3 and D" players in the league.
That worked all the way until Jordan reneged upon his verbal agreement and signed back with the L.A. Clippers. The Mavericks, of course, had already parted ways with Tyson Chandler, Monta Ellis, and Al-Farouq Aminu, to clear out cap space and playing time, and after the Jordan fiasco were forced into Plan B, while still being left on the hook to pay Wesley Matthews $70 million, over the course of four years.
For his part, Wesley Matthews did put up 16 points per game off 39% three-point shooting last year in Portland. A ruptured Achilles late last season forced him to sit out of the playoffs, and there are questions as to whether Wesley Matthews will ever return to prime form. To add insult to injury, the Mavericks will ship their 2016 draft pick to Boston, if it lands outside of the top-seven, as part of their disastrous trade for Rajon Rondo — meaning Dallas must now stare down the risk of paying Matthews $17.5 million next year, only to potentially shut him down and tank the season.
4. Rajon Rondo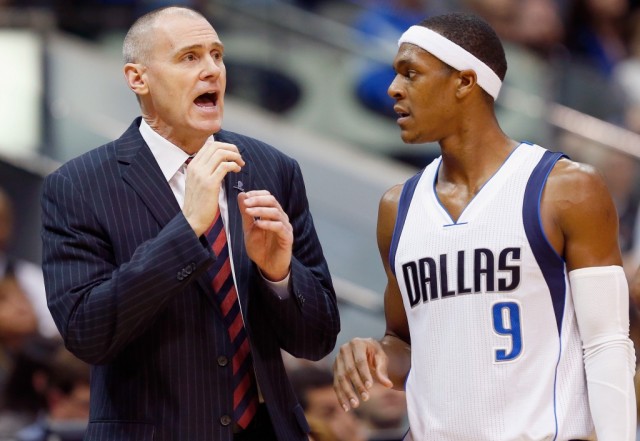 The Sacramento Kings have been in serious contention for the title of the most dysfunctional NBA franchise today. This latest offseason has seen the front office go to war, in public, with head coach George Karl over the relative worth of franchise center DeMarcus Cousins, who Karl would (maybe) like to see out on the trade block. Against this backdrop, the Kings went on to sign point guard Rajon Rondo to a one-year, $10 million deal.
Rondo's time in Dallas came to an unceremonious end, after the mercurial point guard casually walked the ball up the floor, exchanged headed words with head coach Rick Carlisle, and racked up a series of cheap fouls against James Harden in the opening round of the playoffs. After Game Two, the Mavericks listed Rondo as being out with a mysterious back injury, benching him politely so all parties involved could save face.
The Kings have now surrounded DeMarcus Cousins with two players, in Rajon Rondo and Willie Cauley-Stein, who lack any semblance of a jump shot. It's not hard to imagine this team degenerating further into chaos, with a furious George Karl pacing the sidelines as opposing defenses packing the paint and ignore the perimeter while Cousins and Rondo, two talented but polarizing players, taking turns to scream at each other.
3. Enes Kanter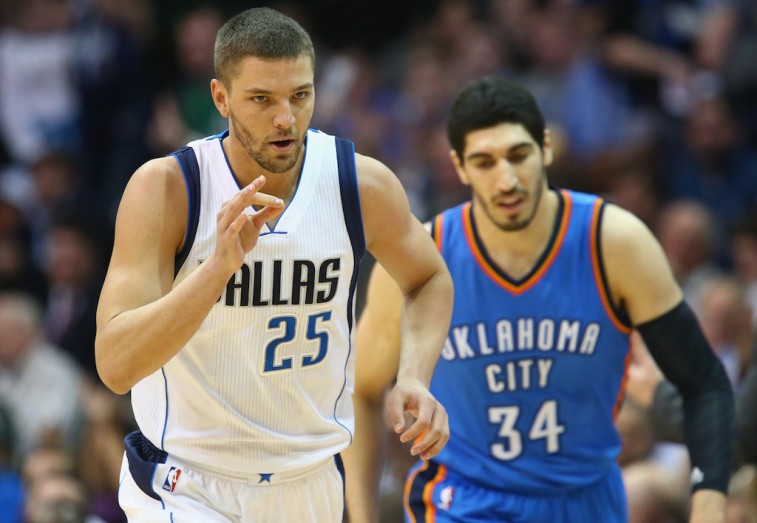 In Oklahoma City, Enes Kanter now represents the unlikely and unfortunate ghost of James Harden past. In 2012, the Thunder refused to match a Houston offer sheet for third guard James Harden, in order to avoid going over the cap and paying luxury tax. The Beard, of course, promptly emerged as a perennial MVP candidate, after torching defenses for 26 points per game, through three seasons as a Rocket.
For his part, Kanter did average 18 points and 11 rebounds after being packaged within a three-team trade that brought him to OKC from Utah and shipped Reggie Jackson off to Detroit. Kanter, however, was largely left to rack up stats for an injury ravaged club that lacked the services of both Kevin Durant and Serge Ibaka. The Thunder finished the 2014-2015 season at 45-37 and out of the playoffs in the rugged West despite Russell Westbook being unleashed to fill up the stat sheet for averages of 28 points, seven rebounds and nine assists.
In keeping Enes Kanter, the Thunder matched a four year, $70 million offer sheet out of Portland this offseason. Next season, Kanter is likely to take a step back, as the fourth option behind Durant, Westrook, and Ibaka. It's worth noting here that Kanter is a weak defender, who at 6'11, has managed to block only one shot every three games, through four NBA seasons.
2. Derrick Williams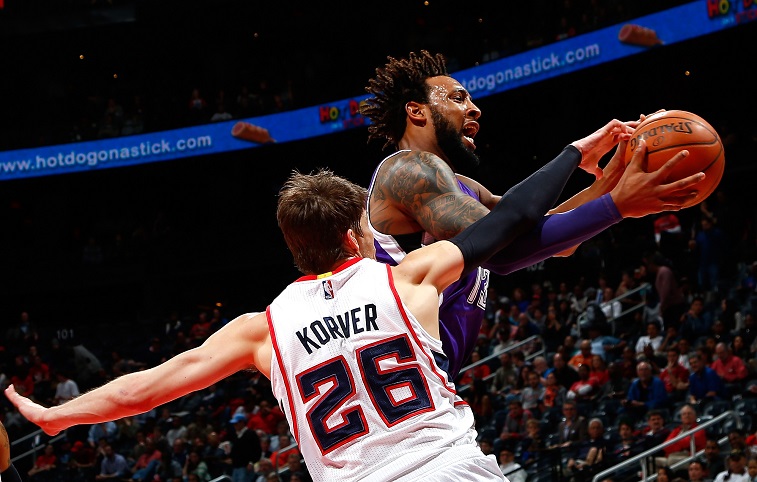 After taking  Kristaps Porzingis with the forth pick in the 2015 NBA Draft, the Knicks were snubbed by the likes of LaMarcus Aldridge, Marc Gasol, and even Greg Monroe, at the top of the free agent market. From there, the Knicks went on to throw cash at Robin Lopez, Arron Afflalo, and Derrick Williams, as part of their largely disappointing free agent haul to flank volume scorer Carmelo Anthony. Melo, at 31, has never advanced beyond the Conference Finals.
The Knicks have agreed to terms with Derrick Williams on a two-year, $10 million deal, as part of their curious rebuilding plan. In 2011, the Timberwolves took Williams as the second overall pick out of Arizona. After four years in the league, Williams is still a raw athlete and "tweener," who has failed to add polish to his game, while somehow also refusing to mix things up on the low block.
For his career, Derrick Williams has put up nine points per game on anemic 43% shooting from the field. The Zen Master will be following the infamous footsteps of Isiah Thomas, after opening up the checkbook to bring in yet another free agent and draft bust to New York.
1. Reggie Jackson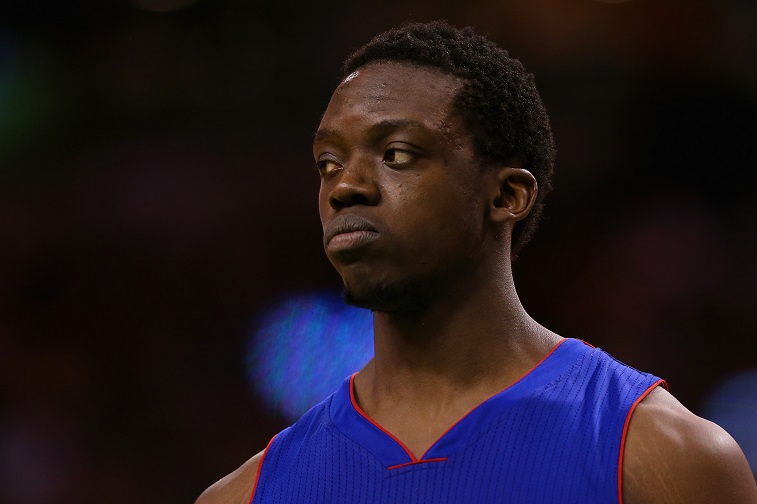 Reggie Jackson was unwittingly served up as the poster child for free agent excess after an incredulous John Wall exclaimed their now-identical deals were ridiculous. In 2013, Wall signed a five-year, max-deal for $84.8 million, and Reggie Jackson agreed to terms with the Detroit Pistons, for five years and $80 million earlier this month. Worth noting though, that with the salary cap set to explode those numbers might also be scoffed at as chump change, by opening night for the 2016-2017 regular season.
For the sake of comparison, John Wall has averaged 18 points, four rebounds, nine assists, and two steals per game, through five seasons in the NBA. In doing so, Wall has appeared once on the All-Defensive team and also made back-to-back trips to the All-Star Game, between 2014 and 2015. Last season, a rapidly improving John Wall could get to the rim at will, and dished out a career-high ten assists per game, prior to leading the Wizards to the Eastern Conference Semifinals.
Alternatively, Reggie Jackson primarily backed up Russell Westbrook in Oklahoma City, before getting his big payday in Detroit. In OKC, Jackson did spark the team off the bench, for per game averages of nine points, three rebounds, and three assists, over the span of nearly four seasons. After being dealt to Detroit, Reggie Jackson did up his stat line to 18 points 5 rebounds and nine assists playing starter's minutes for a losing team.
Detroit botched the free agent process, in losing Greg Monroe, before overreacting and throwing cash at Reggie Jackson. Jackson was a restricted free agent, which granted the Pistons rights to match any offer sheet signed by the player. The Pistons, however, still marched right into a bidding war, with themselves, in signing Reggie Jackson to an $80 million contract, without the guard fielding any real interest from other teams.