The 5 Worst Uniforms in March Madness History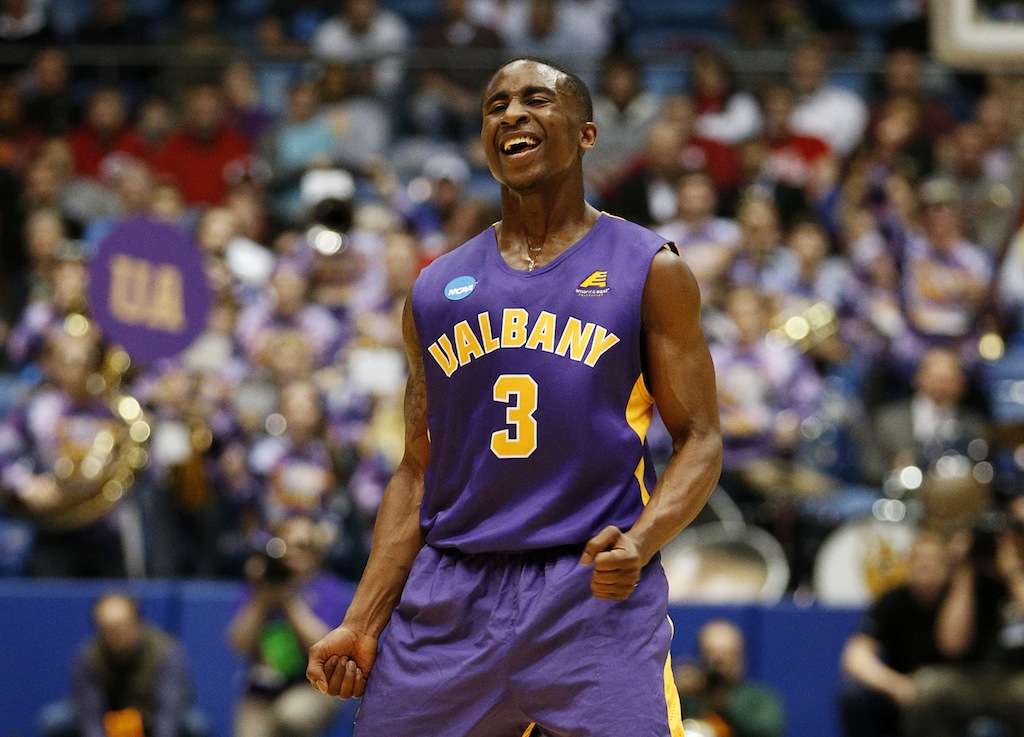 Over the course of its existence, the NCAA tournament has provided us with more than just a lifetime's worth of unforgettable buzzer-beaters and top-tier performances. It's also allowed us the chance to have in-depth conversations on controversial topics. Although the majority of time we tend to focus on the teams that got into the dance when they shouldn't have, there is another topic that we simply cannot avoid: terrible uniform selections.
As much as we enjoy watching down-to-the-wire games featuring can't-miss finishes, we have a difficult time watching these contests when one or more of the participants are dressed to "un-impress." But sometimes, particularly these five examples, that's just the way it goes.
1. Notre Dame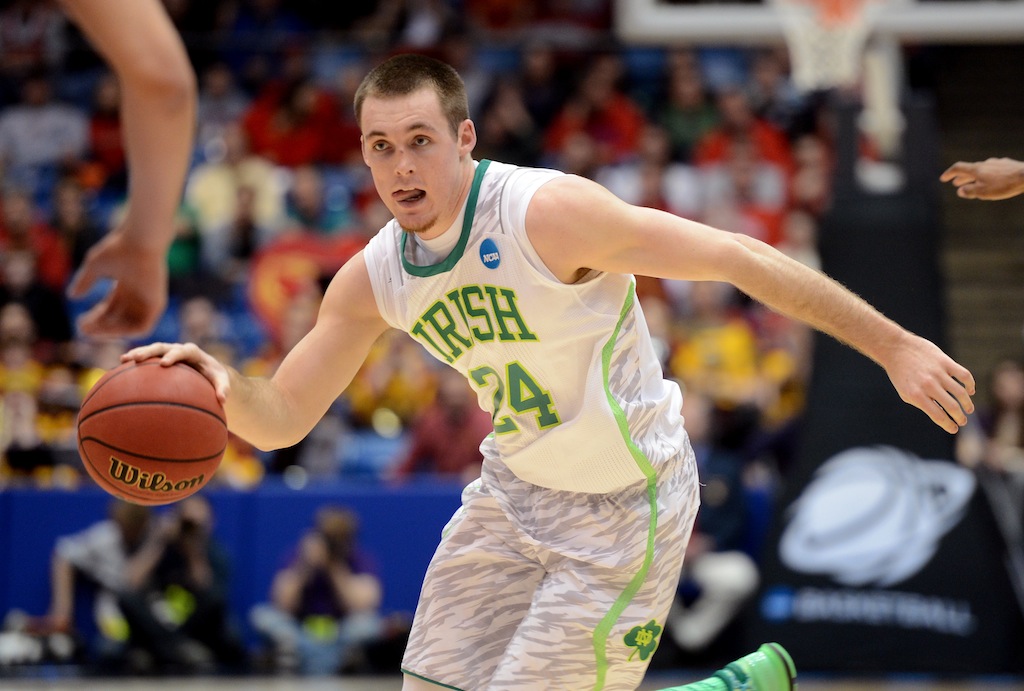 It would be completely unprofessional of us to pin a team's loss solely on a disastrous uniform choice. That being said, a bad decision like that probably doesn't help. For example, look at these awful duds worn by the Notre Dame Fighting Irish during the 2013 NCAA tournament.
That neon green color — which includes a pointless stripe down the side — is beyond awful, and we can't say enough bad things about the questionable use of camouflage. While wearing these uniforms, the No. 7-seeded Irish got beaten 76-58 by the 10th-seeded Iowa State Cyclones in the tournament's second round. Talk about an embarrassing defeat — in more ways than one.
2. Cincinnati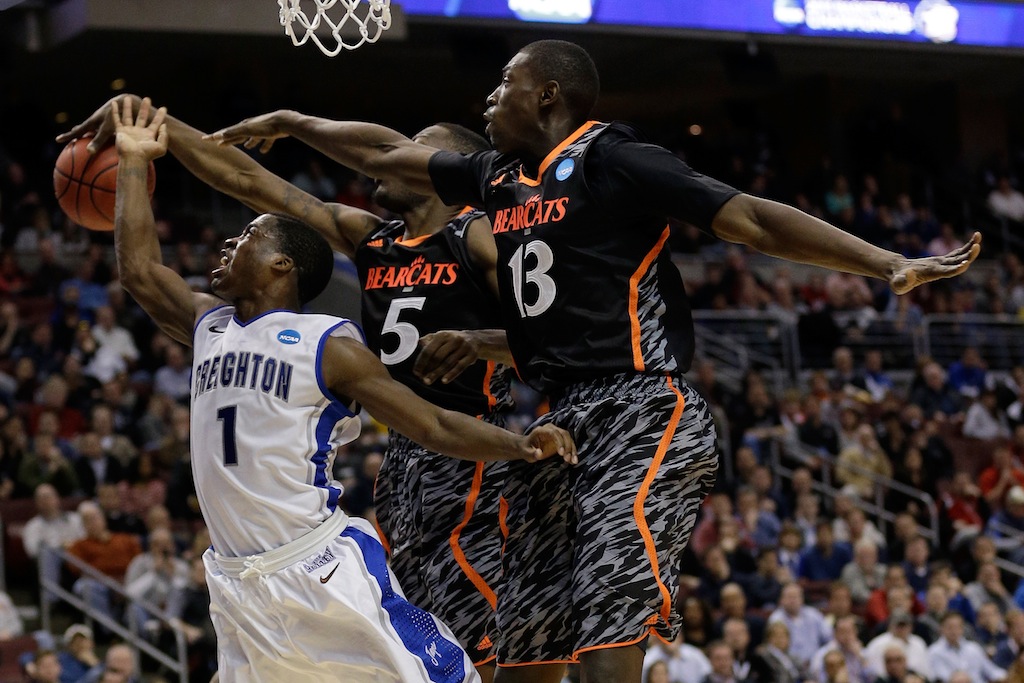 The Notre Dame Fighting Irish weren't the only ones to fall victim to a poor use of camouflage. During the same 2013 tournament, the Cincinnati Bearcats also suffered thanks to the ugliness that was Adidas' "Zubaz" look. Everything about this uniform just screams eyesore. If we wanted to be nice, we could call this look, "Snowmobile chic." However, to be honest, we can't decide whether or not that is actually a compliment.
3. Kentucky
Kentucky's 1994 Cat Claw Uniforms were cool for about 2 minutes. pic.twitter.com/NAYaoq197T

– SportsHumor (@SprtsHumor) February 26, 2013
Nowadays, top college basketball prospects choose to go to Kentucky to compete for national championships and better prepare themselves for the demands of playing at the next level. However, while this program has, for the most part, always been associated with greatness, in the '90s, it was also associated with silk-like threads, insanely baggy shorts, and disturbingly ugly "Cat Claw" uniforms. We know coach John Calipari is a master recruiter, but we're not sure even he could get the nation's top player to come to Lexington if they had to wear this gear. Seriously, this is awful.
4. Marquette
Marquette's 1977 March Madness uni: Not just untucked — white jersey paired with gold shorts! pic.twitter.com/nev8uttbbs
– Paul Lukas (@UniWatch) March 11, 2016
When it comes to the use of untucked jerseys, opinions certainly vary. We prefer to assess the situation on an individual basis. And while some absolutely loved Marquette's look from 1977, we're not among them. For us, there is nothing cool about pairing an untucked white jersey with gold shorts. Of course, this group went on to defeat North Carolina in the national championship game. Which begs the question: What do we know?
5. Albany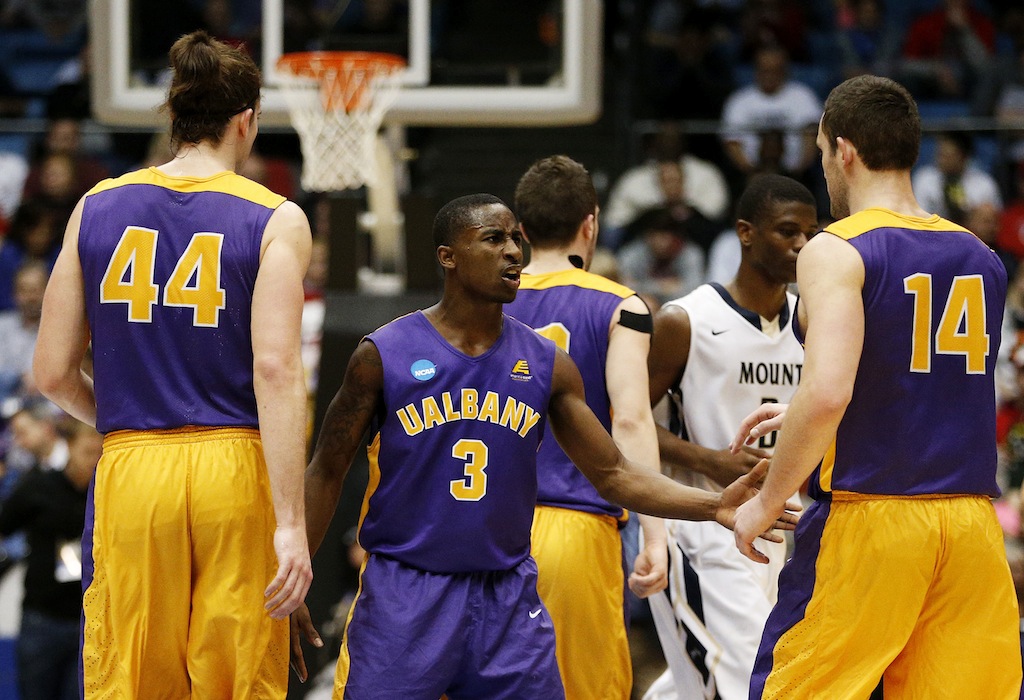 The Albany Great Danes: fantastic mascot name, terrible uniform design. As the Los Angeles Lakers have shown us, there is nothing wrong with pairing purple and gold. In fact, it's a classic and timeless look. However, when you decide — like the 2013-14 team did — to make the front of your shorts purple and the back gold, well, then you're asking for people to say you're rocking the "mullet" of basketball shorts. Full disclosure: We're not sure if anyone actually said that about Albany's uniforms; specifically its shorts. But that doesn't make it any less wrong.
Statistics courtesy of SR/College Basketball.