The 6 Best Drafting Teams in the NBA, And the High Cost of Poor Picks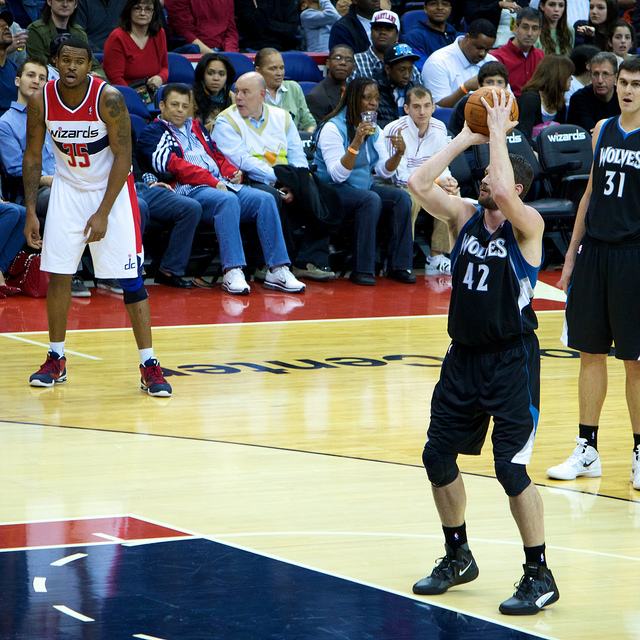 See that picture up there? It's a study in contrast — it's fifth overall pick Kevin Love, one of the most gifted offensive power forwards in the NBA, and second overall pick Darko Mili?i?, one of the most notoriously underachieving high lottery picks of the past decade and change. The fact that the freethrows are occurring on the Washington Wizards home floor, a franchise that could be the poster for poor drafting decisions, is just the icing on the cake. In case you missed out, Darko was second to LeBron James and was drafted ahead of Carmelo Anthony, Chris Bosh, and Dwyane Wade. It was not the best choice — although Detroit would win a championship before Cleveland, Denver, Toronto, and Miami, Darko spent the majority of that season riding the pine.
But what's the true cost of a botched draft pick? It's very easy to ride the hindsight bias bandwagon and point out that, say, the Portland Trail Blazers really should've taken Michael Jordan over Sam Bowie, but in drafts where the talent all comes out about the same in the wash, like 2013 — which really is looking as awful as people said it would — how do you quantify that? What methods would you use? And who would attempt such a seemingly impossible task?
The answer to that last question: the intrepid sailors of the statistical sea over at Wages Of Wins. The website, the mission of which is to shoot down "the lies and damned lies in sports with stories written by the numbers," recently hosted a post from Phillip Maymin, a professor of Finance and Risk Engineering at NYU, who broke down "a new way to project college performance to the pros using machine learning techniques, and how much money teams have effectively lost by failing to do so over the past decade." Now we're taking a look at his ideas and findings.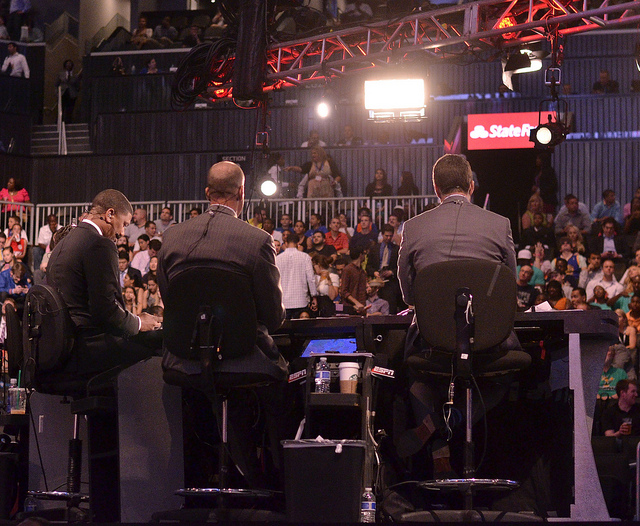 Breaking down Tthe model
First and foremost, Maymin's work is based on determining how to best evaluate NCAA talent. That means that all of our favorite Euroleague players and stash picks (plus Brandon Jennings) are excluded from the data. Luckily, with a majority of the NBA talent coming out of the NCAA, this model works to project a pretty good idea of how to players stack up relative to their draft position.
The components of the analysis? Well that's easy. Wages of Wins, if you'd heard of it before this article, is relatively famous (famous to people who get excited about basketball stats, anyway) for its Wins Produced stat. You can read more about that here. So Maymin's taken the Wins Produced over three years of NCAA ball, assuming there's that much data on a particular player, then lets the machines go to work. What? Is Maymin trying to bring on the Matrix? What does that even mean?
It goes back to 'machine learning techniques,' or as the man explains it, "a class of tools in which the computer automatically learns from examples. It can be flexible, non-linear, and appropriately sensitive to outliers." So, essentially, the professor has given these programs a data set of NBA players who played in the NCAA — specifically, the average Wins Produced for each player over no more than three years. For guys who are one-and-done, the machines analyze just their freshman year. According to the WoW folks, each Win Produced is worth $1.65 million, so it's possible to actually assign a dollar amount to each draft pick, and see which teams are getting the most value out of their draft picks. So, without further ado, here are the six best drafting teams in the NBA over the last decade.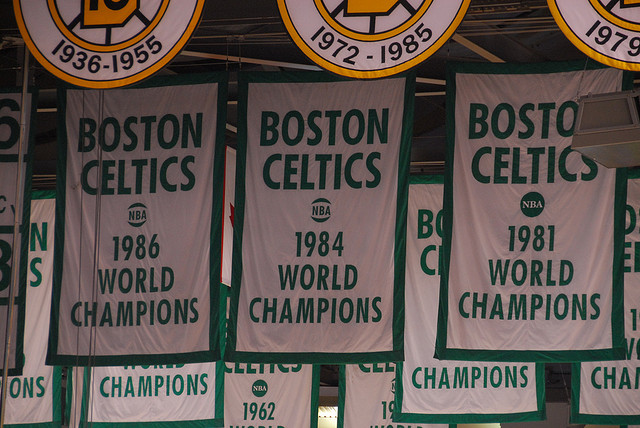 6. Boston Celtics — $41 million lost
$41 million lost? That doesn't sound like a very encouraging number, especially since these are supposed to be the best teams. Plus, doesn't Danny Ainge have a reputation for grabbing great players near the end of the draft? Guys like Rondo and Jared Sullinger? Maybe we should delve a little more into how this model works.
So for the Celtics, who have had twenty-seven picks from 2003 through 2013, the average Wins Produced for their picks, at the college level, is 1.34. According to the machines, which are looking for the best possible pick in a very conservative fashion, the Celtics could've drafted players that produced an average of 1.65 Wins Produced. That leaves them with a deficit of .31, which amounts to approximately $41 million in lost profits in regards to production. Make sense? Don't think of the dollar amounts as a strictly fiscal number, think of them as a measurement of value on the court. It'll help.
5.  Houston Rockets — $39 million lost
Over twenty-four draft picks, the Rockets — a franchise widely regarded as a forward-thinking organization, and one of the most analytically advanced in the entire league — come out in the red. Daryl Morey, the Rockets GM, would probably feel pretty bad about that. Anyway, with an average value of 1.23 compared against an optimal value of 1.56, the Rockets are left with a deficit of .33, which, spread out over all their draft picks, results in them failing to take advantage of just over $39 million in player value. One interesting thing about the Rockets: Since they're so trade happy and tend to build their team through free agency and trade, rather than the draft, it'd be a fun thing to see how many of their draft picks over the last decade are still on the team.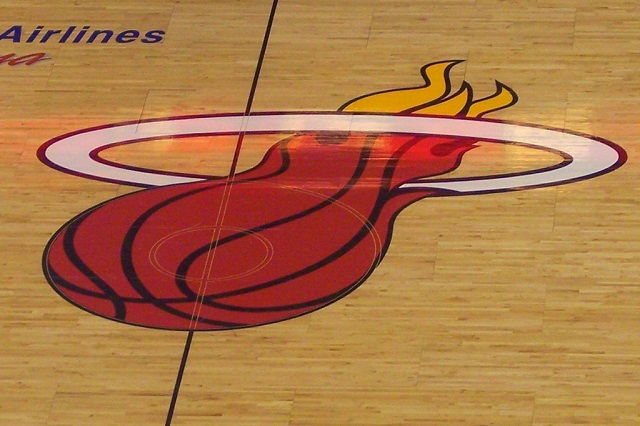 4. Miami Heat — $20 million lost
Again, this is hardly a legitimate point of contention to hold against Miami, who are currently in the process of trying to snag the first champion threepeat since the Shaq and Kobe Lakers. However, the fact remains that the Heat, even as they have gone on to win three championships over the last ten years, have drafted less than perfectly, even if they are in the top five. Alone among these teams, though, Miami has a very low expected value from their average pick (a value of .75), and their best case scenario, according to the model, isn't much better — that would equate out to .99 win shares. Even that slight difference is enough to put Miami in a $20 million hole.
Then again, this model doesn't account for their best player, LeBron James — who would've counted toward the Cavs anyway. It also doesn't account for the fact that the Heat are scary good. Really good. Check it out, in case you need a refresher:
3. New York Knicks –$ 4 million lost

Stifle your laughter, and remember what this means. While its true that the Knicks have shown an almost comic disregard for draft picks, as shown by their complete lack of future drafting opportunities, the players that the Knicks have drafted have played almost to expectations. With an average Wins Produced of 1.84 over their twenty-two draft picks measured against an optimal WP of 1.88, the Knicks have only lost $4 million worth of value from their draft picks. Whether or not those players actually helped the Knicks win any games is up in the air. Blame Jimmy Dolan.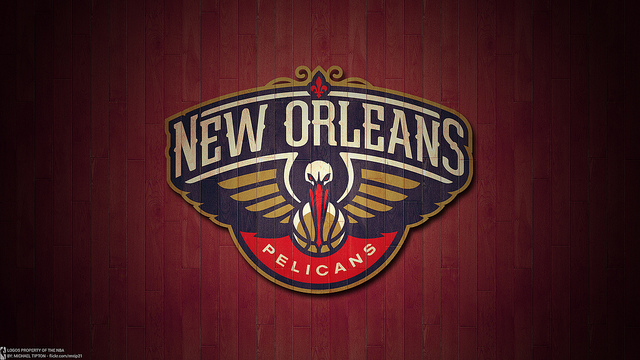 2. New Orleans Pelicans — $16 million gained
A team that's drafted better than expected, the New Orleans Pelicans (formerly the Hornets) are helped by the fact that two of their picks over this time period — Chris Paul and Anthony Davis — are certified All-Stars. That's part of the process, at least. And with an average WP of 2.12 compared to the model's projection of 1.82, it looks like the Pelicans are drafting better than the machines.
How is this possible? Well, for one thing, the model is admittedly conservative, with Maymin writing that the model "simply recommends the best player available according to the machine learning projection. For example, if you are drafting tenth, and player A is expected to be taken next, and player B may go undrafted, but B appears to be slightly more valuable than A, the model would recommend taking player B. This is the conservative basis for the figures and tables presented here." Either way, good job New Orleans.
1. Chicago Bulls — $85 Million gained
And, of course, the Chicago Bulls clean up. With an average WP of 2.95 against a projected WP of 2.09, the Chicago team's picks have collectively contributed to about $85 million more than a collection of the 'correct' picks. That, of course, includes the late and lamented Derrick Rose. Hopefully he'll finally be able to play close to a full season in '14-'15.
To read more about the cost of draft mistakes, check out Maymin's blog post here. He covers all thirty NBA teams and provides a whole host of other details and observations. Definitely an interesting read.