MLB: The 6 Greatest Catchers to Ever Play the Game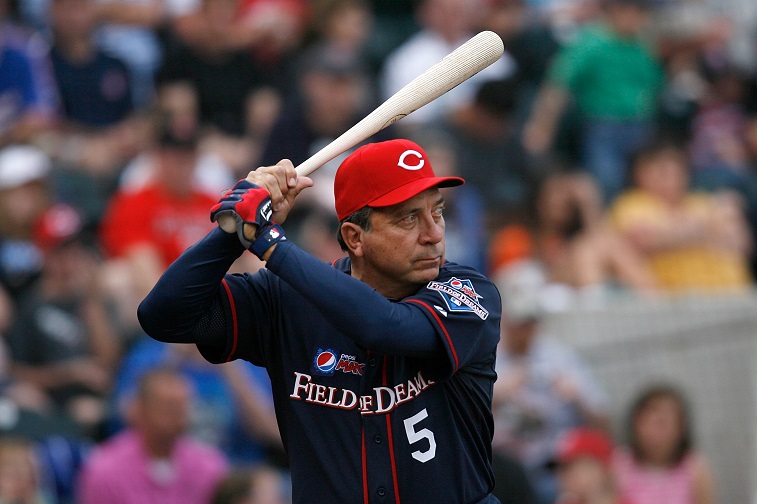 As it is in most pro sports, Major League Baseball used the 2015 All-Star Game to create a special moment for both the fans in attendance and those watching from home. Not only did legendary hurler Sandy Koufax throw out the first pitch, but a 67-year-old Hall of Famer — and former Cincinnati Reds great — by the name of Johnny Bench (pictured above) was the man at the plate to catch it. History meet history.
Bench's presence was part of the "Greatest Living Players" campaign that the MLB orchestrated for the event. And it was even more special because the Hall of Famer just so happened to play his entire career with Cincinnati, where the game was being held. Bench was a special player because he epitomized what every catcher wanted to be: Good at the plate and also behind it.
He wasn't the first great catcher to come, though. There were others before him, and there were others after him. What makes the catcher so unique among the other positions isn't that it necessarily takes more skill, or even that the constant crouching really accentuates the everyday wear and tear MLB players face.
Great catchers are so difficult to find because it takes a unique skill set to succeed defensively and offensively. That's why, in the present day, it's much more common to see either a talented defensive catcher who's average at the plate or a power-hitting catcher who struggles to keep base runners at bay. Needless to say, when a catcher reaches a triple-threat level — hitting for average, power, and good defense behind the plate — it's a rarity. Everyone on this list reached that status during their careers, making them the six greatest catchers ever.
6. Mike Piazza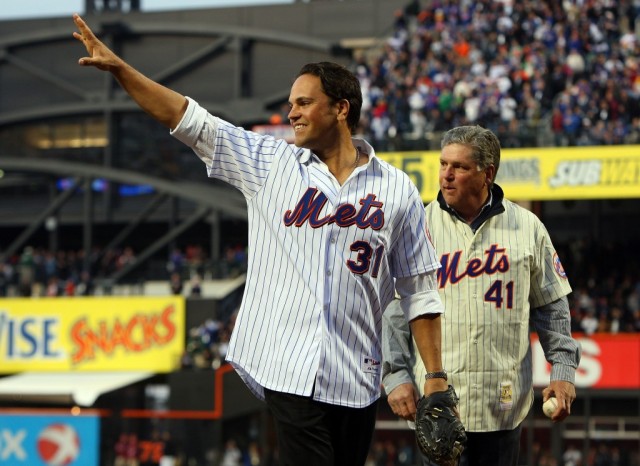 The power-hitting Mike Piazza — a member of the 2016 Hall of Fame class —  played for 17 years with various teams. Despite finishing his career having appeared for five different clubs, his ability to hit the ball never faded. Though he wasn't as elite behind the plate as some of these other guys, his offense by far made up for it.
He appeared in 12 All-Star Games and finished runner-up in the MVP vote twice. His 427 home runs tops all catchers in baseball's storied history, and his ability as a catcher to hit for power separated him from the other elite catchers of his time.
5. Carlton Fisk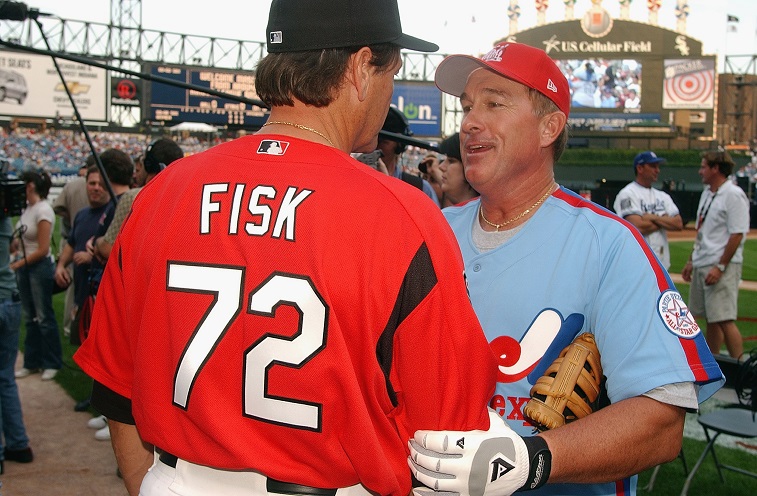 Carlton Fisk, known for his longevity, played from 1971 to 1993. During his 24-year career (longer than a lot of current MLB players have been alive), he played in 11 All-Star Games and won his lone Gold Glove during his rookie campaign in 1972.
However, with his longevity came some impressive stats, like 2,356 career hits, the most for any catcher ever. And the fact that he appeared in an All-Star Game in three consecutive decades. Despite Fisk's offensive numbers waning as he aged, he still managed to make a difference on the diamond in his mid-40s, and that's enough to get him on this list.
 4. Bill Dickey
Bill Dickey played with the Yankees for his entire career, some of it spanned the beginning of New York's Golden Age in the late 1920s. During his career, Dickey coupled his impressive longevity with enduring talent. His tenure with the Yankees (from 1928-1943, plus 1946 after he came out of retirement) saw him appear in 11 All-Star Games and also win eight World Series championships. He appeared in 1,789 games for the Pinstripes — an impressive feat in itself.
Dickey finished his career with .313 batting average and 1,209 RBIs. But his most impressive offensive numbers aren't necessarily what he did, but what he didn't do: In more than 7,000 plate appearances, he struck out just 289 times. Coaches will always say "good eye" to players when they don't swing at a bad pitch. Dickey practically invented that term. On top of being Mr. Consistent at the plate, he also was the Yankees' defensive anchor during a stretch that has gone down as one of the best ever.
3. Ivan Rodriguez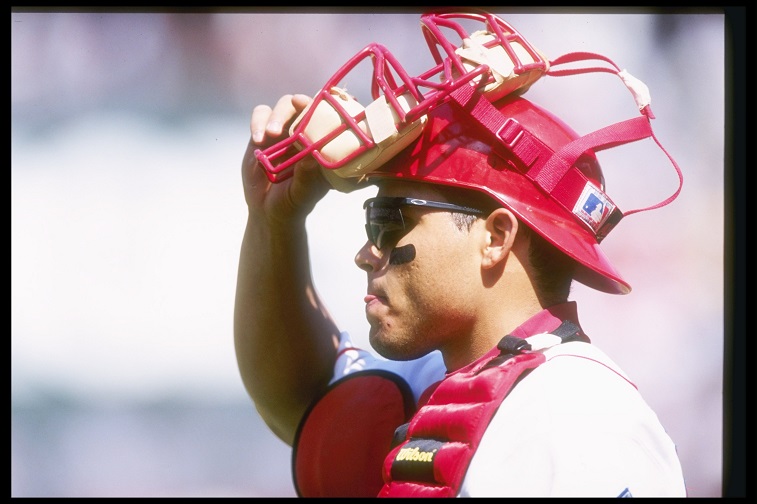 Ivan Rodriguez, nicknamed "Pudge," played from 1991 all the way until 2011. His 21-year career saw him mostly play with the Texas Rangers and the Detroit Tigers, with a few other teams among those two. He was consistent at the plate — evidenced by his .296 career batting average — but the power never really was there, as he had just one season with more than 100 RBIs. That's a side note, though, because some consider Pudge the greatest defensive catcher ever.
Rodriguez won 13 Gold Gloves and a lone MVP Award in 1999. His talent singlehandedly shifted opposing team's game plans: Teams couldn't steal on him, or they'd get caught trying. His commanding presence and smooth arm helped lead the Florida Marlins to the World Series in 2003.
2. Yogi Berra
Similar to Dickey on this list, Yogi Berra played his entire career (1946-63) with the Yankees. Berra didn't crush the ball, but he got on base enough to let the big guys behind him do their job. He really made his money defensively. Based on his prowess behind plate, he made 18 consecutive All-Star Game appearances, won three MVPs, and helped lead the Yankees to 10 World Championships along the way.
Though the catcher never gets enough credit for a pitcher's success — kind of along the same lines as the offensive line and their quarterback in football — Berra's skill and finesse behind the plate made all the difference for the Yankees during a historic stretch.
 1. Johnny Bench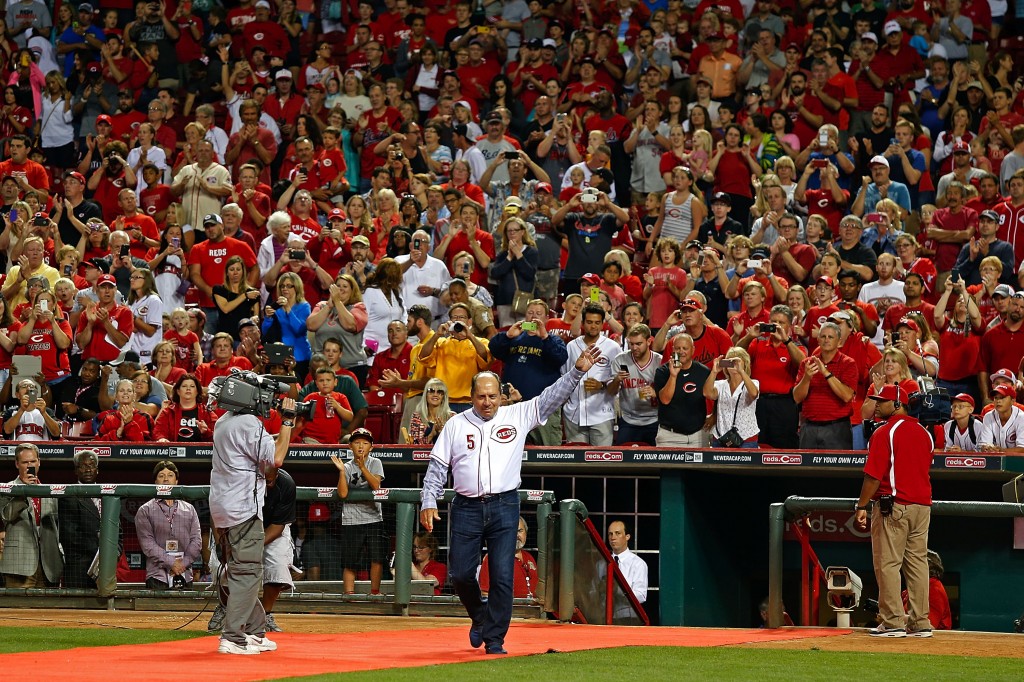 Bench's honor at the All-Star Game was more than deserved. Many consider him to be the greatest all-around catcher in the history of the game, and statistically, a case can certainly be made for that assertion. His accolades read like a fiction novel: 14 All-Star appearances (though 15 if you count the 2015 event), two NL MVP awards, 10 Gold Gloves, and to top it all off, two World Series titles.
He played every one of his 17 years with the Reds, and along the way tallied 389 career home runs, which is second only to Piazza for most by a catcher. His ability to play two ways is what sets him apart from everybody else. For example, in his two MVP seasons ('70 and '72), he also won a Gold Glove behind the plate, essentially acknowledging that he was a special player in every facet of the game. As far as all-time great catchers are concerned, they broke the mold when they made Johnny Bench.
Statistics courtesy of Baseball-Reference.