NBA: The 6 Most Unbelievable Triple-Double Streaks
If you didn't watch the Oklahoma City Thunder last season, then you're missing out on one of the greatest individual stretches in the history of the NBA.
Quite simply, when Russell Westbrook was playing like a man possessed, and it doesn't appear like he's going to stop anytime soon. During the Thunder's 123-118 overtime victory against the Philadelphia 76ers (which, ok, it was against the 76ers), Westbrook exploded with 49 points, 16 rebounds, and 10 assists. This superhero type performance was the fourth straight game with a triple-double for the former UCLA standout, and it more importantly it led to his team getting another notch in the win column. And although winning is really all that matters at this level, we still need to acknowledge that what this kid is doing is pretty special. So special that it's only happened on a number of occasions.
With that, take a look at the six most impressive triple-double streaks in NBA history.
5. Magic Johnson (1986-87), Russell Westbrook (2014-15)
Straight games: 4
Magic Johnson provided a little extra showtime during the 1986-87 season, when he put together four straights with a triple-double. It all started against Houston on March 31, 1987. Johnson would go off for 21 points, 13 assists, and 10 rebounds. His streak came to a conclusion on April 5, 1987, in a contest versus the Denver Nuggets. Magic would finish that game with 23 points, 10 assists, and 11 rebounds.
What Russell Westbrook did over those four games is not only mind-blowing, it's historical. If you put aside the fact that Westbrook has a triple-double in four straight games, and just look at some of the numbers he's putting up, they're pretty otherworldly. According to Elias Sports, and courtesy of Hoops Habit, Westbrook was just the fifth player in the last 47 years to have a single-game stat line of 45 points, 15 rebounds and 10 assists. However, when it came to his latest explosion of 49 points, 10 assists, and 16 rebounds, Westbrook put himself in a league of his own.
4. Maurice Stokes (1956-57)
Straight games: 4+
According to NBA Stats, another player that went on this crazy triple-double streak was Maurice Stokes. In case you don't know the name, Stokes was a superstar who was drafted second overall in the 1955 NBA draft, and played three seasons with the Rochester Royals. Unfortunately, his career was cut short because of a devastating injury that was diagnosed as post-traumatic encephalopathy. This was absolutely tragic because his potential was off the charts. He finished his career with averages of 16.4 points and 17.3 rebounds per game. Stokes would be inducted into the Hall of Fame in 2004.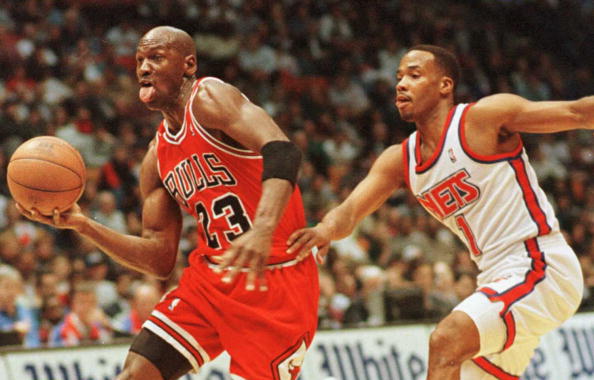 2. Oscar Robertson (1961-62), Michael Jordan (1988-89)
Straight games: 7
Oscar Robertson had one of the greatest statistical years in NBA history during the 1961-62 season. It was during this season, at the age of 23, that the Big O would go on his seven game triple-double streak. And while that stretch was most certainly a big deal, what made him stand out during that season with the Cincinnati Royals, was Robertson averaged a triple-double for the entire season, with 30.8 points, 11.4 assists, and 12.5 rebounds per game. Good luck achieving that stat line in today's game.
Michael Jordan (pictured) recorded a triple-double in seven straight games during the 1988-89 season. His Airness started his streak on March 25, 1989 against the Seattle SuperSonics, where he went for 21 points, 12 assists and 12 rebounds. The streak would end on April 6, 1989, when the Bulls faced off at the Detroit Pistons. In that game, MJ's numbers would consist of 31 points, 10 assists, and 13 rebounds. During this impressive run, Jordan ended up scoring over 30 points in five of the seven contests.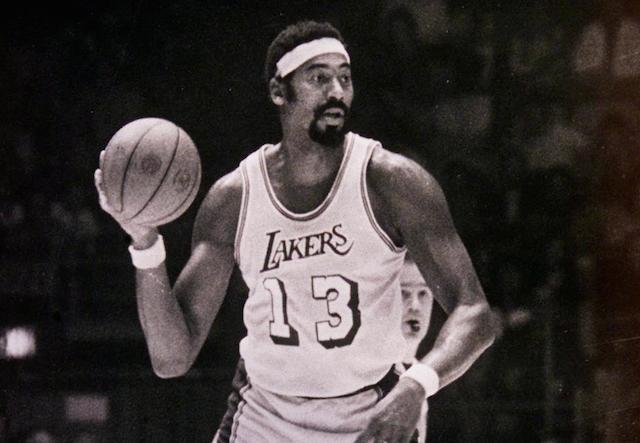 1. Wilt Chamberlain (1967-68)
Straight games: 9
If there was any player in the history of the NBA who was going to fill up the stat sheets and hold this type of record, it was going to be Wilt Chamberlain. He set the record during the 1967-68 season as a member of the Philadelphia Warriors, by posting a triple-double in nine straight games. Chamberlain was a force that could barely be contained, which is why Wilt the Stilt finished with career averages of 30.1 points and 22.9 rebounds a game.
All statistics are courtesy of Basketball-Reference.com, ESPN.go.com, and NBA.com.