The 6 Oldest Umpires Working in MLB in 2019
Like many players who start coaching and managing following their playing years, many umpires in the MLB work well into their 60s. The difference is that the umpires are still in one position on the field for nine or more innings of play behind the plate, or near one of the bases. MLB umps range in age from their late 20s through their mid-60s. Eight current MLB umpires working today at or above the age 60 including Brian Gorman and Jerry Layne, who both became sexagenarians earlier this year. Aside from Gorman and Layne, these are the oldest umpires in MLB in 2019. If you haven't heard of some of these umpires, either you haven't been watching carefully, or they are extremely non-controversial with their calls.

2. Gary Cederstrom, 63 (TIE)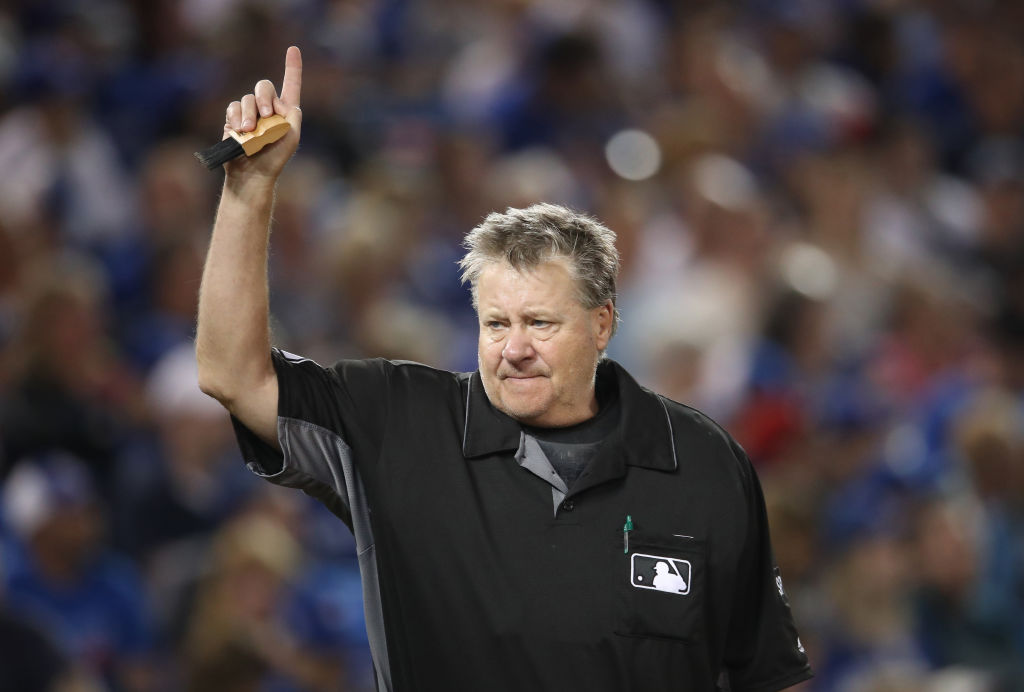 Gary Cederstrom became a major league ump in 1989. He umpired in World Series games in 2015, 2011, and 2005, and he has 11 league championships and eight division series under his belt. Cederstrom also officiated the 2014 and 2003 All-Star games.

Not only is Cederstrom one of the oldest umpires working in 2019, but he is also amazingly low-key. He was the third base ump when Rickey Henderson stole third to become the record-holder for most steals ever. He was also on the field when Derek Jeter tied Lou Gehrig's record for most hits as a Yankee with 2,721 and when Jeter batted his 3,000th career hit.

2. Dana Demuth, 63 (TIE)
Dana DeMuth started in the majors in 1983. Low on controversy, one call he had made in the first inning of Game 1 of the 2013 World Series was changed following an umpire huddle. DeMuth called out Dustin Pedroia of the Red Sox at second, but the other umps had noticed the ball bounce off the tip of Cardinal Pete Kozma's glove, rather than being caught. Pedroia was ruled safe, loading the bases for a three-run double by Mike Napoli. DeMuth was also the home plate umpire for Jake Arrieta's second no-hitter in April 2016.
2. Phil Cuzzi, 63 (TIE)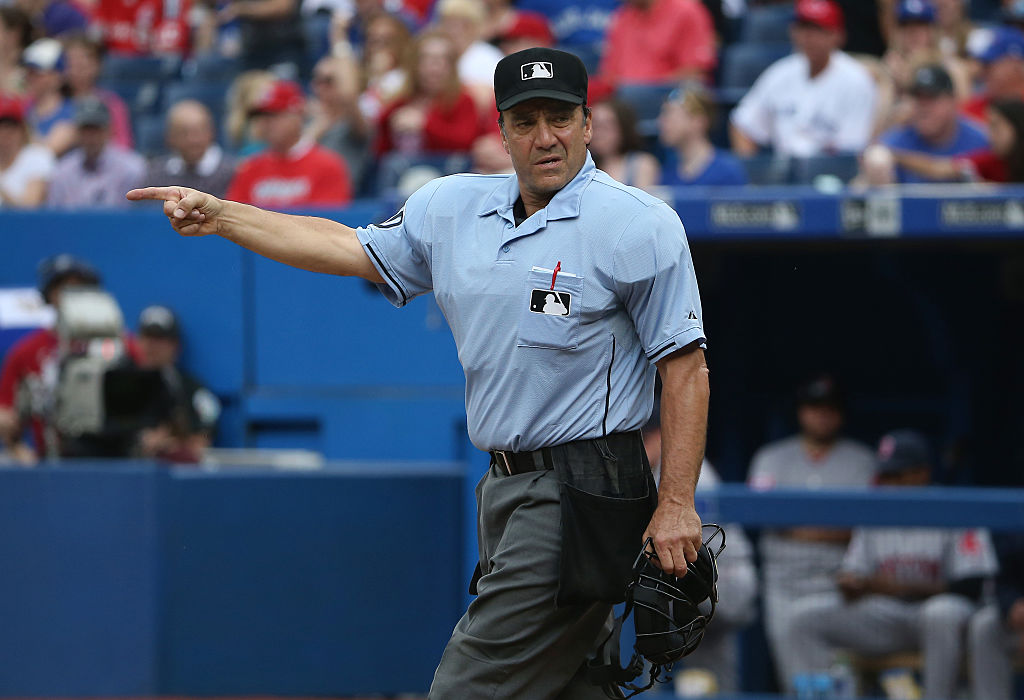 Philip Cuzzi's career was at a standstill in 1993. He had been working AAA ball and served as a reserve ump in the majors, but there was no room for him on the major league umpire roster, so he was released. A chance meeting in 1996 with then-National League President Len Coleman allowed him to return to work in the low minors, having to work his way up a second time. In 1999, he made it back to the majors.

Cuzzi has also seen only a few controversies, but one or two have been notable. Cuzzi ejected seven Tampa Bay players from and August 29, 2000 game in a meeting with the Red Sox. A brawl broke out following Red Sox right-hander Pedro Martinez hitting Rays batter Gerald Williams. Williams stormed out to the mound while the benches cleared. Cuzzi ejected seven Rays, with an eighth one thrown out by another ump. No Red Sox were tossed.
2. Larry Vanover, 63 (TIE)
Larry Vanover began his major league career in 1991. He joined the mass resignation of 22 umpires of the Major League Umpires Association in 1999. He, along with eight others, regained their jobs in 2002. In May of last year, he umpired his 3,000th game. He worked the 2016 World Series, three league championships and three division championships, and umpired the 2013 and 1999 All-Star games.

1. Gerry Davis, 66 (TIE)
Gerry Davis is in his 37th year of major league work, so it' no surprise he's one of the oldest umpires working MLB games. He counts six World Series, 11 league championship series, and 13 division series on his resume. He has also worked four All-Star games. Davis' does have a history of controversy. Several players told the San Jose Mercury News that Davis was called out by MLB brass for making "crybaby faces" to the Oakland A's during a 2014 loss to the Angels.

The statement offered by MLB read, "We are not commenting on Gerry Davis of his interaction with the A's over the weekend, but we expect both Club personnel and our Umpires to remain professional on the field at all times," according to the paper.

Earlier that same year, Davis tossed Yankees starting pitcher Michael Pineda for having pine tar on his neck.

1. Joe West, 66 (TIE)
We end our list with not only one of the oldest umpires in the game, but also one of the most controversial. If you aren't familiar with the name Joe West, you just haven't been following baseball in the past four decades.

Working his 43rd year in the majors, West is one of the two most senior umps working today. Now 66, if he continues working into next year, he could break the record for the most games ever worked by one umpire.
West surpassed Bruce Froemming for umpiring the second-most games in baseball history by working his 5,164th major league game in August 2018, and he was honored at a Twins-Pirates game on Target Field to commemorate the achievement.

"I don't know what to say. It's been a long time," he told the Minneapolis Star Tribune's Phil Miller following the game. "I never dreamed when I started, I'd get this far."

At that time, he only needed to officiate 306 more games to have worked the most, something he could hit sometime next year. Bill Klem, who retired at the age of 68, umpired from 1905-1941, having officiated 5,369 games.