The 7 Best Official Team Contributions to #NBABedtimeStories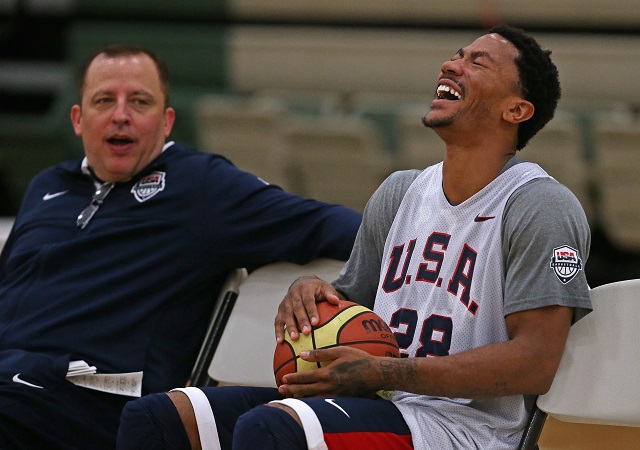 No league has embraced social media quite as quickly, or with as much gusto, as the NBA. From their early YouTube policies — best described as 'hands off' when almost every other league was trying to keep any kind of footage off the Internet — to their heavy online presence, the National Basketball Association has always adapted quickly to the public eye and public trends. This is why players and teams are so active on Twitter, where they can interact with their fans directly.
Twitter, of course, is where the best parodies come out to play, so when #NBABedtimeStories started to gain some traction, we started to pay attention. The results don't disappoint, and remember, these are the team's official Twitter accounts, not just some fan trolling away on the Internet.
Manu had a little lamb, little lamb, little lamb. #NBABedtimeStories

— San Antonio Spurs (@spurs) September 3, 2014
7. San Antonio Spurs

Docked a few spots because there's no image, although we're not sure the Spurs organization condones Photoshop. Also, the thought of Ginóbili (and his wonderful accent) or Tony Parker (and his wonderful accent) singing this snippet of a children's song is pretty fantastic. Little lamb, little lamb …
Climb aboard for the adventure of your life! #NBABedtimeStories pic.twitter.com/QBpWjz54qQ — Cleveland Cavaliers (@cavs) September 3, 2014
6. Cleveland Cavaliers
No pun in the title, but damn is that some perfect player placement on that faux book cover. Also docked some points because, yeah, we get it, LeBron's back on the Cavs. It's a magical adventure through time and space, all the way back to 2010. Sorry — still salty about it.
Of course, old school Jazz fans grew up on "The Tale of Peter Maravich" #NBABedtimeStories pic.twitter.com/GFZpTaDFSv

— Utah Jazz (@utahjazz) September 3, 2014
5. Utah Jazz
Pete Maravich was one of basketball's true prototypes — the gym rat with an overbearing parent who turned into a shooting guard that defies description — who passed away before the league got on the nostalgia kick and began to bring out the big guns when it came to celebrating their players. Check out these highlights. They're rad, and so is this bedtime story.    
We can't put down our copy of Harris Potter! #NBABedtimeStories @tobias31 pic.twitter.com/o5LVT1sa9m — Orlando Magic (@OrlandoMagic) September 3, 2014

4. Orlando Magic
Not only do they manage to sneak in both parts of Tobias Harris' name into the cover, look at that face. It's perfect. Also, we don't know how upset anyone would be if the young Magic forward came into this season with legitimate magic powers. That would be pretty cool.
Who could forget the Dr. Seuss classic, 'Horford Hears A Who!'??? #NBABedtimeStories pic.twitter.com/2RYlgnvXNA

— Atlanta Hawks (@ATLHawks) September 3, 2014
3. Atlanta Hawks
Even though Al Horford missed most of the season with a pretty painful injury, this clever take on the popular Dr. Suess story might make the suffering a little more bearable, especially now that the East is so wide open. Although, to be honest, we always pegged Al as the Wocket in his Pocket type?  
Little Ricky Riding Hood! #NBABedtimeStories pic.twitter.com/MxGfedQrPT — MN Timberwolves (@MNTimberwolves) September 3, 2014
2. Minnesota Timberwolves
So does this make David Kahn the big bad wolf, or is it Kevin Love? This isn't rhetorical — we're asking the hard-hitting questions, here.
We always love reading our kids selections from Shel Silverstein's classic, A Light In the Antic #NBABedtimeStories pic.twitter.com/alCZIwgIrX

— Atlanta Hawks (@ATLHawks) September 3, 2014
1. Atlanta Hawks
Maybe it's because the Hawks have Pac Man hiding inside their logo, but their Twitter game is top notch. This, the best #NBABedtimeStory of them all, is so simple, so crude, that it's brilliant. Like watching a cabbage paint a Rembrandt while Shakespeare mixes the drinks.