7 Biggest NFL Contract Extensions This Offseason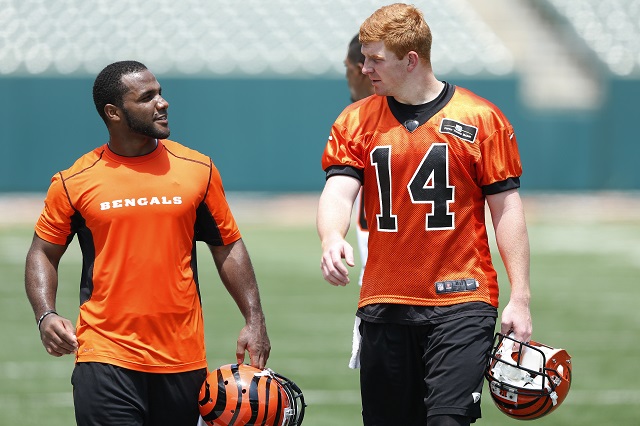 Due to the way player movement in the NFL works, the big money participants in the National Football League rarely become unfettered, unattached free agents. Typically, teams seek to lock up players into contract extensions and restructured contracts — if a player is left out in the waters of free agency, it's because they've suffered some kind of injury or some kind of suspension or are in a situation where a trade isn't very practical. You could consider that a bummer for the players, since they have comparatively little say in where they are able to play, but it also allows teams to be generous (in football terms) with their stars, and line them up with long deals for large amounts of money.
The 2014 offseason — starting in earnest after the Super Bowl but secretly starting whenever a team is done playing for the year — has been no different. Some players got swept up by other squads. Some teams decided to ape the Seahawks and go after the best cornerbacks money could buy — and the teams with great cornerbacks now felt that they had no choice but to pay them. Good, but arguably not great quarterbacks got seriously paid. Teams continued to hunt down the missing piece, or twelve, in their quest to hoist the Vince Lombardi Trophy next year. It was business as usual.
It's important to note that these contracts are almost never worth the full amount that they've signed for, since NFL deals aren't guaranteed (which is why the 'guaranteed money' is always such a big deal), and large portions of the deal are rolled into criteria like games played, accolades awarded, and so on. However, for the purposes of comparing the extensions around the league, we're using the full amount, not the guaranteed money. Salary information gathered from Spotrac and OverTheCap.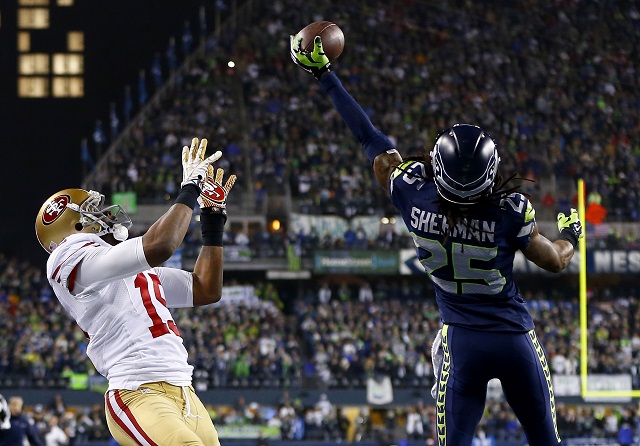 7. Richard Sherman — $57.4 million

This Seattle cornerback made waves by calling himself the best in the league, then proceeded to put his money where his mouth was throughout the entirety of the 2013 season (although he was a relative nonfactor in the Super Bowl, owing to injury.) Richard Sherman was, briefly, the highest paid corner in the league after signing a four-year extension with the Seahawks back in May. There are at least two other players on this list, and at least one free agent (that would be Denver's Aqib Talib), who can thank Sherman and Seattle for the increased emphasis on highly athletic cornerbacks, since a lot of NFL roster construction boils down to teams attempting to emulate other, more successful aspects of teams that win Super Bowls.
That is, in a nutshell, why everyone is going nuts for corners right now. It's because the Seahawks dominated the Broncos, who weren't exactly pushovers on offense, with their hyper athletic D — specifically, the Legion of Boom (who are the Souls of Mischief to the defense's Heiroglyphics, if you're into Bay Area rap metaphors.) Financially speaking, that worked out really well for Richard Sherman, even if he would only keep his crown as the highest paid corner for a little while. Unfortunately for Sherman, he'd soon lose his spot as the highest paid corner in the league.
6. Joe Haden — $68 million
Not even a week after Sherman's deal went public, the Cleveland Browns decided to retain the services of their own star corner, signing Joe Haden to a five-year deal worth $68 million. Whether or not its 'really' bigger than Sherman's depends on how you slice it, since Haden's making more guaranteed money and the contract has the potential to be larger, but Sherman is on a shorter deal, and will be paid more 'new money' per season, per ESPN.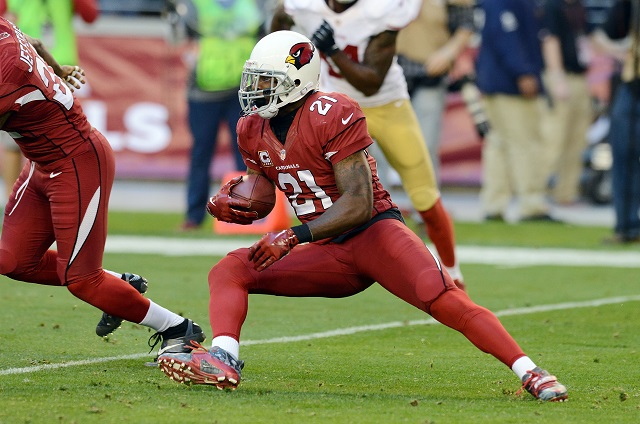 5. Patrick Peterson — $70 million
Months after the cornerback arms race appeared to be over, Patrick Peterson got a massive deal from the Arizona Cardinals, boosting him past Haden and Sherman — Peterson and Sherman have been throwing barbs at each other since the extension was announced; you can check the Tweets out here — and the $14.01 million that Peterson is scheduled to make is obviously intended to be just a little larger than Sherman's yearly average of $14.00 million. Hopefully both players are encouraged to elevate their play to a higher level than last season.
4. Tyron Smith — $98 million
The only offensive tackle on this list, Dallas Cowboys mainstay Tyron Smith signed a massive eight-year extension that will push his total on-paper deal to over $110 million, which has cast some doubt on how the franchise will deal with Dez Bryant. But, for Smith, he takes his spot atop the highest paid tackles in the league, and that's pretty awesome for him. No word on whether or not he's committed to helping the Cowboys go for eight wins and eight losses again this year.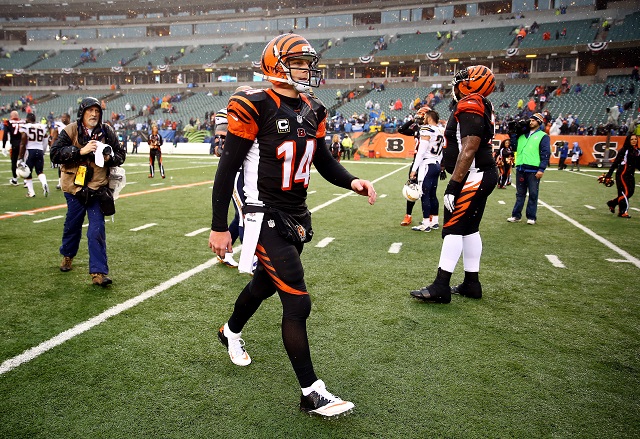 3. Andy Dalton — $115 million
The latest quarterback to make headlines with his massive contract extension, Dalton's new deal, an extension on his rookie contract, will pay him big money that he does — or doesn't — deserve, depending on how you feel about his tenure with the Bengals. In three seasons, Dalton has gone for 30 wins and 18 losses, never missing a game or a start since his NFL debut. The Bengals have made three straight appearances in the postseason, but they've never advanced beyond a Wild Card game.
Dalton's new contract is undeniably divisive, and his triple digit deal is only fanning those flames. That said, the Bengals look to be on an upswing, as they've won one more game every year they've had Dalton under center, and even if he's never an elite quarterback, locking up a reliable signal caller is near the top of every franchise's to-do list. The Red Rocket fits that criteria to a tee.
2. Colin Kaepernick — $ 126 million

While Colin Kaepernick is in a similar zip code to Dalton, the caveat being that he's probably better (or at least, on a better team), he's the beneficiary of the largest amount of guaranteed money in an NFL contract ever. That's pretty impressive, even if the guaranteed money is largely a series of rolling bonuses. You can read more about his contract here.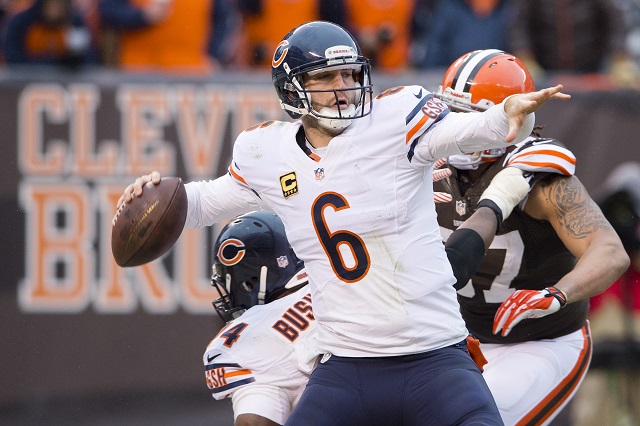 1. Jay Cutler — $126.7 million
Signed back in January, Cutler's contract came under the same kind of scrutiny that Dalton's did, especially since it came right after a .500 season, but it was almost immediately amended to give the Bears more cap space, with the ink still fresh on the January deal when the franchise restructured it in March by turning $5 million of his salary into a signing bonus, to be spread out over the next four years. If there's only one takeaway from that, it should be that deals are not always what they seem.
What does this mean for quarterbacks and NFL teams? If the top three slots are any indication, it's that the league will continue to value even mildly above average signal callers at a premium, even as the short-term focus shifts to defense. We'll see what trends emerge and which players make out like bandits because of it as the next season develops. We're only about a month away, after all.