NBA History: 7 Players Who Talked a Ton of Trash
Not every NBA player wants to be a role model. When Paul Pierce knocked down the go-ahead triple with 8.3 seconds to play against the Hawks in the 2015 NBA Playoffs, he turned to the Atlanta bench and had the audacity to say, "Series." That's it. That's all he uttered. But, wow, that's some big-time smack right there.
Pierce was so certain that this last shot was going to be the back breaker for the Hawks, that he had the guts to tell them this series was over. That's how you do it — that's how you throw shade on your opponent. Of course, this would, ultimately, end up backfiring in Pierce's face, the Wizards would wind up losing the series to Atlanta. But still, it was awesome.
It was a throw-back moment to the NBA of old. A time when players jabbed at each other and were just as fierce with their words as they were with their jumpers. Pierce didn't win the game, but we will remember his words — and a time when this lost art form was another reason why we love this game. So with that in mind, here's a look at the seven biggest trash talkers in NBA history.
1. Charles Barkley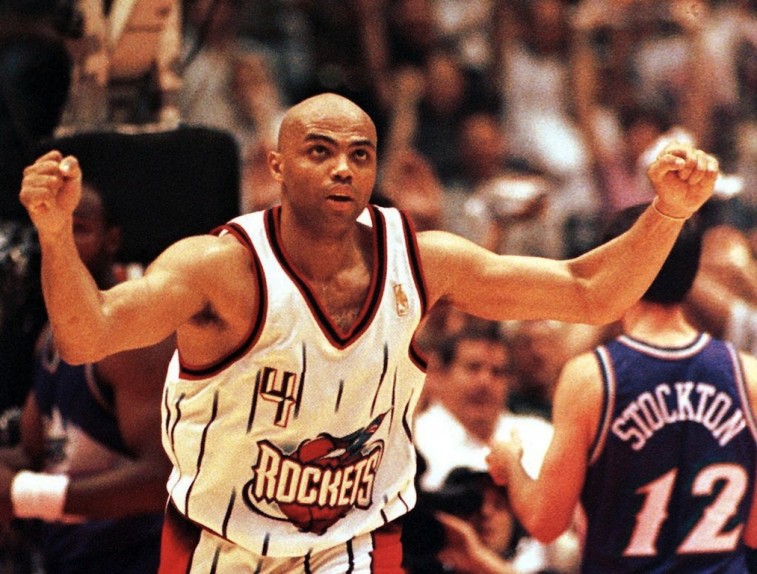 Charles Barkley was an absolute monster on the basketball court. Despite being an undersized power forward, he still managed to average 22.1 points and 11.7 rebounds per game for his career. Aside from being one of the best players in NBA history to never win an NBA title, Barkley was (and still is) one of the sport's biggest characters. He was a big proponent of trash talking — so long as you were good enough to back it up. And Sir Charles certainly was; which is way this Hall of Famer completely lacked a filter, and had no problem mixing it up with the best there ever was. Barkley always did have the gift of gab.
2. Gary Payton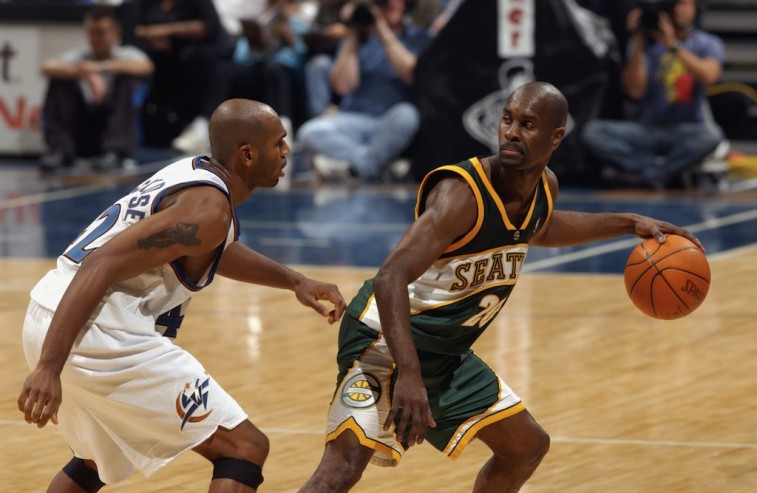 Point guard Gary Payton played the game one way, and one way only: In your face. And he was great at it. That's how he got the nickname "The Glove." Of course, that sort of style extended beyond his skills on the basketball court. Which is why GP was a top-notch trash talker. In fact, he told Dan Patrick in a 1999 ESPN The Magazine interview, that he once went so far to tell former Nets center Jamie Feick, "Man, you won't even be in the league next year." Payton had no qualms with hurting other players' feelings (like he did with Feick). And just think, he's done worse.
3. Rasheed Wallace
If there was ever going to be a player to bring back the "Bad Boys" persona to the city of Detroit, it was Rasheed Wallace. He played hard, he played physical, and he always let you know he was there. 'Sheed had no issues with arguing with the officials — he is the all-time leader in technical fouls — and he was not one to shy away from getting ejected. But what made Wallace such a great trash talker, was the fact the he was kind of hilarious when he did it. Not many players can pull this out. But then again, there weren't many players like Rasheed Wallace. When it comes to his ability to talk smack, the "ball don't lie."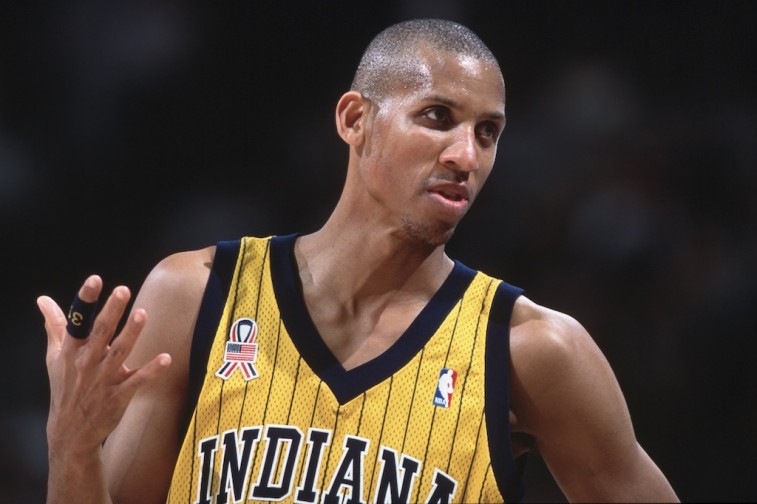 4. Reggie Miller
Reggie Miller could shoot the rock from behind the arc. In a career that spanned 18 seasons, Uncle Reg connected on 2,560 three pointers — second most all time. But the thing about this Hall of Famer, was that he couldn't just make the shot; he had to let you know about it. Miller hits three, he talks smack. Miller nails a pull-up jumper, he's in your ear. And he didn't just let his opponents know when he was on fire, he would let them know when they were stinking up the court. We can't count how many times Miller would put his hands on his own throat to signal that another player was "choking." That was just Miller being Miller. Don't believe us? Just ask Spike Lee.
5. Kevin Garnett
Aside from his undeniable talent, the best thing about Kevin Garnett is that he plays with incredible tenacity. This guy is ferocious and intense and inspires the same from his teammates. Best of all, he's always been this way. Garnett plays the game of basketball with his heart on his sleeve and, sometimes, that requires him to be vocal on the floor. OK. A lot of times that requires KG to be vocal on the floor. The Big Ticket talks to himself, he talks to opposing players, and he picks on the weak. If you can't handle that sort of "craziness," we suggest staying away from Garnett. As Thunder Center Steve Adams once said about KG's trash-talk game:
"Yeah, it's like really weird," Adams recalled. "He's talking to himself, but he like makes you feel bad because he mentions you in it. You're like, 'What the hell? This is crazy?' I walk away so I don't hear it because then, I don't know, I'll get real sad."
That's some heavy stuff right there. But totally worth the price of admission.
6. Michael Jordan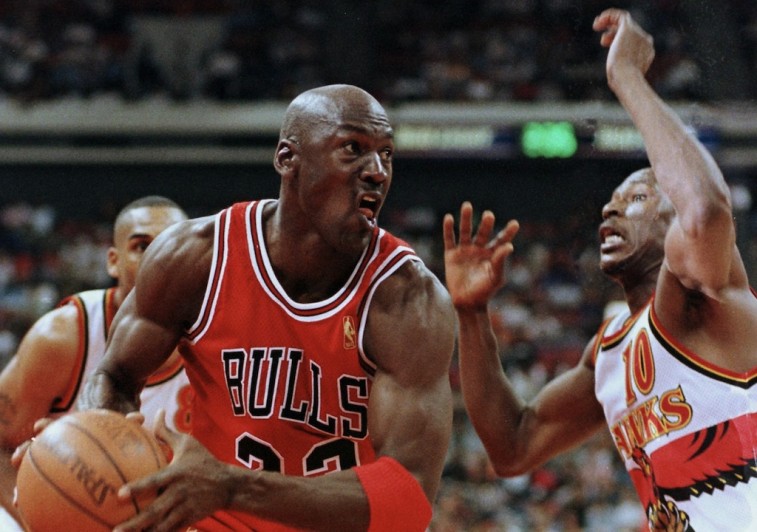 Michael Jordan is the greatest basketball player of all time. He could do it all on the floor — shoot, drive, dribble, defend — and he did it all so well. His Airness was a winner and competitor and someone you didn't want to mess with. But sometimes, players would decide to run their mouths at Jordan. And that's when he took his competitive nature to entirely different level. In these moments, the beast was woken — and you knew you were in trouble. Jordan would show no mercy. His opponents should've known better.
7. Larry Bird
What made Larry Bird such a great trash talker was that you wouldn't expect Larry Bird to be such a great trash talker. After all, he was just "The Hick from French Lick." But Bird was extremely competitive, and therefore felt the need to put opponents in their place. With a straight face, he would tell his defender how he was going to score, and then do it. He would insult players that were guarding him by telling his teammates he was open. This was just who Larry Legend was — a smooth operator, with a perfect jumper, and nasty trash-talking skills. There have been a lot of talkers in NBA history, but Bird was so good at it that, most of the time, you had to wonder "who was coming in second?"
All statistics are courtesy of Basketball-Reference