The 7 NBA Teams With The Most MVP Award Winners
With Stephen Curry becoming the first point guard to nab back-to-back MVP awards since Steve Nash, it's easy to forget that, just two years ago, the race was neck and neck between two of the best small forwards in the game: LeBron James and Kevin Durant. Obviously, there's some variation on what actually constitutes most valuable — it's an argument that comes up every year — but mostly the award is given to the best player on the league's best team, while factoring in voter fatigue and some vague politics — LeBron could have won in 2011, but he would have been a three-time winner of the award, so the sentiment shifted towards a then-blossoming point guard from Chicago. That's just how it goes.
So, for 2016, the MVP decision is all sewn up. But which teams, historically, have birthed the most MVP winners? Even though no one had ever claimed unanimous victory among the voting public until Curry this year (beyond Curry, Shaq and LeBron have come closest, each missing out by a single vote), there are some franchises that have a better track record than others when it comes to producing MVP winners. And, because it's not voted on by the fans, it arguably remains unaffected by the larger markets massive fanbases (again, arguably).
Without further adieu, here are the most MVP-friendly franchises in the NBA, ranked from least to greatest.
5, 6, and 7. Phoenix Suns, San Antonio Spurs, and Milwaukee Bucks — Three MVP winners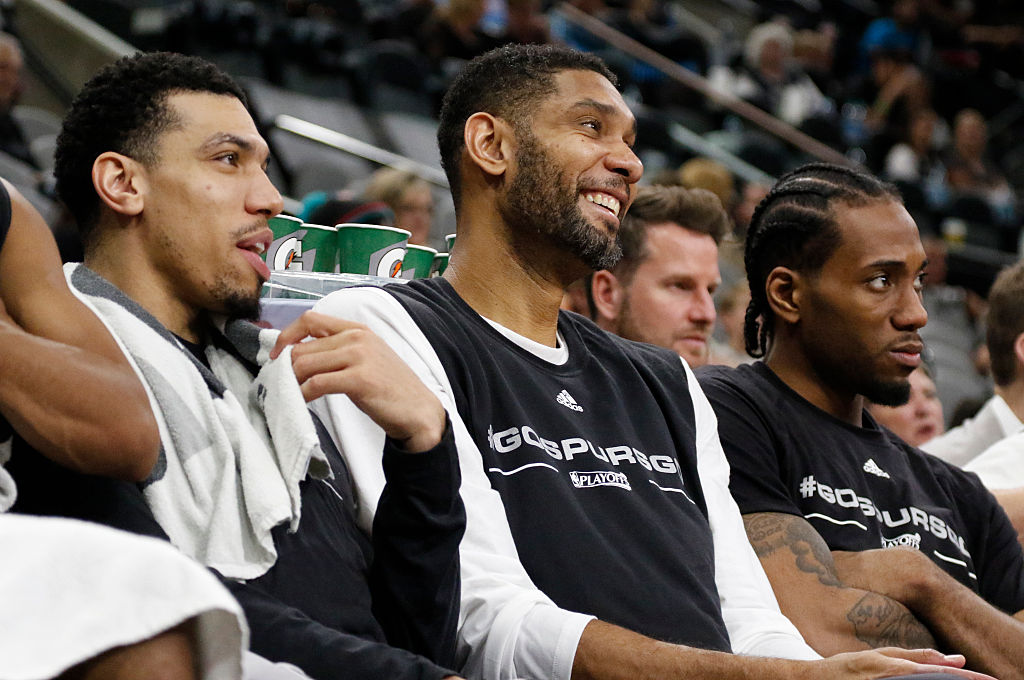 We begin with a three-way tie for last place: All three of these franchises have produced three MVP winners over the course of their inclusion in the NBA (San Antonio was originally an ABA squad). Of the three teams, only Milwaukee has produced an MVP winner in a decade that wasn't the '90s or the '00s — although, conversely, the Bucks have been MVP-less since 1974, so lets start with them.
All three of Milwaukee's MVP awards have come as a result of the team's best player ever, Kareem Abdul-Jabbar. Winning his first MVP as Lew Alcindor, Kareem changed his name but kept winning titles, as he recorded back-to-back awards on the way to bringing Milwaukee their first (and only) NBA Title. For the San Antonio Spurs, Tim Duncan — who is becoming more and more certain to be labelled the best power forward of all time when he retires — has won a pair of them, while The Admiral David Robinson snagged one in 1995 (right before Hakeem, who maybe should've won it, destroyed Robinson in retaliation).
And Phoenix? Steve Nash grabbed a pair of them while he was at the helm of Mike D'Antoni's 7 Seconds or Less offense, but the best Suns player to grab the MVP was Charles Barkley, who was awarded one in 1993. Best known now for beginning his basketball analysis with "First of all…" and for his exuberant opinion-giving on Inside The NBA, Barkley in '93 was not to be trifled with. Here he is delivering a 44 point, 24 rebound game against the Seattle Supersonics that year:
3 and 4. Chicago Bulls and Philadelphia 76ers — Six MVP winners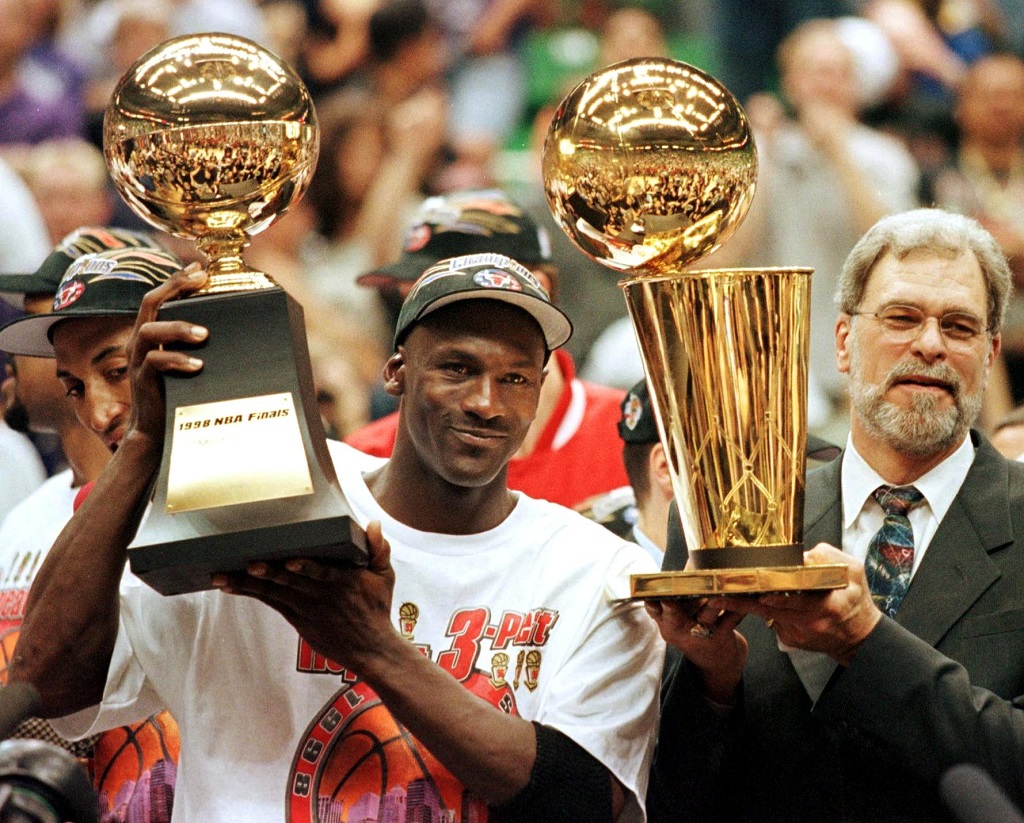 This list is supposed to be for the team, but in this case, the team is inseparable from the player. Michael Jordan is responsible for almost every single one of Chicago's MVP awards, save for the latest. The sole exception was Derrick Rose, who became the youngest player to ever win the award in 2011 and promptly fell off the face of the earth, because knee injuries are terrible like that. Anyway, Jordan won it in '88, '91, '92, '96, and '98. He's tied for second in all-time MVP awards behind Kareem (who has six, total).
The Philadelphia 76ers, on the other hand, have only had one player win the award more than once. That would be Wilt Chamberlain, who snagged three consecutive honors from '66 to '69. The other three? That'd be Allen Iverson (2001), Dr. J (1981), and Moses Malone (1983). The Sixers are one of only two teams to have fielded four-fifths of a cumulative MVP-caliber starting lineup — they're missing either a point guard or a shooting guard, depending on how you feel about Iverson. The other team? The other team we'll get to shortly. For now, let's take a look at Malone's play from 1983, the year the 76ers went all the way and became NBA Champions.
2. Los Angeles Lakers — Eight MVP winners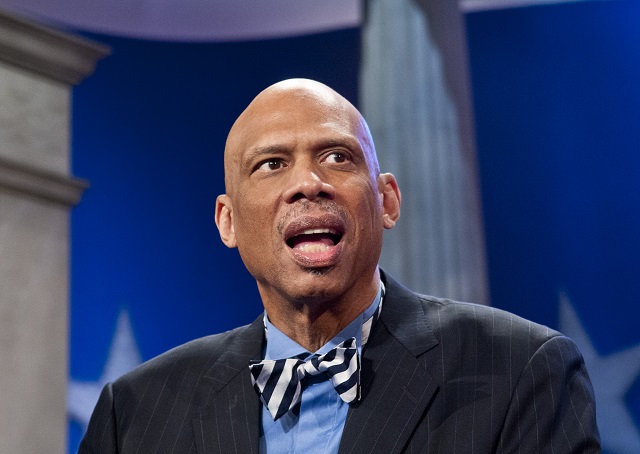 The LA by way of Minneapolis Lakers. The second best team in basketball history. While half of their championships may have been won in Minnesota, all of their MVP awards have come after the franchise migrated to the Left Coast. Kareem, who you can see above, won three more of them — in '76, '77, and '80 — after he swapped Milwaukee for Los Angeles.
The others? Well, that would be Mr. Kobe Bean Bryant (one, in 2008), Mr. Shaquille O'Neal (one, in 2000), and Mr. Earvin Johnson, who you probably know as Magic, recipient of three separate awards in '87, '89, and '90. Not bad company. With the Lakers looking at a couple rough years of rebuilding ahead, while Kobe attempts to regain some of his old form and the fanbase becomes acquainted with missing the playoffs, it might be high time to start revisiting some of the NBA Classic games of yore. Maybe this one, featuring Kareem and Magic:
1. Boston Celtics — Ten MVP winners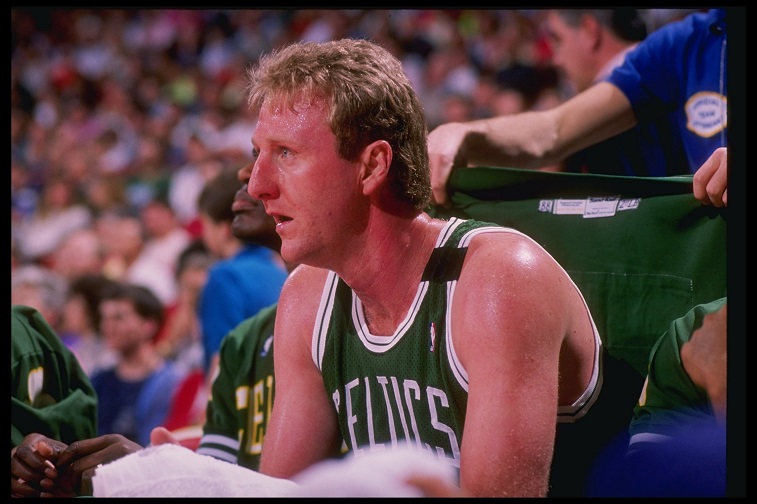 Of course it'd be the Boston Celtics, who also lead the NBA in total championships and are one of the marquee teams in the NBA. Like the Lakers, the Celtics recently ran into a closed window after spending the latter half of the past decade as perennial title contenders. Unlike the Lakers, the Celtics' all-star guard remained on the floor after coming back from a season-ending injury in 2013.
Anyway, the ten Celtics MVP titles can be divvied up as so: Bob Cousy snagged one in 1957; then Bill Russell grabbed one in '58 and four from 1961-1965 (Oscar Robertson won in 1964); then Dave Cowens was awarded the C's sole MVP of the '70s in 1972; Larry Bird pulled down three straight from '84-'86, and here we are today. Yes, the last MVP winner from the Boston club won his thirty years ago, even if Kevin Garnett probably should have won one in 2008 (KG did grab one while on the Timberwolves). And there you have it, the most MVP friendly teams are also some of the most historic franchises in the league.
Data courtesy of Basketball-Reference