The 7 NFL Quarterbacks Who Got the Most Out of Every Throw Last Season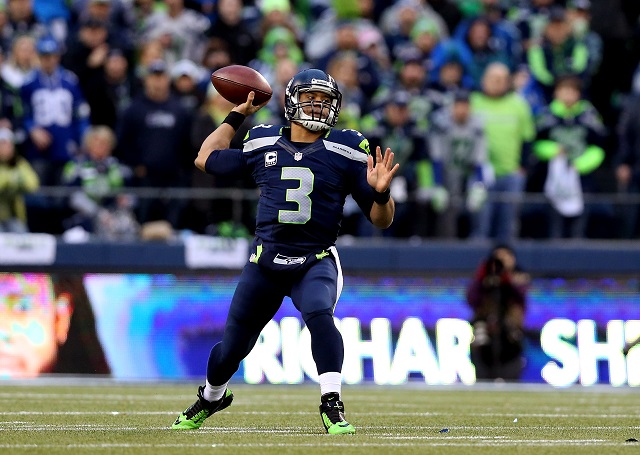 Who throws the most meaningful passes out of any quarterback in the NFL? That's a complicated question with a multifaceted answer, but Chase Stewart over at FootballPerspective.com attempted to shine some light on the answer by turning to yards per completion, which measured how far a quartedback's completed pass (i.e. a pass caught by a receiver on his team) travels, on average. Leaguewide last year, the NFL's quarterbacks threw for a total YPC average of just over 11 yards — exactly 11.63, to be precise — so Stewart honed in on the quarterbacks that went above that average.
"Yards per completion is not as much about ability or talent as it is about style," Stewart wrote in his introduction (italics his.) "One can be very good when it comes to yards per completion but be a bad quarterback (Matt McGloin!), or a passer could have a very low yards per completion average but still be very good (Matt Ryan!). But that doesn't mean it isn't fun to occasionally focus on a passer's style rather than his effectiveness." The style, apparently, is how awesome it is to watch a quarterback complete a deep bomb — or at least a pass that's going to be worth a new set of downs.
Stewart is absolutely right, because checkdown passes and other, safer, options are fundamentally less interesting to watch than the flashy passes. So, remember: this is not about who is the "best" quarterback in the conventional sense (i.e. the Peyton Manning sense), but about who gets the most out of the long ball.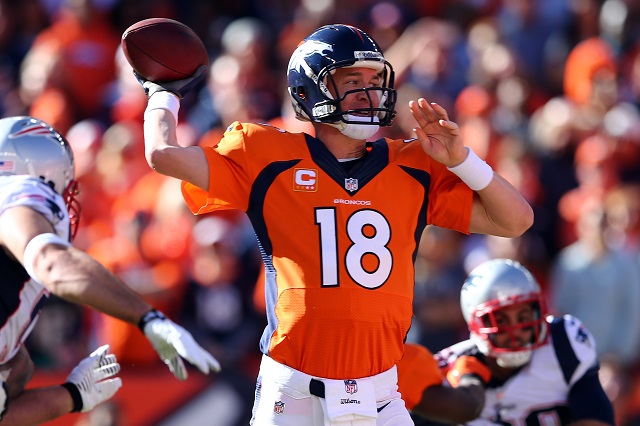 7. Peyton Manning, YPC: 12.17, With 241 Yards Over Expected
The only Manning brother to make the list — Eli had a pretty terrible year — the quarterback behind the best offense in NFL history wound up just barely above average in Yards Per Completion, which seems a little suspicious at first, since 2013 was the year Peyton broke the single-season yardage record, until you consider what YPC is actually saying.
Manning was able to throw 450 completed passes in 2013, the highest mark on this list by a massive margin. Multiplying his yard per completion over the average (12.17 – 11.63) over his 450 completed passes gives you the 241 Yards over Expected, and the seventh rank on this list. At least, that's what is listed on the Football Perspective post, as our quick foray into the math leads us to believe that Manning should have finished with 243 Yards over Expected (0.54 multiplied by 450). Either way, that doesn't move the needle for Peyton one way or the other, so pick whichever number you like better.
6. Aaron Rodgers, YPC: 13.14, With 290 Yards Over Expected
Here's a study in contrast: Rodgers wound up with a higher YPC than Manning while throwing half as many completed passes (just 193.) He also wound up throwing for about half as many yards total in the 2013 season, but the Green Bay QB still managed to outperform his peers in the traditional scope of "best quarterbacks" — he's the highest ranked player of the guys you might typically put into this group.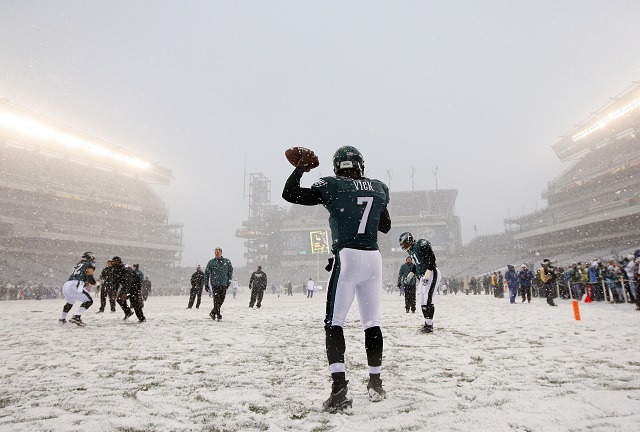 5. Michael Vick, YPC:1 5.78, With 319 Yards Over Expected
Vick, who actually leads the league in YPC (which is another indication of what you should expect from this metric) only completed 17 percent of the passes that Manning did in 2013, totaling just 77 completions. But what completions they were. It would be hard to come up with an NFL game from last season that was more entertaining, in the Madden video game sense, than the first half of Chip Kelly's debut as the head coach of the Eagles in that game against Washington, a game which would arguably be the high point of the Eagles entire season. That was nearly indisputably the most fun match to watch for the entirety of 2013, unless you were rooting for Washington.
4. Matthew Stafford, YPC: 12.55, With 333 Yards Over Expected
The Detroit Lions have Calvin Johnson, also known as Megatron, also known as the best wide receiver in the league, and for the last few years they seem to have abandoned any idea of an offense beyond "hey, Matt, it doesn't matter if Megatron is in triple coverage, you've got to throw it his way and let him work some magic." A move that has stymied any hopes of playoff contention for the Lions, since they've only made one postseason appearance since the millenium, but one that has seen Stafford and company put up massive passing numbers year in and year out.
Stafford also marks the last appearance of the 'old guard' on this list, as the remaining players are all new, if familiar faces. An aside: how weird is it to refer to Stafford, who is just 26, with anything that includes the word 'old' in it?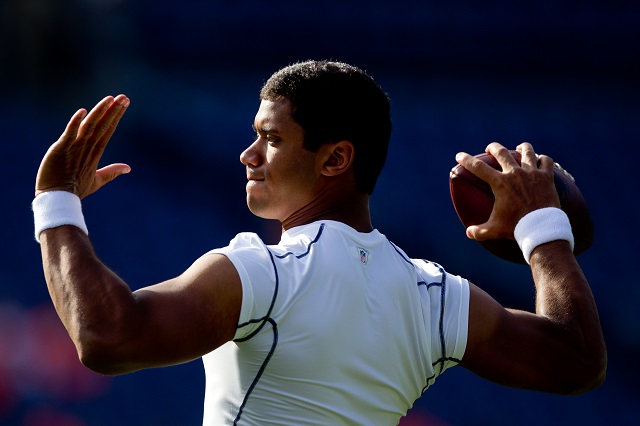 3. Russell Wilson, YPC: 13.06, With 367 Yards Over Expected
If dink and dunk football is the kind of safe passing game that many of the 'whenever they retire they're guaranteed a spot in the Hall' quarterbacks (the Manning, Brees, Brady — the last two finished with 11.57 and 11.43 YPC, not even above average, which is astonishing — class of signal callers) find themselves drawn to because it's arguably a safer style of football, then it makes sense that Wilson and No. 2 on this list aren't playing that sort of game. The Seahawks, after all, don't need to throw short passes, they can just give the ball to Marshawn Lynch if they want to gain a few yards, although Seattle was actually less effective with the run than No. 2′s team, which doesn't seem correct when you figure that the second highest YoE player on this list is Colin Kaepernick.
2. Colin Kaepernick, YPC: 13.16, With 370 Yards Over Expected
This is one metric that illustrates the similarities between Russell Wilson and Kaep, beyond the advertisment "rivalry" that was marketed to fans all throughout last season. The 49ers ask a lot out of their running game, and were in the top three teams in rushing yards per game last year (a pantheon rounded out by Philly and Buffalo, Seattle finished fourth). As a result, when the 49ers went to throw, they usually went to throw deep, and Kaepernick's 243 completions managed to eek out Wilson's 257 when it came to YPC. Good job, San Fran. The top spot? Well, the top spot goes to someone you might not expect.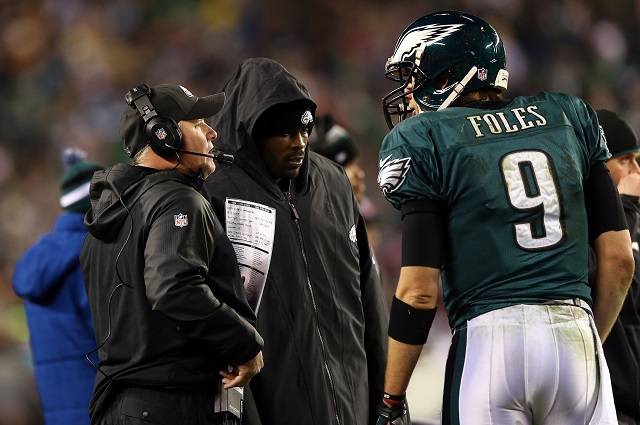 1. Nick Foles, YPC: 14.24, with 529 Yards Over Expected
It's Nick Foles, who actually measured lower in YPC than his former teammate Michael Vick, but made up for it by completing 203 passes in the 2013 season, netting him a league leading 529 YoE. What's the common thread here? If you answered Chip Kelly (pictured above, left), then you might be right. Or at least you've jiving with our suspicions, too.
With the NFL season just over a month away, we're anxious to see if the Kelly/Foles buddy cop comedy in waiting can manage to maintain this title, since nearly everyone that wrote them off equated Kelly's offense to a gimmick that would be figured out in, at maximum, a season or so. Plus, the Eagles play fun football when they're not up against teams we like more, and its always cool to root for innovation. You can check out the rest of Stuart's findings, and there's a lot to uncover, here.