The 7 Steps to Starting a Fantasy Football League
Football season is almost here, which means that fantasy football season is fast coming upon us. Back in the day, starting a fantasy league meant that you'd have to do the whole thing by hand — as in everything from scoring to drafting. Luckily, we're well past those days, and fantasy sports has blown up so much that starting your own fantasy football league is as easy as clicking your mouse a few times.
Or is it?
Remember, you don't want to start a lame fantasy league. That's pretty easy to do, especially if you don't follow our seven steps for making sure that your league (whatever it's called) is one that people will want to play in.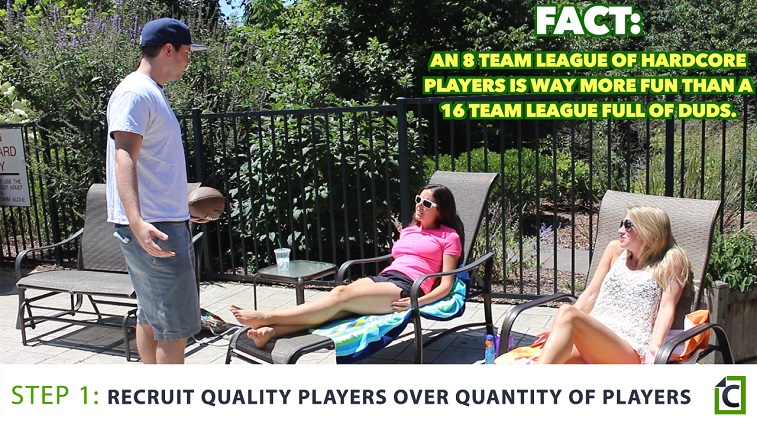 There's nothing worse than having bad fantasy players, and we don't mean the ones on the field. The details are always changing, but the song remains mostly the same overall — the people who don't set their lineups, the people that talk trash the wrong way (we all know those guys, and they're always super annoying), and the like. You'll notice we didn't mention people that don't know football, or folks who have never played fantasy before: that's because they can often become the most fanatical about the game. If you can find the right donors, new blood is great for your league.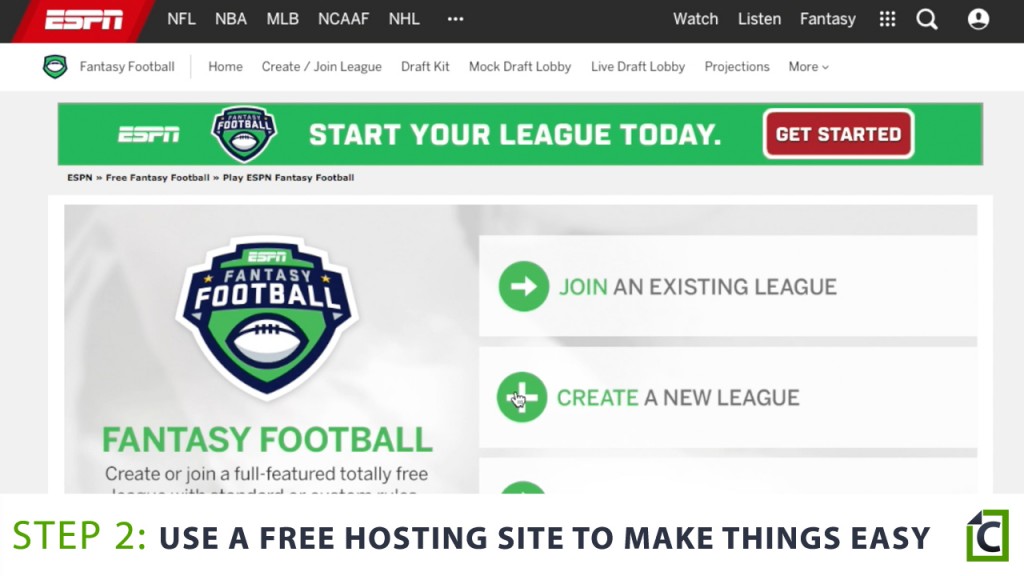 Once you've got your posse of people all rounded up for a season of fantasy sports, you're going to want to decide which website you want to use. The good news: the free ones are all pretty awesome, and using a host website to run your league is far and away the easiest and most efficient method of playing fantasy football. This will allow you to quickly and easily customize your draft settings, scoring settings, scheduling, and edit league rosters.
The big names in fantasy sports are Yahoo, Fox Sports, CBS Sports, ESPN, and NFL.com. The differences are almost entirely aesthetic, so take an informal poll of the people in your league and see which one they like the best — when it comes down to brass tacks, they'll all do the important stuff about the same.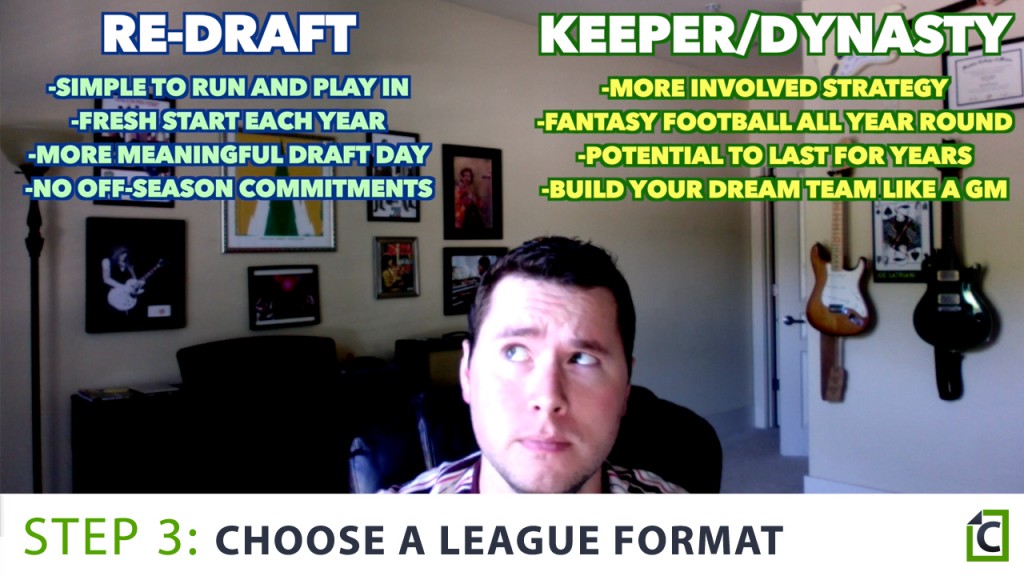 This one can sound intimidating if you don't know what's going on — fear not, it's easy. The basic difference between the league format is whether or not you want to wash your hands of the team at the end of the season. That's it. If you've got fantasy GMs who don't want to hold onto the squads they draft, then you'll want to pick a redraft style league: when the season is over, so is your commitment to your squad. It also means that you'll have the opportunity to draft a whole new squad next year, and won't be stuck with someone like Josh Gordon.
Keeper leagues, also known as dynasty leagues, are for the hardest of the hardcore. For these guys, fantasy never stops, and their draft day brings a whole new dimension to the phrase "sleeper pick." These are the leagues where Odell Beckham Jr. is more valuable than Peyton Manning, since Manning's close to retirement and Beckham has a full career ahead of him. Again, it's wise to see how your group is leaning before deciding one way or the other.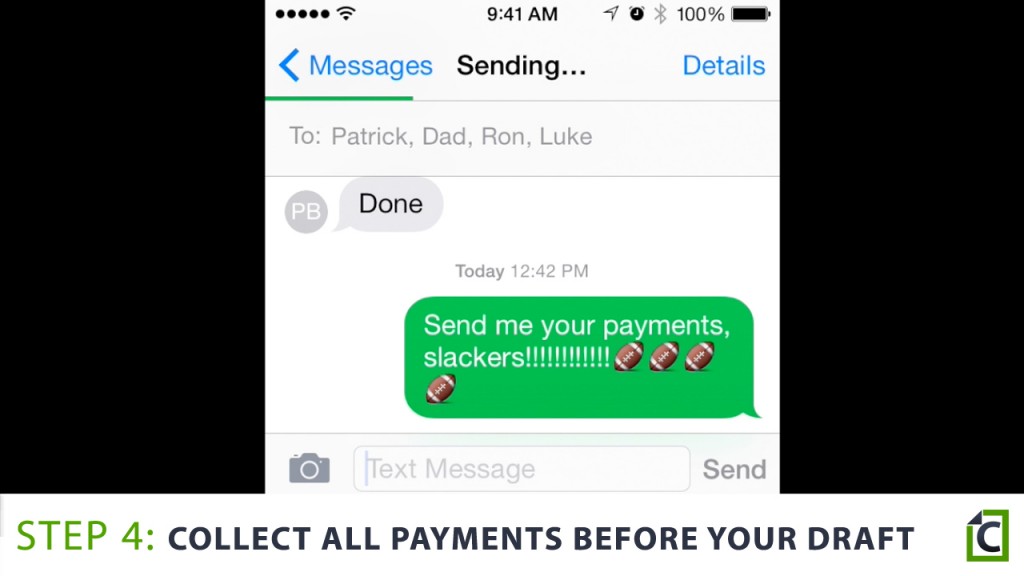 Many fantasy football leagues have money at stake. so when starting your league, you will need to decide if you want to play for a prize or just play for fun. If you decide to play for cash, you absolutely 110% need to get the money up front. If you don't, it won't happen. A lot of people say that playing in just-for-fun leagues is hard because there's zero motivation to actually pay attention to your team. This is true, but nothing is worse than having to hound people, usually your friends or relatives, for $20 or whatever months after the draft and the only reason they're avoiding you is because their team sucks and they don't want to give away money.
If you can get everyone in the same room for a draft, collect the money then. If it's online, set up a deposit system, but don't draft if people haven't paid up.

This might seem obvious, but trust us — a quick text or a five minute phone call isn't enough time to make sure that everyone knows what the word is. Are touchdowns worth six points, or four? Is there a different point value between a rushing TD or a passing one? Are you using IDP (Independent Defensive Players)? Whatever the case may be, you want to send everyone an email with all the details. That way no one can get anything confused, and no one can only bring $10 to the draft when the buy in is $20, you know?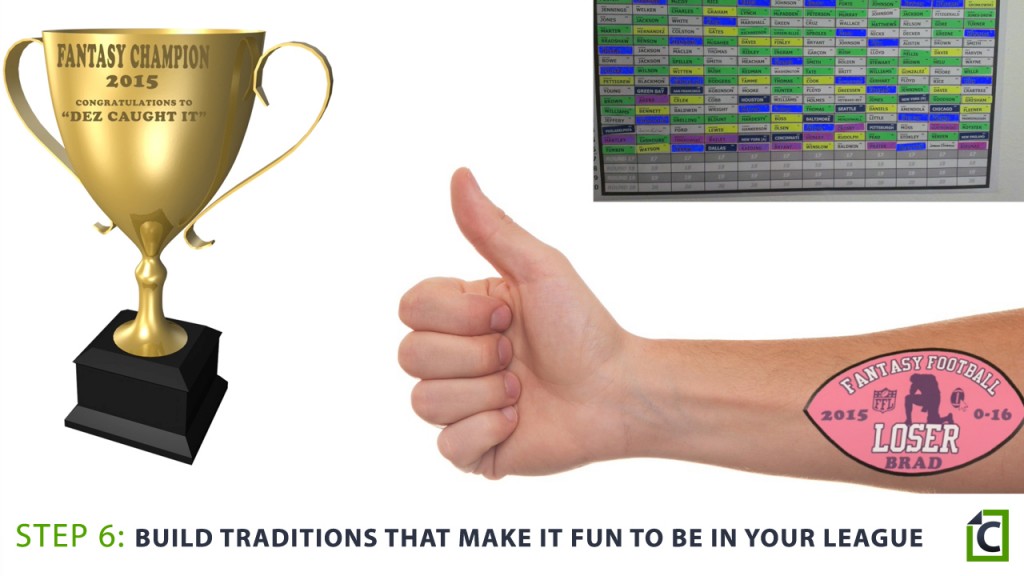 You don't need a trophy, but you need a trophy, know what we mean? The point of playing fantasy football is kind of like a (much more relaxed) version of Conan The Barbarian: you're trying to drive your enemies before you and hear the lamentations of their rosters. Nothing says that more than holding up a first place trophy — or a WWE-style belt — at the end of the season. If you've got the right kind of league for it, you can even add in something for the loser to wear in dishonor. It doesn't have to be a tattoo, but it could be.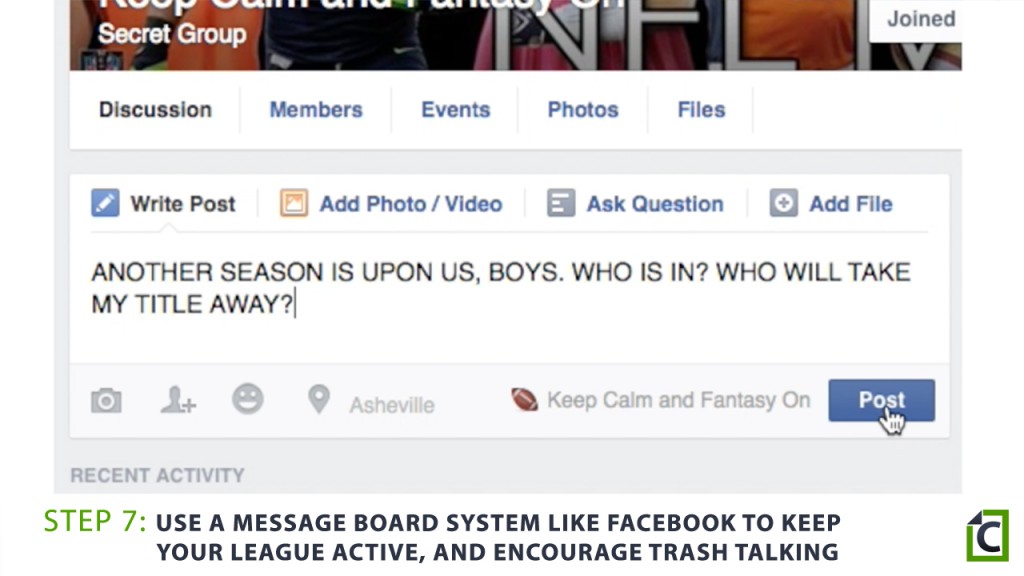 If we haven't made it clear by now, the best kinds of fantasy leagues aren't passive experiences. There's nothing lamer than a league without some smack talk, some friendly joking, and some general participation from all involved. Get everyone in a Facebook group for your league, get a system in place for weekly power rankings, do whatever you can to make sure that everyone is emotionally invested in the experience. That way whoever is left holding the trophy will have a real piece of themselves invested in the league, and that's what it's all about, Alfie.