NFL: 7 Ugly Alternate Uniforms that Players Have to Wear
Introducing the first alternate uniform in team history. #49ersRGB http://t.co/LqWbZcA2Mm pic.twitter.com/sSfLHO3DFN

— San Francisco 49ers (@49ers) May 1, 2015
You couldn't miss them on Monday Night (if you stayed up to watch the second game of the double header): The San Francisco 49er's first alternate uniform. And for those expecting the team to stay true to the organization's roots, they were sorely disappointed.
The attire is all black, with bright red numbers, and it's already become a polarizing point of discussion. The members of the team were heavily involved in the design of the new gear, so you know it's player approved. However, these uniforms are a far cry from anything resembling the team's rich tradition. Where's the scarlet and gold? Where's the subtlety? Where's the character? In our humble opinion, the team is trying too hard with these new threads. Unfortunately, when it comes to the use of alternate uniforms, that tends to be a common theme in the National Football League.
Whether an organization is looking to pay homage to the past with a throwback jersey or incorporate an interesting take on its modern look, it's safe to say that most alternate jerseys are hit or miss. Sometimes, the old-school top manages to have a cool vintage feel while also maintaining a modern appeal. Other times, the look is so far out there that it reminds people why the team created new uniforms to begin with. Building off a current look, like Niners attempted to do, causes its own set of risks.
This San Francisco team is clearly trying to forge a new identity after an offseason filled with much change and confusion. It would make sense that the 49ers are looking toward the future. Perhaps these uniforms are a representation of that movement. If so, we applaud the attempt. However, that doesn't mean we have to approve the new look. Honestly, we can't stand it — these uniforms hurt our eyes. And we're sure we're not alone.
Then again, it's not all bad. The San Francisco 49ers are hardly the first team in the league to make a mistake when it comes to a third jersey. In fact, some teams may even have worse attire. With that in mind, here's a look at the seven ugliest alternate uniforms in the NFL today.
1. Houston Texans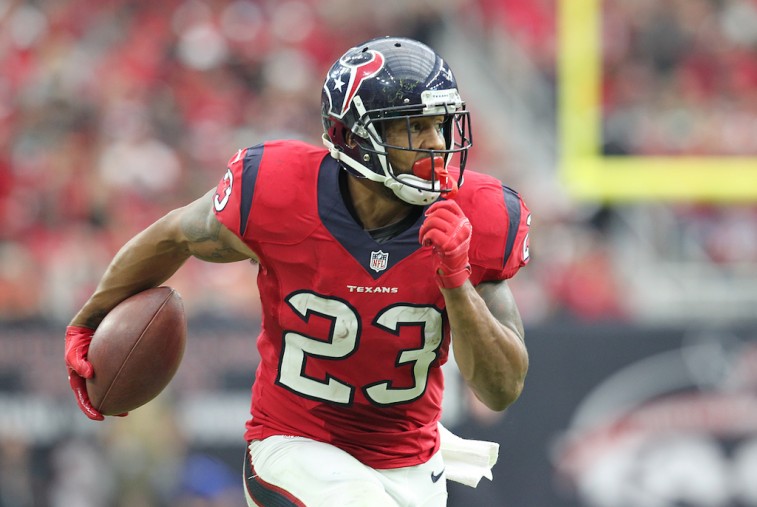 The Houston Texans stay consistent to their team colors with this red jersey. Unfortunately, it simply falls flat. To call it "ugly" may be a bit too harsh, but this top is just not appealing. This would be a great opportunity for Houston to add some pop to its uniforms — that's the luxury that comes with being a modern organization. However, when we look at this jersey, all we see is a wasted opportunity.
2. Pittsburgh Steelers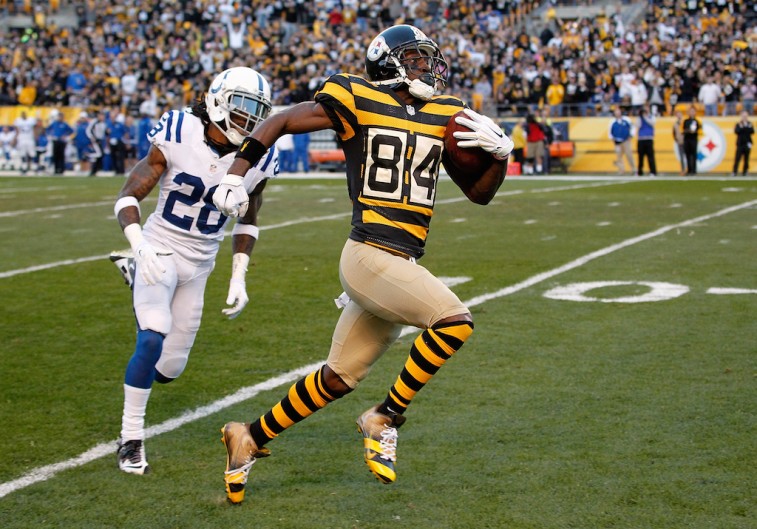 The Pittsburgh Steelers are black and gold, no doubt about it. This just takes it too far. We understand that this bumblebee alternate uniform is a throwback to the team's gear from 1934, but sometimes the past should remain in the past. This looks too much like it should be worn by a rugby team. And the Steel Curtain does not play rugby. There is also something seriously wrong with the khaki-inspired pants. We're happy the Steelers don't wear this kit all the time. We're not sure our eyes could take it.
3. Seattle Seahawks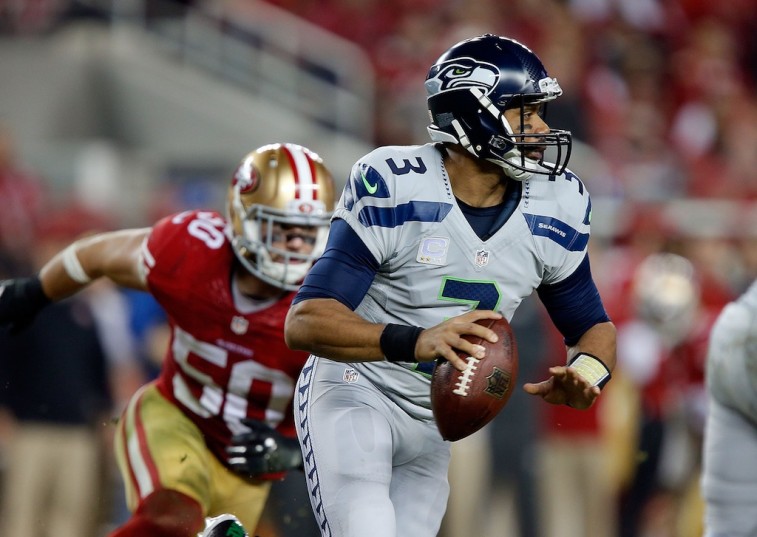 The Seattle Seahawks usually crush it when it comes to the uniform department. The franchise is modern, sharp, sleek, and dynamic. Its gear is normally on point. And yet, these gray-on-gray getups miss the mark. On most occasions, we're on board with the "less is more" mantra. This isn't one of those occasions. We're not feeling the details on the side of the pants, and the checkered pattern in the numbers are completely unnecessary. If this uniform had more of the neon green outline or if the Seahawks opted to wear blue pants, then perhaps we'd find ourselves more into this attire. Unfortunately, these alternates don't live up to the organization's standards.
4. San Diego Chargers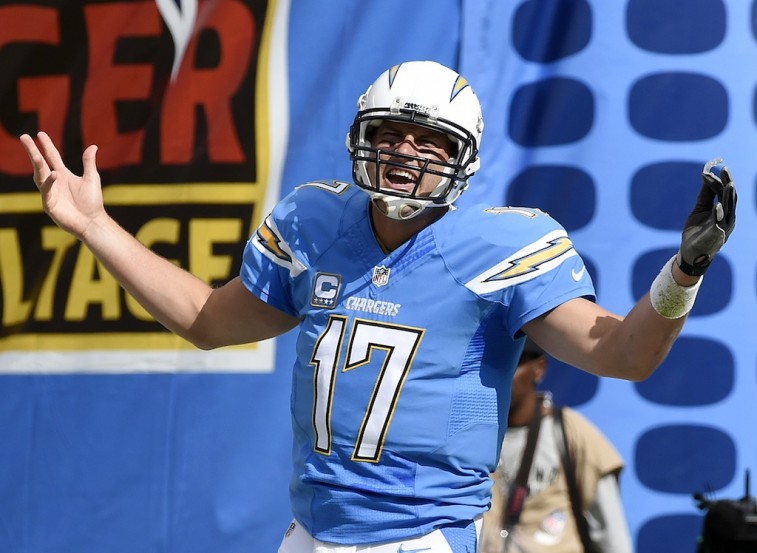 There are those who will find the San Diego Chargers' alternate uniforms fresh; we are not among them. Powder blue is not a color we gravitate toward. It's the shade we hope to see when we look up at the sky, not when we're looking at the gridiron. Also, call us crazy, but we don't like the lightning bolt with the white backdrop on the sleeves. Everything about it makes the shoulder look stiff and rigid. We have to believe that this uniform is the reason Philip Rivers appears to be so agitated. How could it not be?
5. St. Louis Rams
We are well aware that the St. Louis Rams were rocking these uniforms when they won Super Bowl XXXIV. Those were good times. But that was then, and this is now. These Rams can't get away with looking this absurd. When you're the Greatest Show on Turf, you can wear whatever you want. Even a blue that's too blue and a yellow that's way too yellow. It also doesn't help that you're not permitted to wear throwback helmets with the alternate uniforms. However, it would only make things a tiny bit better. In our eyes, these uniforms are a no-no.
6. Dallas Cowboys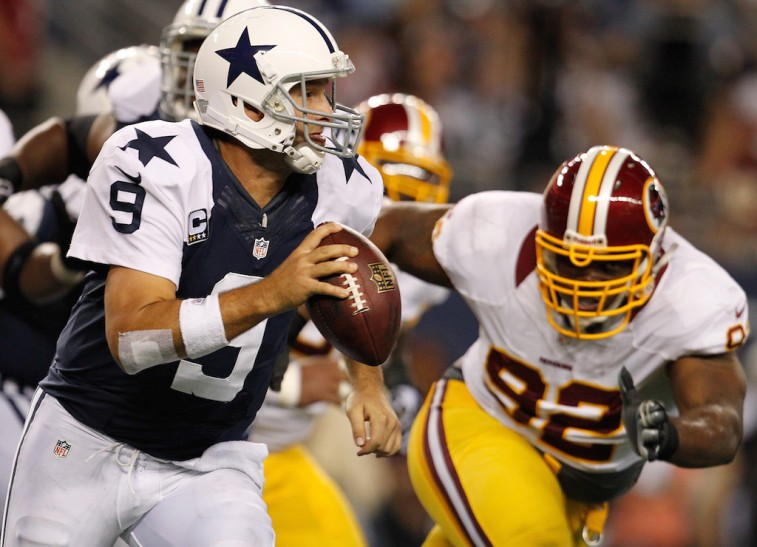 The Dallas Cowboys haven't used these throwbacks since the NFL ruled that teams are not permitted to wear alternate helmets. And you know what? We're completely OK with that. Anyone who ever said you can never have too much of a good thing clearly wasn't talking about these uniforms.
The Cowboys' star logo is one of the most iconic symbols in the National Football League. When you see it, you instantly recognize the Dallas Cowboys — and that's the point. But this is too much. These tops have too much "star." We are also very much against the shoulder portion of this uniform. Frankly, we oppose everything about it. We feel better knowing that the Dallas Cowboys may never again force people to endure these alternate uniforms.
7. Jacksonville Jaguars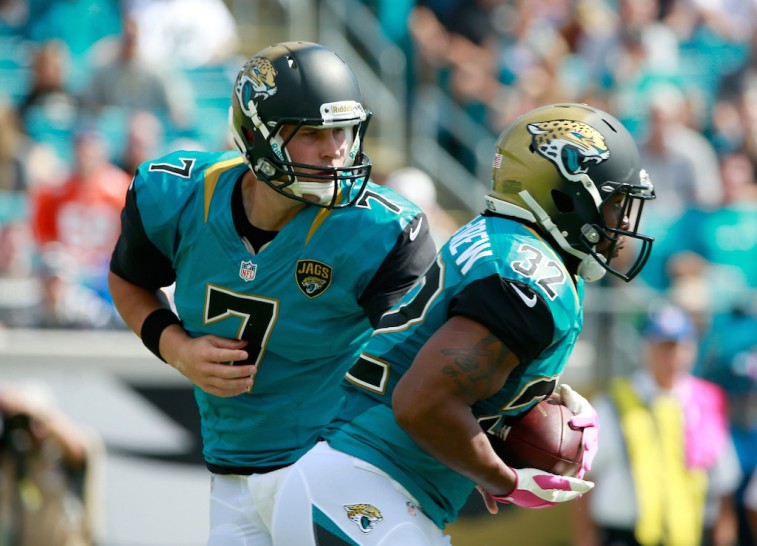 There is so much wrong with these alternate uniforms. Honestly, what were the Jacksonville Jaguars thinking? The teal is already overwhelming to begin with, but to make it the primary color in this jersey is borderline insane. The gold accents on the collarbone are odd. The numbers on the jersey lack fluidity. The "Jags" patch is just weird.
Then, to top it all of, the team decides to include the black sleeves. We can't help but think this look was designed with the intention of confusing people, rather than exciting them. This is like the Frankenstein's monster of alternate uniforms — a lot of pieces patched together to create something scary. If that was actually the intention, then congratulations to the Jacksonville Jaguars. You've done it. It's alive!
To see more alternate jerseys, check out NFLShop.com.