The 8 Most Ridiculous Superstitions in Baseball
The Boston Red Sox, having ended an 86-year-old MLB championship drought in 2004, are now making a habit of winning. This past week, the Sox won their third World Series title over the last 10 years — and their eighth overall — beating the St. Louis Cardinals 6-1 in Game 6. They had also won titles in 2004 and 2007, the first of those instances finally ending the Curse of the Bambino for the team from Fenway Park.
Superstitions, myths, and crazy quirks are a hallmark of sport — not the least in baseball where there are innumerable stories of some unexplained, oft-repeated ritual or curses that apparently plague teams and players. We take a look at 8 of the most famous superstitions in the sport:
1. Curse of the Bambino
When Babe Ruth, or The Bambino, was traded to bitter rivals New York Yankees in January 1920, Sox fans started believing that their team, which had won five World Series titles until then, would never win again. The curse built infamy of its own when it looked like it was actually coming true, with Boston staying short year after year starting 1918. It also coincided with the surprising rise of the Yankees, leading to much trash talk by fans from New York for their Boston counterparts. The curse finally lifted in 2004 after 86 long years. Fittingly, the Yankees had a role to play: The Sox came back from a 0-3 deficit to beat their rivals in the American League Championship Series. They then beat the St. Louis Cardinals in a clean sweep in the World Series.
2. The Curse of Billy Goat
Boston should consider themselves lucky because this particular curse — similar in nature to the Bambino — has still not lifted off Chicago Cubs shoulders. The Curse of Billy Goat apparently hit the Cubs in 1945 when Billy Sianis, the owner of Chicago's Billy Goat Tavern, was asked to leave Wrigley Field during a World Series game against the Detroit Tigers. It seems that the pet goat Sianis had brought along for the fun had an odor that bothered his fellow fans. Sianis left, but not before muttering the famous words, "Them Cubs, they ain't gonna win no more." Fans are still trying hard to get rid of the curse that has kept the Cubs title-less. In 2011, a pledge called Reverse The Curse was started to offer goats to families in developing countries, while in 2012, a group of five Cubs fans walked from the team's spring practice facility in Mesa, Arizona to Wrigley Field along with a goat named Wrigley.
3. The Curse of Colonel Sanders
This one comes all the way from Japan, where a curse was apparently placed on the Hanshin Tigers by the founder and mascot of KFC. Colonel Harland Sanders was supposed to have been angered by some Tigers fans reportedly throwing one of his store-front statues into a river while celebrating the team's 1985 Japan Championship Series victory. Following the curse, the team actually went on a barren streak. The lost statue was finally recovered in the river in March 2009, but the team's losing record is still intact.
4. Ronald Reagan and the Case of Silent Pitchers
Ronald Reagan, who was a radio announcer in Iowa right out of college, firmly believed in a now classic baseball superstition of teammates not speaking to a pitcher working on a no-hitter. So much so that even he'd never mention no-hitters on radio. Most current broadcasters still follow Reagan's practice. In fact, Reagan even applied the same philosophy during his election campaigns. "I kind of feel the same way about campaigning," Reagan reportedly replied when asked about his potential election fate in 1984.
5. Jason Giambi's Golden Thong
Weird superstitions don't just hit teams, it seems. Former Colorado Rockies player Jason Giambi was known to go into inexplicable slumps, and the first baseman once decided that his problem could be fixed by a piece of women's clothing. Giambi reportedly wore a golden thong to the game every time he felt like he was under the supposed curse. According to Men's Fitness, the fix even worked more often than not. And apparently it worked so well that even his teammates asked to borrow the thong for their own periods of bad form. "I was blown away," Yankees broadcaster and former big league pitcher David Cone said to ESPN about Giambi's slightly strange practice. "You've got to be pretty confident in yourself to let that one out."
6. Justin Verlander's Taco Bell Addiction
Detroit Tigers pitcher Justin Verlander apparently needs to eat a Taco Bell meal before every single game. He revealed this strange affliction on Conan O'Brien's show in 2012. "The same thing every time," Verlander told O'Brien when asked what he typically orders from the haven of the hungover. "Three crunchy taco supremes, no tomato, a cheesy gordita crunch and a Mexican pizza, no tomato. Every time." You better believe him: Verlander even tweets pictures of his calorie-laden pre-game meal, according to Yahoo Sports. Here's Verlander on Conan:
7. Justin Morneau
Verlander is not alone in his need to repeat meal items. First baseman Justin Morneau would stop by the same Jimmy John's Gourmet Subs everyday when he played for the Minnesota Twins between 2003 and 2013, ordering the Turkey Tom sandwich, no sprouts, for $4.65. That was followed by his special drink, created by teammate Nick Punto — one-half Mountain Dew, one-half red or orange from the clubhouse slurpee machine. But don't think he stopped there. "He is our biggest superstition guy," Punto told ESPN in 2007. Following the meal ritual, Morneau then stepped onto the field at 6:47 with Jason Bartlett and did four wind sprints. ESPN lists more rituals: "Then he plays catch with Bartlett, or Punto in a pinch … Morneau wore No. 33 in 2006, having requested it about 14 seconds after the Twins traded J.C. Romero to the Angels at the end of 2005, because that was the number worn by Patrick Roy. On hockey nights in his childhood, spent in a Vancouver suburb, Morneau refused to exit the car before a game until precisely 6:33, to honor Roy, and because Morneau, also a goalie, knew it was just the right time."
8. Kiki Cuyler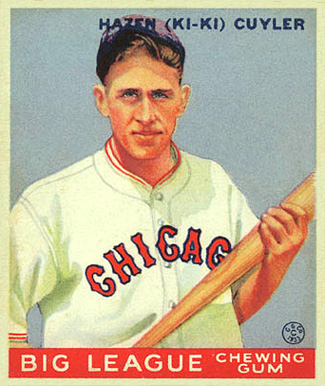 The Kiki Cuyler case may be one of those things that started the baseball superstition tradition. According to The Seattle Times, when then Pittsburgh Pirates manager Donnie Bush wanted outfielder Cuyler to move from third base to second in the batting order in 1927, the player plain refused. Cuyler firmly believed that hitting third was lucky for him. According to the report, Bush, who hadn't been happy with Cuyler's prior season-long performance either, suspended him just before the World Series for this particular rebellion. A struggling Pirates team was beaten easily by the Yankees.
Don't Miss: 7 Oldest NFL Quarterbacks of All Time.