8 NFL Coaches That Make Over $6 Million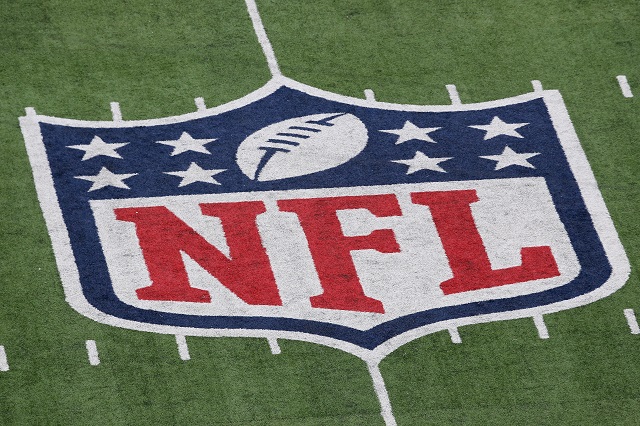 Did you know that the NFL is, for all intents and purposes, a money printing factory? It's true. When your commissioner can set a $25 billion goal for revenue roughly ten years in the future and not be laughed out of the room, you're probably making enough money that it's going over every hand and every fist that you can muster. With an average team worth of $1.17 billion dollars – courtesy of Forbes – it's no secret that the average NFL team has a ton of money to throw around.
This is especially because it's players have so little say in their contract bargaining. With tightly tethered rules around how much money each player can make, each team can hurl massive contracts and their stars and leave their role players to fend for scraps of the heavily-capped salary limits. No such limit exists for the coaches, though.
A good NFL coach is almost a lock to be handsomely rewarded for his efforts. Heck, even a bad coach is going to be paid pretty well — the average salary for a head coach was $4.6 million last season, according to CoachesHotSeat. But who's making the most? Here are the eight most well-compensated head coaches in the NFL right now.
8. Chip Kelly, Philadelphia Eagles — $6.5 Million

Chip Kelly, the head coach for the Philadelphia Eagles, just wrapped up his rookie season in the NFL with a 10-6 record and a first round exit in the Wild Card at the hands of the New Orleans Saints. Kelly, who was brought to Philly after setting the NCAA on fire with his high speed offense at Oregon, was hailed as a revolutionary at the pro level, the coach who was bringing the up tempo offense to such an extreme end that the normal pace of an NFL game might be responsible for slowing it down. For anyone that watched the first half of the Eagles opening game against the Redskins — which was about as Madden-esque as any football game anyone's ever seen in real life — it sure looked like something different was going to happen.
It didn't, of course. Not really. Players got hurt, players ran out of breath, and defenses adapted. So it goes. But the Eagles got what they paid for when they pried Kelly out of Oregon, where he had led the Ducks to a 46-7 record over four seasons with an offer of 5 years and $32 million dollars. Is that too much for a possible gimmick offense? Dunno. It was worth every penny for that opening half, though.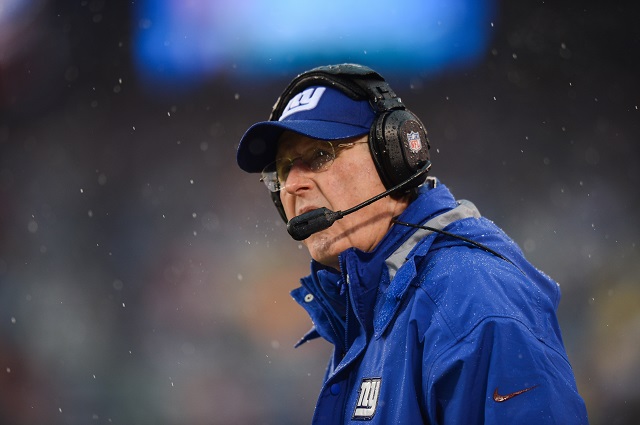 7. Tom Coughlin, New York Giants — $6.8 Million

From one of the youngest coaches in the NFL to the oldest, Tom Coughlin made $425,000 for every Giants game he coached in 2013, the last year of his three-year deal with the club he signed in 2011. The coach will be moving up this list a little bit when he moves into the reported $7 million one-year deal he signed in February 2014. The Giants, who have won a pair of Super Bowls under TC, have not made the playoffs since that 2011 deal.
Coughlin has been an NFL head coach for 18 years, starting off with the Jacksonville Jaguars in 1995 and signing with the Giants in 2004. He has a reputation for being a strict, "oh so old school" head coach. He's also saddled with Eli Manning, who earned the unique distinction of being "the worst quarterback since Mark Sanchez" last year, according to The Week. Coughlin is also responsible for one of the most inspired headlines ever from The New York Post, if only as the muse. The Giants go in to 2014 ready to improve upon a 7-9 record, their first losing season in ten years.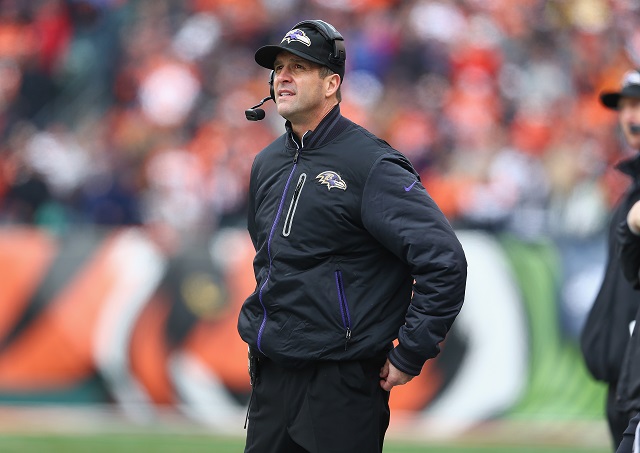 6. John Harbaugh, Baltimore Ravens — $7 Million

Not only does John Harbaugh have a Super Bowl ring to lord over his brother Jim (who, as the head coach of the San Francisco 49ers, makes a paltry $5 million a season), but he's also got the bigger paycheck. Harbaugh — that is, John Harbaugh — has lead the Baltimore Ravens since 2008, and amassed a lifetime coaching record of 62-34, an almost 65 percent winning percentage that surely helped him sign a four-year contract extension after the Ravens snagged a Super Bowl victory over his brother and the 49ers in February of 2013. Harbaugh recently signed a one-year extension with the Baltimore team, so he is now covered until 2017.
The Ravens have not been shy about doling out money to members of their crew who preform above and beyond. Last year, after that Super Bowl win, the front office also handed quarterback Joe Flacco a six-year, $120 million dollar contract, with $52 million of it guaranteed. It was like watching Scrooge McDuck willingly dole out money to a charity. Of course, it was essentially a three-year deal, according to ProFootballTalk, since the fourth year will probably not be possible under the expected salary cap. Something we're sure John Harbaugh is stoked about.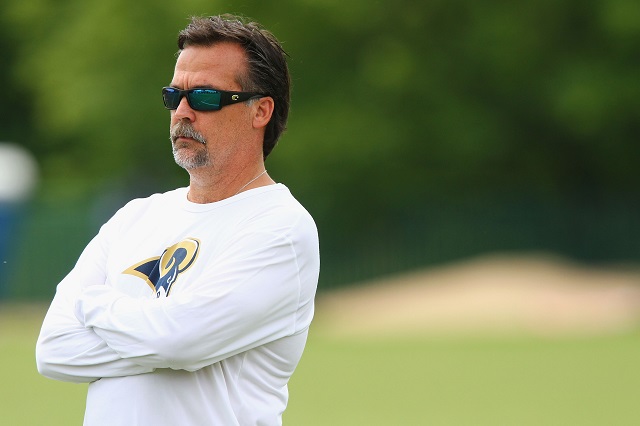 5. Jeff Fisher, St. Louis Rams — $7 Million

So. Coughlin and Harbaugh both earned their money on the back of being perpetually successful. Kelly earned his money on the promise of bringing a fast and furious football future. Jeff Fisher, who signed a 5-year deal with the St. Louis Rams worth $35 million, seemed to have grabbed his because he was moderately successful at losing. After accumulating a 142-120 record and five playoff berths that ended in failure, Fisher hit the open market in 2012 after spending '94-2010 with the Tennessee Titans (staying with the team as they went from the Houston Oilers to the Tennessee Oilers to the Tennessee Titans, actually.)
Signing with the Rams brought Fisher into the vaunted $7 million a year coaching club, but it has done little to improve St. Louis's outlook — the team has gone 14-17-1 since bringing in the head coach. Some of that can be attributed to Sam Bradford and his contract, signed back when rookie-scale contracts were massive and, if the pick didn't live up to his potential, likely crippling to a team trying to contend. As a member of the Competition Committee, Fisher made "sportsmanship" an emphasis during the offseason, possibly in a response to the Richie Incognito scandal and the impending entry of at least one openly gay player into the National Football League.
Update: The Rams would eventually draft Michael Sam.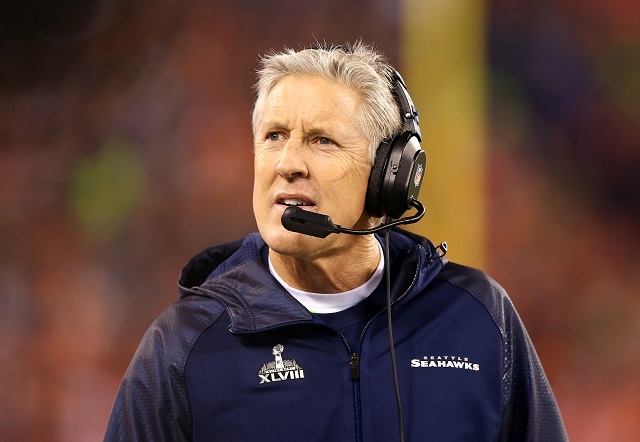 4. Pete Carroll, Seattle Seahawks — $7 Million

Pete Carroll, on the other hand, might be underpaid after leading a team of castoffs all the way to the Super Bowl. Carroll, who's Twitter profile bears the heading "Always Compete. Win Forever" is the second oldest coach in the NFL at 62, but since returning to the league in 2010 (he had previously coached the Patriots and the Jets before heading to the college level in 2000), he's been one of the highest paid. After turning his USC team into a powerhouse, Carroll signed a contract worth five years and $35 million with the Seahawks in 2010. After a pair of 7-9 seasons, the gum chewing coach was able to turn the island of pacific-northwest misfit toys into Super Bowl champions by the fourth year of his contract.
There's also the fact that he's amicable. In a visit back to USC, he had a Q&A 'interrupted' by comedian Will Ferrell, a USC alumni who has a great rapport with the coach. Seriously, that's a thing. Check it out below.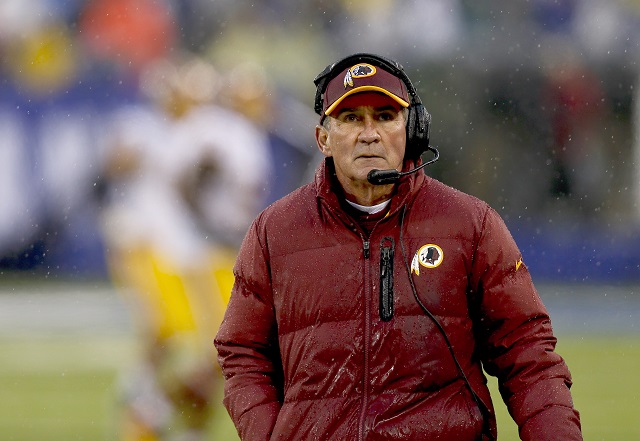 3. Mike Shanahan, Washington Redskins — $7 Million

Shanahanigans! Not only was Mike Shanahan one of the highest paid coaches in the NFL, he was also the Redskins VP of Football Operations. That means that he was totally in charge of personnel decisions regarding the Washington Franchise. It could only end well. After signing one of those five-year, $35 million contracts in 2010, Shanahan lead the Washington Redskins to exactly one winning season — the 10-6 2012 season that is best known for creating, then destroying the legend of RGIII.
Other than that, Shanahan has lead the Redskins to a 6-10 record in 2010, a 5-11 record in 2011, and a 3-13 in 2013. Not the most encouraging numbers to be entering into the final year of a million dollar deal. The Redskins thought so, too; Shanahan was fired on Black Monday, but since Jay Gruden hasn't actually coached a game or made a draft pick for the team yet, we're going to leave this shrine to Shanahan up for now as a testament to the futility of Dan Snyder. Here's Shanahan's statement after his firing.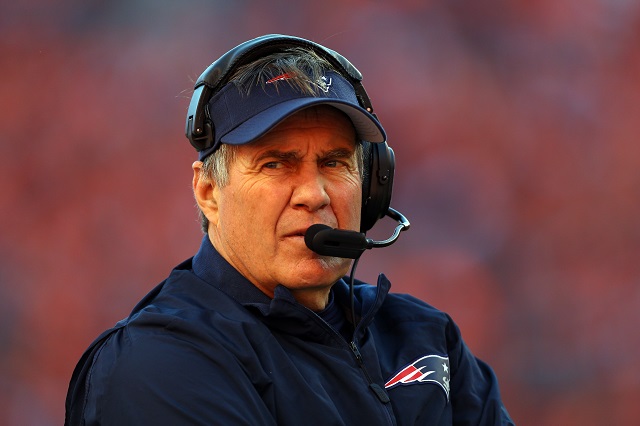 2. Bill Belichick, New England Patriots — $7.5 Million

Of course Bill Belichick was going to be on this list. He's the bomb throwing anarchist of the NFL, the creative thinker who somehow managed to take the Patriots from cellar dwellers, to deep threat masters, to twin tight-end tactics, to run heavy, hard, and often in the course of ten years. After a forgettable stint with the Cleveland Browns, Belichick signed on with the Pats in 2000 and hasn't had a losing season since.
While the details are murky regarding Belichick's contract history — no surprise, given the man's notoriously tight-lipped nature — we do know that after 2010, the Pats extended Belichick's contract into the future for an annual payout of $7.5 million a year. Belichick was extended again in 2013, but information regarding the extension was not released publicly, to the surprise of exactly no one. He is the only head coach that has a signature peanut butter and jelly sandwich. Seriously. Check it.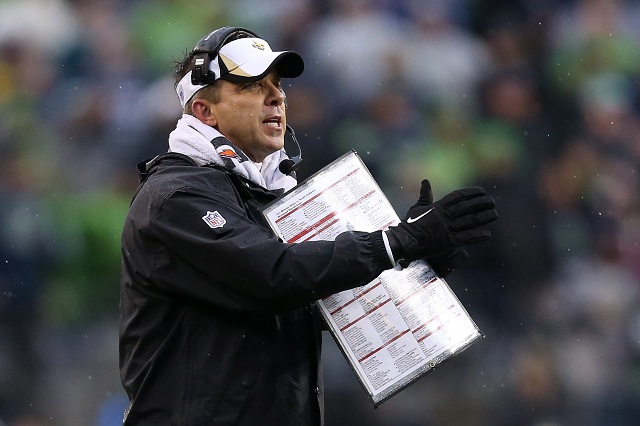 1. Sean Payton, New Orleans Saints — $8 million

Sean Payton, coming back from a yearlong suspension for his involvement in 'BountyGate' — a payout for a knockout program that the New Orleans Saints were investigated for — signed a deal that moved him to the top of the list when it came to getting paid; a five-year deal for $40 million dollars. Consider that both middle fingers up high from New Orleans to the front office. Payton, who's absence coincided with the Saints first losing season since 2009, helped the club turn around for 2013. He also brought on Rex Ryan as the defensive coordinator, a move that helped the Saints go from sieve-like to respectable.
While the Saints were run ragged by the Seahawks, losing the divisional playoff game 15-23, the return of Payton and the inclusion of Rex Ryan seem to point to a bright future for Drew Brees and company. Even if they don't win, at least Sean Payton knows he's making more money than the rest of his contemporaries. Per Worthington's law, that means he's unassailable. Again, all info supplied by CoachesHotSeat.com.