The 9 Best NBA Players Who Don't Represent the U.S. Internationally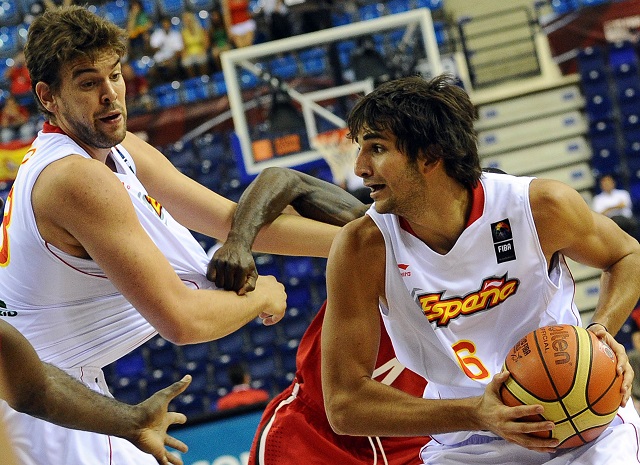 Basketball is a sport born in North America from a Canadian gym teacher who needed something to keep his athletes in shape during the snowy New England winters. Its earliest history as a professional sport saw teams organized (for better or worse) by ethnicity as frequently as regional association, and the game's status as a staple of the Summer Olympics predates the founding of the NBA. Which is all to illustrate the fact that while the majority of players in the NBA were born in the U.S.A., it is hardly the same kind of uniquely American enterprise that football (of the not-soccer variety) can lay claim to be. This is, by the way, a good thing.
While the NBA resides at the highest echelon of professional hoops, international basketball is still a prominent, and important, element of the sport. Most recently, this summer's world FIBA World Cup saw several NBA stars playing for their national teams. And we're not talking about benchwarmers, or players that would cause a fan to openly ask if that player had ever made it to the Association. Some of these players have been All-Stars, some of them have been Finals MVPs, and at least one of them remains criminally underrated for the tireless hours he's put in wearing all kinds of jerseys.
Especially considering that even if the U.S. is no longer the sole provenance of the world's best basketball, it still has the deepest talent pool. Even after Kevin Durant formally announced that he wouldn't be playing in the FIBA World Cup — he joined Carmelo Anothony, LeBron James, Chris Paul, Paul George, Dwight Howard, Kevin Love, and a host of other top-shelf NBA talent who skipped the tournament for one reason or another — but the team, as always, remained formidable. Here, then, are nine of the best international players that are still active in the NBA who have never suited up for Team USA.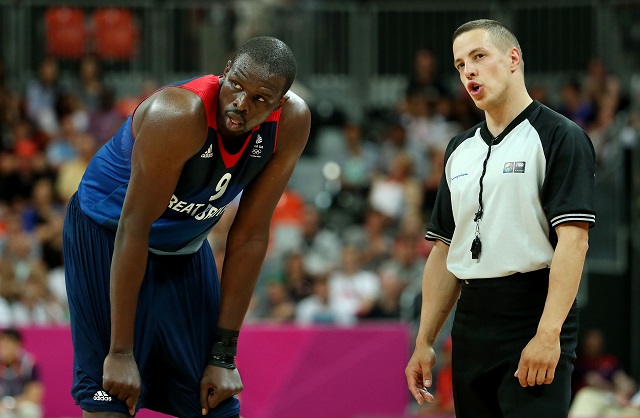 9. Luol Deng, Great Britain
Playing for queen and country by way of Senegal, Luol Deng has long been the picture of professionalism in his basketball career — spending the majority of his tenure in the NBA embracing nearly every opportunity he could to play for Great Britain as well, no mean feat when he's played over 26,000 minutes of Association hoops since being drafted in 2005. Deng was also the first British player to make it to the NBA All-Star Game.
8. Manu Ginobili, Argentina
While Ginobili was being forced to skip the last World Cup by San Antonio, who kept him out in order for a stress fracture in his leg to heal, the Argentine baller might be one of the best known faces in international basketball. Famously picked with the 57th pick in the 1999 NBA Draft, Ginobili won an Olympic Gold Medal with his national team in 2004 and was a Euroleague champion in 2001 ( despite being drafted in '99, he didn't actually make his debut for the Spurs until 2002). At 37, he may never have the chance to play in another World Cup, but we're not taking him off this list until he officially retires from the game.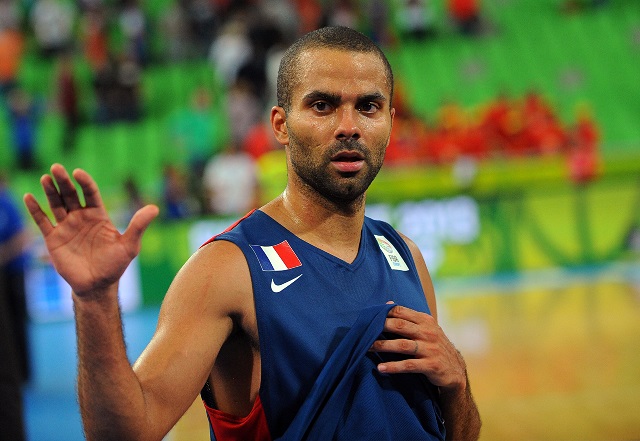 7. Tony Parker, France
The other member of the Spurs back court who's skipped out on the last World Cup, Tony Parker spent 2013 winning a EuroBasket championship with his national team, and France's best player ever isn't all that excited about having to bail on his team this summer. According to the Spurs Nation blog over at the San Antonio Express-News, Parker, who played over an NBA season's worth of basketball last summer between the playoffs and the EuroCup (91 games), told the blog that this was "a summer I can give back to the Spurs" after tireless hours playing for France.
We'd like to take a quick second here to mention the third San Antonio guard pulling double duty internationally — Patty Mills, who had a stellar run during San Antonio's most recent championship, turned heads with his play in the 2012 Summer Olympics. Mills, an Australian, is also going to miss the World Cup this year. San Antonio seems to be playing it safe when it comes to its players' international activities this summer.
6. Al Horford, Dominican Republic
Another player who missed the 2014 World Cup due to an injury suffered in the NBA, Dominican big man Al Horford, who currently plays for the Atlanta Hawks, tore his pectoral muscle (the second time he's suffered this injury, although he has only torn each one once) in December and missed the rest of the NBA Season. Horford has averaged 19 points, nine rebounds, and three assists a game playing for the Dominican Republic.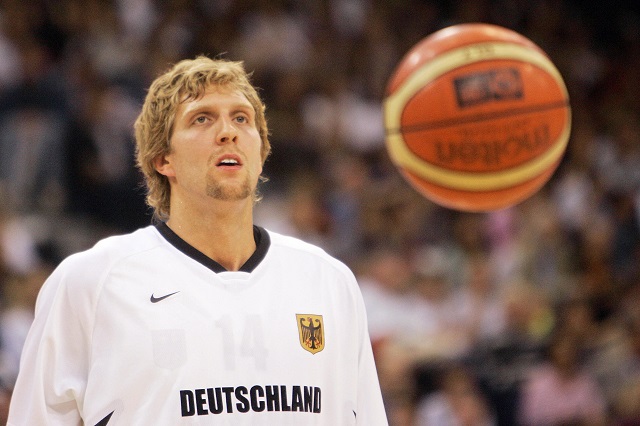 5. Dirk Nowitzki, Germany
Another NBA Superstar who didn't make an appearance in the last go-around of the World Cup (are you sensing a pattern yet?), the power forward for the Dallas Mavericks has dutifully donned the uniform of his native Germany throughout his tenure in the NBA, much to the chagrin of Mavs owner Mark Cuban, who recently went on the record saying that he was less than pleased with the arrangement the league has with FIBA regarding international play. Nowitzki, who won an NBA championship in 2011 and has been both a World Cup MVP (in 2002) and a EuroBasket MVP (in 2005), took last summer off to recuperate, but we're also fairly sure Cuban asked him to sit this most recent tournament out.
4. Ricky Rubio, Spain
Also know as "the guy that kept Kevin Love from getting a maximum contract with Minnesota," the point guard hasn't looked the same since he tore his ACL in a chance encounter with Kobe Bryant back in 2012, but the 23-year-old is still the engine behind the second biggest juggernaut in the international basketball community right now — the Spanish National team.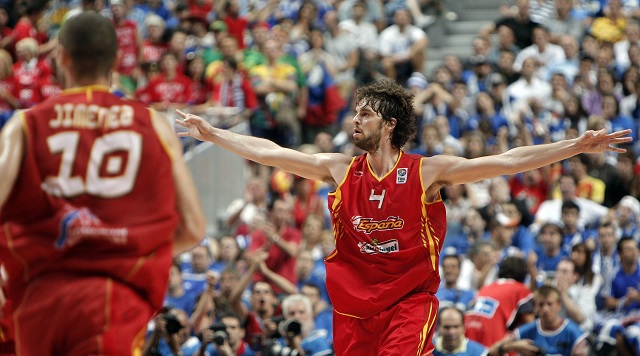 3. Pau Gasol, Spain
2. Marc Gasol, Spain

While Pau Gasol is still arguably past his prime, he proved he still had it in the last World Cup. As part of Spain's impressive frontcourt, 2014 will marked Gasol's sixteenth year as a professional basketball player, having joined FC Barcelona in 1998.
Because it doesn't feel right to talk about Pau without mentioning his brother, Marc, starting center for the Memphis Grizzlies, we've combined their slots on this list. Arguably the most impressive frontcourt in international hoops when the two are paired together, Marc has the same 20 foot jumper and the same passing acumen that Pau does, but with a larger build that's more suitable for the center position (his brother is more nominally a power forward, though he's lost some foot speed over the years). As one of the best centers in the NBA during his regular hours, Marc Gasol tirelessly plys his craft abroad as often as he can.
1. Serge Ibaka, Spain
A healthy Serge Ibaka is one of Spain's most valuable assets, and one of the pivotal parts of their attempt at a gold medal this summer. Bothered by a calf injury that hampered his play in the NBA post season, Ibaka made a full recovery, and was the third head of the Hydra that is the Spanish national team, who ultimately finished behind the USA and France when it was all said and done.