The Aftermath of Dave MacDonald and Eddie Sachs' Tragic Deaths in Indy 500 Crash Known as 'Black Noon'
It doesn't matter what sport you consider, each one has a tragic story. In some cases, it's a tale about a superstar who gets injured and is forced to retire early. Other times, it's a more tragic tale. The Indianapolis 500 has seen its share of heartbreak, but none caused the same heartwrenching anguish as the 1964 crash involving Dave MacDonald and Eddie Sachs. Now, the horrible accident is known as "Black Noon."
Who were Dave MacDonald and Eddie Sachs?
Black Noon is the story of MacDonald and Sachs, two race car drivers who hoped they would celebrate a win at the Indy 500. Sadly, nothing went according to plan.
Eddie Sachs was a good driver. According to Oil Pressure, it's sad that Sachs is remembered more for the way his story ended than his actual racing career. Granted, he never managed to win the Indy 500, but that didn't mean he wasn't a heck of a good driver. Twice he drove well enough to win the pole. In 1961, Sachs finished the race in second place. In 1962, he ended with third place.
Sachs was a fan favorite, frequently referred to as the "Clown Prince of Auto Racing." He had a reputation for being loud and opinionated. And he wasn't the kind of guy who was scared to share what was on his mind. While Sachs was a memorable face in auto racing, MacDonald hadn't yet made his mark when he entered the 1964 Indy 500.
At that point, he'd been racing vehicles for about four years. He got his start in drag races. On the morning of the 1964 Indy 500, he'd been in about 118 races. Seventy-five of those races had resulted in top-three finishes, and he'd won 52. Based on those stats, it's likely that MacDonald would've become a racing star if things had gone differently.
The Indy 500 crash that shattered lives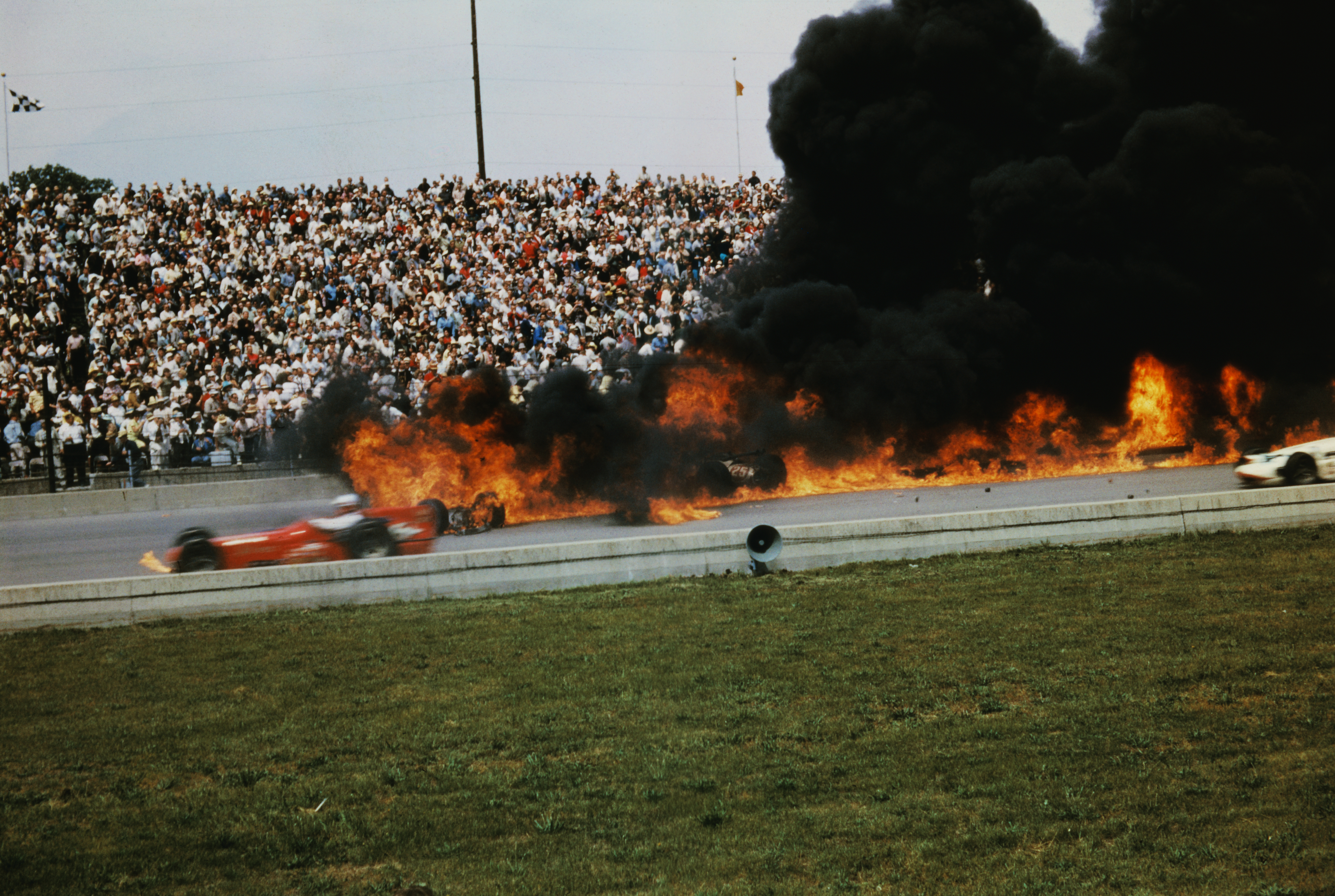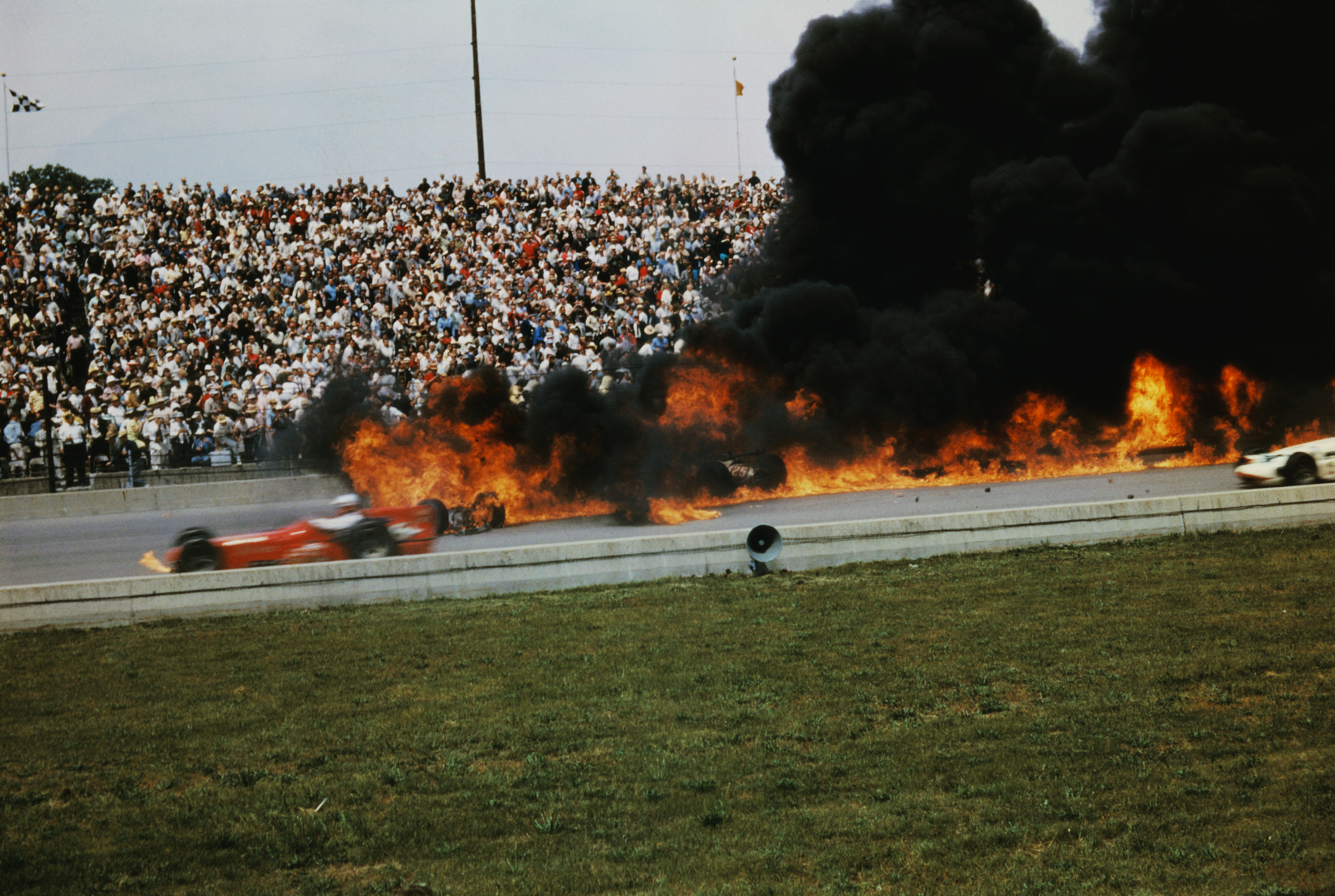 Crashes have always been a part of racing. Due to modern safety gear, most contemporary drivers walk away from accidents. In 1964, things were far more dangerous, according to Autoweek. Despite the hazardous conditions, no one was prepared for what happened during the second lap of the 1964 Indy 500.
Just as the front cars began the last straightaway of the second lap, a chain of events occurred. MacDonald's vehicle spun out of control and slammed into the outside wall. The gas tank exploded, and both the car and driver were enveloped in flames.
No one knows if Sachs had time to process what happened. We know he didn't have time to adjust before his car slid into the already raging inferno. Two more cars also piled into the crash. "The whole track was blocked with fire," Bobby Unser told the Indy Star. "I didn't know if it was one burning car or 10. It looked like 10."
Officials waved the red flag, halting all other cars while every piece of fire equipment was rushed to the scene. Firefighters worked to contain the flames and try to save the drivers. Sachs died before he was removed from his car. MacDonald was still alive when he was pulled from the wreckage but succumbed to his injuries shortly after arriving at the hospital. 
Family members still mourn 'Black Noon'
The term "Black Noon" was adopted by Art Garner when he wrote a book about the heartbreaking crash. The term adequately described the thickness of the smoke that filled the air as fans, participants, and loved ones waited for the track to clear. The events of that day didn't just end two promising careers; they also completely changed the lives of both Sachs and MacDonald's wives, who could do nothing but watch helplessly.
Both drivers left behind young sons whose lives were influenced by the events. While the two boys have led different lives, they connected for the 50th Anniversary of the crash. Both Sachs and MacDonald's sons were able to establish an amicable relationship via their connection to the crash.