The Arizona Cardinals' $94 Million Man Is Proving He Deserves His Paycheck by Making NFL History
The Arizona Cardinals showed the entire NFL that they have a ton of faith in former Houston Texans wide receiver DeAndre Hopkins. Not only was he already signed to a contract that lasted for three more seasons, but the Cardinals gave him a pretty big two-year extension right before the 2020 NFL season began.
So far, through the first two weeks of the NFL season, Hopkins is proving that he deserves every bit of his paycheck too. He is not only playing well, but Hopkins has already made NFL history.
DeAndre Hopkins has been one of the best receivers in the NFL
With the No. 27 overall pick in the 2013 NFL draft, Hopkins went to the Houston Texans. He became a star pretty much immediately too. After catching 52 passes for 802 yards in 2013, Hopkins had 76 catches for 1,210 yards and six touchdowns in 2014.
Then, during the 2015 season, Hopkins became a Pro Bowler, as he caught a whopping 111 passes for 1,521 yards and 11 touchdowns. He then had 78 catches for 954 yards and four touchdowns during 2016.
What's even more impressive about Hopkins' early career numbers is that he racked them up with mediocre and bad quarterbacks. Here are some of the QBs he played with: Matt Schaub, Case Keenum, Ryan Fitzpatrick, Ryan Mallett, Brian Hoyer, T.J. Yates, Brandon Weeden, Brock Osweiler, and Tom Savage.
The Texans then drafted Deshaun Watson in 2017. Hopkins has since been a Pro Bowler and a First-team All-Pro in each of the last three seasons. He ultimately led the NFL with 13 touchdown catches in 2017, and he had career-highs in receptions with 115 and receiving yards with 1,572 in 2018.
However, following the 2019 season, the Texans traded him and a draft pick to the Arizona Cardinals for running back David Johnson and a couple of picks.
He and the Arizona Cardinals agreed to a new contract extension
Right before the 2020 NFL season began, Hopkins and the Cardinals agreed to a two-year contract extension. The deal is worth $54.5 million, according to CBS Sports.
It also includes $42.75 million in guarantees, and his $27.25 million salary is the highest in league history for a non-quarterback, according to Bleacher Report.
Additionally, the extension gets added to the three years left on his current contract. So, he now has a five-year agreement with the team that is worth up to $94 million, ProFootballTalk reported.
So, Hopkins is clearly earning a ton of money. He is proving that he deserves every penny of it too.
DeAndre Hopkins has made NFL history so far with the Cardinals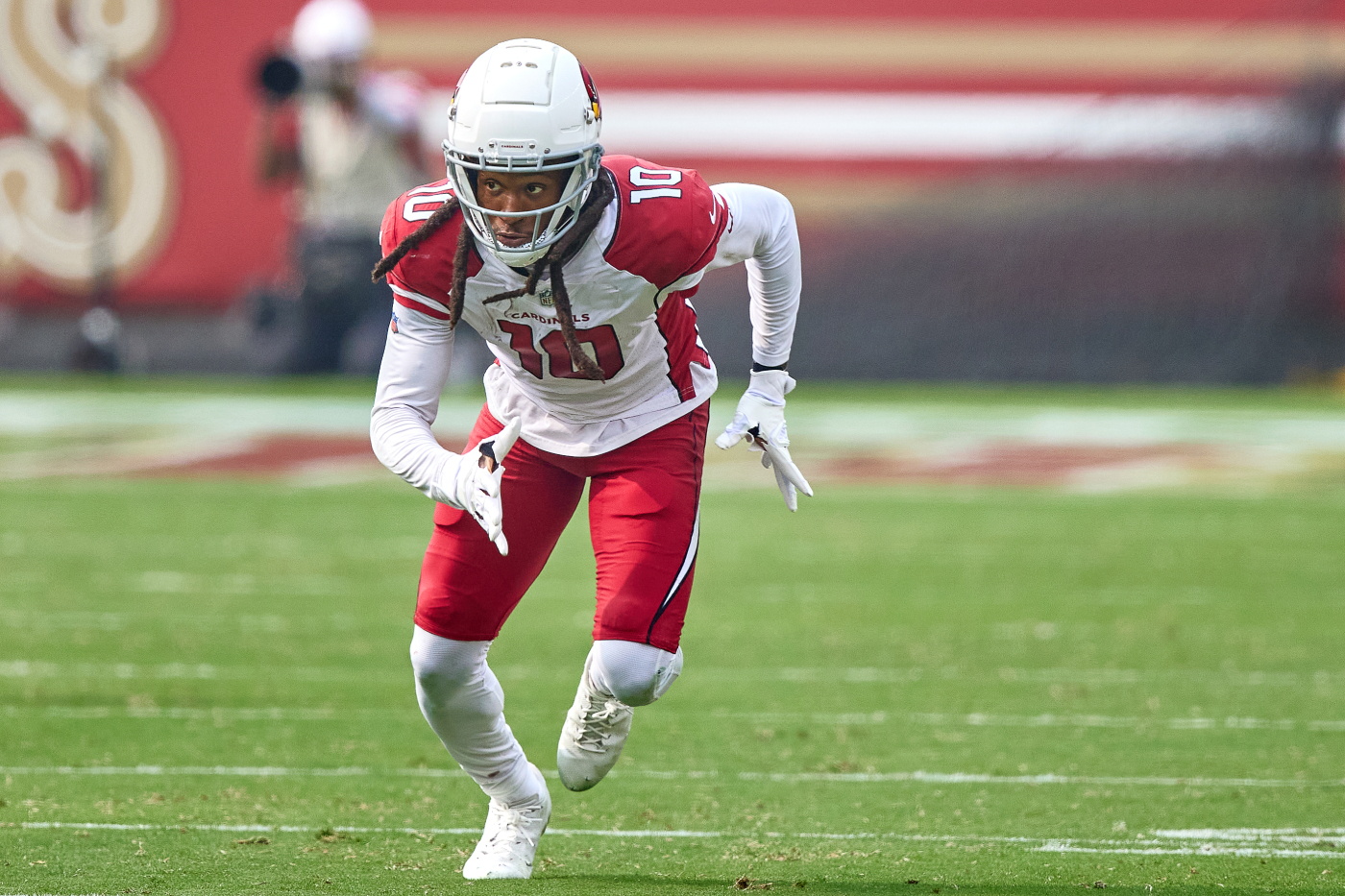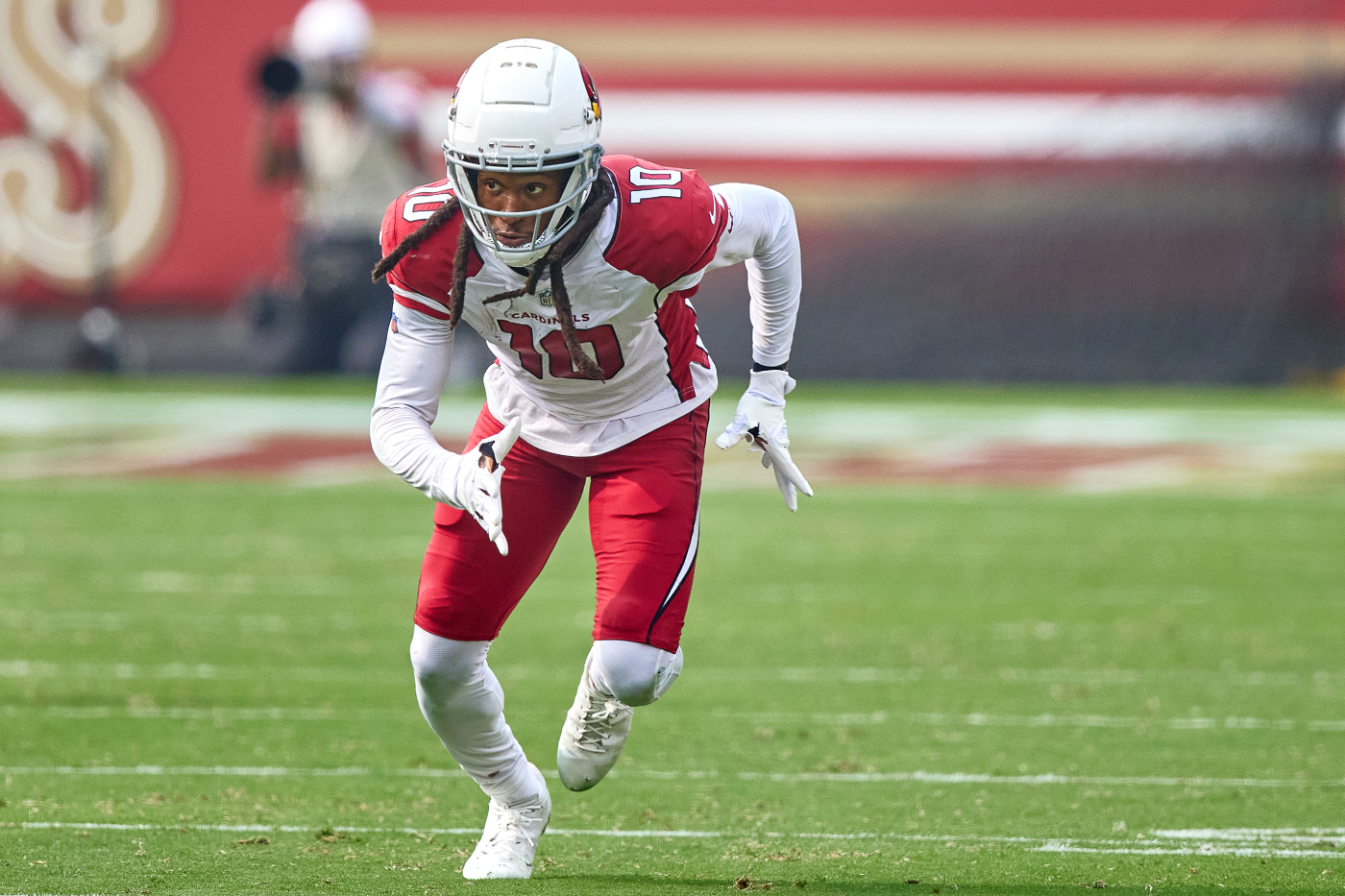 Through his first two games of the 2020 NFL season, Hopkins has had a great connection with quarterback Kyler Murray, as he has been extremely dominant.
In the Cardinals' Week 1 win over the San Francisco 49ers, Hopkins had 14 catches for 151 yards. Then in their Week 2 win over the Washington Football Team, Hopkins had eight catches for 68 yards and a touchdown.
"I knew we had something special the day I walked into this building," Hopkins said after their win over the 49ers, according to ESPN. "This team works. How Kyler and this team work. I've been around a lot of great people and Kyler works like it's his last day on this Earth … Nothing is a surprise about what happened today."
Overall, Hopkins has an NFL-leading 22 catches to go with 219 receiving yards and a touchdown through the first two games this year.
According to the Cardinals' Twitter account, Hopkins unreal numbers are NFL history. His 22 receptions are the league record for most in a player's first two games with a team. Additionally, it is also the most in Cardinals franchise history through the first two games of a season.
That's pretty incredible.
DeAndre Hopkins has already proven throughout his entire career that he is one of the game's best receivers. That's why he is getting paid so much. Now, he is just continuing to prove that he deserves every bit of that massive paycheck.
Stats courtesy of Pro Football Reference