The Baltimore Ravens' Explosive Offense Added Another Top-Rated Madden Star This Offseason
Everyone on social media is having fun with all of the Madden NFL 21 player ratings that have been released so far. Many people are now debating if some guys got too high of a rating or too low of one. Team-wise, when it comes to the best squad to play with on this year's Madden, of course, the Kansas City Chiefs will be one of them. However, the Baltimore Ravens are going to be hard to beat. Actually, in addition to the explosive weapons that they already had last season, the Ravens added another top-rated Madden player this offseason.
The Baltimore Ravens had one of the best offenses in football last season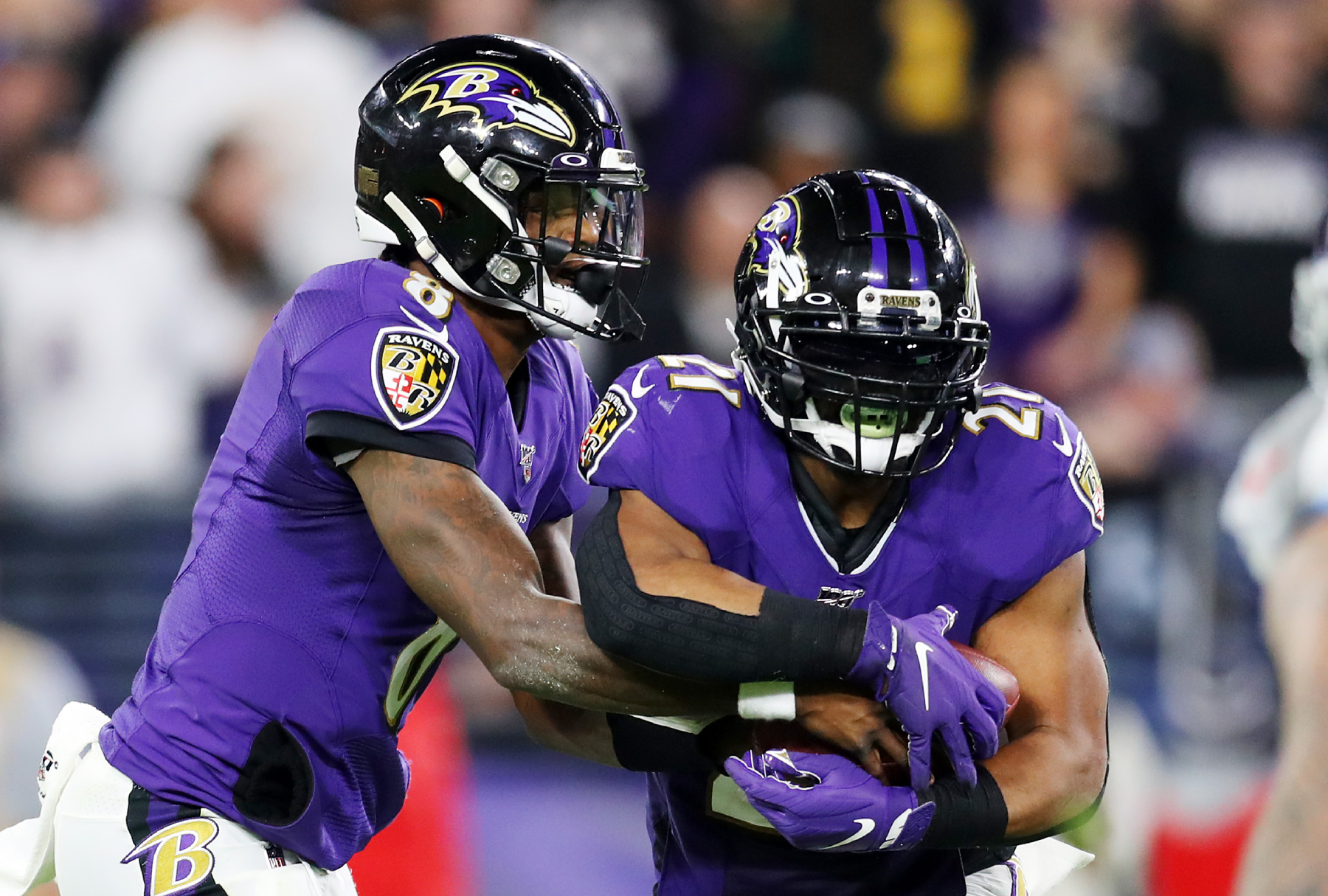 During the 2019 season, the Baltimore Ravens had a breakout year. The Ravens averaged a league-leading 33.2 points per game on offense. They had weapons all over the field too. 
Quarterback Lamar Jackson ultimately won the league's MVP award as he threw for 3,127 yards and a league-leading 36 touchdowns. He also ran for 1,206 yards and seven touchdowns. In addition to Jackson, the Ravens had Mark Ingram, who ran for 1,018 yards and 10 touchdowns, and Gus Edwards who ran for over 700 yards. 
The Ravens also had tight end Mark Andrews who earned a Pro Bowl selection with 852 receiving yards and 10 touchdown catches. Marquise Brown also played well for them as he had 584 receiving yards and seven touchdown catches. 
The entire team has not received a Madden rating yet. However, according to EA, Lamar Jackson received a 94 overall, which is fourth in the NFL so far and third among quarterbacks behind only Patrick Mahomes and Russell Wilson. 
In addition to the weapons that the Ravens had last year — who will all probably have decent Madden ratings — the team also added another top-rated Madden player this offseason.
J.K. Dobbins is a top-rated running back on Madden NFL 21
The Ravens selected running back J.K. Dobbins in the second round of the 2020 NFL draft. Of course, Dobbins — who had a stellar career at Ohio State — certainly isn't one of the top-rated backs on the entire game. Guys like Christian McCaffrey, Derrick Henry, and Ezekiel Elliot hold that honor. 
However, he is the top-rated rookie running back on Madden 21. According to the Ravens' team site, Dobbins received a 75-overall rating. That is higher than Clyde Edwards-Helaire (74), D'Andre Swift (74), Jonathan Taylor (73), and Cam Akers (73). All of those guys were selected before him in the draft too.
It appears that Madden NFL 21 agrees with the Ravens' selection.
Dobbins was a star for the Ohio State Buckeyes
For three seasons on the Ohio State Buckeyes, Dobbins was one of the country's best running backs. After running for 1,403 yards in 2017 and then 1,053 yards in 2018, Dobbins was unstoppable in 2019. He ultimately ran for 2,003 yards and 21 touchdowns, and his play made him the second-leading rusher in Ohio State history with 4,459 career rushing yards. He only trailed two-time Heisman Trophy winner Archie Griffin, who had 5,589. 
Additionally, in 2019, Dobbins came up big when it mattered most. He always had big games against good teams. Dobbins ran for 163 yards and two touchdowns against Wisconsin, and then 157 yards and two touchdowns against Penn State. He then ran for 211 yards and four touchdowns against the Buckeyes' rival, Michigan, and then 172 yards and a touchdown in the Big Ten Championship Game against Wisconsin. 
Dobbins' final college game came against Clemson in the College Football Playoff. He ran for 174 yards and a touchdown in that game while also catching six passes for 47 yards.
If Dobbins can produce anywhere near the level he produced at for Ohio State; then the Baltimore Ravens will be unstoppable for years to come. You can already guarantee that they will be hard to stop on Madden NFL 21.
Stats courtesy of Sports Reference and Pro Football Reference