The Best 5 Shooting Guards in the NBA Right Now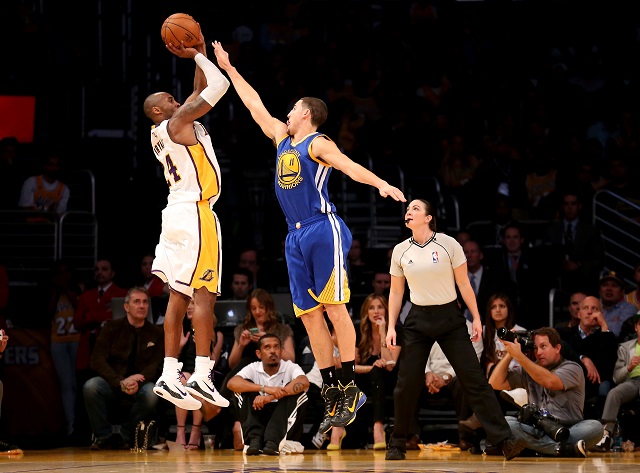 In today's game, the modern NBA shooting guards, rare as they are, have emerged somewhat as combo guards, responsible for initiating the offense as well as scoring the basketball. While they're always going to be measured against Michael Jordan, who may have been the greatest shooting guard of all time, today's two-guards are able to take advantage of rule changes Jordan couldn't have dreamed of, particularly the elimination of hand checking out on the perimeter, a move made by the league that's wound up granting these elite wing players almost complete freedom to create offense with impunity.
Often seen operating at the top of the key, the best shooting guards can be mistaken for large point guards, as they can run isolation and pick-and-roll plays to either drive the lane, or pass the ball off to ready teammates for easy scores. Off the ball, a smooth guard can curl off screens to knock down clutch three-point daggers from deep or cut to the basket. Here are the best five shooting guards in the game.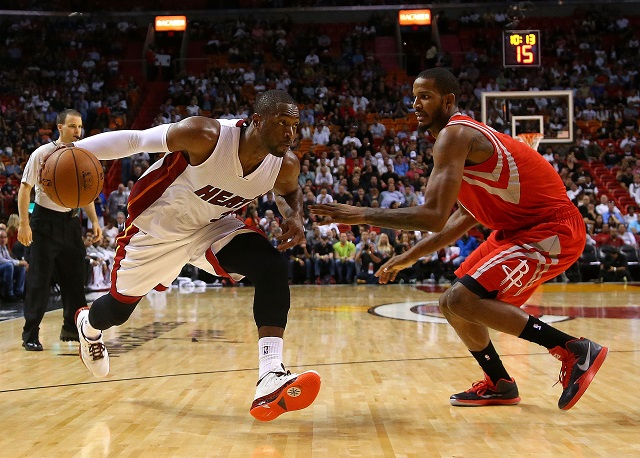 5. Dwyane Wade
Hobbled by various injuries, Dwyane Wade may now be entering the twilight of his career, when his "intangibles" are expected to more than make up for his on-paper production. As a young pro, Wade was notable for his explosive first step, agile footwork, and leaping ability. At two-guard, Wade was his own inside-outside threat, who could knock down mid-range jump shots and also put the ball on the floor with ease, for rim-rocking jams. On defense, Dwyane Wade would often collapse into the paint, for timely weak-side blocks.
In 2006, Dwyane Wade took home his first NBA Championship and Finals MVP, in one of the greatest individual efforts in basketball history. That year, Wade drove the Heat to four straight victories, after being down 0-2 in the Finals to the Dallas Mavericks. In Game 3 of this series, Wade took over the game to post 42 points (15 in the fourth quarter) and 13 rebounds, while leading his team back from a 13-point deficit, with 6:30 remaining. For the series, Wade was to average 35 points, 8 rebounds, and 4 assists per game.
After The Decision, D. Wade starred as part of a Big Three that also included Chris Bosh and LeBron James. Over time, Wade gradually passed the leadership conch over to LeBron James. In all, this group made four straight trips to the Finals, wining two. James, of course, was to return home back to Cleveland, prior to this 2014-2015 regular season. This year, a relatively brittle Dwyane Wade has missed significant game time action, but has still managed to patch together per game averages of nearly 23 points, six assists, and four rebounds.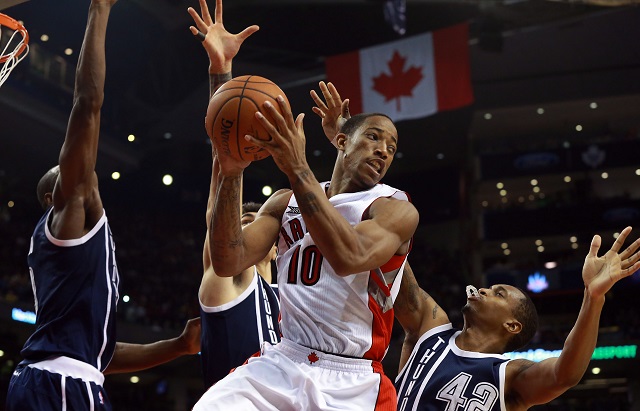 4. DeMar DeRozan
DeMar DeRozan is first and foremost a raw athlete. At 6-foot-7, DeRozan often contorts his wiry frame to create space, blow past defenders, and play a literal game of keep away, right to the front of the rim. On the break, the swift and graceful DeRozan electrifies Toronto crowds with his high-flying dunks. In the half-court, DeRozan favors the spin move, where he can pin defenders onto his back, before exploding into the paint. As a six-year pro, DeRozan has averaged 17 points, four rebounds, and two assists per game, throughout his career. Last year, he scored 22.7 points per game, after improving his offensive production each prior season.
At 25, he still has time to step up his game, looking for improved strength, shot mechanics and playmaking ability. This season, DeRozan is averaging 19.4 points per game, upon a mere 39% in field goal shooting. If he continues his upward trajectory, he can add another dimension to the Raptors offense, particularly if he can develop a better touch from the outside. Going forward, DeRozan may have as much upside potential of any player in this league, save perhaps Anthony Davis.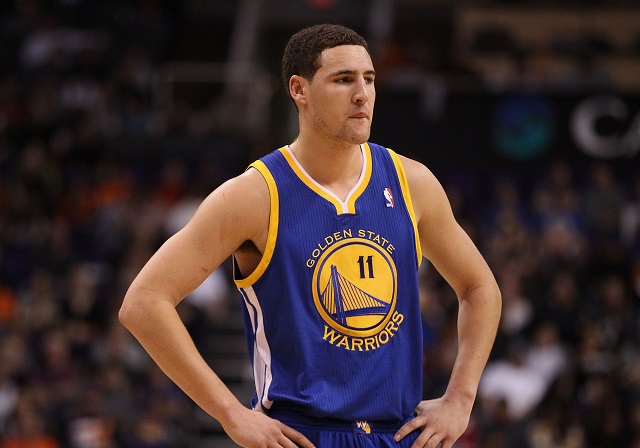 3. Klay Thompson
Taken together, Klay Thompson and Stephen Curry, billed by announcers as the "Splash Brothers," form the most offensively skilled backcourt in the NBA. As a scorer, Thompson makes great use of pin down screens off the ball to create space for open looks. As a pure shooter, he has shot three-pointers at a 41% clip, while also knocking down 83% of his free throws, over the course of a four-year career.
Heading into this season, Klay Thompson signed a four-year, $70 million contract, and so far he's made good on the deal, upping his scoring average from 18.4 to just under 22 points per game over the past two seasons. Klay Thompson has added a bit of flair to his game with aggressive drives to the hoop, rather than simply spotting up outside, as a shooter. Certainly, the referees have taken notice, as Thompson now makes roughly six trips to the free throw line each game (1.4 free throw attempts as a rookie).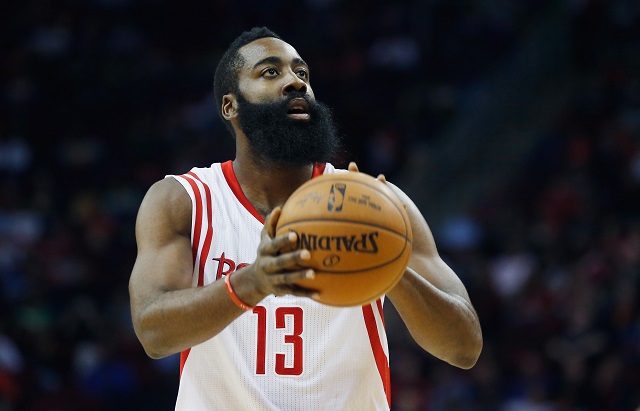 2. James Harden
Any short list of the most prolific scorers in the NBA today has to include James Harden. Legions of hoops aficionados, including ESPN columnist Bill Simmons, have openly wondered what may have been if Oklahoma City hadn't traded The Beard away to the Houston Rockets after he balked at their lowball of a contract extension. In 2012, Harden was averaging 17 points per game, coming off the bench in Oklahoma City. From there, he went on to average no less than 25 points per game each season as a starter for the Rockets.
A pure scorer, Harden makes it look easy with his slick ball handling, dribble drive penetration, and deadly outside range. In Houston, Harden has been teamed with Dwight Howard, to form an explosive inside-out combination. The two have been especially effective on the pick-and-roll, where Harden can either torch defenses with clutch three-point shooting, or toss lobs to a rolling Howard for power dunks. On the other end of the floor, Howard can be a willing eraser to make up for Harden and his infamous defensive lapses. You could argue fairly easily that it may only be this curious lack of grit holding Harden back from multiple championships and a Hall of Fame career.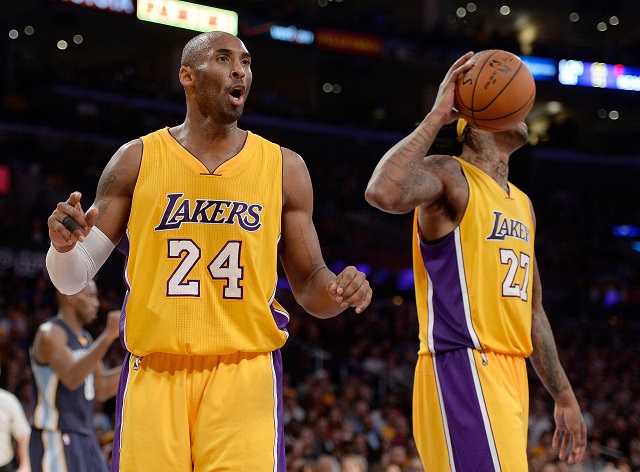 1. Kobe Bryant
At 36, Kobe Bryant has finally embraced his role as one of the league's elder statesmen, putting the finishing touches upon a Hall of Fame resume by scoring as many points as humany possible — Bryant now leads the NBA in scoring this year, at roughly 27 points per game. after missing the majority of last season with a torn Achilles tendon. Whatever you might care to say about Kobe, there's no denying that he's continued to put his body on the line for what can be charitably described as a young and struggling Lakers team.
In his curtain call, Kobe Bryant has continued to delight fans (and confuse analysts) with his offensive flurries of turnaround jump shots, in-and-out dribbles, post game foot work, and graceful dunks. To date, Kobe Bryant has managed to become the fourth most prolific scorer of all time to go alongside five championship trophies, all of which is to say that Kobe Bryant's storybook career will still always be judged against that of the great Michael Jordan, and that's not by accident.

[Editor's note: Before everyone raises pitchforks about what constitutes "right now," it's clear to everyone Kobe and the Lakers are playing pretty terrible basketball at the present. This ranking is largely in deference to the entirety of his Hall of Fame career.]