The Best Compliment Boban Marjanovic Has Received Is Hilariously Appropriate
NBA players are, by and large, a large group of men. Basketball players are notoriously taller than the average member of society. But some even tower above that massive demographic. Former players like Yao Ming and Manute Bol were well over 7'5″ tall. 
Boban Marjanovic isn't quite as tall as they are, but he is a massively large individual. He's also much taller than the average NBA player. Let's take a closer look at his career, how big he is, and the best compliment he ever received that just so happened to be hilariously appropriate. 
NBA career overview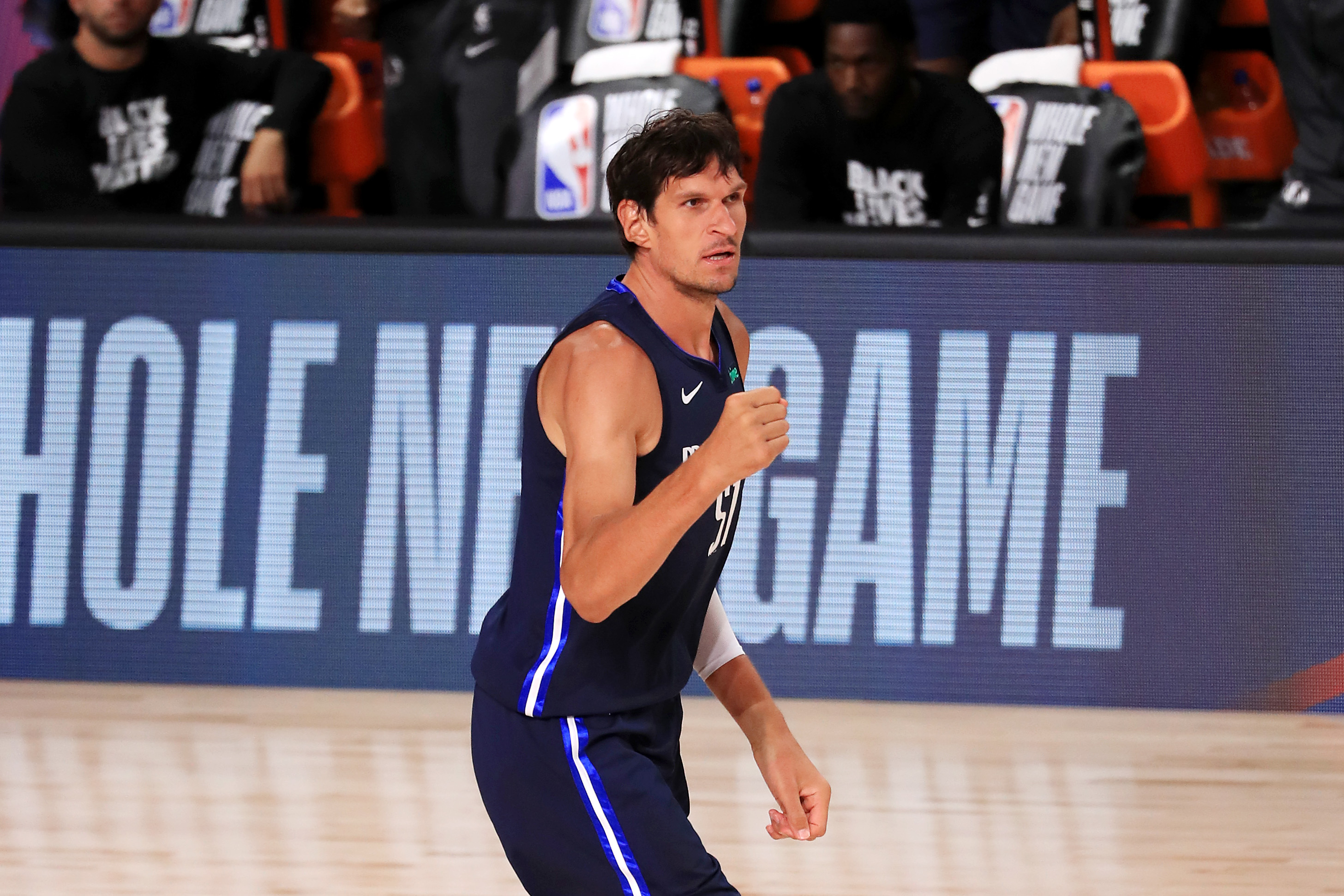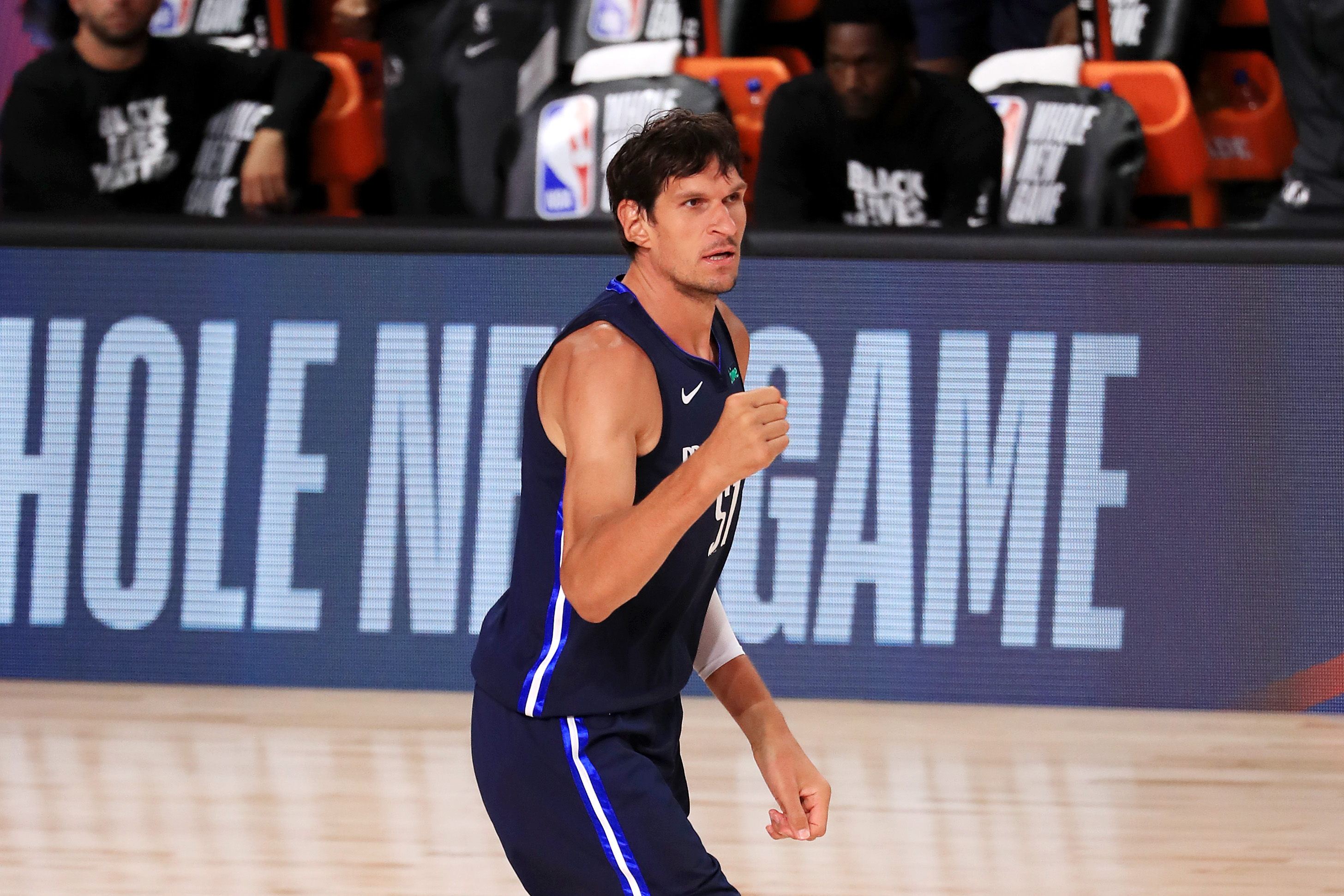 According to Basketball Reference, Marjanovic currently plays for the Dallas Mavericks. The undrafted four-year vet came to the U.S. from Serbia, debuting for the San Antonio Spurs in 2015.
This year, he's averaging 6.3 points per game — just a shade higher than his career average of 6.2 points per game. He has career per-game averages of 0.5 assists and 4.0 rebounds. He's bounced around the league quite a bit, with additional stints in Detroit, the Los Angeles Clippers, Philadelphia, and now Dallas. 
Marjanovic doesn't log big minutes, but you can chalk that up to the evolving NBA rather than a talent deficiency. In 2018, Five Thirty Eight wrote a piece on calling him the league's "most efficient scorer."
The piece noted that Marjanovic had the highest number of points per shot attempt in the NBA for any player who averaged 30 points per 100 possessions while playing in a minimum of 100 games. Anyone who came near that total is either in the Basketball Hall of Fame or well on their way to induction. 
So why is Marjanovic not appearing in All Star games or on the cover of Wheaties boxes? Blame it on the league. With the NBA's style changing over the last decade to encourage three-point shooting, fast breaks, and speed, a big man like Marjanovic stands out like an ancient relic. 
But how big is he, exactly? 
Just how big is Boban Marjanovic? 
Marjanovic's official listed height is 7'4″ and 290 pounds. According to a piece on Marjanovic in GQ Magazine, he has a wingspan of 7'10". To put it into perspective, think of how big Anthony Davis is. He's 6'10" with an impressive wingspan.
When Marjanovic was with the Clippers and Davis with the Pelicans, the two found themselves matched up against each other during a regular-season game. Marjanovic had the ball on the low block with Davis on him when the refs whistled a dead ball.
Davis took a swipe at the ball, but Marjanovic held it above him, out of his reach. It looked like a schoolyard bully taunting a much smaller child. 
Marjanovic is used to being the biggest kid on the playground — he was 6'10" at the age of 14. His size led someone to give him one hilarious compliment, in fact.
The best compliment Boban Marjanovic ever received
Marjanovic may not be knocking on the door of an All-NBA team any time soon, but he is immensely popular for a role player. He's a fan favorite with a solid sense of humor. He also made an appearance in the latest John Wick film, receiving the honor of being offed by Keanu Reeves' assassin character. 
But beyond fans loving him and a movie role, the greatest Marjanovic compliment may have ever received is due to his height. GQ asked Marjanovic to relay the best compliment he received during an NBA game, and his answer was short and sweet: 
"Man, you're tall as sh*t."
Say what you will about Marjanovic and his game, but no one can argue with that assessment.