The 15 Best Games of Tom Brady's Career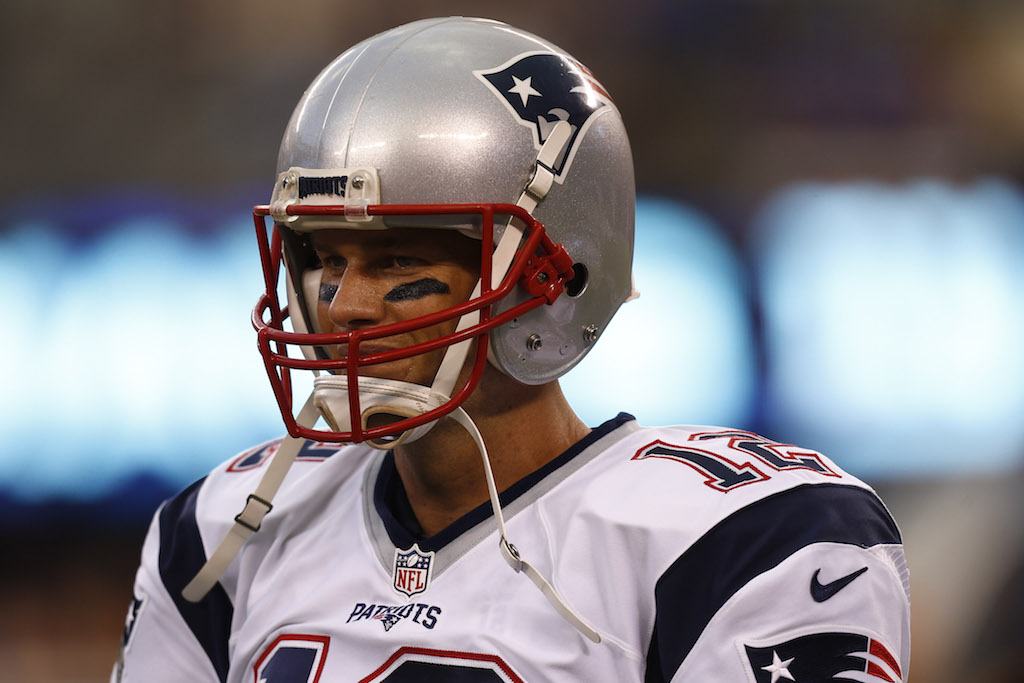 Show of hands: How many people didn't expect Tom Brady to obliterate the lowly Cleveland Browns in his first game back from a four-game suspension? Just as we suspected — no one's hands are up. Everyone, and we mean EVERYONE, knew that was coming. This is why many fans paid good money to see it go down in person. And it's safe to say Brady and his New England Patriots did not disappoint.
In New England's 33-13 rout of the Browns, Brady was absolutely spectacular, completing 28 of 40 passes for 406 yards, three touchdowns, and no interceptions. The scariest part is, at 39 years of age, he shows no signs of slowing down. In fact, he appears to be getting stronger; something he noted on Monday morning during his weekly interview on The Kirk & Callahan Show on WEEI:
I know I've talked at length about how I've felt over the years and I feel better now at 39 than I did when I was 29 — and I feel like it's due to a lot of things. I feel like I'm in a good routine and if I play a game like I did [Sunday], I feel like by Wednesday practice, you know, I'm geared up to go.

It's not like I do a ton of running anyway. I just kind of stand back in the pocket and, drop back and make the throws. You know, you got to take some hits, but for the most part, quarterbacks can play a long time.
What Brady should've said was, "Quarterbacks like me can play for a long time." The truth is, however, while some signals callers may have the potential to be great, there will never be another NFL player like No. 12 — and these 15 outstanding past performances are proof.
15. Brady has the Steelers' number (Week 14, 2007)
Against the Pittsburgh Steelers on December 9, 2007, in a game many thought would trip up the New England Patriots that season, Brady was at his absolute best. The future Hall of Famer completed 32 of 46 passes for 399 yards, four touchdowns, and zero interceptions. He finished the contest with a passer rating of 125.2. With the 34-13 victory, the Pats improved to 13-0 on the year.
14. Brady torches the Cowboys in Dallas (Week 6, 2007)
The New England Patriots and the Dallas Cowboys met in Week 6 of the 2007 season, each sporting a perfect 5-0 record. By the time Brady finished picking apart "America's Team," however, there was little debate about which team was the real cream of the crop. No. 12 finished the afternoon with 388 passing yards (on 31 of 46 passing), five touchdowns, and zero interceptions. In turn, the Pats stomped the Cowboys — on their home turf — by the score of 48-27.
13. Brady bests Big Ben on the big stage (AFC Championship, 2004)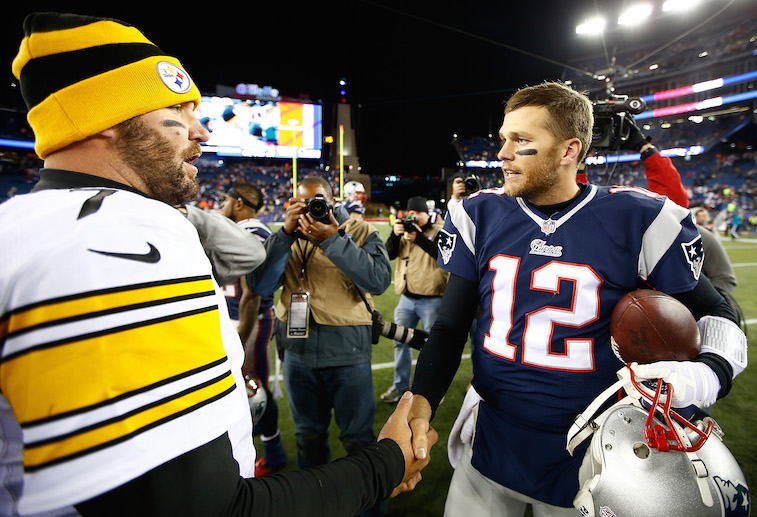 Brady and the Patriots may have entered the AFC title game against the Pittsburgh Steelers as the lower seed, but at Heinz Field on January 23, 2005, the outcome told a different story. The 11-time Pro Bowler threw for two touchdowns, passed for 207 yards, and led New England to a decisive 41-27 victory. On that day, it was clear the "Terrible Towel" was no match for "Touchdown Tom."
12. Brady throws for over 500 yards against Miami (Week 1, 2011 season)
The Patriots opened the 2011 season at Miami on Monday Night Football. As has been the case for most of his career, Brady shined under the national spotlight. No. 12 connected on 32 of 48 passes, amassed a passer rating of 121.6, and finished the night with 517 passing yards, four touchdowns, and one interception in a 38-24 New England victory.
11. Brady orchestrates his first comeback (Week 5, 2001 season)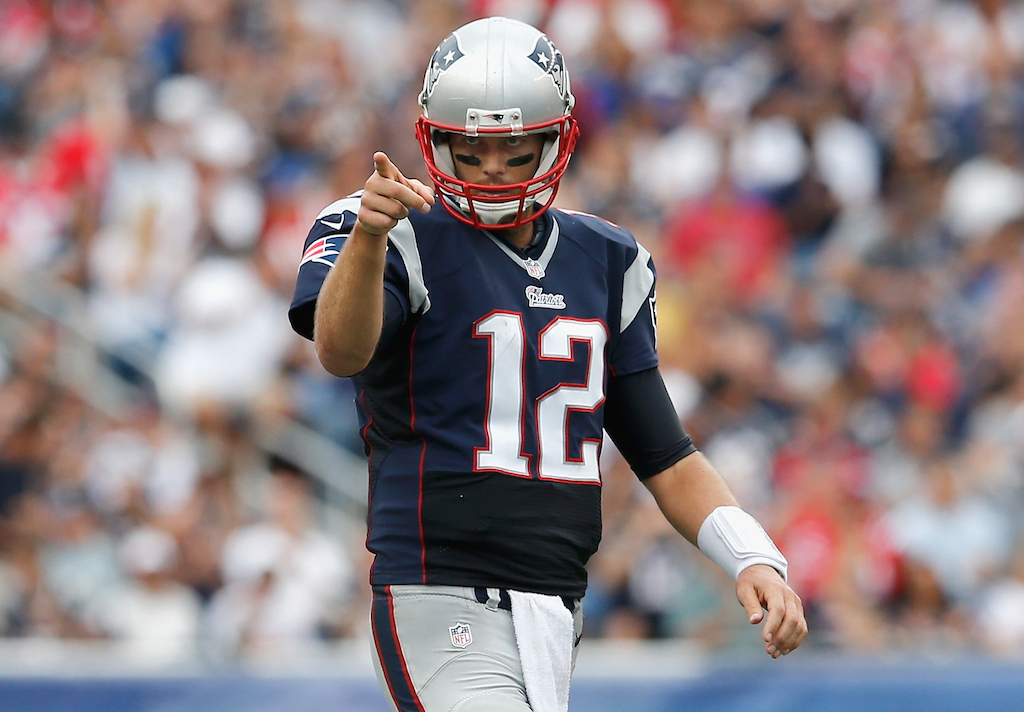 We've seen Brady orchestrate numerous comebacks throughout his NFL career. On October 14, 2001, against the San Diego Chargers in Week 5, we got to experience the first. With his Pats down 26-16 in the fourth quarter, No. 12 showed poise, confidence, and complete control, leading New England to an eventual 29-26 victory in overtime. Just like that, a legend began to take form.
10. Brady has all the answers against Jacksonville (AFC Divisional Round, 2007 season)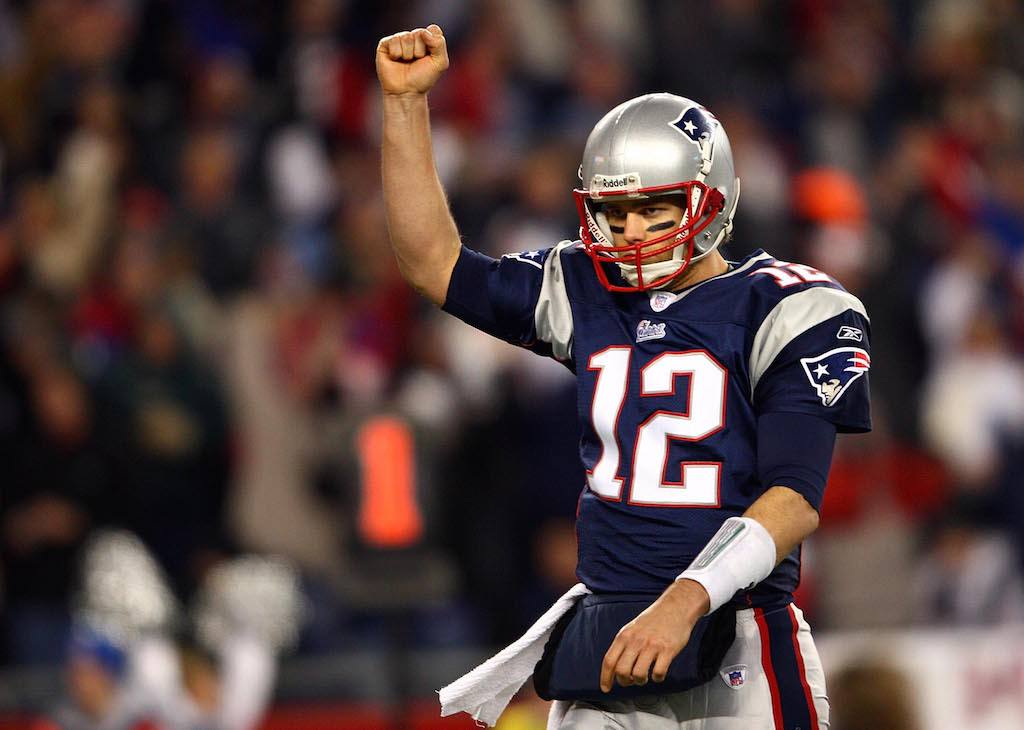 No one is perfect, but on January 12, 2008, during the AFC divisional round game against the Jacksonville Jaguars, Brady came pretty close. In a 31-20 New England victory, the superstar quarterback completed 26 of 28 passes, threw for 262 yards, and finished with three touchdowns and zero interceptions. We agree — that's just not fair.
9. Brady throws six TDs against the Dolphins (Week 7, 2007 season)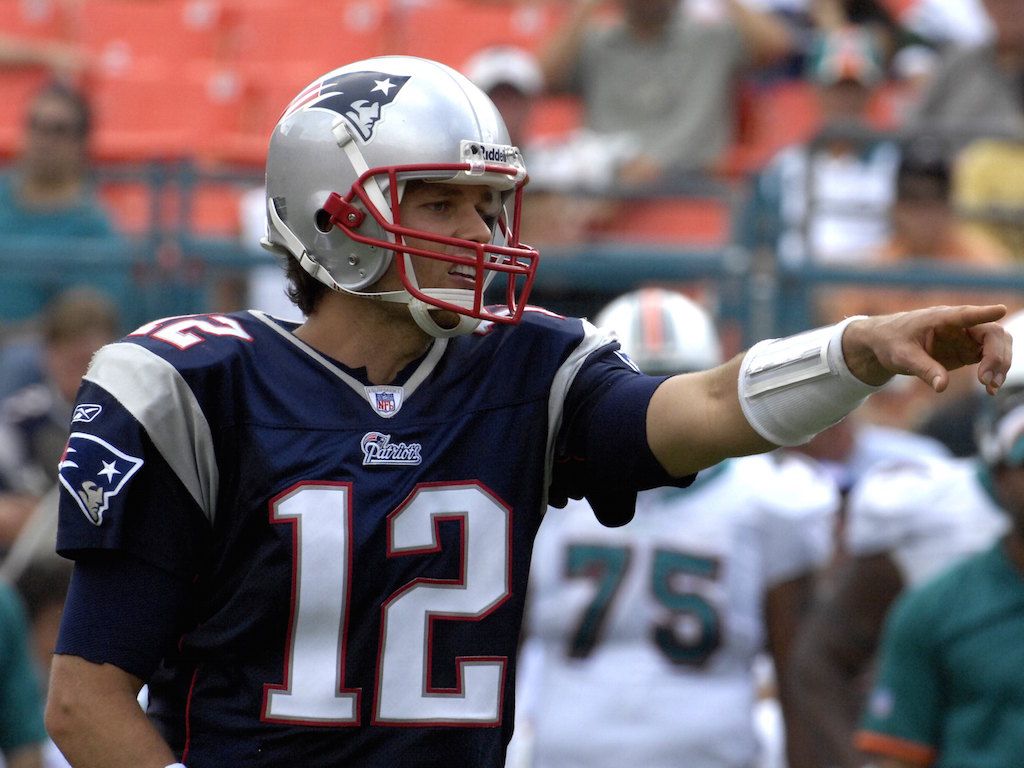 Just because the Miami Dolphins were winless at the time doesn't mean Brady didn't have one of the best games of his career. In this Week 7 matchup, one that saw the Pats win convincingly 49-28, No. 12 had just four incompletions (connecting on 21 of 25 passes), threw for 354 yards, and finished the game with six touchdowns and no picks. Once again, the team in Miami was no match for Brady's greatness.
8. Brady beats Carolina in the big one (Super Bowl, 2003 season)
The Carolina Panthers gave it a valiant effort in Super Bowl XXXVIII, but in the end, it was simply too much effort. In leading the Pats to their second title in three seasons, Brady completed 32 of 48 passes, threw for 354 yards, and finished with touchdowns and one interception. For his efforts, which included putting together an unbelievable game-winning drive, Brady was awarded with the Super Bowl MVP award.
7. Brady downs the Eagles (Super Bowl, 2004 season)
The following year, the New England Patriots defeated the Philadelphia Eagles and won their third Super Bowl in four seasons. And while Brady didn't earn MVP honors, he still displayed plenty of magic. In a 24-21 Patriots win, No. 12 had a passer rating of 110.2, completed 23 of 33 passes for 236 yards, and ended the night with two touchdowns and zero interceptions. The numbers weren't as eye-popping as others, but the result was still the same: legendary.
6. Brady leads a comeback over the Broncos (Week 12, 2013 season)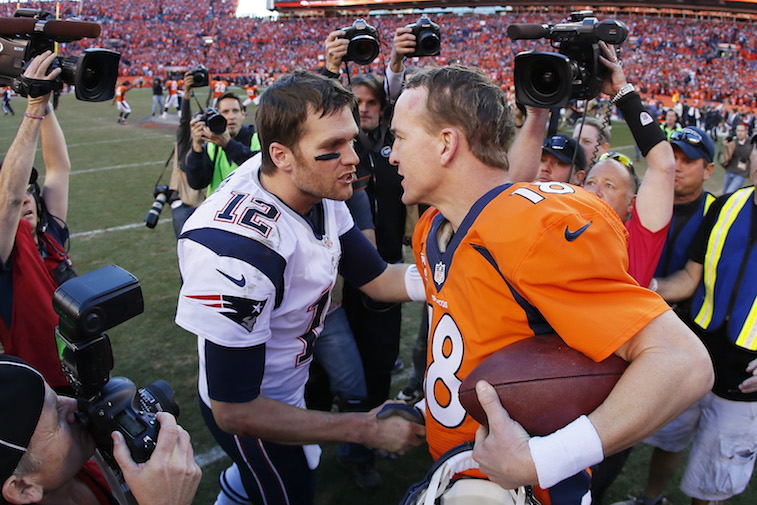 Usually when a team falls behind 24-0 at halftime, the outcome is pretty much self-explanatory; especially when the opposition has Peyton Manning under center. But if your signal caller happens to be Brady, anything's possible. And that's exactly what we saw on November 24, 2013, when No. 12, behind a 344-yard and three-touchdown performance, led the Pats to an improbable 34-31 come-from-behind victory. Clearly, the Broncos forgot one of the most crucial rules in all of football: Never underestimate Tom Brady's desire to win.
5. Brady wins his first title (Super Bowl, 2001 season)
The numbers don't do his performance justice, yet Brady played inspiring football against the St. Louis Rams in Super Bowl XXXVI. He led a remarkable game-winning final drive, earned MVP honors, and helped lay the foundation for one of the greatest dynasty's in sports history. This was the first, and as we all know, you never forget your first.
4. Brady gets to 16-0 (Week 17, 2007 season)
In a Week 17 showdown against the New York Giants, facing the pressure of trying to cap off a perfect 16-0 regular-season record, Brady showed up in a big way. He completed 32 of 42 passes, threw for 356 yards, and finished with two touchdowns and zero interceptions. While New York got the last laugh in Super Bowl XLII, it's impossible to overlook Brady's performance and what he helped the Patriots accomplish.
3. Brady gets No. 4 (Super Bowl, 2014 season)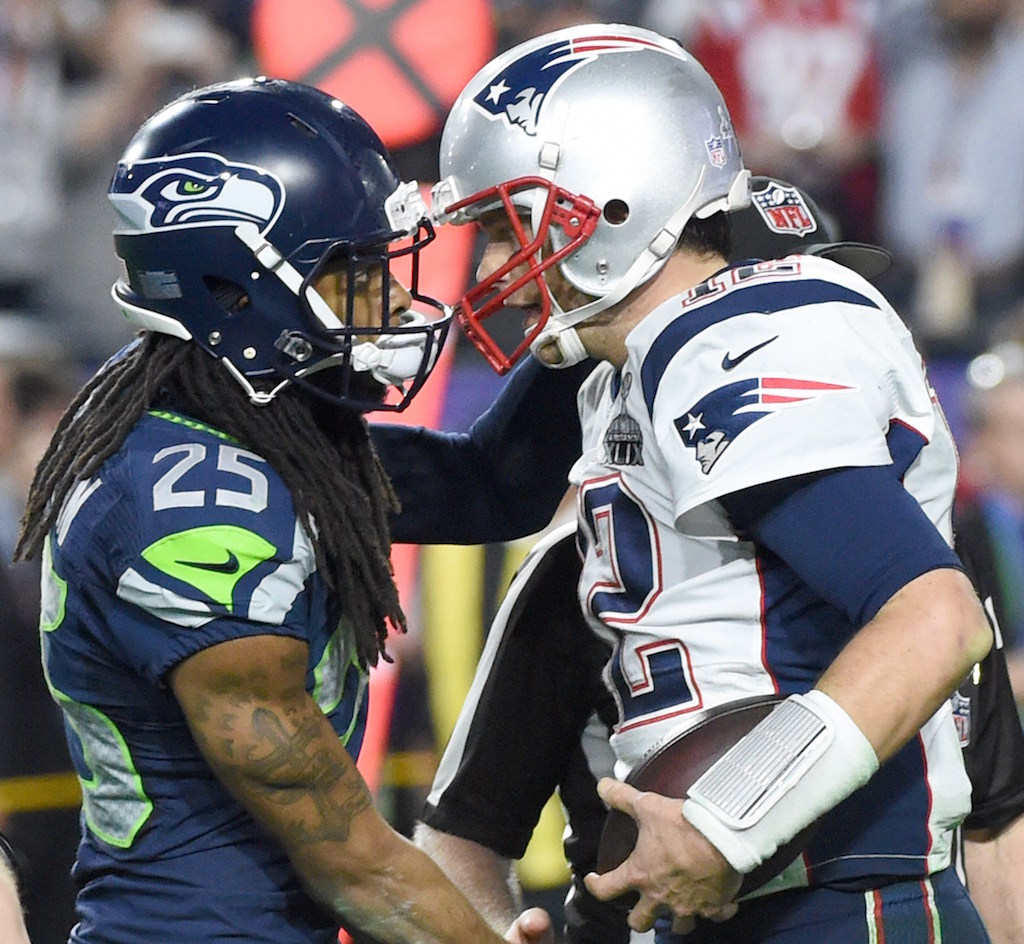 It took him a few tries, but on February 1, 2015, Brady finally won his fourth career Super Bowl. To make it even more impressive, he did it against a historically great Seattle Seahawks defense. On the night, No. 12 completed 37 of 50 passes, threw for 328 yards, and finished with four touchdown passes and two interceptions, earning the third Super Bowl MVP award of his career.
2. Brady eats the Titans alive (Week 6, 2009 season)
The stakes weren't as high as some of the other games on this list, but what Brady did against the Tennessee Titans in Week 6 of the 2009 season was beyond textbook. Simply put, it was otherworldly. In less than three quarters of play, Brady went 29 for 34, threw for 380 yards and six touchdowns, including a record five TDs in the second quarter, and finished with a passer rating of 152.8. As the Patriots decimated the visiting Titans by the score of 59-0, it was fitting that this game featured throwback uniforms. After all, this was vintage Brady.
1. Brady gets No. 5 (Super Bowl, 2016 season)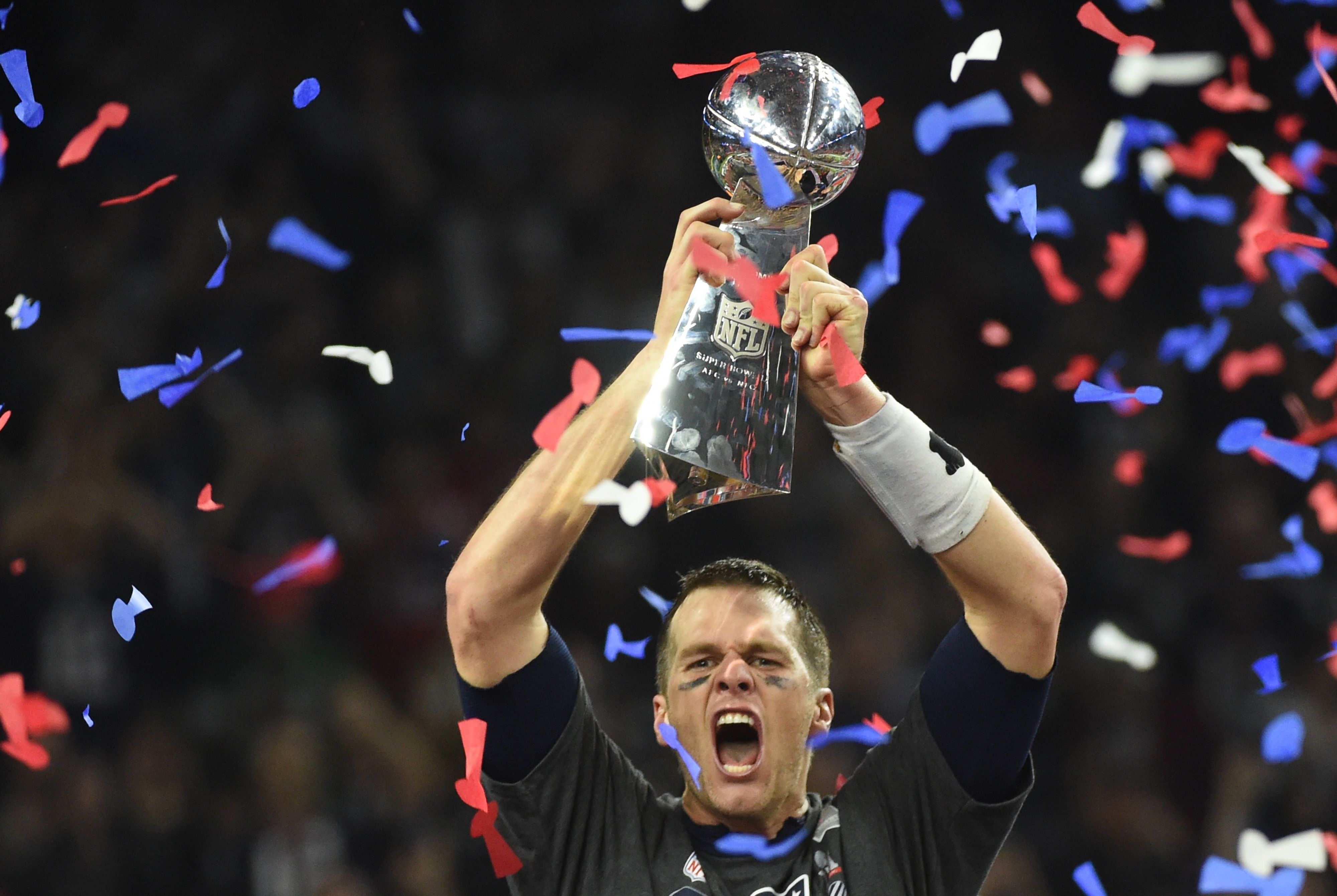 If you thought a 25-point deficit against the Atlanta Falcons in Super Bowl LI was enough to slow down Brady, then clearly you haven't been paying attention. On the biggest stage in football, with everything on the line, No. 12 put together the greatest performance of his Hall of Fame career. Brady completed 43 passes (a Super Bowl record), threw for 466 yards (another Super Bowl record), and won his fourth Super Bowl MVP award (do you really have to ask?). With this victory, Touchdown Tom became the first starting quarterback to ever lead his team to five Super Bowls titles. It doesn't get much sweeter than that.
Statistics courtesy of Pro-Football-Reference and ESPN.