NFL
3 of the Best Quarterbacks to Ever Play for the New England Patriots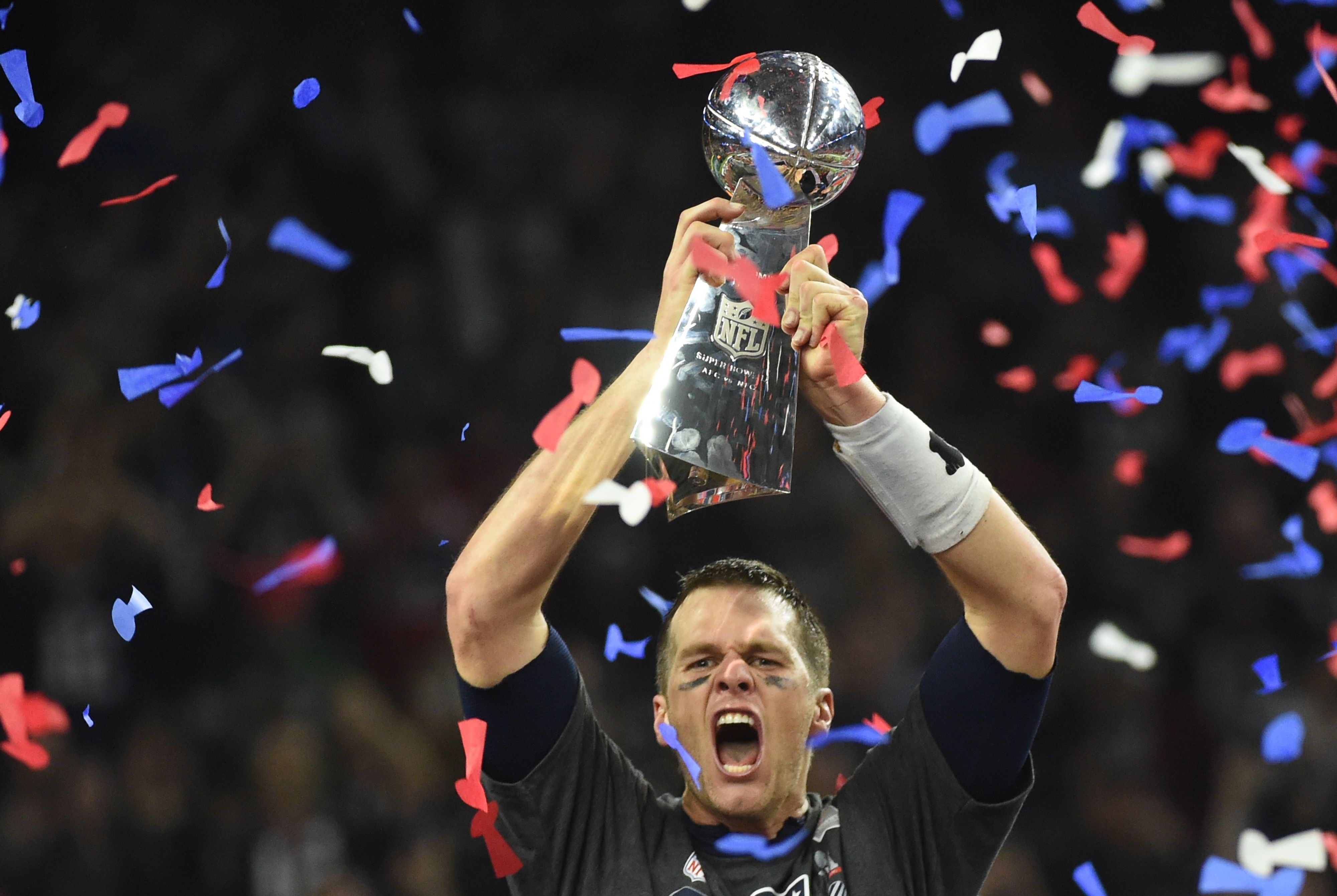 The evolution of the New England Patriot quarterback has mirrored the performance of the franchise from that of a perennial cellar-dweller toward one of the most respected dynasties in the history of sports. You could say that the Patriot quarterback was first tasked with simply limiting turnovers and managing the game, before ultimately being called upon to make plays and carry the franchise upon his back. By extension, each of the three greatest quarterbacks in Pats history represents a different era in the team's "worst to first" progression.
3. Tony Eason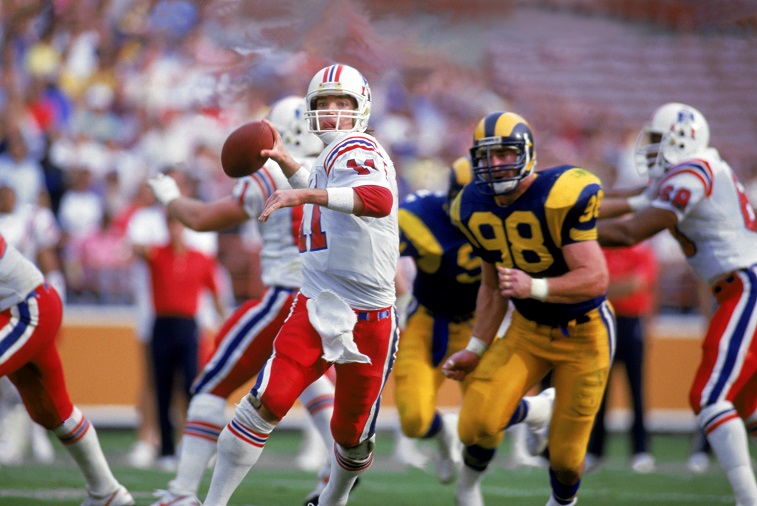 The New England Patriots selected Tony Eason out of Illinois with the 15th overall pick out of the famed 1983 Draft, which also included John Elway (1), Todd Blackledge (7), Jim Kelly (14), Ken O'Brien (24), and Dan Marino (27). Marino, after falling late into the first round, quickly emerged to showcase his talents as the greatest pure passer in the game.  Meanwhile, Tony Eason was filling in as a solid, if unspectacular starter for the New England Patriots.
A pure game manager, Eason often handed off to a committee of running backs who would gash defenses for chunks of yardage behind Hall-of-Fame guard John Hannah. After establishing the run, Tony Eason would then go play-action, before hooking up with Irving Fryar over the top.
In 1984, one year after Mario took the Dolphins to the Super Bowl,  Eason did complete 60% of his passes for 3,228 yards and 23 touchdowns against only eight interceptions. This performance laid the groundwork for an improbable 1985 run, when New England won three straight playoff games on the road, and  to top it all off Eason outplayed Marino in Miami, in putting up three touchdowns to win the AFC Championship.
The 1985 Patriots, however, ran into the ultimate buzzsaw in the Chicago Bears, often referenced as one of the greatest football team of all time. In that game, Eason went 0-for-6, coughed up a fumble, and spent the evening running for his life. Then, the team benched him as he watched the 46-10 Super Bowl XX blowout come to an end.
2. Drew Bledsoe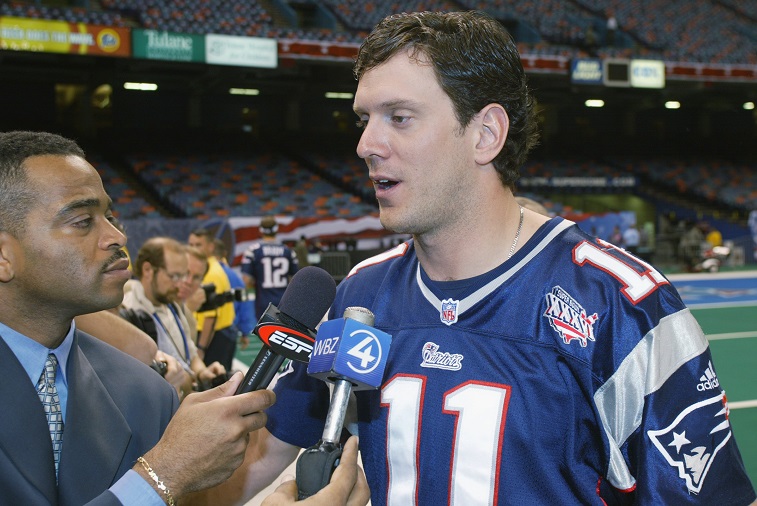 In 1993, the Pats took Drew Bledsoe with the first overall pick in the draft,  displaying their hope that this decorated junior out of Washington State would ultimately emerge as the franchise savior. At the time, Drew Bledsoe simply looked the part, a 6-foot-5, 240 pound quarterback with a rocket arm that also managed to say just the right things to fawning media and fans. Until then, the moribund Patriots had reached the pinnacle of their nadir, having served as cannon fodder to the '85 Bears and losing Super Bowl XX.
After the draft, Drew Bledsoe, Bill Parcells, and Robert Kraft immediately went to work and began to earn respect for the franchise. The Patriots were 10-6 by Bledsoe's second season, after working to limit turnovers, play lockdown defense, win special teams battles, and run the football. Drew Bledsoe, against this backdrop, picked his spots to go over the top to Terry Glenn, hit Ben Coates working the soft zone, or toss out a flare pass to Curtis Martin releasing in the flat. In 1994, Drew Bledsoe lit up defenses for a league-high 4,555 passing yards.
Like Tony Eason before him, Drew Bledsoe also led the Patriots through an improbable Super Bowl run (this time it was Super Bowl XXXI), before being blown out of the Big Game by Brett Favre and the Green Bay Packers. In 2001, Bledsoe was all set to start the Patriots on the march towards the playoffs again, before taking a vicious sideline hit in Week Two that knocked him out of the game. That turned out to be the best thing that could have happened to the franchise.
1. Tom Brady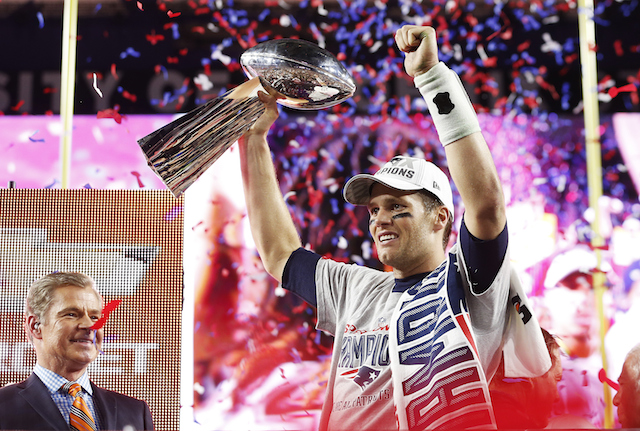 Forced into the action after Bledsoe went down, Tom Brady, a former sixth round draft pick, was tasked with simply managing the game for the playoff-bound Patriots. In true rags-to-riches form, of course, Brady would go on to lead to Patriots to a 20-17 Super Bowl XXXVI win over the high-octane St. Louis Rams. Tom Brady, after watching Adam Vinatieri's game-winning kick, proceeded to head-butt his teammates and shake his head at the improbable win amid swirling confetti.
As he gained maturity, Brady rapidly emerged as the leading man for his generation. In 2007, Tom Brady teamed up with the likes of Randy Moss and Wes Welker, to torch defenses for 69% passing, 4,806 passing yards, and a then record 50 touchdowns, en route to ripping off a 16-0 regular season record (2007 Patriots lost Super Bowl XLII to NY Giants). Incredibly, that statistical outburst is mostly a footnote beneath a career resume that lists out four Lombardi trophies and three Super Bowl MVP awards.
In 2015, Brady took a knee just in front of his own goal line, to close out his fourth Super Bowl title with the Patriots, entering himself into an exclusive club that includes names like Terry Bradshaw and Joe Montana, as well as submitting his name into contention for the title of 'Best NFL Quarterback of All Time.'  Tom Brady, in setting the gold standard, has seen to it that any season that does not result in a Super Bowl ticker tape parade is dismissed as a total failure.
Statistics courtesy of ESPN and Pro-Football-Reference.