NFL
The Best Stiff Arms in NFL History
Several weeks ago, Derrick Henry of the Tennessee Titans proved how violent football can be with a brutal stiff-arm to Josh Norman. It showed Henry's toughness and how hard he is to tackle. Even an experienced veteran like Norman couldn't contend with him. But what exactly is a stiff arm, and which players have the best stiff arms in NFL history? Let's look at this football move and who did it better than anyone. 
What is a stiff arm?
A stiff arm is a fairly simple football technique where a ball carrier — typically a running back but it can be any player running with the ball in the open field — uses his arm to separate himself from the defender. The New York Times detailed the art of the stiff arm. It discussed who had the best one in the game today as well as its origins.
One of the most famous recreations of a stiff arm is the Heisman Trophy. Modeled after a player named Ed Smith, the award features him delivering a stiff arm. Because of this, many players have modeled the Heisman pose on the field when they're considered at the top of their game.
During his Heisman season, Charles Woodson famously gave one after scoring a touchdown at the University of Michigan. But that's just a pose. Who actually delivers the best stiff arm in today's NFL? 
The best stiff arm in the NFL today
RELATED: Derrick Henry's Grandmother Has a Special Place in His Heart
The New York Times article argues that the best stiff arm in the NFL right now belongs to Henry. Most defenders who've faced the bruising running back agree. Henry ran roughshod through the playoffs last season. His tough, physical style harkens to previous backs like Jim Brown or John Riggins.
This season, Henry's most-talked-about stiff arm came at the hands of Norman. The crushing hit left the defender appearing on highlight reel after highlight reel. Why does Henry use this move? To him, it's second nature.
The 26-year-old told the Times, "I've been doing it since I was a kid, since I've been playing football, and it just came natural to me because I have long arms … That's the first thing I use to break a tackle or get away from the defender." While Henry is no stranger to fending off opponents, he didn't crack the top-five list of the best stiff arms ever.
The best stiff arms in NFL history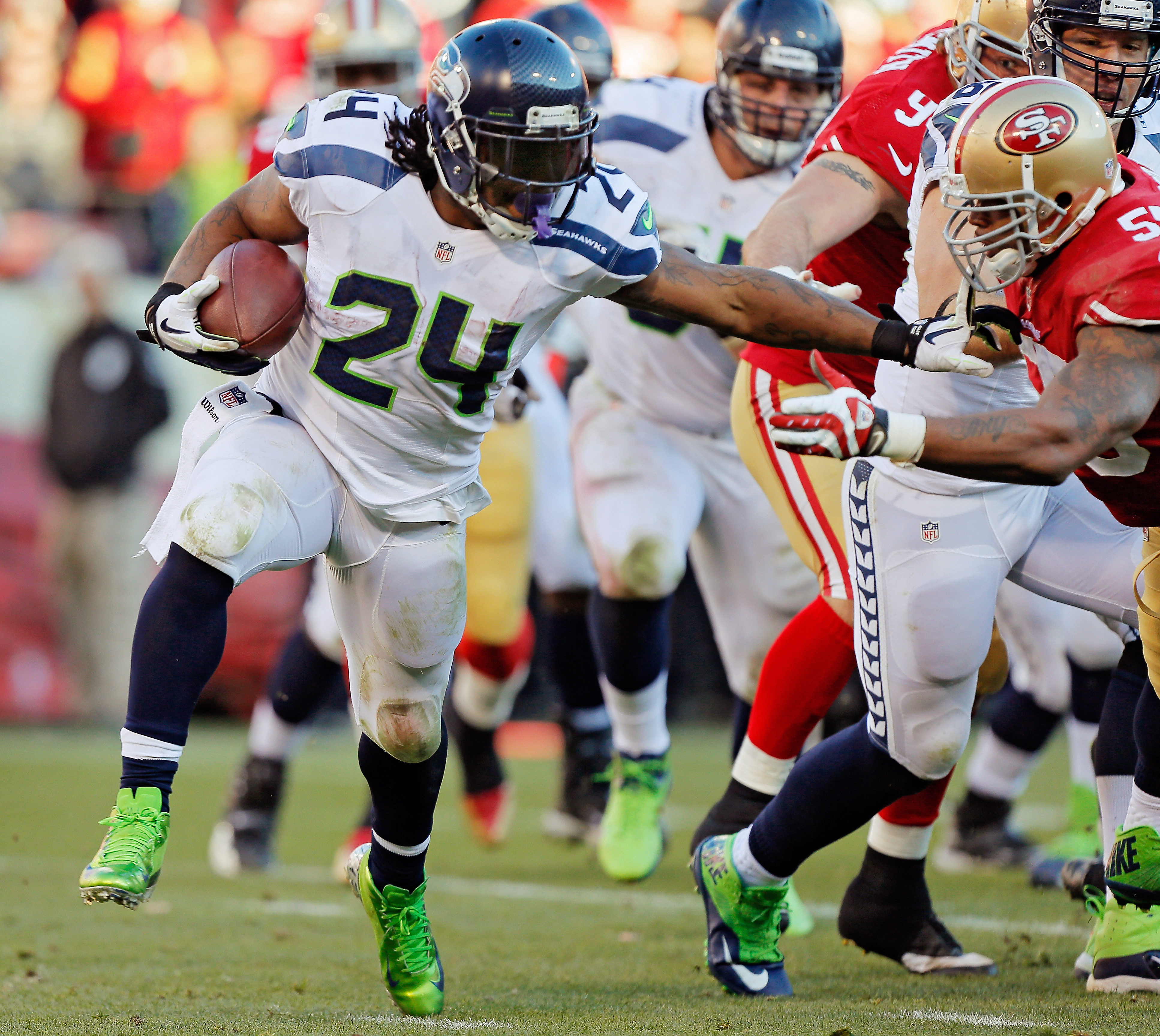 RELATED: You Won't Believe How Insane Derrick Henry's High School Stats Were
NFL.com compiled the five best stiff arms in football history. Overall there have been too many to count, but these ones stood out as elite examples: 
Buffalo Bills running back Fred Jackson stiff-armed Chris Conte of the Chicago Bears on Monday Night Football in 2014.
San Francisco 49ers running back Garrison Hearst had a long touchdown run to end a 1998 game against the New York Jets. On his way to the score, he delivered a crushing stiff arm. 
In 2015, Steve Smith had a stiff arm against the Baltimore Ravens that Carolina Panthers fans remember to this day.
Adrian Peterson took it to the Cleveland Browns defense in a 2009 game with a strong stiff arm. 
Marshawn Lynch occupies the top spot with his thundering 2011 playoff game run against the Saints. Not only did Lynch's run involve the best stiff arm in history, but it may also have been the best run in NFL history — period.