The Biggest Busts in NBA Free Agent History
NBA free agency is a lot of fun, with players frequently changing teams and signing big contracts. As far as a return on investment, though, a team is much more likely to spend a bunch of money they'll regret later than they are to find a diamond in the rough on a below-market deal. We have our thoughts about where players might land this summer, but what about past players? There have been plenty of big financial mistakes, so we took a look at the biggest busts in NBA free agent history.
25. Travis Knight – Celtics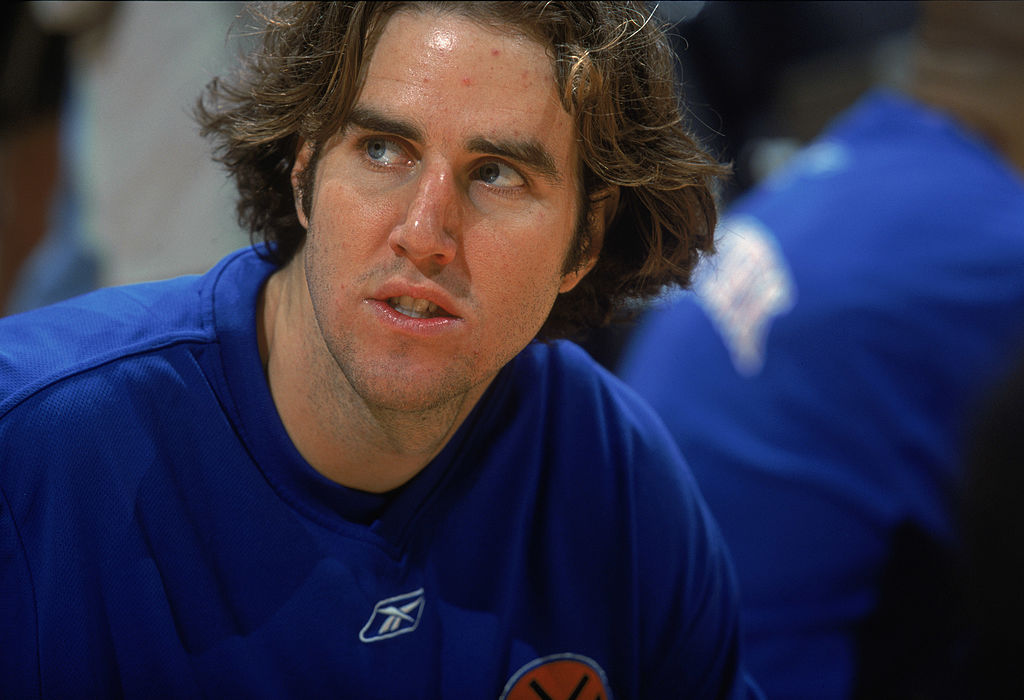 Center Travis Knight had an interesting early career. The Chicago Bulls drafted him with the last pick in the first round of the 1996 NBA Draft. But they released him just weeks later. It's an odd move, given that future NBA role players such as Shandon Anderson, Malik Rose, and Othella Harrington were on the board when they made their choice.
Knight played his rookie year for the Los Angeles Lakers, averaging 4.8 points and 4.5 rebounds in 16.3 minutes per game. That was enough for the Boston Celtics to give him a seven-year, $22 million deal — a large contract for the time — but he only spent one season in Boston. Knight averaged 3.1 points and 2.8 rebounds over seven total NBA seasons.
24. Ben Gordon – Pistons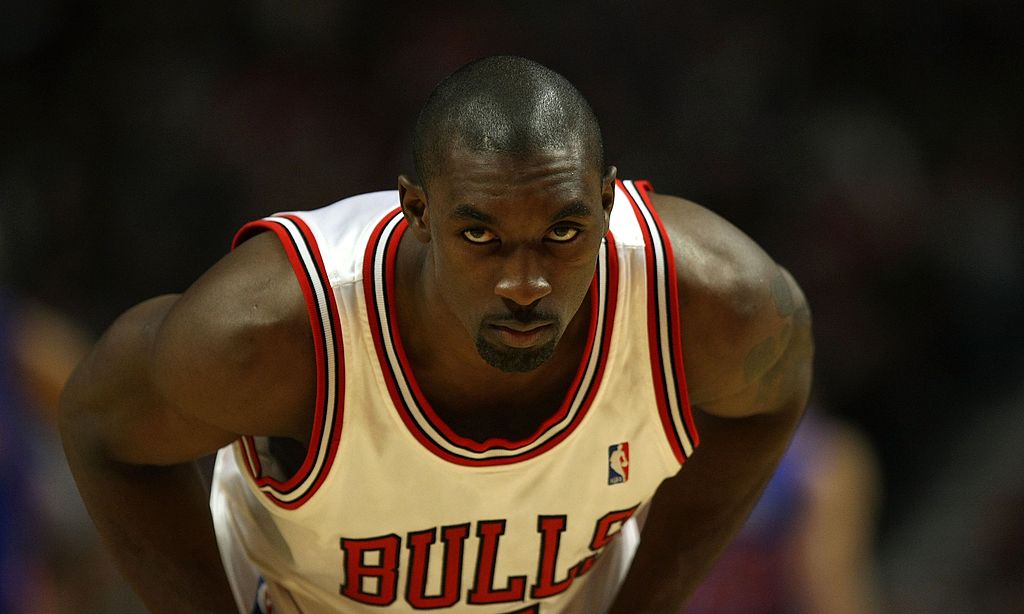 At the time that the Detroit Pistons gave guard Ben Gordon a five-year, $50 million deal, he was coming off a season with the Chicago Bulls in which he averaged 20.7 points on 45.5% shooting from the field. He'd started in 76 of his 82 games and played 36.6 minutes per game. The Pistons thought they had a solid investment in the 25-year-old. But Gordon never came close to that level again. He started just 45 games over the entire five-year deal — only three of which with the Pistons — and averaging 11.6 points on 42.2% shooting.
23. Jared Jeffries – Knicks
In 2002, the Washington Wizards drafted forward Jared Jeffries with the No. 11 overall pick. He worked his way into the starting lineup and the role of a regular rotation player during his four-year tenure with the team. But Washington underutilized him, many thought, and it was born out in his meager 6.1 points and 5.4 field goal attempts per game with the Wizards.
The New York Knicks signed Jeffries to a five-year, $30 million deal to attempt to unlock his potential. It didn't go well. Over the life of the deal, Jeffries averaged just 4.1 points in 21.4 minutes per game for the Knicks and Houston Rockets.
22. Timofey Mozgov – Lakers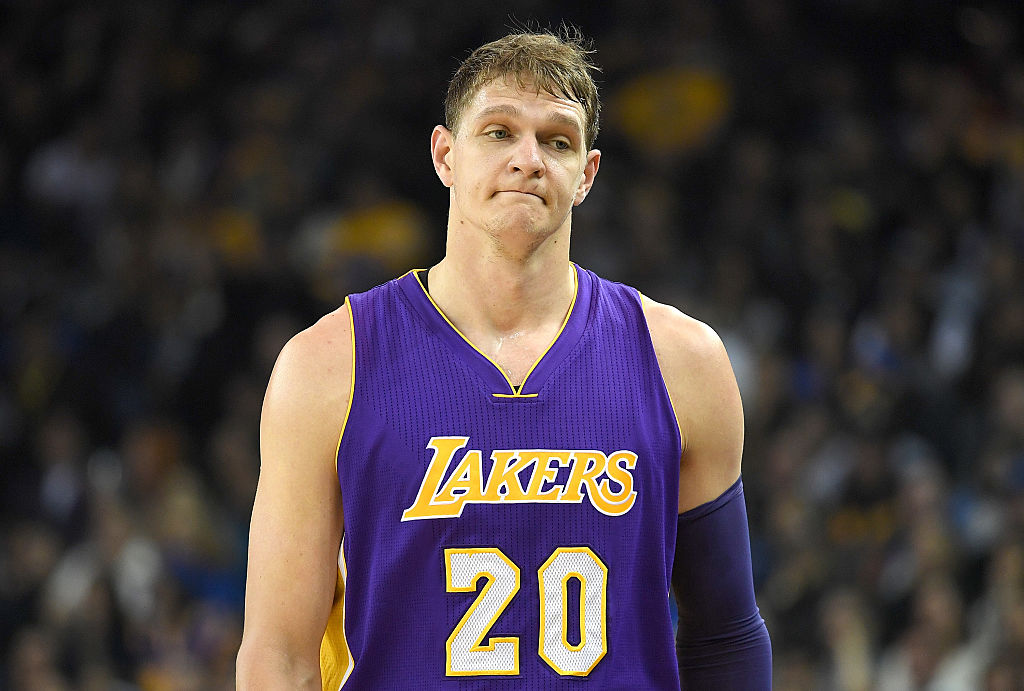 It has only been one season, but there's no doubt that Timofey Mozgov deserves to be on this list. The Los Angeles Lakers gave the 30-year-old center a four-year, $64 million deal despite his lengthy history of being a mediocre basketball player. The money changed nothing. Mozgov averaged 7.4 points and 4.9 rebounds per game — while making $16 million — for the Lakers in 2016–17, playing 20.4 minutes in 54 games. The odds are good that he'll climb higher on this list as time goes on, too.
21. Carlos Boozer – Bulls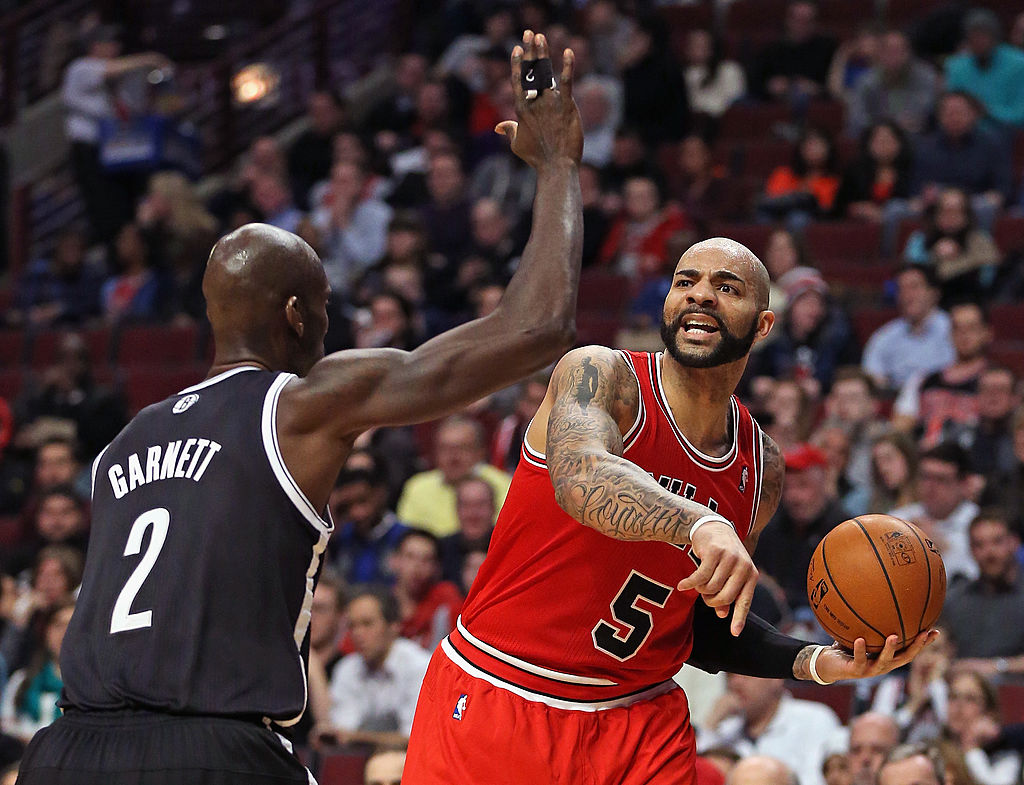 In the summer of 2010, the Chicago Bulls cleared cap space to chase after LeBron James, Dwyane Wade, and Chris Bosh. All three players ended up in Miami, leaving the Bulls with former Utah Jazz power forward Carlos Boozer (with a five-year, $75 million deal).
Despite receiving a consolation prize, the Bulls were excited to get a guy who'd averaged 19.5 points and 13.2 rebounds in 10 playoff games in 2009–10. But Boozer never lived up to expectations in Chicago. He was known for padding stats by stealing rebounds from teammates and being unusable in the fourth quarter of important games due to his dreadful defense.
20. Grant Hill – Magic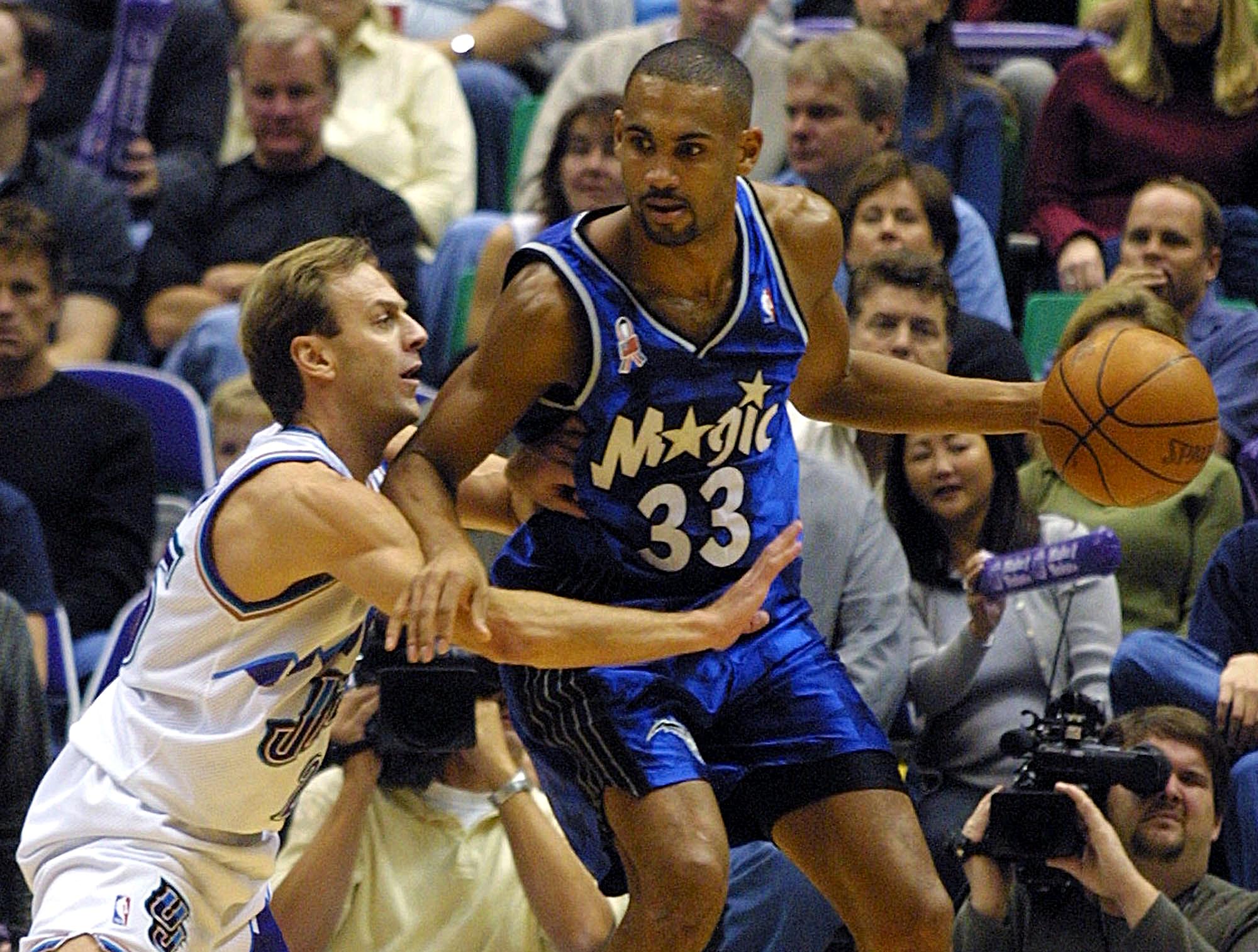 The Orlando Magic hit big in free agency in 2000, signing both Tracy McGrady and Grant Hill to major deals. Hill got a seven-year contract worth $92.9 million and was the sure thing of the two; he came to Orlando as a 28-year-old five-time All-Star with averages of 21.6 points, 7.9 rebounds, and 6.3 assists in six NBA seasons.
Sadly, ankle problems derailed Hill's career with Orlando, costing him major parts of several years and one entire season. Over the life of the deal, Hill averaged around 28 games played per year and 16.4 points, five rebounds, and 3.1 assists per game. The worst part of the deal? As part of the sign-and-trade to bring in Hill, the Magic sent center Ben Wallace to the Pistons.
19. Jerome James – Knicks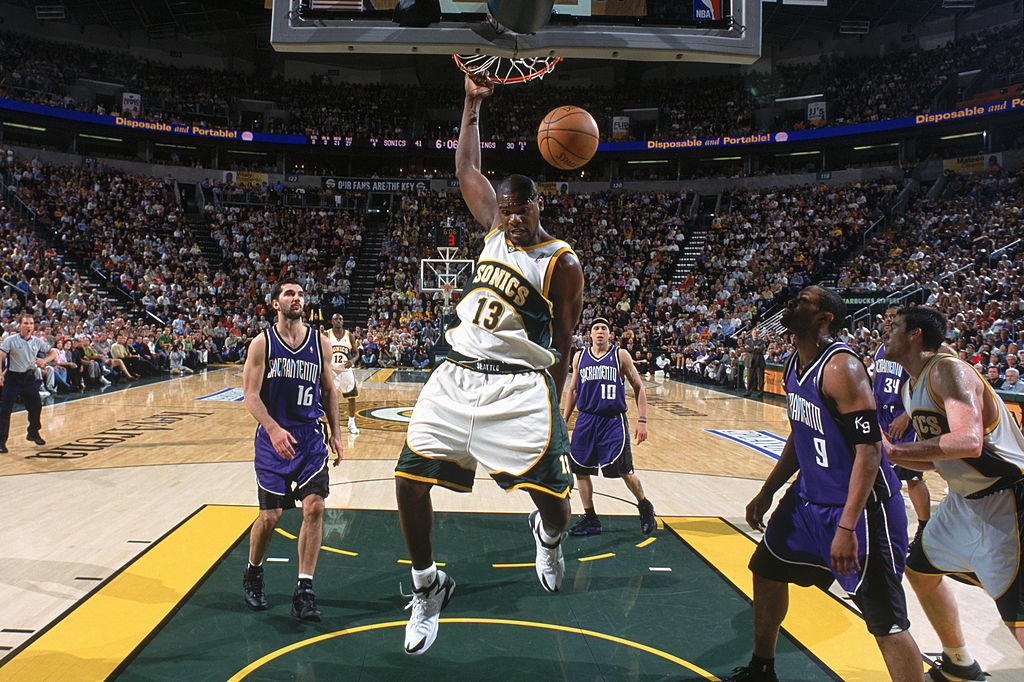 Jerome James is one of the more comical free agent signings in NBA history — at least, if you're not a New York Knicks fan. James was 30 years old in the summer of 2005, holding career averages of 4.9 points and 3.5 rebounds per game in his career.
But the Knicks gave him a five-year, $30 million deal. They based this on 11 playoff games for the Seattle Sonics the previous year, when James averaged 12.5 points and 6.8 rebounds. That included a five-game series against the Sacramento Kings in which he abused Brad Miller to the tune of 17.2 points and 9.4 rebounds per game. Predictably, he never did that again. James played 90 total games over the next four seasons in New York, averaging 2.5 points and 1.8 rebounds.
18. Tim Thomas – Bucks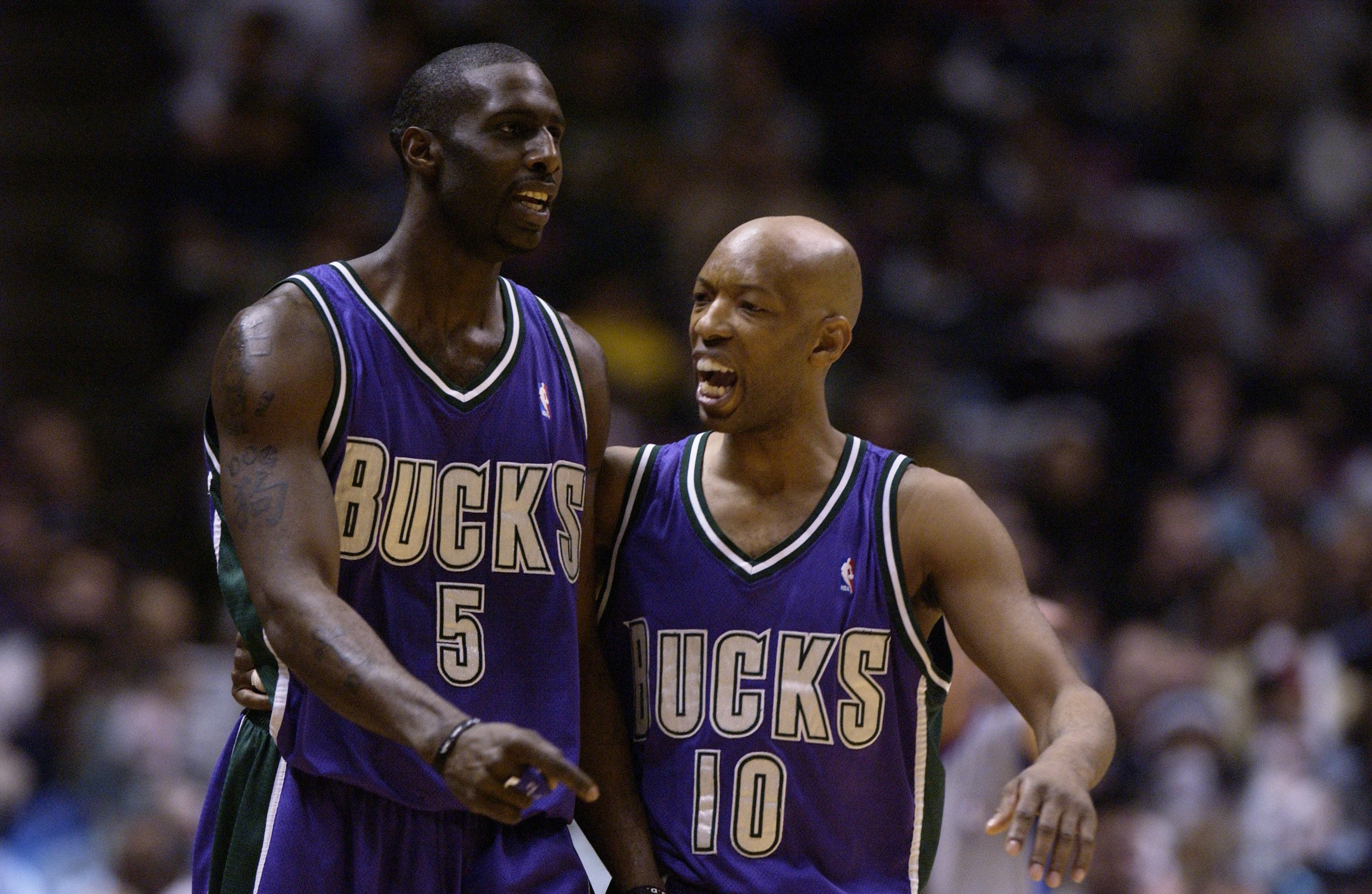 Many considered forward Tim Thomas a future star when he entered the NBA with the Philadelphia 76ers in 1997–98 as a 20-year-old. Early in his career the talent was obvious. Despite these things, the Sixers traded Thomas to the Milwaukee Bucks in the middle of the lockout-shortened season of 1999.
When Thomas hit the open market in the summer of 2000, he was 22 years old and had averaged 10.4 points in 22.6 minutes per game. He spurned other teams to remain with the Bucks, signing a six-year, $67 million deal, but he never came close to being a star. In those six years, Thomas averaged 12.7 points in 28.1 minutes per game and played for four different teams.
17. Hedo Turkoglu – Raptors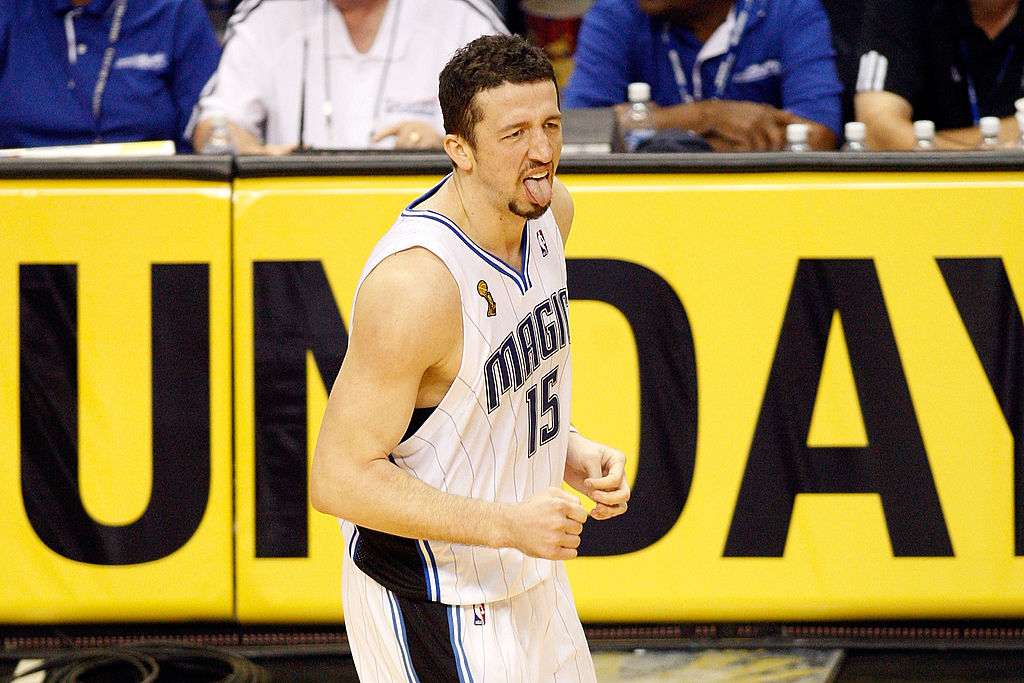 In the summer of 2009, the Toronto Raptors acquired Hedo Turkoglu in a sign-and-trade, bringing him in on a five-year, $52.8 million contract. Considering that he'd averaged 18.2 points over the previous two seasons with the Orlando Magic — and the fact that the team was desperately trying to contend in an effort to keep Bosh — the move made sense. But it didn't work out.
Turkoglu scored just 11.3 points on 40.9% shooting in his only season with the Raptors. When Bosh left for Miami, the team dumped the declining forward on the Phoenix Suns. He averaged 9.5 points in 27.4 minutes over the five-year contract.
16. Eddie Robinson – Bulls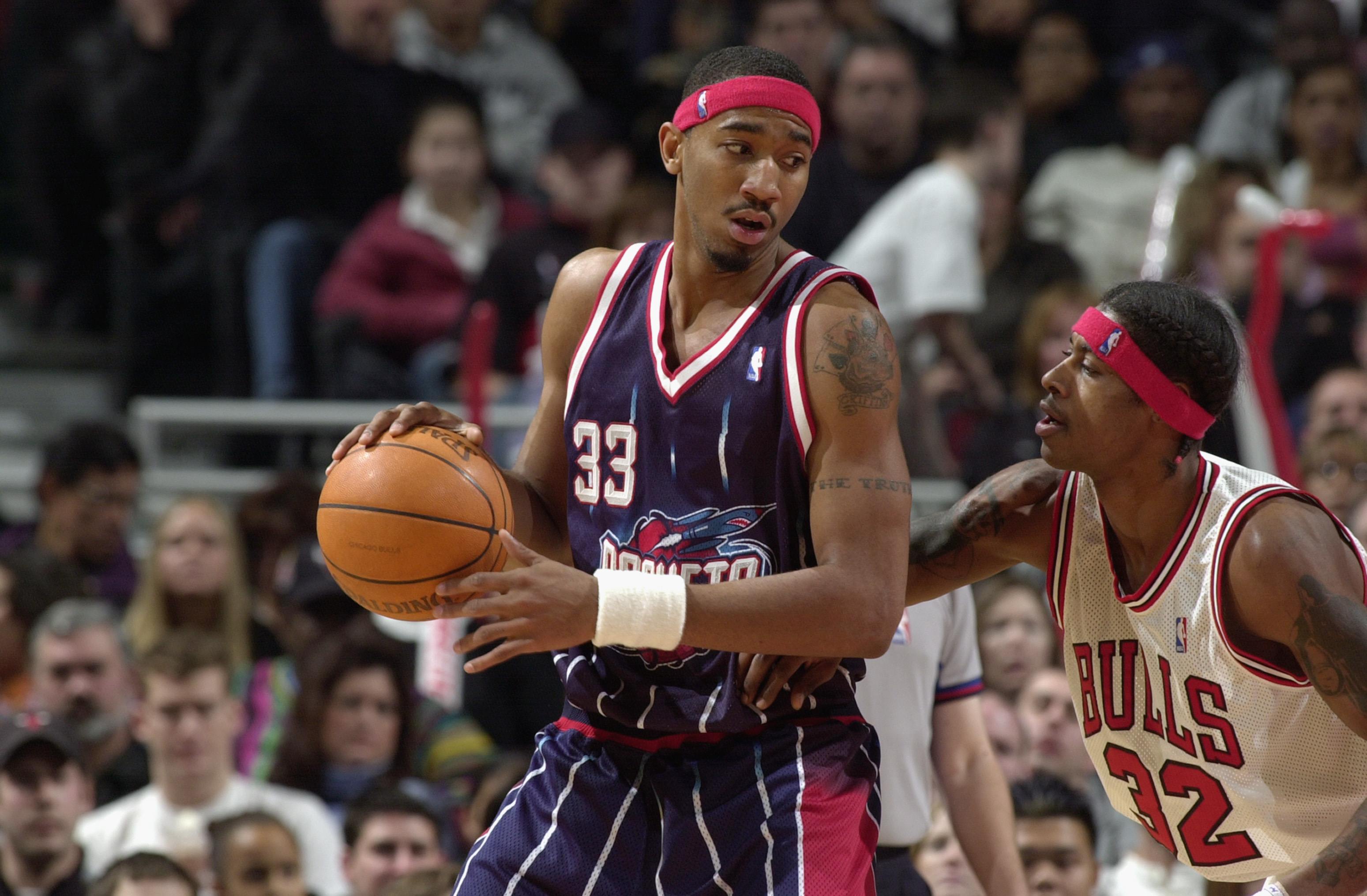 Despite averaging 28 points per game in his sophomore season at Central Oklahoma, athletic forward Eddie Robinson went undrafted in 1999. The Charlotte Hornets picked him up, and in two seasons he flashed his talent in limited time. That was enough for Jerry Krause, the general manager of the Chicago Bulls at the time.
Krause gave Robinson a five-year, $30 million deal. However, the 25-year-old only made it through three seasons before leaving the NBA. Due to injuries and a complete lack of effort, Robinson played just 144 total games for Chicago with an average of 6.7 points per game before being waived and disappearing completely.
15. Jim McIlvaine – Sonics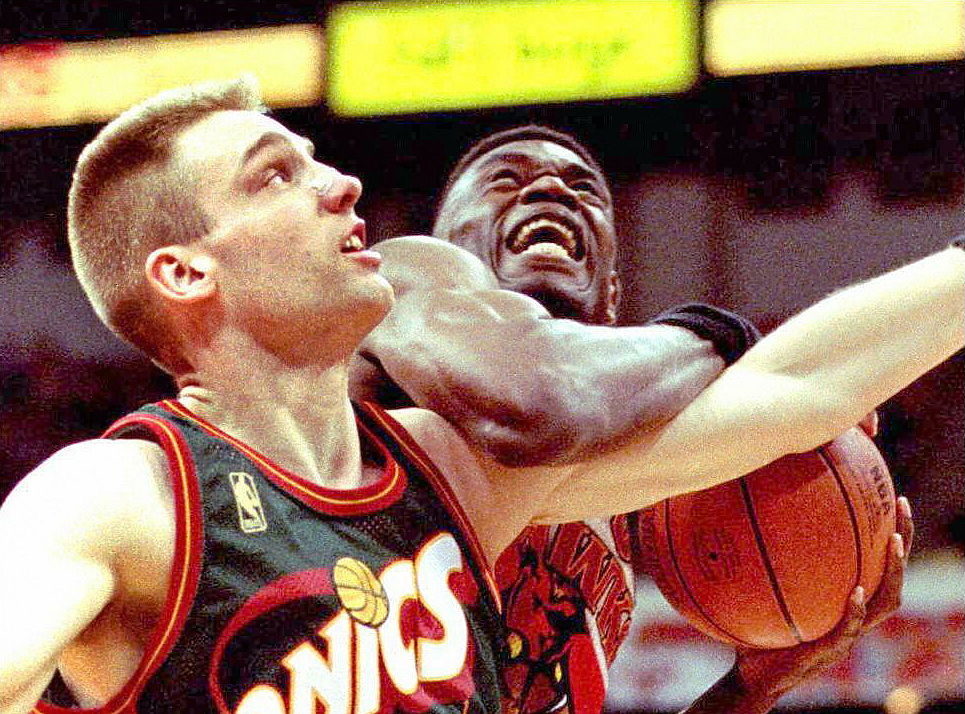 Yes, in fact, center Jim McIlvaine did sign a seven-year, $35 million contract with the Seattle SuperSonics back in 1996. He went from being a second-round 1994 draft pick with the Washington Bullets, to averaging 2.1 points and 2.5 rebounds in 12.8 minutes per game in his first two seasons, to being set for life in free agency.
What did he do to convince the Sonics that he was worth the money? He never showed the world, that's for sure. McIlvaine played five more years in the NBA, finishing his career with 2.7 points, 3.1 rebounds, and 14.8 minutes per game on average.
14. Elton Brand – 76ers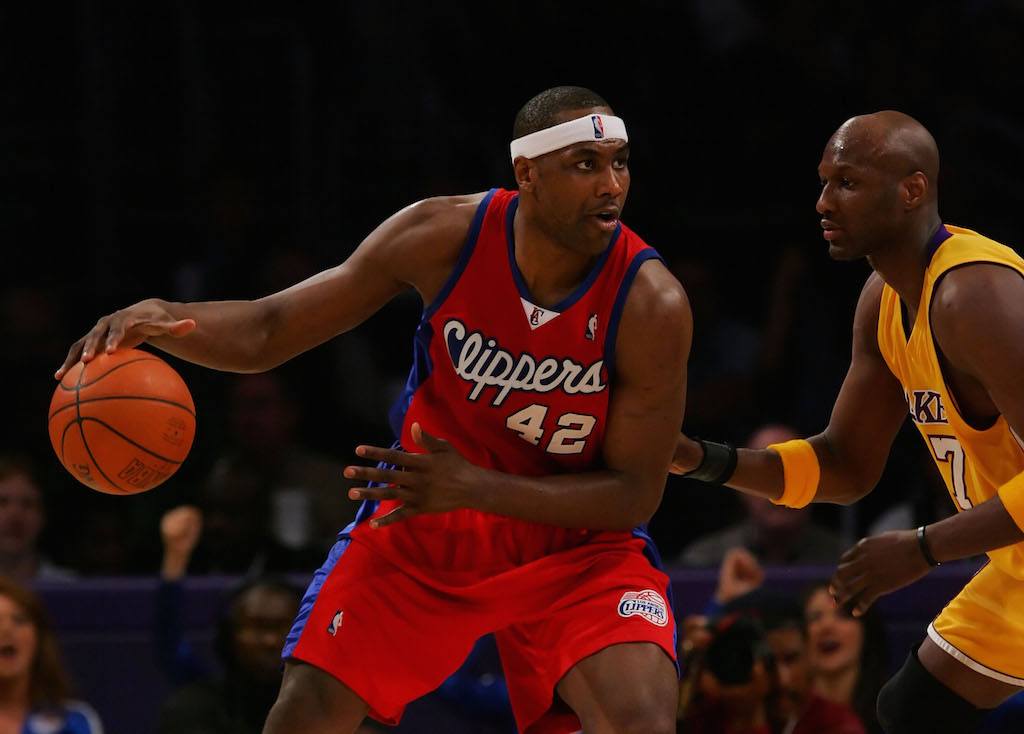 A two-time All-Star with the Los Angeles Clippers, Elton Brand was, at one point, one of the most underrated players in the NBA. He'd averaged 22.6 points and 9.6 rebounds per game combined over the two seasons heading into the 2007–08 season. But he played in just eight games that season, rupturing his ACL and heading to free agency with an uncertain future.
That didn't stop the Philadelphia 76ers from giving Brand a five-year, $80 million deal, and it turned out to be unwise. Brand never was the same, averaging just 9.9 points and 6.2 rebounds for the remainder of his career.
13. Joakim Noah – Knicks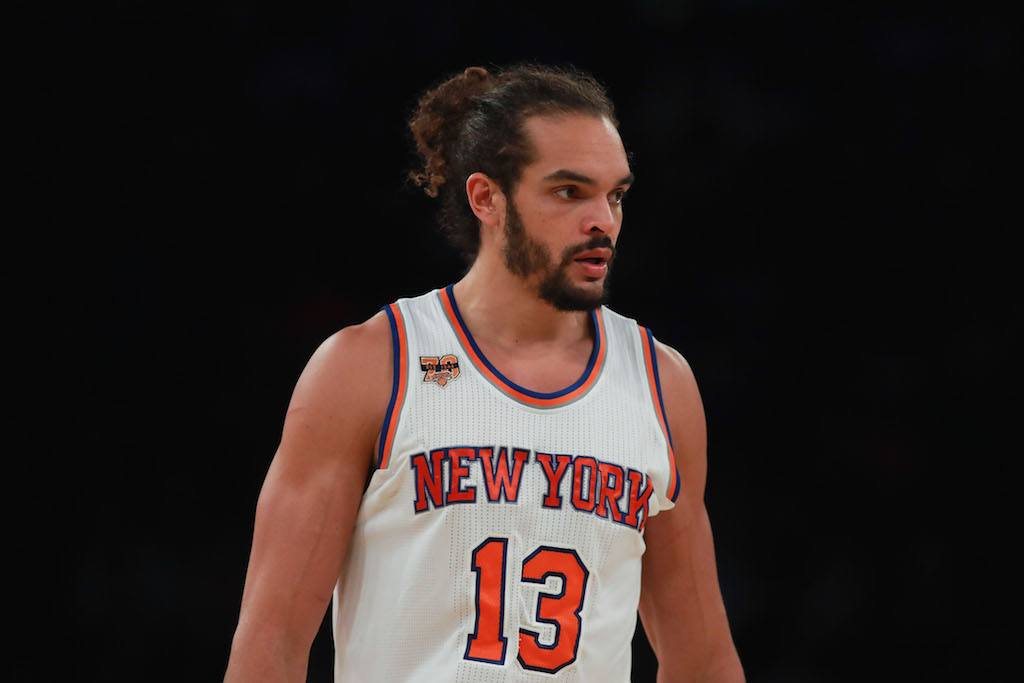 Back in 2013–14, Joakim Noah won the Defensive Player of the Year award and made his second consecutive All-Star appearance for the Chicago Bulls. He averaged 12.6 points, 11.3 rebounds, and 5.4 assists per game that year. However, the Bulls ran Noah ragged and he needed knee surgery in the offseason. He never came back as the same player.
Over the next two years, Noah played 28 minutes per game and averaged 6.3 points, 9.4 rebounds, and 4.4 assists for Chicago. So what does that get him? A four-year, $72 million deal from the New York Knicks. In his first season Noah continued to look bad, playing just 46 games and averaging 5.0 points, 8.7 rebounds, and 2.2 assists per game.
12. Larry Hughes – Cavaliers
Back in 2005, the Cleveland Cavaliers were desperately trying to improve their roster around a young, budding LeBron James. So they gave a five-year, $70 million contract to former Washington Wizards guard Larry Hughes. He was 26 years old and coming off a season in which he averaged 22 points and a league-leading 2.9 steals per game.
But Hughes wasn't the sidekick to James that Cleveland wanted him to be, averaging just 12.7 points on 39.1% shooting over the life of the deal. In the middle of his third season with the Cavs, they traded him to the Chicago Bulls.
11. Brian Grant – Heat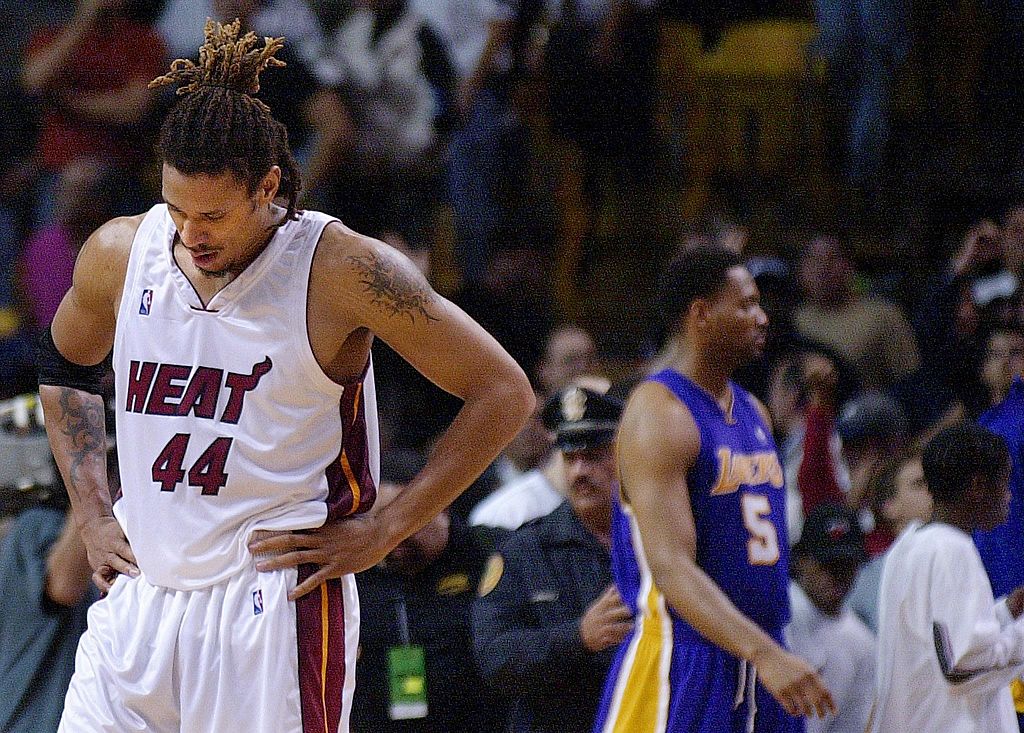 With center Alonzo Mourning's future uncertain because of a kidney disease, the Miami Heat spent big on free agent center Brian Grant in 2000. They gave the former Portland Trail Blazers forward a seven-year, $86 million deal.
In the first season, he looked fine. Grant averaged a career-best 15.3 points in 2000–01 for Miami, but it was all downhill from there. Grant lasted only six seasons in the NBA after signing the deal, averaging 9.3 points and 7.4 rebounds before retiring at 33.
10. Erick Dampier – Mavericks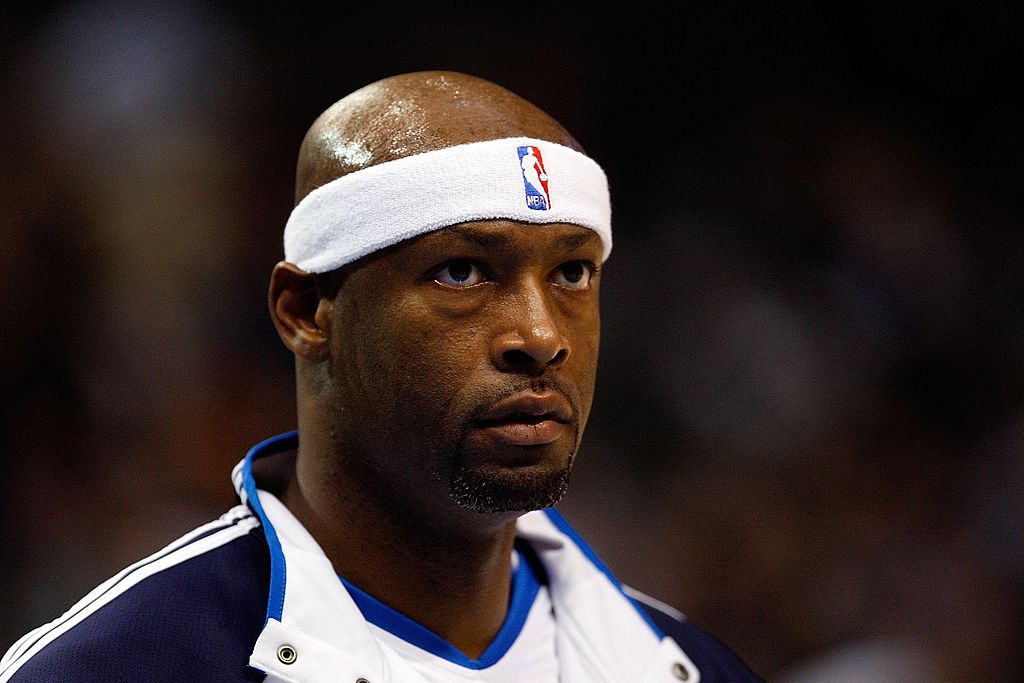 In 2003–04, Golden State Warriors center Erick Dampier — then in his eighth NBA season — had the proverbial career year. He averaged 12.3 points and 12 rebounds in 32.5 minutes per game, all career-highs. That enticed the Dallas Mavericks to sink a ton of money into signing Dampier as a free agent; $73 million over seven years to be exact. The bad news for Dallas is that he returned to being exactly what he always was: a mediocre center. Over six seasons with the Mavericks, Dampier averaged 6.1 points and 7.1 rebounds per game.
9. Ron Mercer – Bulls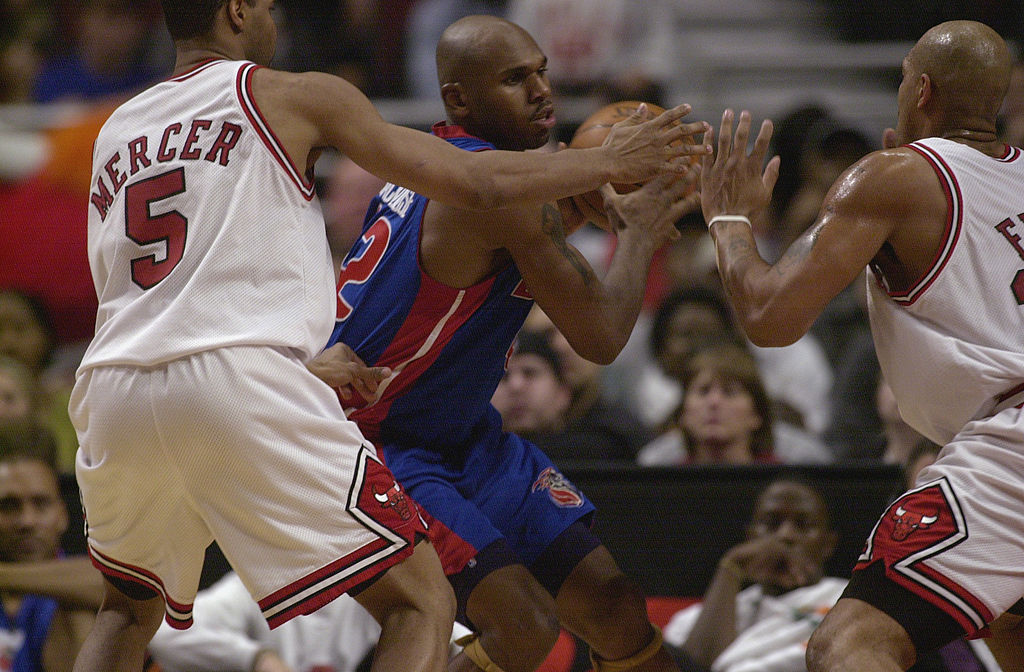 After swinging and missing on Tracy McGrady, Grant Hill, Tim Duncan, and Eddie Jones in 2000, the Chicago Bulls threw money at their fallback plan: former Boston Celtics guard Ron Mercer. They signed him to a six-year, $67 million deal. In the first year everything looked alright.
Mercer played 41.6 minutes per game, scoring 19.7 points while shooting 44.6% from the field. He fell off to 39.7% in his second season, and he struggled to find minutes after a midseason deal to the Indiana Pacers. Mercer averaged just 11.6 points over the life of the deal and left the NBA at the age of 28.
8. Raef LaFrentz – Mavericks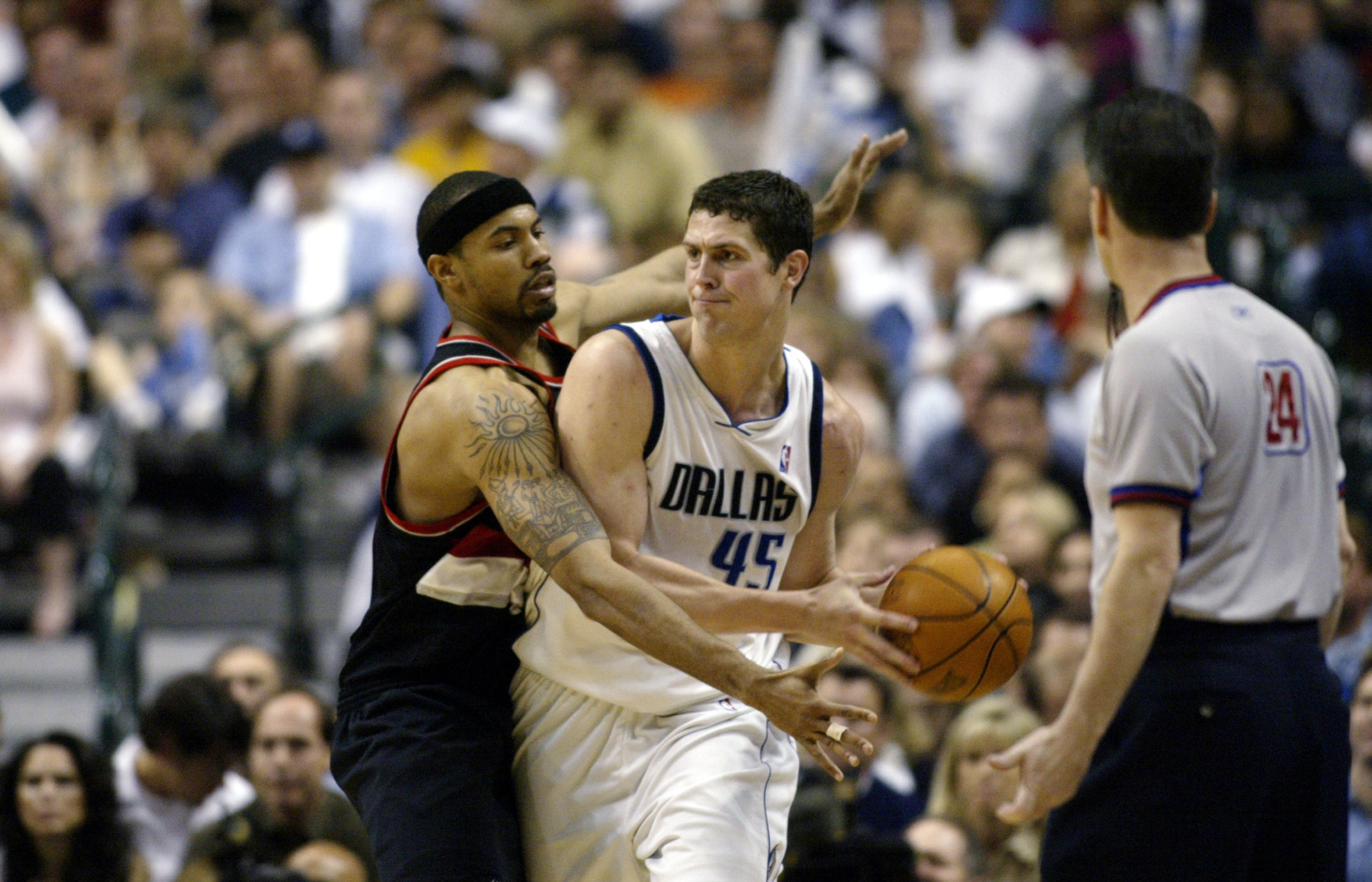 Over his first four seasons in the NBA, center Raef LaFrentz averaged 13 points, 7.7 rebounds, and 2.5 blocks per game while shooting 36.6% from three-point range. The Dallas Mavericks acquired him late in the 2001–02 season, and gave him a big deal in free agency that summer.
LaFrentz signed a seven-year, $70 million deal, but only played one disappointing season with the Mavs. They later traded him to the Boston Celtics, and he ended up retiring at 31. Over the seven-year deal, LaFrentz averaged 7.8 points, 4.8 rebounds, and one block per game.
7. Bobby Simmons – Bucks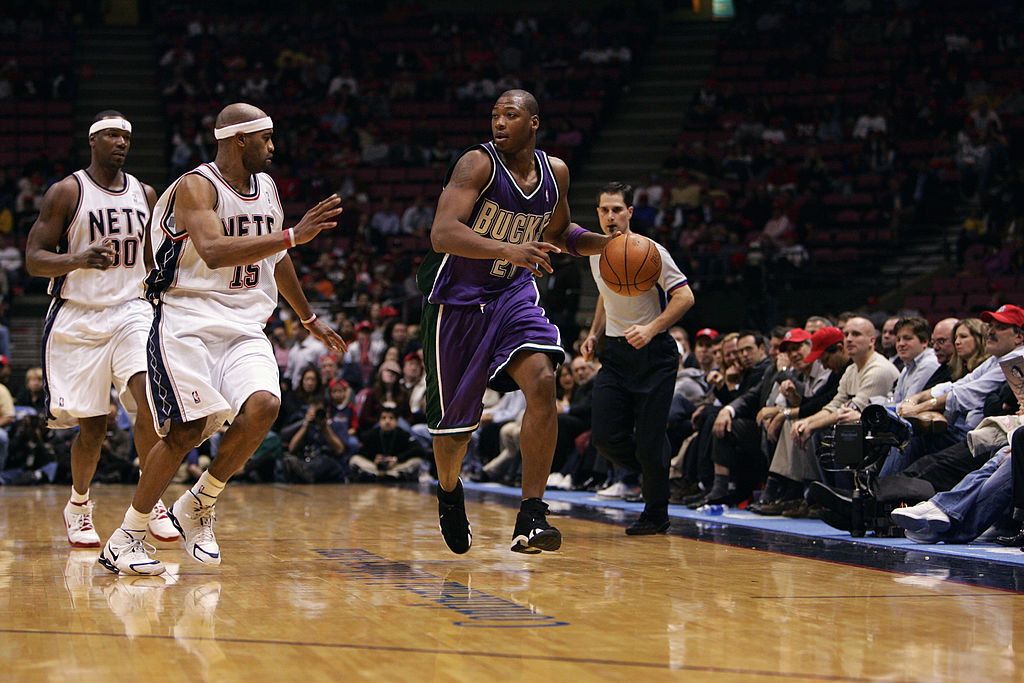 Nobody will fault you if you can't recall Bobby Simmons. For the vast majority of his 10 NBA seasons, the forward was a role player. He averaged nine points per game for five teams in his career. However, a season with the Los Angeles Clippers when he averaged 16.8 points per game scored Simmons a five-year, $47 million deal with the Milwaukee Bucks.
He had just one solid season in Milwaukee. Simmons lost the entire 2006–07 season to an ankle injury and never cracked double-digits in scoring average ever again. He played just 239 total games over the five-year contract.
6. Peja Stojakovic – Hornets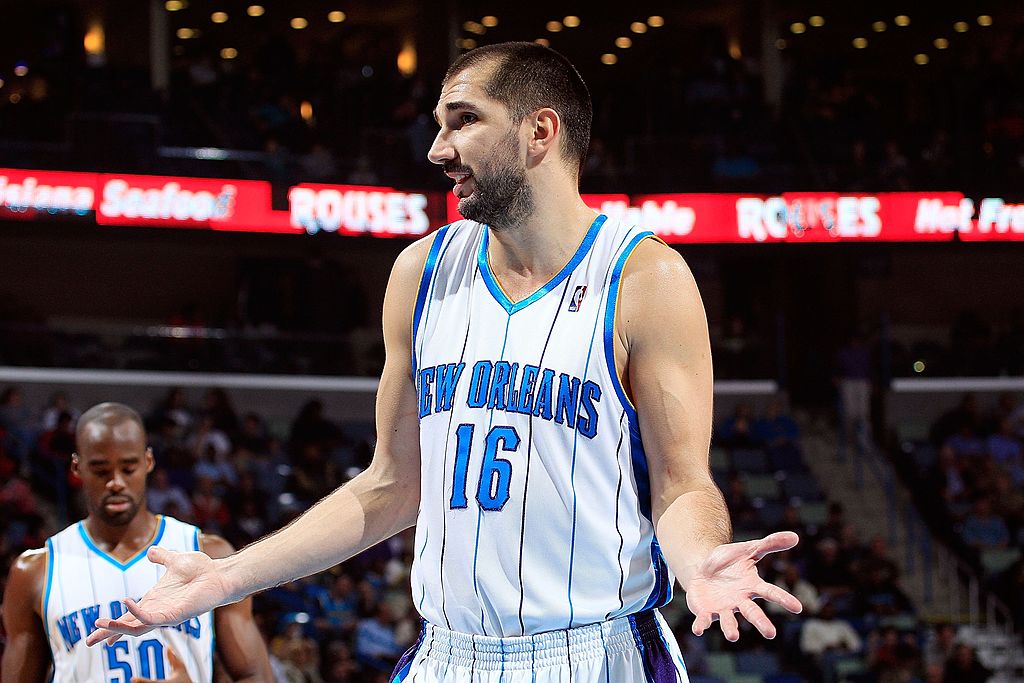 From 2001–06, forward Peja Stojakovic averaged 20.6 points, 5.5 rebounds, and 40.7% shooting from three-point range. He made three All-Star teams and became one of the elite shooters in the NBA. This prompted the New Orleans Hornets to work a sign-and-trade with the Indiana Pacers in 2006, bringing on the 29-year-old Stojakovic on a five-year, $64 million deal. Injuries cost him nearly his whole first season in New Orleans, and things were never the same. Stojakovic averaged just 13.7 points in 31.7 minutes per game on that five-year contract.
5. Josh Smith – Pistons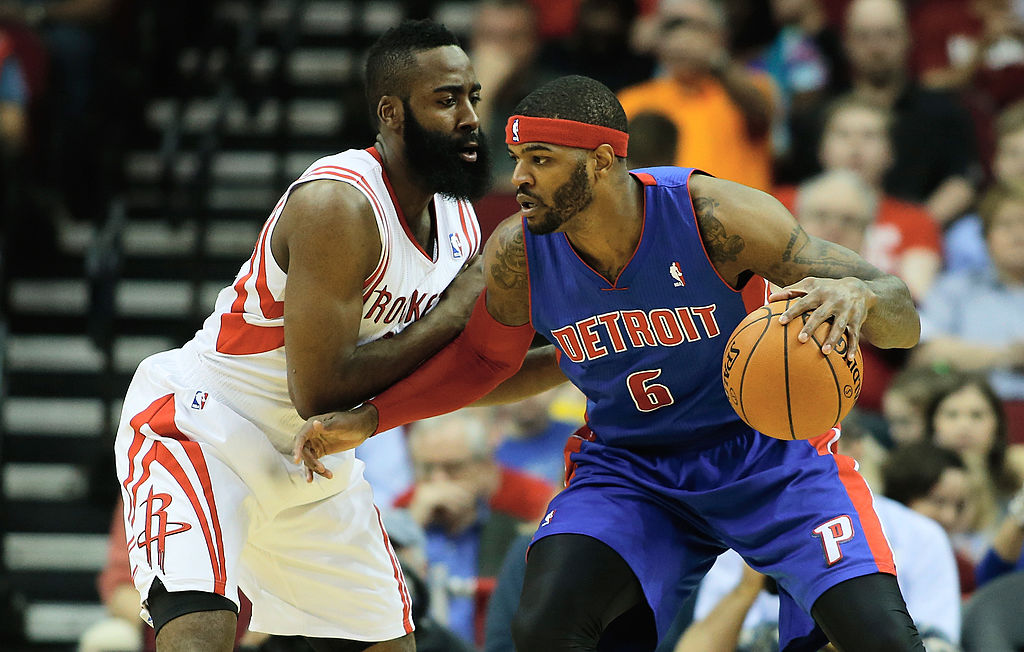 Forward Josh Smith was a unique player for the Atlanta Hawks early in his career. With somewhat raw offensive skills, Smith became a decent scorer while rebounding, blocking shots, and playing excellent defense. The 28-year-old held career averages of 15.3 points, eight rebounds, 2.1 blocks, and 46.5% shooting. So, the Detroit Pistons gave Smith a four-year, $54 million deal.
But things went off the rails in Detroit, where Smith played just 105 games before the Pistons waived him. They ended up paying him a lot of money for over two seasons to play elsewhere.
4. Anfernee Hardaway – Suns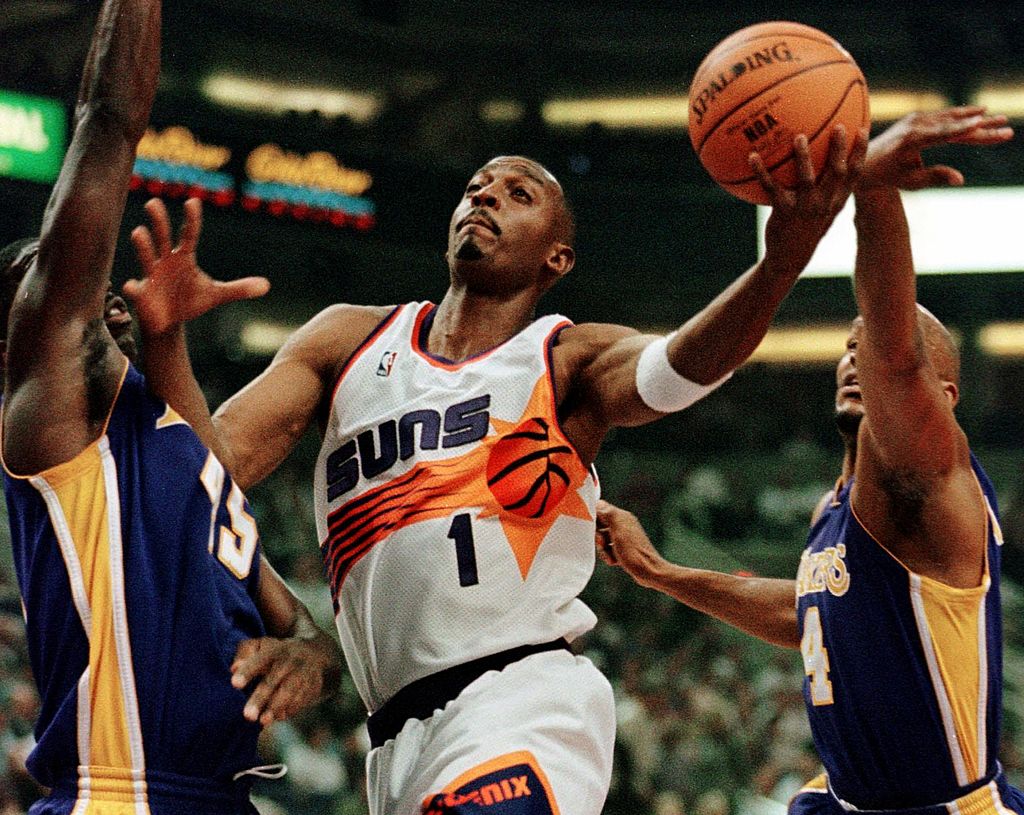 In 1999, Anfernee "Penny" Hardaway opted out of his contract with the Orlando Magic and was intent on leaving. So the team put together a sign-and-trade with the Phoenix Suns, who gave the star guard a seven-year, $86 million deal. But Hardaway experienced injury issues in Phoenix, and it ultimately led to his demise on the court. He averaged just 11.3 points over those seven seasons, splitting time between the Suns and New York Knicks, and playing in an average of just 45 games per year.
3. Amar'e Stoudemire – Knicks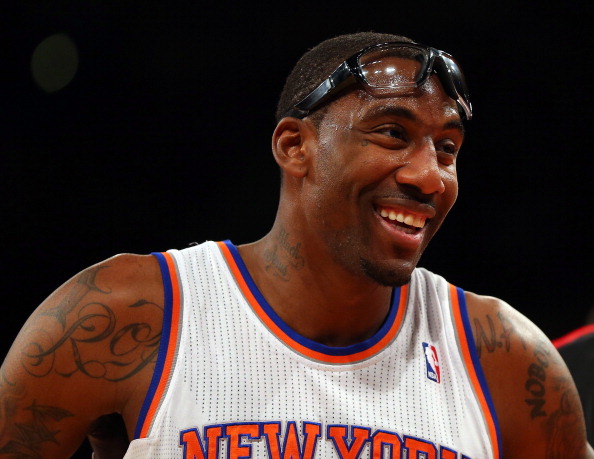 In that fateful summer of 2010, the New York Knicks settled on bringing in Amar'e Stoudemire from the Phoenix Suns when it was clear that they couldn't sign James. Stoudemire got a five-year, $100 million deal with New York, and it was fine for the first season. The big man averaged 25.3 points and 8.2 rebounds in 78 games in 2010–11, but injuries took a toll from there. Over the final four years of the deal, he averaged just 13.4 points and 5.8 rebounds while playing 50 games per season. Stoudemire retired from the NBA at 33 years old.
2. Ben Wallace – Bulls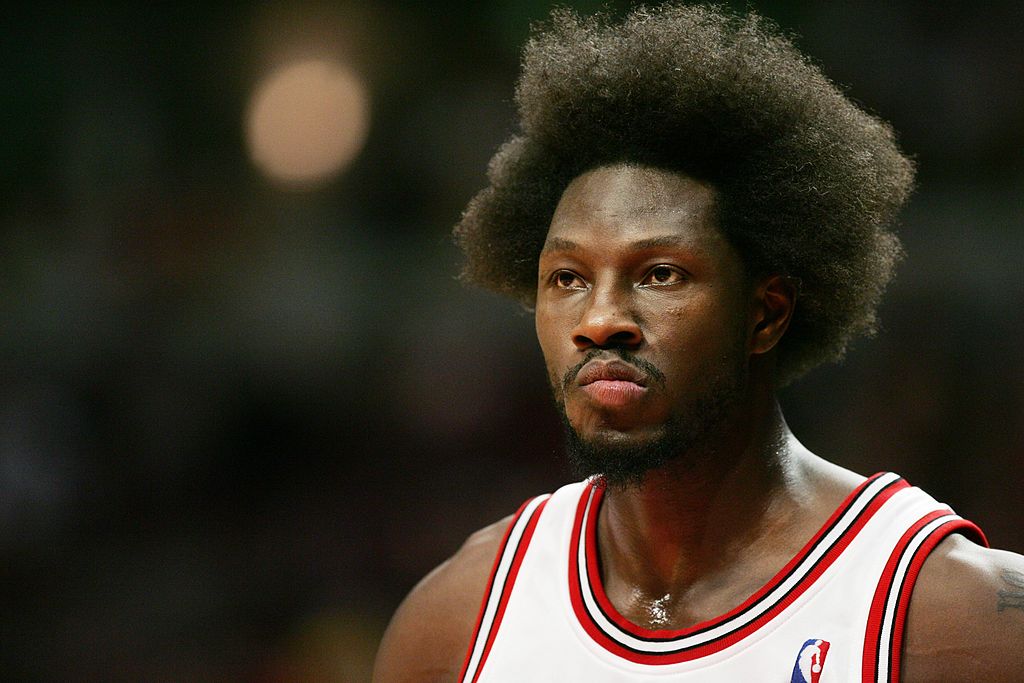 Back in 2006, the Chicago Bulls surprised a lot of people by landing former Detroit Pistons center and NBA champion Ben Wallace on a four-year, $60 million contract. Over the previous four seasons, Wallace had averaged 8.4 points, 12.7 rebounds, and 2.7 blocks as the defensive force of the best team in the Eastern Conference.
The Bulls thought he was the final piece they needed to lead them to glory, but they were wrong. Wallace's defense dropped off quickly. He ended up playing just 127 total games for the Bulls and averaging 5.9 points and 9.9 rebounds. For the investment, the Bulls got just a single playoff series victory in return.
1. Eddy Curry – Knicks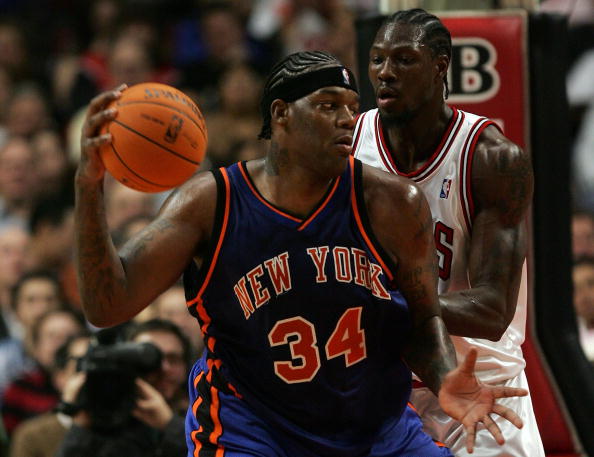 Center Eddy Curry got absolutely paid back in 2005. After a fallout with the Chicago Bulls over a concerning heart condition, the team worked a sign-and-trade with the New York Knicks to land the center a six-year, $56 million contract. But weight and effort issues limited Curry to just 222 total games over six seasons. (He played all but 10 of those games in his first three seasons.) 
Curry averaged 15.2 points, 5.8 rebounds, and 0.6 blocks per game in 28.5 minutes of play in a Knicks uniform. He made his final appearance in an NBA game at the age of 30.
Statistics courtesy of ESPN and Basketball-Reference.