The Biggest Difference Between Khabib Nurmagomedov and Conor McGregor Was Revealed
It's no secret that there's a lot of animosity between Khabib Nurmagomedov and Conor McGregor, but there are a lot of differences, too. Obviously, Nurmagomedov completely dominated McGregor when the two fought, but their differences go beyond fighting. Here's a look at why more people trust Khabib Nurmagomedov's word than they trust Conor McGregor's.
Conor McGregor's tactical retirements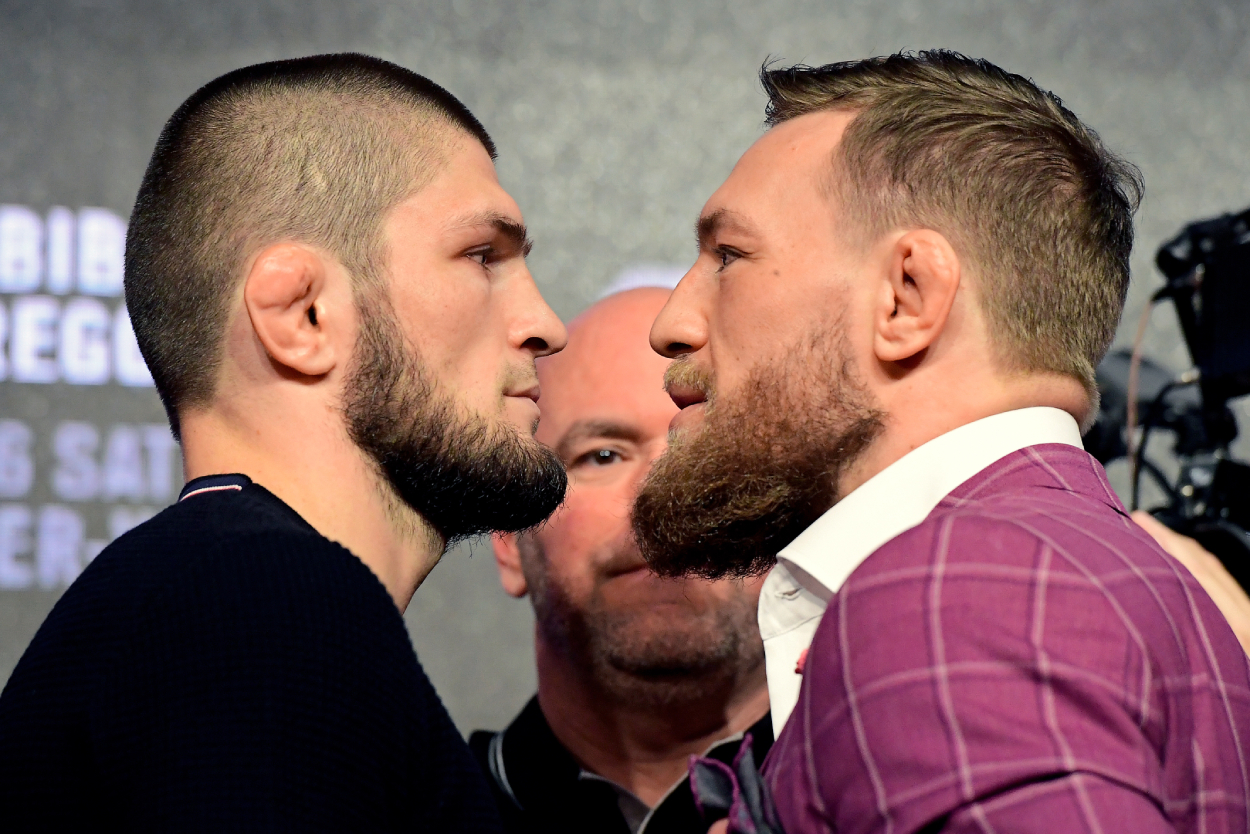 While a few people have beaten McGregor in the octagon, one area where he is undoubtedly at the top of, in terms of his UFC colleagues, is his business acumen. When it comes to getting people to buy tickets or pay-per-views, the UFC doesn't have a star who's as big as McGregor.
Not all of his events sell extremely well, but compared to most other UFC cards, whenever McGregor fights, he and the UFC make a lot of money afterward. 
His business acumen isn't just from selling fights, though. It's also from knowing his worth and knowing how to negotiate with it. That's why McGregor has done several tactical retirements in order to get his way.
The way it works is that by announcing his retirement, McGregor hopes to generate support from his fans and from the media in order to pressure the UFC into giving in to McGregor's wishes. 
That said, McGregor has done this a bit too often. According to Fansided, McGregor has "retired" a total of three times, first in 2016, then in 2019, and again in 2020. He never stayed retired, however, and he always came back to the UFC a few months later.
As a result, not many people trust him when he says that he's retiring, but that isn't the case for his rival, Khabib Nurmagomedov. 
Khabib Nurmagomedov announces his shocking retirement
RELATED: The UFC Refuses to Acknowledge Its Sketchy Connection to Russian Through Khabib Nurmagomedov
After beating Justin Gaethje at UFC 254, Nurmagomedov announced his retirement immediately after the fight, according to ESPN. While this was a shocking moment for fans, it made a lot of sense for Nurmagomedov. In his post-fight interview, Nurmagomedov ultimately said that his decision to retire came down to personal reasons. 
His father, Abdulmanap, has been coaching and training him ever since he was a kid. When Nurmagomedov started fighting professionally, his father was there in his corner giving him instructions and advice. Unfortunately though, Abdulmanap passed away in the summer of 2020 after a fight with COVID-19.
Nurmagomedov's mom didn't want him to fight again without his father by his side, so he promised her that his fight against Gaethje would be his last one. He then said that he was a man of his word, and that's why he's keeping his promise to his mother and retiring on the spot.
Why Khabib Nurmagomedov is probably sticking to his word
RELATED: Khabib Nurmagomedov Doubles Down on Retirement: The Mission Is Accomplished
Like ESPN wrote, it's extremely likely that Nurmagomedov will be like he said, a man of his word. ESPN said that Nurmagomedov "knows that a man is only as strong as his word."
On top of that, just to hammer home how serious Nurmagomedov was about retiring, he also gave some advice in his post-fight speech where he told his fans to spend more time with their parents since they'll never know how much time they'll have together.
Furthermore, this isn't the first time that Nurmagomedov has shown loyalty to his family and friends over the UFC. In fact, after Nurmagomedov's infamous post-fight brawl with McGregor, many people on both teams were suspended and punished by the UFC and by the Nevada State Athletic Commission. 
In response to this, Yahoo Sports said that Nurmagomedov wouldn't fight again until his teammates' suspensions were over. And surely enough, that's what happened. It's this kind of loyalty and honesty that's allowed Nurmagomedov to become as popular as he is today, so few fans think that Nurmagomedov is lying about retiring.