The Biggest Nike Shoe Contract in the NBA Is Unbelievable
Shoes have always been a big part of the NBA. For many years, basketball players wore Converse's Chuck Taylor All Star sneakers. Nike's first basketball sneaker, the Nike Bruin, arrived in 1972. Eventually, Nike would grow larger and come to dominate the NBA shoe universe. Today, the company signs most of the top NBA players to insanely lucrative contracts. Currently, the largest of these contracts is said to be valued at $1 billion.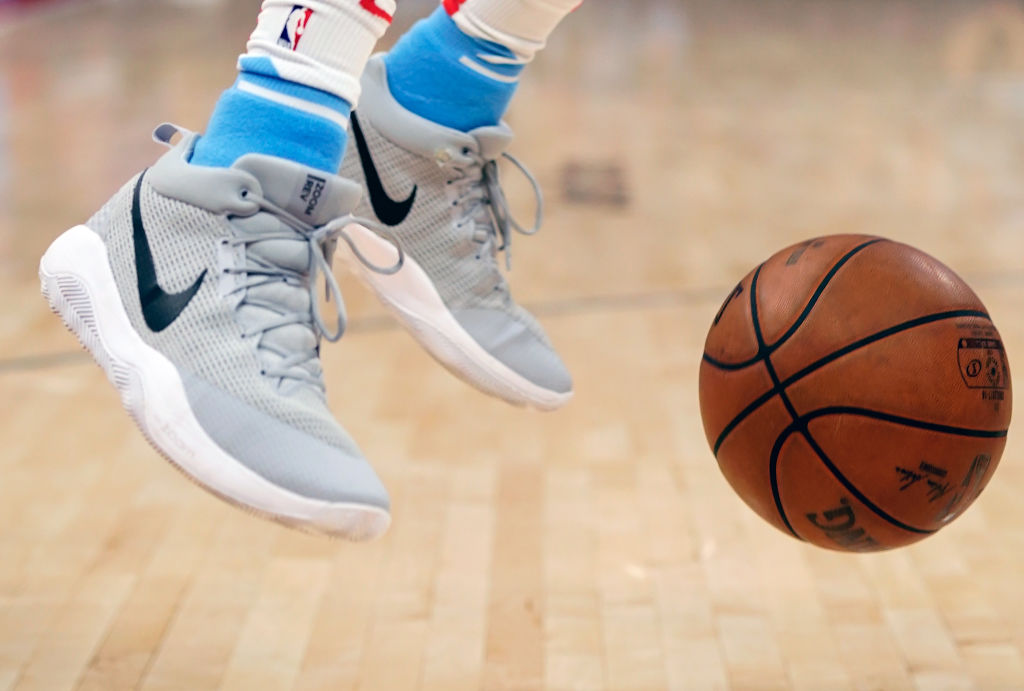 Nike's dominance of the NBA
Other early Nike sneakers included the Nike Blazer (1978) and the Nike Air Force 1 (1982). And then the Nike Air Jordan I was released in 1985. The Nike Air Jordan III was the first design to use the now-famous Jumpman symbol. Michael Jordan is currently the top NBA earner for his Nike sneakers and apparel, now a Nike sub-brand, taking home $130 million a year.
He's not the only one with lucrative endorsements. A sneaker and apparel contract can be an NBA player's best endorsement deal, bring in more than half of their non-salary income. Basketball, along with soccer, is an international sport, so it's worth it for global athletic apparel companies to pay huge amounts to stars they can use in global marketing, especially in China.
According to Forbes, there are currently 14 current and former NBA players making at least $9 million a year from shoe deals. Nine of those are with Nike. Aside from Michael Jordan's huge earnings, LeBron James, Kevin Durant, and Giannis Antetokounmpo have the top three contracts for Nike.
The monetary amounts they receive from their deals are affected by sales, individual awards, and their team's performance. LeBron has by far the biggest deal, one that is worth a mind-bending amount of money. Here's a look at their deals, with estimates compiled by Forbes:
LeBron James
LeBron James' deal with Nike earns him $32 million a year. His total income, including his Nike deal, NBA salary ($36 million), and other endorsements ($21 million), totals to about $89 million per year.
In 2015, he signed a lifetime deal, which his business partner, Maverick Carter, has said will be worth more than $1 billion. His previous deal lasted for seven years and was worth $90 million.
He was chosen in the 2003 NBA Draft and had shoe deal offers from Nike, Adidas, and Reebok. While Reebok made the highest offer, James chose Nike, thinking that the company would be a better long-term choice.
His first signature shoe, the Nike LeBron Air Zoom Generation, was released in 2003. His most recent shoe is the Nike LEBRON XVII, which was released in September 2019.
Kevin Durant
Kevin Durant makes about $26 million per year from his Nike deal. He earns $65.4 million a year, with $30.4 million from his NBA salary and $9 million from other endorsements added to his sneaker income.
According to Durant's business partner, Rich Kleiman, more of the KD shoes are sold in China than in North America. In addition, the KD shoes have had double-digit growth during 2019.
Durant was chosen in the 2007 NBA Draft, and he signed a seven-year deal with Nike, turning down a larger offer from Adidas. His first signature shoe, the Nike KD 1, was released in 2009. He signed a new 10-year deal with Nike in 2014, with the potential of $300 million, plus a $50 million retirement package. His newest shoe, the Nike KD 12, was released in March 2019.
Giannis Antetokounmpo
Giannis Antetokounmpo earns $10 million per year from Nike sneaker sales. He also makes $24.2 million from his NBA salary and $9 million from other endorsements for $43.2 million in total income.
He was drafted in 2013, and his first deal was for only about $20,000 per year. Nike was the only company to make him an offer when he was first drafted.
He then re-signed with Nike in November 2017, and the new deal is an enormous increase. Antetokounmpo is the 22nd basketball player to have a Nike signature sneaker. His first signature shoe, the Nike Air Zoom Freak 1, was just released in June 2019.