The Biggest Reason Why Tim Tebow Didn't Make It in the NFL
Tim Tebow is generally considered an NFL bust, given the gap between his hype and actual on-field performance. The former quarterback entered the NFL with a wave of excitement. Tebow bolstered this with isolated performances seemed like miracles. His humble personality combined with his habit of praying during games made fans even more curious about him.
Tebow leveraged the attention into a healthy post-NFL career. He's even active in the sports world, albeit largely out of the national spotlight. It all comes down to one big flaw in his overall abilities as a QB — something that concerned pundits dating back to his college days.
How Tim Tebow became a national sensation
RELATED: How the Tim Tebow Law Changed Everything for Homeschooled Student-Athletes
There was never a point where Tebow was anything less than controversial. His college resume, in the most low-level terms, was spectacular. He won two championships with the University of Florida Gators. He was the first sophomore to win the Heisman Trophy. His Sports Reference page reveals a kid who threw 3,286 yards for 32 touchdowns and just six interceptions. Yet he always had flaws, and no shortage of critics noticing them.
He even had the patience to try and develop his game further, sticking with the Gators for his fourth year instead of going for the 2010 NFL draft. The Florida Times-Union reported at the time that Tebow had just as many detractors as fans among scouts. His SEC dominance showed a natural talent who lacked many of the fundamental tools required to survive in the NFL.
The flaws in Tebow's game were always there
RELATED: Tim Tebow Started the Keto Diet After Seeing His NFL Teammates Become 'Freaks' of Nature
Once Tebow entered the NFL, his detractors were largely vindicated. Granted, Tebow didn't have much time to develop or prove himself, due to the Denver Broncos leaping on the chance to pick up one Peyton Manning. Tebow spent the 2012 season mostly waiting around on the bench, throwing only eight passes in total.
Bleacher Report broke down his one shining moment shortly after it happened. An overtime 80-yard Hail Mary that swiped victory from the Pittsburgh Steelers in shocking fashion. It's here where Tebow became a sensation outside the NFL faithful and turned into a pop culture phenomenon. It's also, in a roundabout sort of way, a telling moment that was largely passed over.
Tebow, as starting QB, wasn't closing out games until well past the last minute. This was his third OT win of the season. It implied an offense just barely holding on, and the miracles couldn't last forever. There was little reason to keep Tebow on board, despite the hype. His NFL career petered out in fits and starts from there, until a total lack of regular season playing time called curtains on the whole thing in 2015.
Tebow's Achilles heel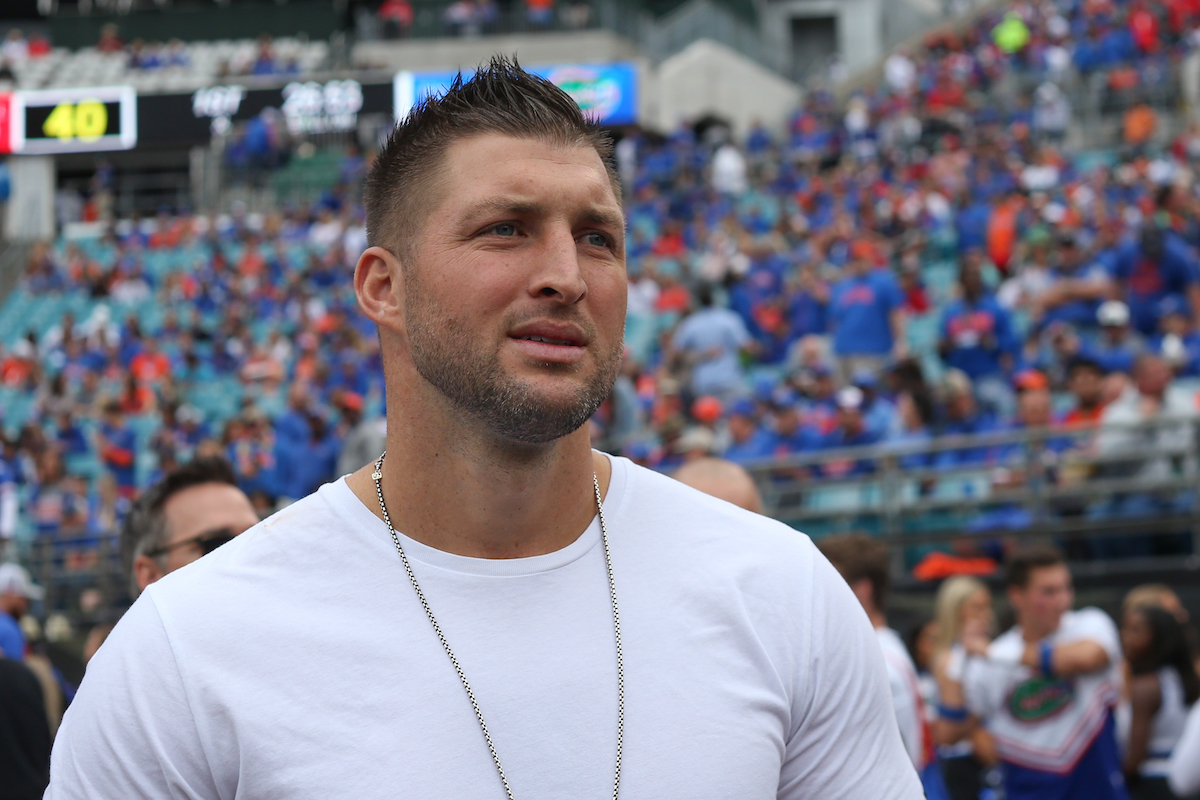 How They Play recently dissected the many flaws of Tebow's skill set. Most are a combination of the physical and mental, in particular his inaccurate arm. He was unable to make on-the-fly changes to his approach. The Jets immediately gave him a vote of no confidence as a "real" QB, instead using him to run the ball.
His truest failing is a fundamental one. As in, literally the fundamentals. His athleticism and all-in attitude made him overwhelm opponents at the college level. But in the NFL, he was unable to work with the complex offenses required to seal off games. When luck wasn't on Tebow's side, he brought the offense down with him — unless it happened to be a situation where a simplistic play was the right call.
Tebow's enduring presence outside the NFL
Today, Tebow is still in pro sports. He plays in the New York Mets' farm system, serving as a competent AAA player. He deserves credit for being legitimately solid at the game, capable of working his way up to the highest level before the majors. But he has been slow to improve beyond that level, where he most likely found his limit once more.
He also works as broadcasting, as Deadline reports. He's a regular on ESPN's college football programming when he isn't playing baseball. He even earned a multi-year contract extension with the network, a vote of confidence in his natural skills as an interviewer and a play-by-play analyst.