The Biggest Scandals in College Football History
The college football world is no stranger to scandal. Sure, there have been plenty of coach firings and player suspensions. But there are some events so dastardly — from illegal gambling to violence and assault — they leave a heinous legacy behind. Here's a look at 14 of the biggest scandals to shake the college football world. (And check out page 15 to see what could potentially be the next big scandal to shake up the CFB realm.)
The Syracuse violations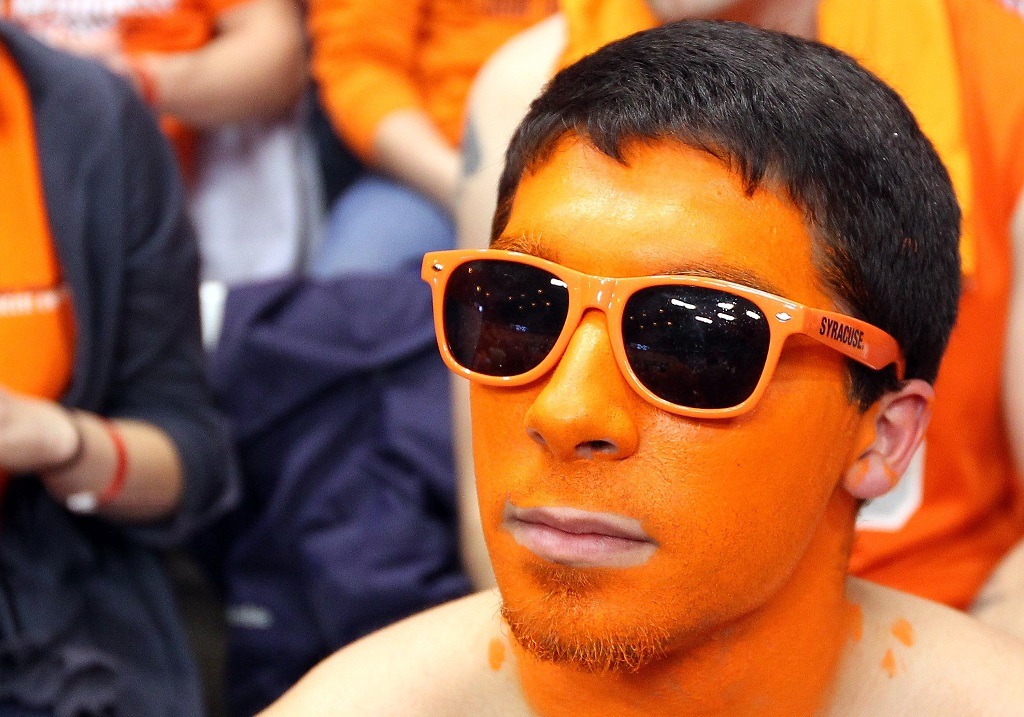 The NCAA came down hard on Syracuse athletics in 2015, following a 94-page report revealing the Orange had made serious violations of the NCAA's academic and drug policies. While the bulk of the penalties affected the men's basketball team, Syracuse's football team was stripped of victories from 2005-2006. (Although that only accounted for five wins under coach Greg Robinson, who is considered one of the worst coaches in the sport's history.)
Next: Speaking of unsuccessful coaching endeavors …
The George O'Leary hiring at Notre Dame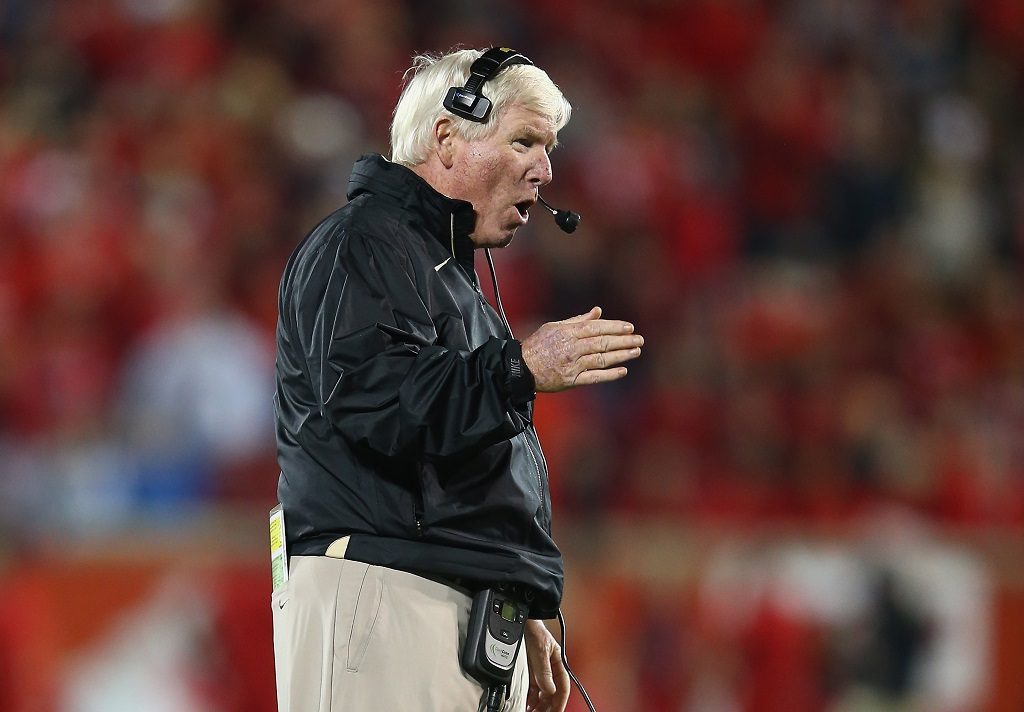 There's only a handful of college football hires who never made it to coaching their first game. The worst of all of them is, hand's down, when Notre Dame hired George O'Leary in December 2001. Just a couple days after the hiring, the Fighting Irish learned O'Leary had falsified parts of his resume. He claimed to have lettered multiple times at the University of New Hampshire — former coaches and players didn't remember him playing there — and to have earned a masters degree at NYU — which he had not. O'Leary was confronted by the school and forced to resign just five days after being hired.
Next: Money for nothing?
Cam Newton's dad tied to big money deal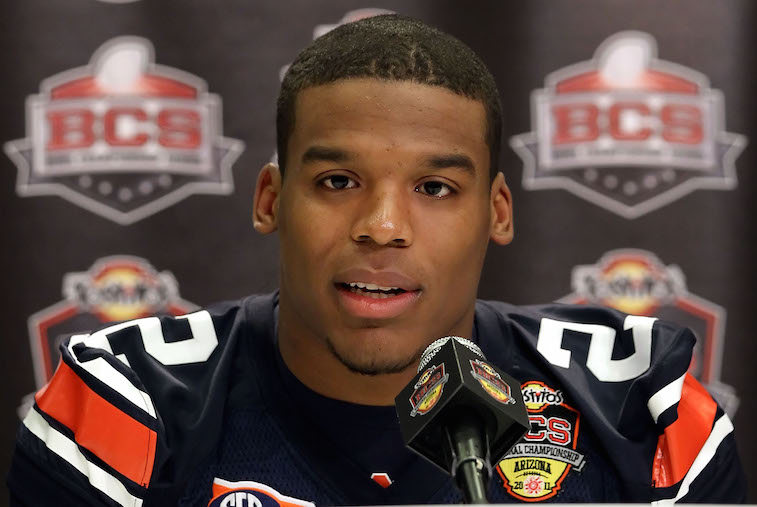 Unlike most other scandals on the list, the following event hasn't overshadowed the rest of Cam Newton's life. (Or playing career, for that matter.) But he was still feeling the heat during the 2010 season during an investigation into reports his father, Cecil Newton, allegedly sought between $120,000 and $180,000 for Cam to sign with Mississippi State. Newton was deemed ineligible to play twice while QBing at Auburn, but became eligible for both games and was later cleared of any wrongdoing.
Next: But not everyone gets cleared of their wrongdoing …
Bobby Petrino's downward spiral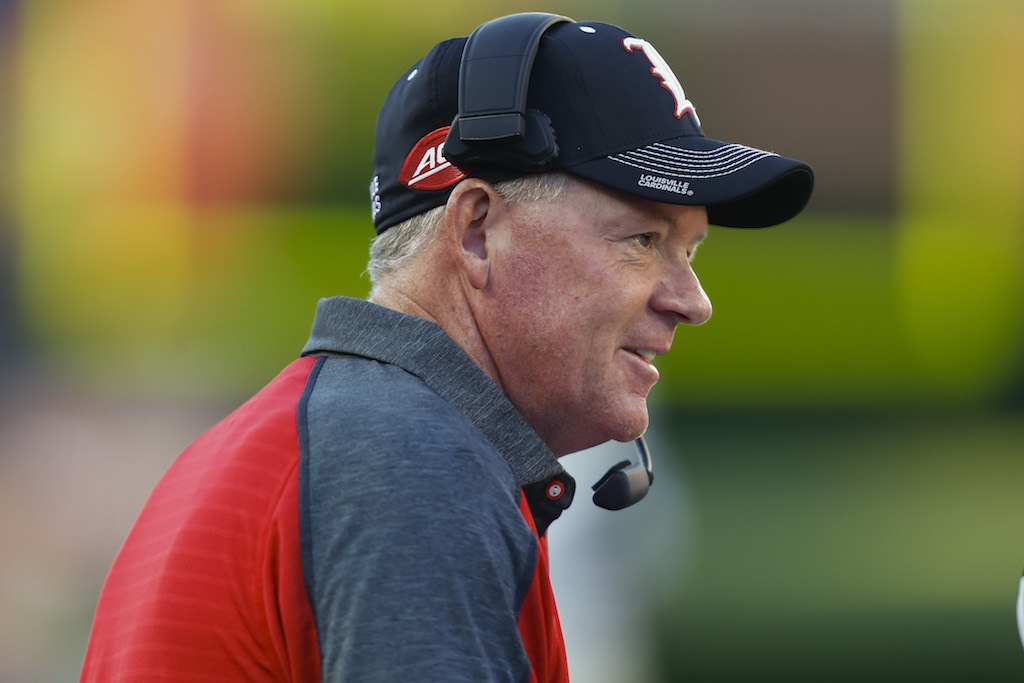 Arkansas football was a force to be reckoned with when Bobby Petrino was calling the plays. But while he was the picture of success on the gridiron, the married father of four was having an affair with a 25-year-old — who he also put on the Razorback's support staff. The affair became public in 2012 after Petrino lied about the woman being with him when he was involved in a highly-publicised motorcycle crash. Petrino lied about the affair even as the facts began to surface, and the embarrassment eventually led the athletic department to fire him.
Next: Down in Florida …
FSU academic fiasco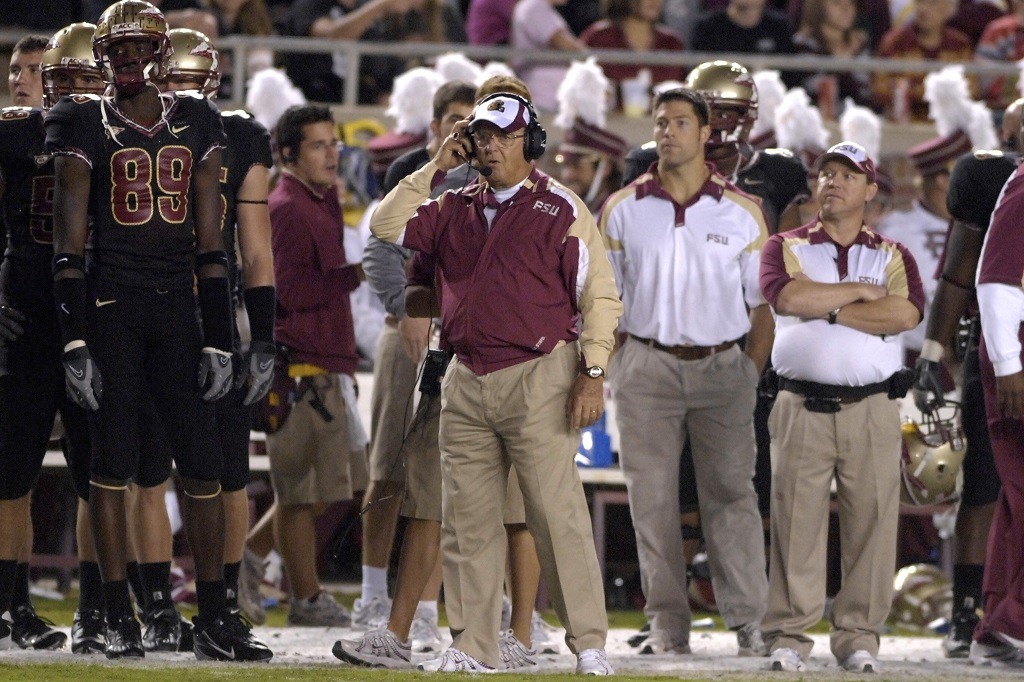 Multiple teams have been accused of cheating over college football's history. But not all instances involve actions on the field of play. Enter, Florida State University circa 2007. The school came under massive fire for committing academic fraud and 61 student-athletes were implicated — most of them from the football team. A total 23 Seminoles were ineligible to play during Bowl Season and twelve wins involving those players were stripped from coach Bobby Bowden's record. FSU was placed on four-year probation, and Bowden was pushed to retire.
Next: And if you thought that was bad …
The Death Penalty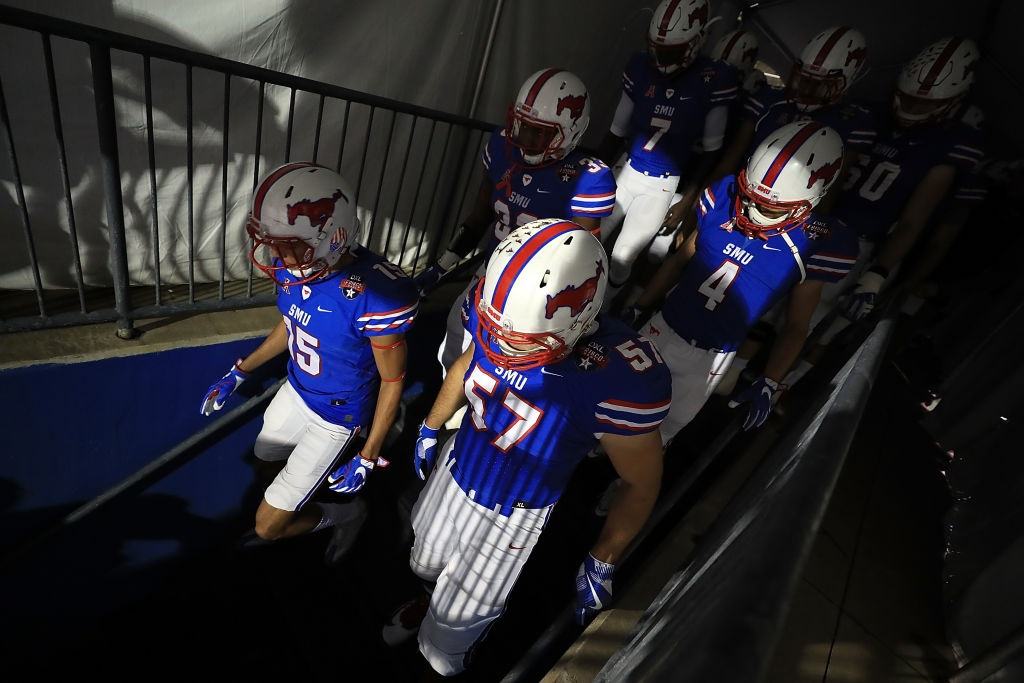 When the SMU Mustangs were busted for paying their players in 1987, it quickly became evident members of the team had been receiving monetary compensation for years. (Whether players were receiving kickbacks before recruiter-turned-coach Ron Meyer showed up there a decade earlier is a whole other story.) The NCAA responded by issuing "The Death Penalty" — a massive punishment for repeat offenders. SMU was stripped of its 1987 record and forced to forfeit its 1988 season. The incident is recognized as a turning point in how the NCAA deals with student-athletes being paid.
Next: Not everyone used money to recruit players …
Gary Barnett and the Colorado Buffaloes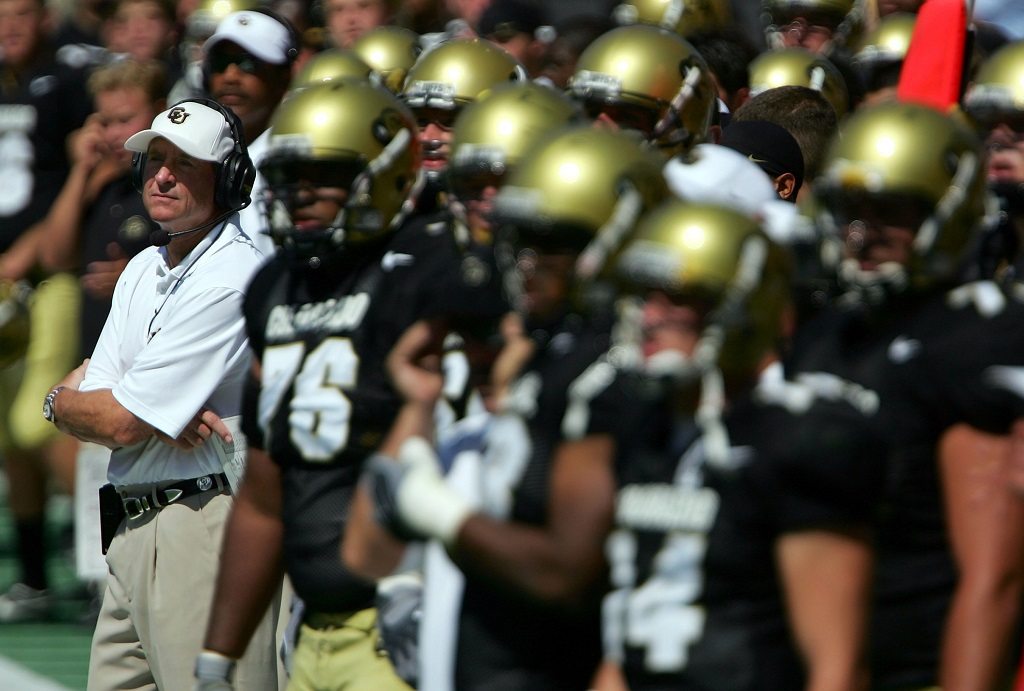 Colorado didn't use money to recruit players in the early 2000s. Instead, they were promised relaxed supervision under coach Gary Barnett. There were reports of drug and alcohol use while Barnett was in charge and allegedly strippers were hired for recruiting parties. There were six rape allegations that were swept under the rug while Barnett was in command, including accusations made by female placekicker Katie Hnida. Barnett was placed on administrative leave after the allegations surfaced, though he was eventually forced out of his job a year-and-a-half later. The football program, by the way, hasn't rebounded since.
Next: More coaches allowing bad behavior …
Oklahoma Sooners — and guns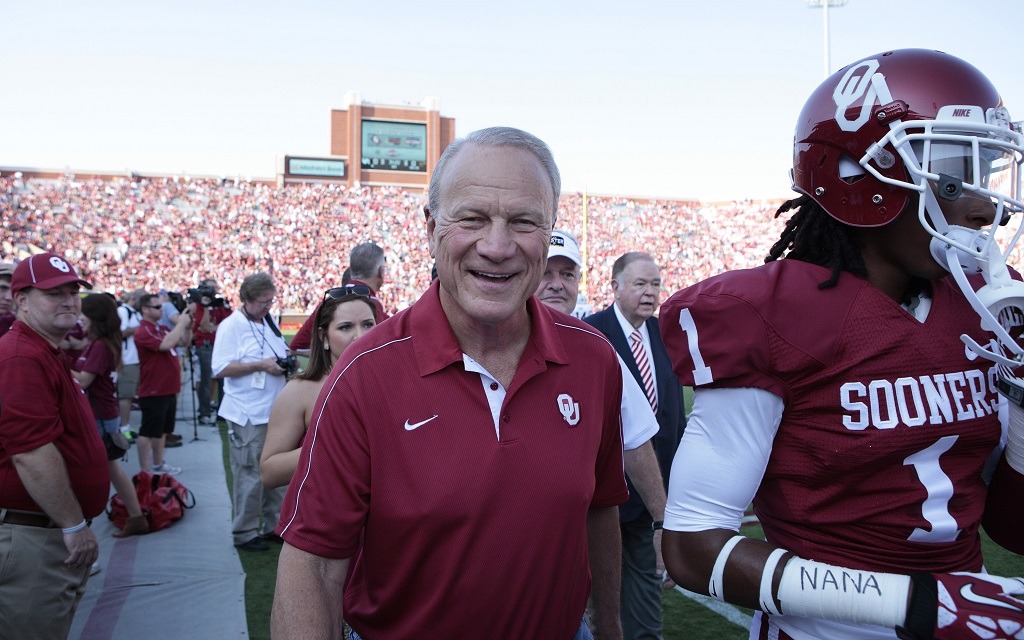 First, former Sooners player Brian Bosworth wrote a book detailing football players used cocaine and fired guns in the dormitory while coach Barry Switzer was in charge. Switzer responded by saying the stories were sensationalized. Then in early 1989, five Sooners were charged with felonies — one player for shooting another player with a gun, one player for cocaine possession, and three players for first-degree rape. Switzer resigned just a few months into the scandal but continued to insist he'd done nothing wrong… That is, until he gave an interview with USA Today in 2014 where he claimed he covered up "minor" infractions for some of the football players.
Next: More college kids with guns …
ASU's Loren Wade goes to prison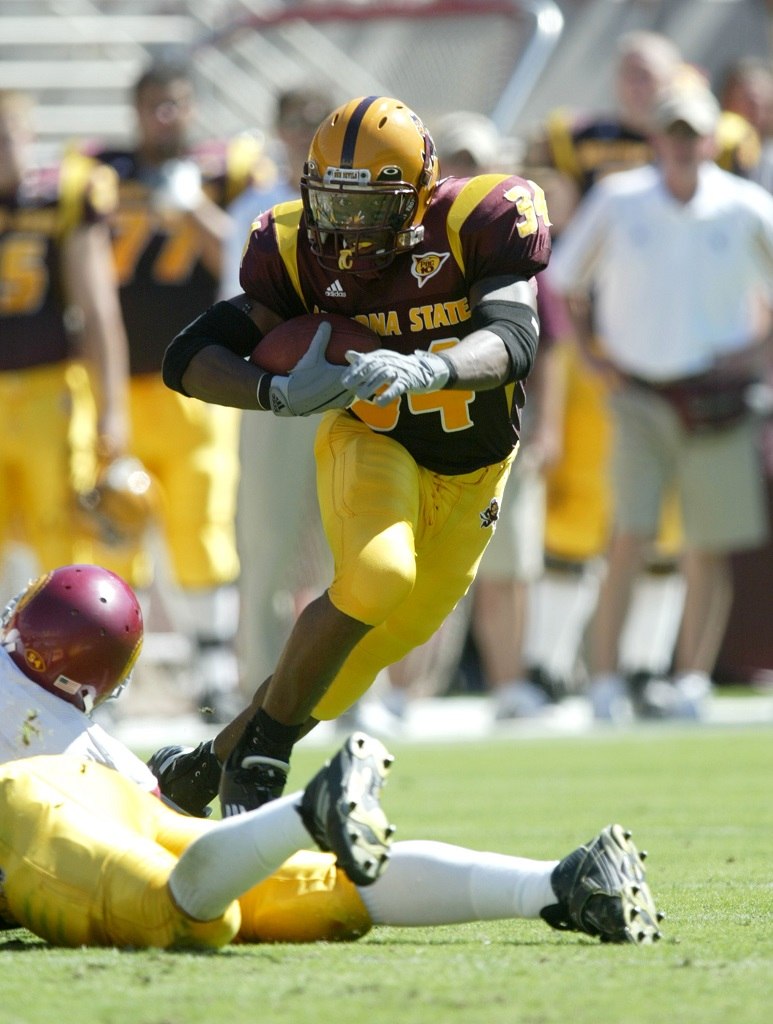 This incident may not have gotten a college coach or whole program into trouble. But it sure as heck cast a dark cloud over the Sun Devils. Tailback Loren Wade, a junior, had already been accused of threatening two female athletes — one of which had been his girlfriend — and of possibly carrying a firearm. Then in spring 2005, Wade shot and killed former Sun Devils player Brandon Falkner in the parking lot of a Scottsdale nightclub. Wade is currently serving a 20-year jail sentence for killing Falkner.
Next: More money more problems …
Nevin Shapiro and The U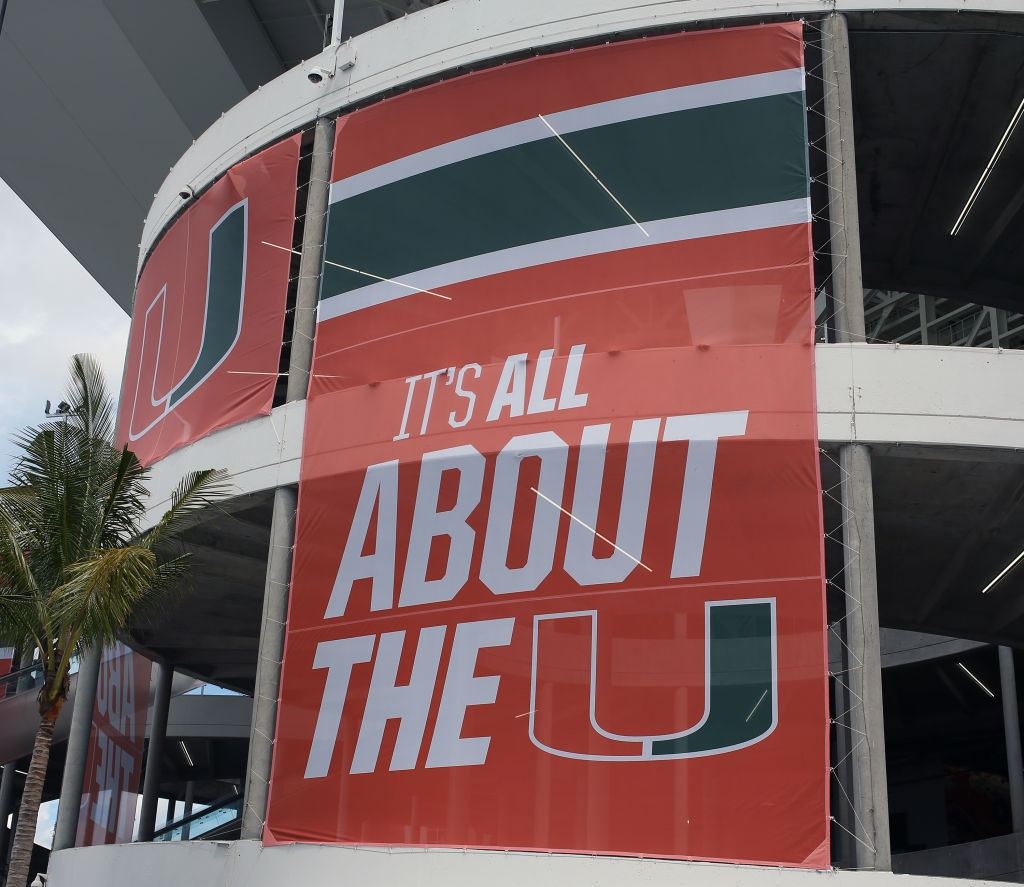 Ponzi scheme extraordinaire Nevin Shapiro filtered boatloads of money and impermissible gifts to at least 72 student-athletes on the University of Miami football team from 2002-2010. During the 11-month investigation into his $930 million operation, Shapiro revealed to Yahoo! Sports he had supplied players with cars and planned nightclub outings and sex parties. He even reportedly paid for one woman to get an abortion after a player got her pregnant. Miami was placed on three-years probation in light of the scandal, while Shapiro is currently serving a 20-year jail sentence.
Next: A program's — and a player's — fall from grace …
USC and the Reggie Bush debacle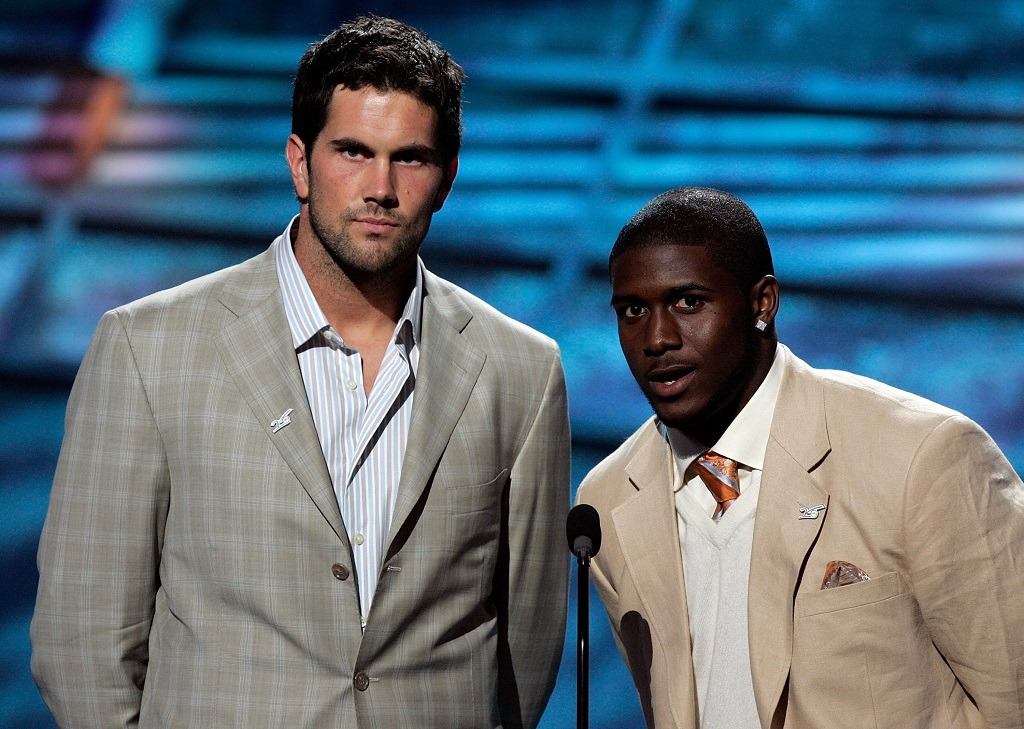 Remember Reggie Bush? The college football running back who won the Heisman Trophy in 2006? The USC Trojans wish they didn't, given the trouble he got them into. Just a few months after winning college football's most coveted award, reports began to swirl Bush had received hundreds of thousands of dollars in gifts and benefits while he was a student-athlete. After the investigation into the claims concluded in 2010, Bush had to turn his Heisman over. USC had to vacate all wins 2004-2005, including a BCS title, and was placed on a four-year probation period with a two-year ban from post-season play. It took years for the Trojans to rebuild their football program, and Bush's professional career has been fairly forgettable.
Next: Tattoo U …
Tattoo-Gate at Ohio State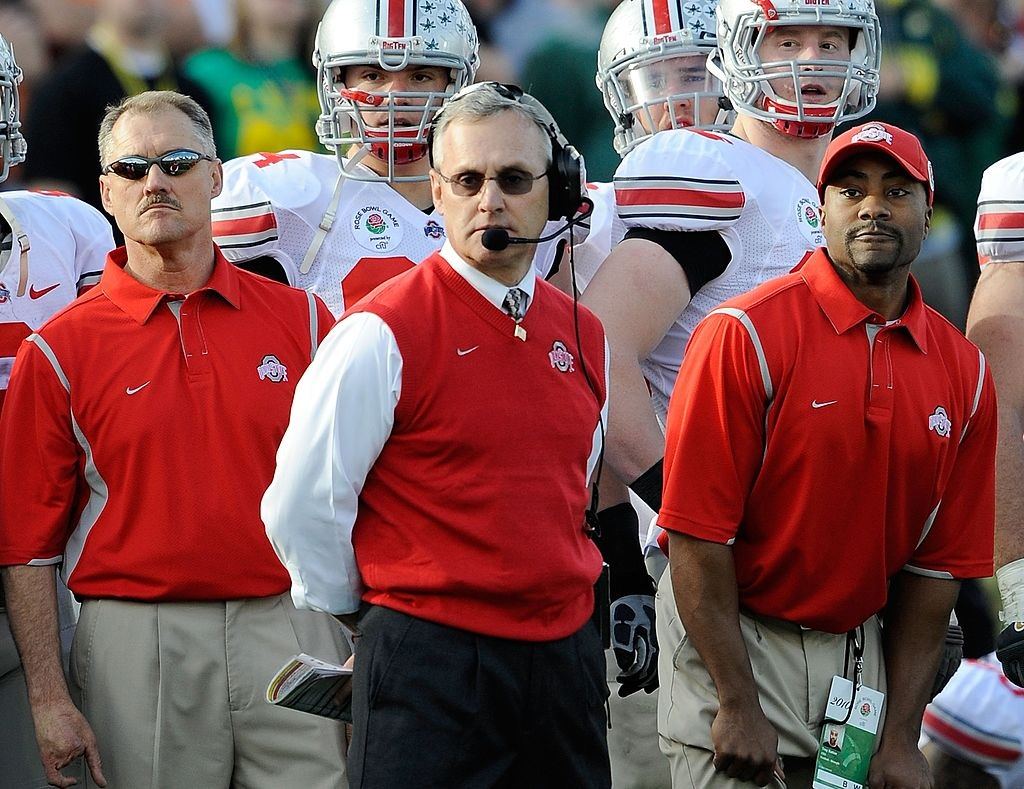 Long story short: Six players on the Buckeyes football team were suspended for part of the 2011 season after being caught selling championship memorabilia in exchange for tattoos. To make matters worse, head coach Jim Tressel admitted that he knew what the players were doing, and looked the other way. Tressel was originally suspended for two games and fined in March 2011, but he resigned shortly thereafter. Then, the NCAA put a five-year penalty on Tressel so he couldn't coach college football until 2016. Ohio State rebounded from the drama — well, more on that on page 15 — but Tressel hasn't been heard from since.
Next: This heinous crime is still under investigation …
The Baylor sexual assault cases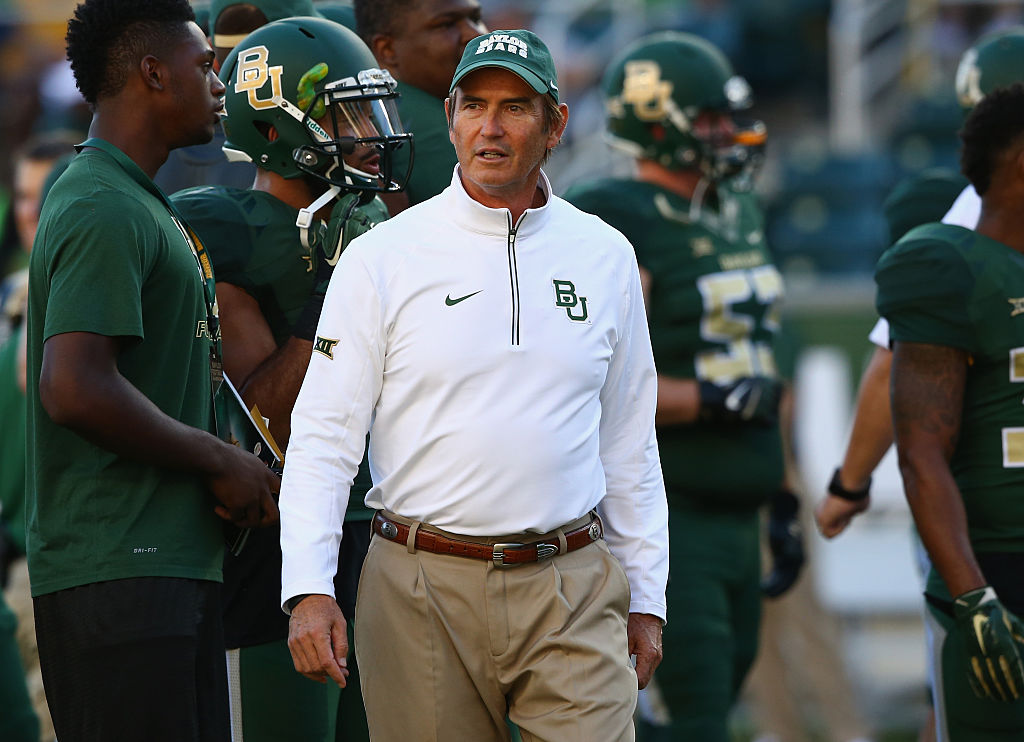 In 2015, a firm hired by Baylor University uncovered evidence that members of the athletic department had hindered investigations into rape and assault allegations made towards the football team. The New York Times reported that at least 31 players were allegedly involved in at least 52 rape cases between 2011 and 2014, according to a report by the lawyer representing the victims. Head coach Art Briles was fired and many other members of the athletic department were forced to resign in light of the allegations. Many recruits turned their backs on the school as a result of the ongoing scandal.
Although many of the cases have since been settled, a group of Jane Doe clients is reportedly pushing to be heard in court. For the time being, Baylor's problems aren't over.
Next: Before Baylor, there was …
Jerry Sandusky, Joe Paterno, and Penn State
In June 2012, Penn State assistant coach Jerry Sandusky was found guilty on 45 counts of child sexual abuse, following allegations he had been abusing young boys from his charity organization, The Second Mile, over a 15-year period. Later it was revealed Nittany Lions head coach Joe Paterno may have known about Sandusky's despicable behavior as far back as 1976 — and did nothing about it. Paterno abruptly resigned amid the scandal and passed away just a few months later. While he still holds the record for second-most wins by a college football coach, Paterno's name can't be mentioned without the scandal that marred the end of his life coming up.
Sandusky is now serving a life sentence in prison.
Next: Jumping to present day …
Urban Meyer — the next big scandal?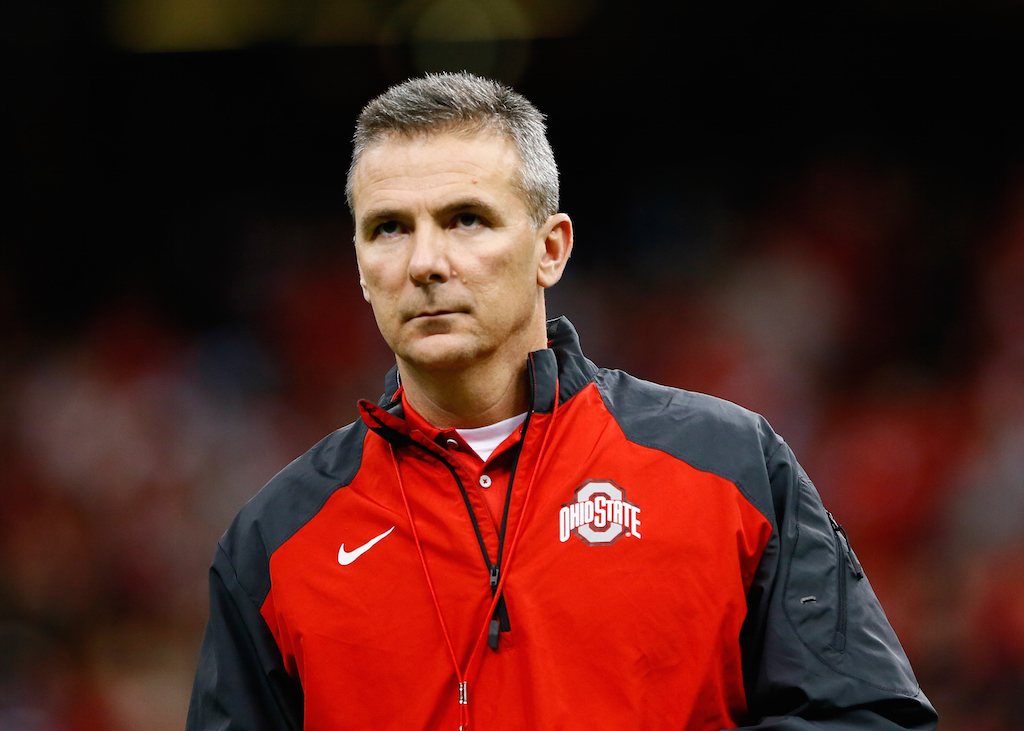 One second, Urban Meyer's Ohio State Buckeyes were being called the team to beat ahead of the next college football season. The next, the team was making headlines because of scandal. Ohio State wide receivers coach Zach Smith was fired in summer 2018 after his ex-wife Courtney issued a protective order against him. The matter brought to light years of domestic abuse by Smith, which his wife had made known to several other coach's wives, including Shelley Meyer. In a press conference, Urban Meyer said he knew nothing about Zach Smith's violent past. But evidence is beginning to emerge that Meyer, one of the most high-profile coaches in the country, may have known about his assistant coach's abusive behavior. And not only did he do nothing, but he lied about it too.
The matter is still on-going. Meyer was suspended for the first three games of the college football season, and many outlets have continued calling for him to be fired. (If Jim Tressel was pushed out for Tattoo-Gate, why should Meyer still have a job?) This event is still an ongoing story. But it's quickly becoming the next big scandal in college football history.