The Bills Got a Major $15 Million Bargain in DT Vernon Butler
Buffalo was the NFL's feel-good story of 2019. The Bills put on a show with a 10-6 finish, rewarding their devoted fans with a season demonstrating a team trending up. But the offseason brought an alarming change: breakout defensive tackle Jordan Phillips became too expensive to keep. The Bills snagged Vernon Butler from the Panthers at a much lower cost.
Is this defensive tackle enough to make up for the huge hole in the defensive line left by Phillips, now with the Arizona Cardinals?
What the Bills lost with Jordan Phillips' exit
The Miami Dolphins should've won big when they picked Phillips deep into round two of the 2015 draft. He started off slow, which is not uncommon for even the strongest players at DT. Their impatience paid off instead for the Bills, who claimed Phillips off waivers in 2018. His eventual 2019 breakout was more than worth it.
While some of his inconsistency was still on display in 2019, his renewed focus seemed to erase his faults. His best game was a brutal domination of Tennessee Titans quarterback Marcus Mariota. Phillips dragged Mariota to the ground three times, leaving Bills QB Josh Allen the space to win the game with two touchdown passes.
CBS Sports tracked Phillips' sacks at 9.5 for 2019, easily the bulk of the 15 total across his entire NFL career. This was a disproportionate payout for the Bills compared to the one-year, $4.5 million deal that got Phillips on board. The Cardinals had the cash on hand to tie down Phillips for three years, with his 2019 drastically increasing the undisclosed total he is now due.
How Vernon Butler holds up to the precedent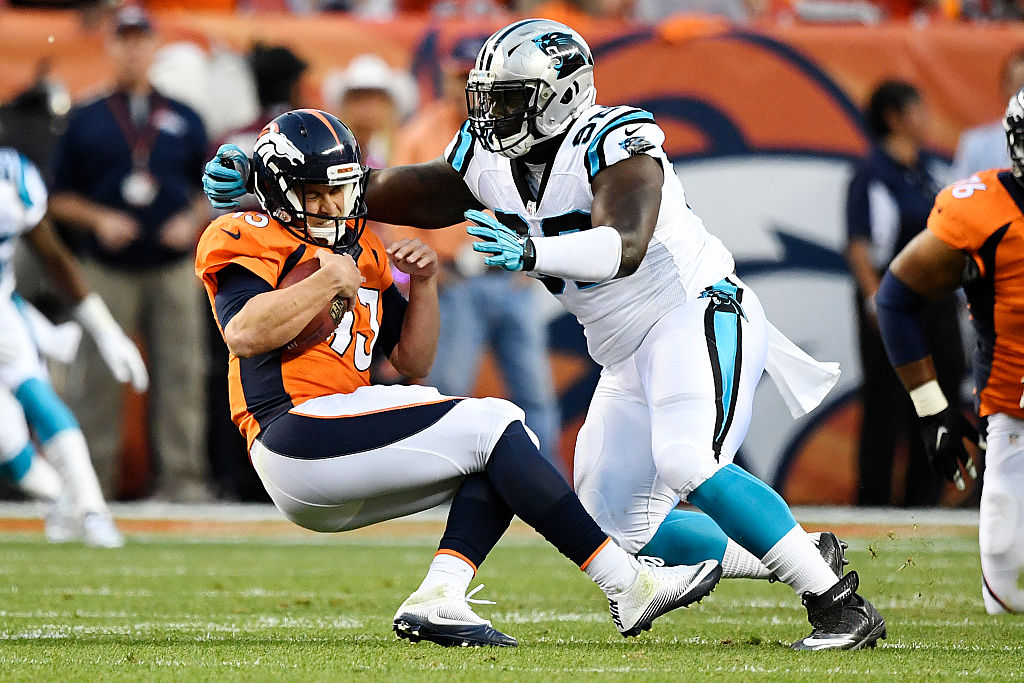 Bills fans have every reason to think that losing a defensive tackle who doubled four years of sacks in a single year could be a problem. Phillips' replacement, Butler, hasn't had such a huge moment in his career yet. Butler's strong 2019 is a step behind what Phillips turned in.
His main flaw was simply not getting enough playing time. It took two injuries in front of Butler to finally get his moment in 2019. And he answered the call, with five sacks and 25 tackles, reports Panthers Wire. This should've definitively proved his worth to the Panthers.
But the realities of cap space sent Butler in a different direction. His explosive improvement in 2019 wasn't enough for Carolina to hold on to him for the 2020 season. After his release, the Bills leapt at the chance to grab Butler as Buffalo faced a big hole where Phillips once was.
Why Butler is due for a breakout season
Both Phillips and Butler came up big in 2019. Phillips was on another level altogether, though. Is it possible that Butler can keep up?
In a sense, he already has. Sports Info Solutions pins Phillips' tackle miss rate at 12.1%, while Butler turned in an incredible 3%. The sacks obviously swing games much harder, but Butler's major advantage here points to a rapidly maturing player. And the Bills acquired him at a much lower cost.
This might be one of the best moves of the offseason — even if Butler simply turns in a repeat of his 2019 performance. It's one of several eyebrow-raising moves in Buffalo's favor. The Bills have long suffered from small-market woes. With the 2019 season's momentum behind them, however, they seem to be leveraging that success into a strong run for 2020.