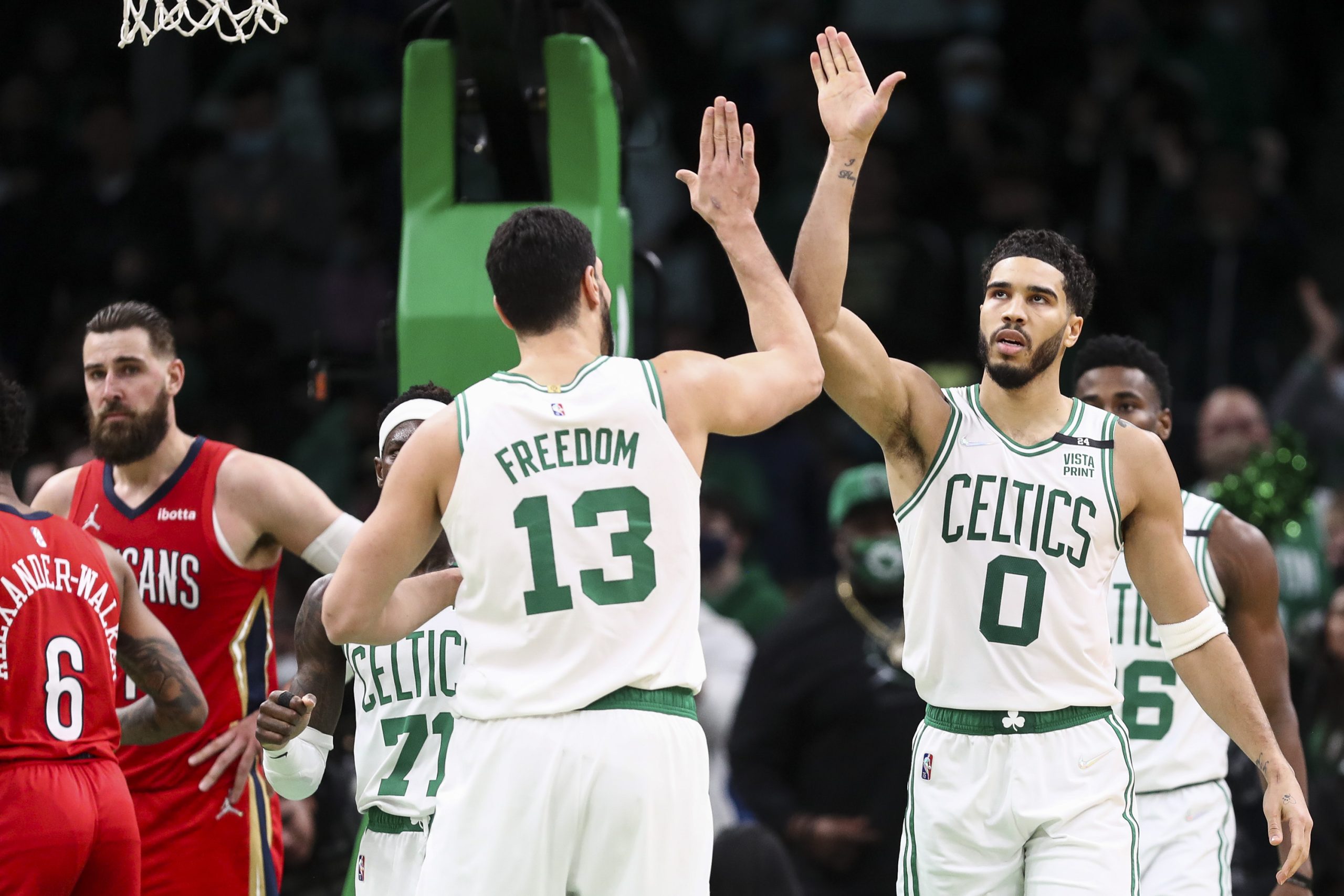 The Boston Celtics Find Themselves in the Thick of NBA Trade Talk: 'His Phone Is Ringing Off the Hook'
The Boston Celtics have won five of their last six games but are 23-22. Should they be they buyers or sellers at the NBA trade deadline?
The Boston Celtics might be the most intriguing team when it comes to the NBA trade deadline. Are they sellers or buyers? Will they build around Jayson Tatum and Jaylen Brown or will they break up the duo? The team has underachieved all season but now has won five of its last six games to get back above .500. It's unknown exactly what Brad Stevens will do in his first year as president of basketball operations, but we do know he's been a busy man.
What's in store for the Boston Celtics as the NBA trade deadline approaches?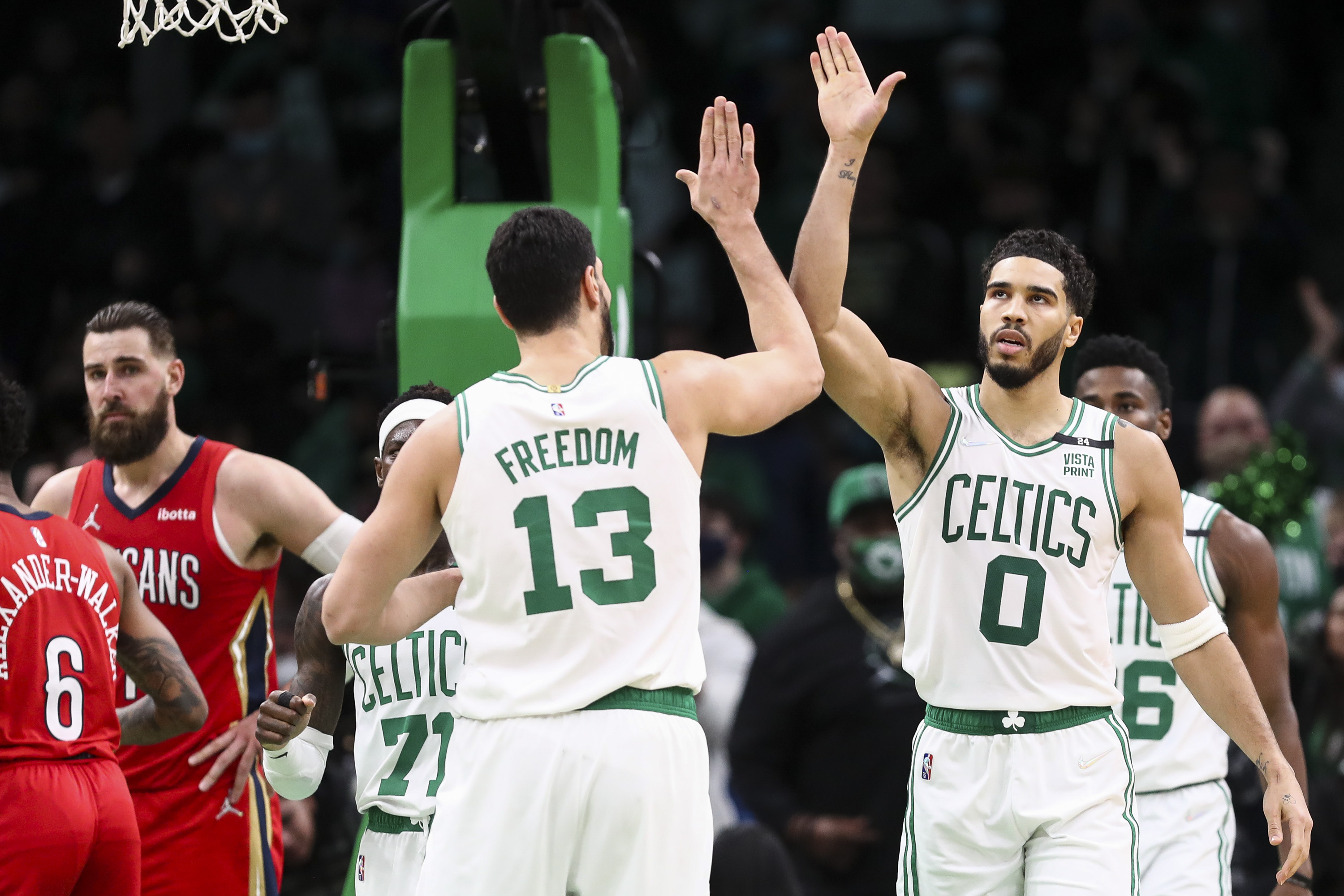 Stevens is in the first year of his new role with the Celtics, taking over for Danny Ainge, who resigned in the offseason. Stevens coached the Celtics to a 36-36 record a year ago, and now he's watched his team hover around the .500 mark all season this year. With two All-Stars in Tatum and Brown, the Celtics should be well beyond mediocre.
What does Boston do? How long can they stay patient with this tandem?
By all accounts, Stevens has no plans to break up Tatum and Brown.
"At the end of the day, I think they're by far the least of my concerns," Stevens told The Athletic. "I've talked about this a ton, they are 23 and 25 and they are carrying new burdens. The burdens that really began last year and just continue to increase and that you just have to get used to as the best players in the building."
Stevens said judging the two off these last two seasons alone is unfair. They took the team to the Eastern Conference Finals in 2020.
"So if you look at it kind of in totality of what those guys have done in their first five years and six years in the NBA, I think that there's a reason to just take a step back and just remember how unique and good they are, and continue to try to find our best way as a group to help complement them," he said. 
Brad Stevens has been a busy man lately as the Boston Celtics try to figure out themselves
It's been quite the roller-coaster ride for the Celtics this year. They are finally on an upswing after winning five of their last six games. Despite the recent success, they still find themselves on the fence of becoming buyers and sellers. No matter what Stevens decides to do, he'll be one busy man through the Feb. 10 trade deadline.
He and first-year coach Ime Udoka will be going through this process for the first time together. On Tuesday, Udoka said he and Stevens are always talking and their phones are constantly buzzing.
"His phone is ringing off the hook and vice versa," Udoka said, per Mass Live. "So you're not going to obviously talk about everything that teams talk about. Some things that aren't realistic but anything that's starting to possibly have an impact, obviously, we'll talk about it and run through some things."
Udoka said after Monday's come-from-behind win over the New Orleans Pelicans, Stevens was non-stop on the phone. For now, trade talk can be pretty far-fetched. As the deadline nears, talks will become more realistic.
"He took probably 10 phone calls after our game (Monday)," Udoka said. "And so those things we don't always talk about, nothing realistic."
The Celtics are likely to be small players at the NBA trade deadline
Without dealing Tatum or Brown, it will be difficult for the Celtics to make a splash at the trade deadline. Outside of those two, there aren't a whole lot of appealing assets on the Celtics' roster — at least none the Celtics want to move.
"Marcus Smart, some of the young players on the roster, the second- or third-year guards and forwards, I think they are seeing what the value for those players is out there, Josh Richardson, Dennis Schroder. I think those are all players available in the marketplace," Insider Adrian Wojnarowski said on ESPN's NBA Today on Monday. "They still want to find another playmaker, wing player to complement the two All-Star forwards."
Center Robert Williams appears to be one of those players the team would prefer not to move.
Getting a solid playmaker for Richardson or Schroder will be tough, so Stevens may have to get creative and sweeten the pot.
Despite the trade talk, Udoka said his players aren't fazed by hearing their names floating around the rumor mill.
"A lot of them have been around and it's part of the deal," Udoka said. "You gotta stay focused on what you can control. As I've mentioned last week, 90-95 percent of the stuff that you hear doesn't happen and I think a lot of our guys, being some veteran guys, have probably heard their names before. So it's nothing new as far as that."