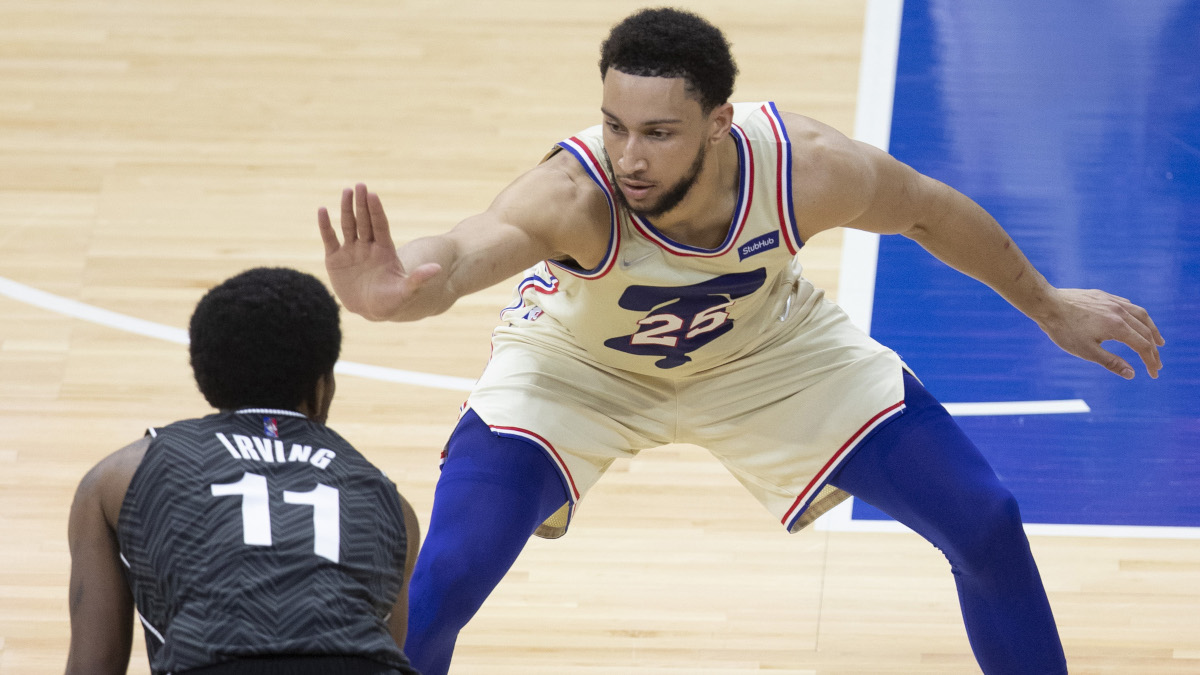 The Brooklyn Nets Shed a Potentially Catastrophic James Harden Contract on a Ben Simmons Gamble
James Harden was leaving the Brooklyn Nets one way or another. By trading The Beard for Ben Simmons, Brooklyn is betting on its player development system.
It was definitely happening. Unless it absolutely was not happening. In the end, the Brooklyn Nets traded James Harden to the Philadelphia 76ers for Ben Simmons. Much like his tenure in Houston, Harden's time in Brooklyn ended with a pout and a grand exit. But putting aside the personalities, this trade represents a choice.
Did they want the mercurial Harden, who would either leave in July or demand a contract that will pay him $61.4 million when he's 37 years old? Or did they want the enigma that is Simmons, who quit on the 76ers and left $20 million on the table?
Now that they've chosen Simmons, we can examine what could have been and what's to come for the Nets.
The Nets avoid a financial black hole with James Harden
James Harden was a durable superstar for eight seasons with the Houston Rockets as any in the NBA. From 2012–20, he missed 33 games. He won three scoring titles during that run, made eight straight All-Star games, earned seven All-NBA nods — six of those on the first team, and was the NBA MVP in 2017–18.
That's already a Hall of Fame resume. Whether you love or loathe his playing style, he earned his place on the NBA's 75th-anniversary team.
But when he decided he was through in Houston, Harden didn't handle himself well. He loafed through games, he appeared to be in less than tip-top shape, and he gave the appearance of a player who had already cleaned out his locker.
Traded to the Nets on Jan. 13, 2021, he missed 20 regular-season and three playoff games with an injured right hamstring. It was the first significant injury of his career.
Then he checked out again. He didn't play five of his final seven games with Brooklyn because of tightness in his left hamstring. His last appearance as a Nets was embarrassingly bad; four points on 2-of-11 shooting in 37 minutes. Thanks for the six turnovers, though, in a double-digit loss to the Sacramento Kings.
Now Harden is a 76er, and Ben Simmons is in Brooklyn.
The Beard held a $47.4 million option for next season that he exercised as part of the trade. He's likely to sign a four-year, $222.8 million extension this summer, bringing Philadelphia's commitment to five seasons and $270.2 million.
For a player that quit on two teams in 13 months on his current max contract, that's a risk the Nets were not willing to take. Not that the deal is risk-free.
Ben Simmons represents a different — and yet also similar — risk
Early indications are that Ben Simmons is happy with the trade to Brooklyn. According to a tweet from Brandon "Scoop B" Robinson of Bally Sports, Simmons will join the team in Miami on Feb. 11.
The 25-year-old last played on June 20, when the Atlanta Hawks bounced the 76ers from the playoffs in the second round. Simmons received the lion's share of the blame for that loss, which triggered his desire to leave the organization.
The Australian was the first overall pick in the 2016 NBA Draft by Philadelphia and missed his first season with a broken foot. When he made his delayed debut, he made an immediate impact. He won Rookie of the Year honors in 2017–18, and the 76ers made the playoffs for the first time since 2012.
Since then, Simmons has been a three-time All-Star, a two-time All-Defensive selection, and was named All-NBA in 2019–20.
But he's got holes in his game. Those deficiencies came to a head during last year's playoffs. He was reluctant to shoot and avoided drawing contact before his free throw shooting touch — never a strength — abandoned him entirely.
He shot 34.2% from the line in 12 postseason games, including a dismal 15-of-45 (33.3%) against Atlanta.
And, like James Harden, he forced his way into a trade while on a max contract. Simmons signed a five-year, $177.2 million extension in 2019. He has three seasons and $113.7 million remaining on that deal.
He should fit with the Nets as a secondary ballhandler/playmaker with Kyrie Irving (or as the primary man in that role when Irving can't play). Brooklyn has a robust player development system, and if any organization can repair a broken jump shot, the Nets are it.
If nothing else, it's a less-expensive gamble than Harden.
Looking at the Nets with Ben Simmons and the other new arrivals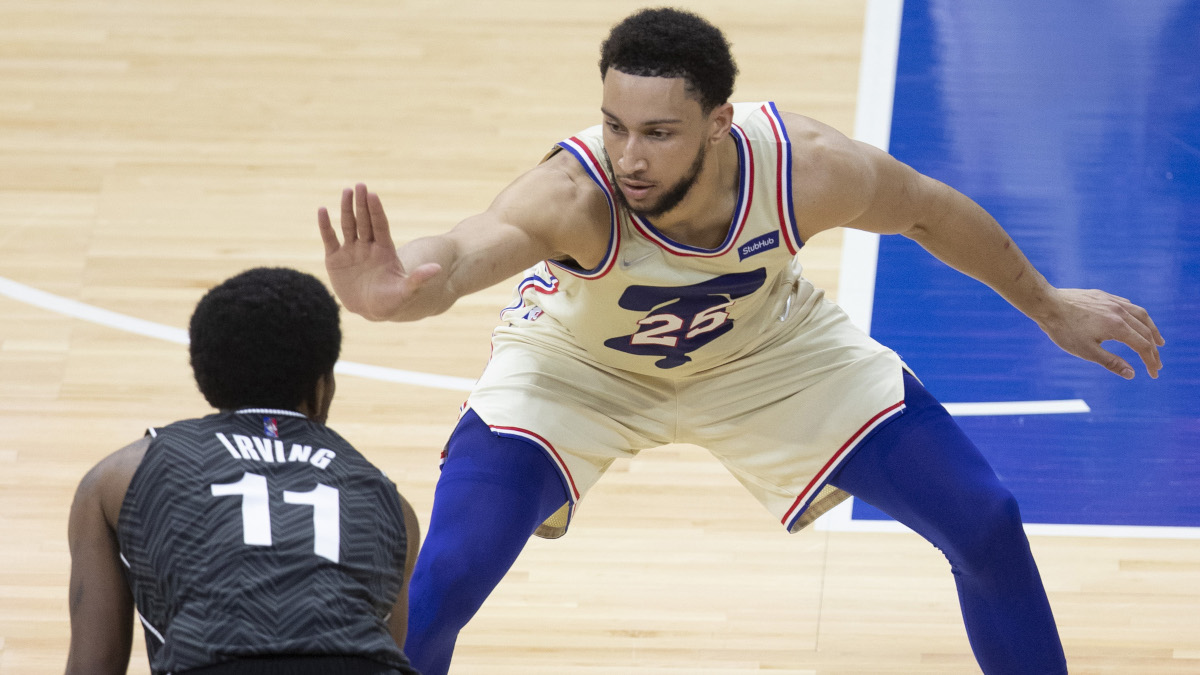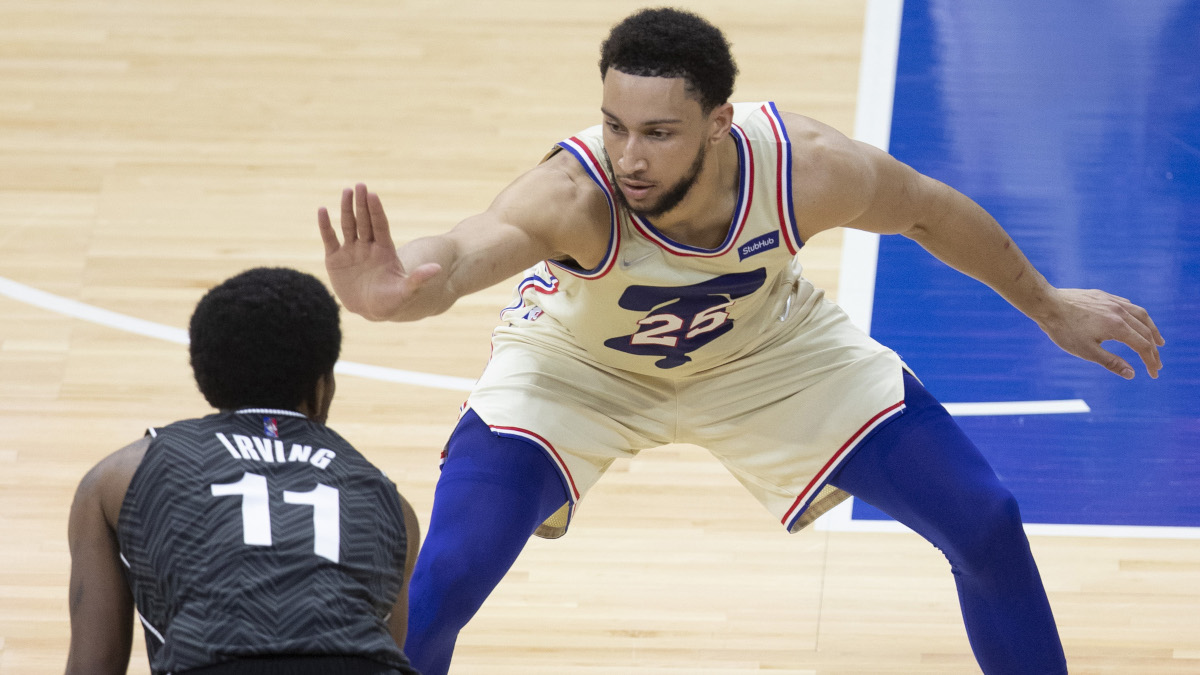 The trade sending James Harden to the 76ers for Ben Simmons included five players and two draft picks.
Going to Philadelphia:
Coming to Brooklyn:
Ben Simmons
Seth Curry
Andre Drummond
76ers 2022 first-round pick (Nets can defer until 2023)
76ers 2027 first-round pick (top-eight protected through 2028, becomes two second-round picks and $2 million in 2029)
Millsap hadn't played since Jan. 13, and the team had agreed to find a trade. Brooklyn also waived DeAndre' Bembry to clear a roster spot for the three players coming from the 76ers.
Simmons' ultimate role for the Nets will be as a switchable defender who can screen and flare into open spaces on offense. His playmaking is also a plus.
Curry gives Brooklyn a desperately needed shot in the arm as a shooter. Joe Harris hasn't played since Nov. 14, and the Nets' offense has missed his movement and spacing, which Curry can replicate.
Drummond is a big body for the second unit. More importantly, he is a force on both backboards. The Nets are 29th in the NBA in defensive rebounding percentage, so any help closing out stops on that end is welcome.
At first glance, the Nets won the trade. Philadelphia president of basketball operations Daryl Morey wanted first-round selections in return for Simmons. Instead, he sent two out in the deal to get Harden.
The gamble by Brooklyn general manager Sean Marks appears to be the right one. James Harden was leaving one way or the other. Ben Simmons is young and will have a lot of incentive to improve his game for an opportunity to show the 76ers what they surrendered. It falls on the player development coaches to make those improvements a reality.
Statistics courtesy of Basketball Reference and NBA.com. Contract information courtesy of Spotrac.