The Browns Have the Worst Backup Plan If Things With Baker Mayfield Go South
The Cleveland Browns have been known for losing for the past two decades. However, going into last year, fans were excited because they thought the team finally had the talent to make a run. The Browns had an extremely disappointing season in 2019, though, as quarterback Baker Mayfield struggled through most of it. If Mayfield continues to struggle in 2020, the Browns have a backup plan but it is not a good one.
The Cleveland Browns have been perennial losers
Since 1995, the Cleveland Browns have only made the playoffs one time. Additionally, they have not made the playoffs since 2002 and have only had one winning season since then.
A reason the Browns have struggled so much through the years is their lack of stability. The team seems to have a new head coach and a new quarterback every season. Since their last playoff win in 2002, the Browns have had 10 different head coaches. This includes Gregg Williams and Terry Robiskie who were just interim head coaches.
Additionally, the team has had 30 different starting quarterbacks since 1999 as they have not been able to find solid QB play. The 30 quarterbacks are as follows: Tim Couch, Ty Detmer, Doug Pederson, Spergon Wynn, Kelly Holcomb, Jeff Garcia, Luke McCown, Trent Dilfer, Charlie Frye, Derek Anderson, Brady Quinn, Ken Dorsey, Bruce Gradkowski, Colt McCoy, Jake Delhomme, Seneca Wallace, Brandon Weeden, Thad Lewis, Jason Campbell, Brian Hoyer, Johnny Manziel, Connor Shaw, Josh McCown, Austin Davis, Cody Kessler, Robert Griffin III, DeShone Kizer, Kevin Hogan, Tyrod Taylor, and Baker Mayfield.
In 2018, the Browns then drafted former Heisman Trophy winner Baker Mayfield with the No. 1 overall pick in the NFL draft. Fans and the organization hoped Mayfield could be their savior.
Baker Mayfield shined in his rookie season but struggled in his second year
Tyrod Taylor started three games for the Browns during the 2018 season. However, Mayfield came in and started the last 13. After Cleveland went 0-16 during the 2017 season, Mayfield helped lead the Browns to a 7-8-1 record in 2018. He played pretty well too, throwing for 3,725 yards, 27 touchdowns, and 14 interceptions in those 13 starts.
Then going into 2019, the Browns made a bunch of big offseason moves. This includes trading for Pro Bowl wide receiver Odell Beckham Jr. The moves led to fans and even experts expecting them to have a big season.
It ended up being much of the same, though.
Cleveland went 6-10 in 2019 and Mayfield struggled. He threw for 3,827 yards in 16 games to go with 22 touchdowns and 21 interceptions. He had trouble getting the ball to Beckham too. Beckham only caught 74 passes for 1,035 yards and four touchdowns in 16 games. He had more catches, yards, and touchdowns in only 12 games in 2018 with the New York Giants.
Cleveland's awful backup plan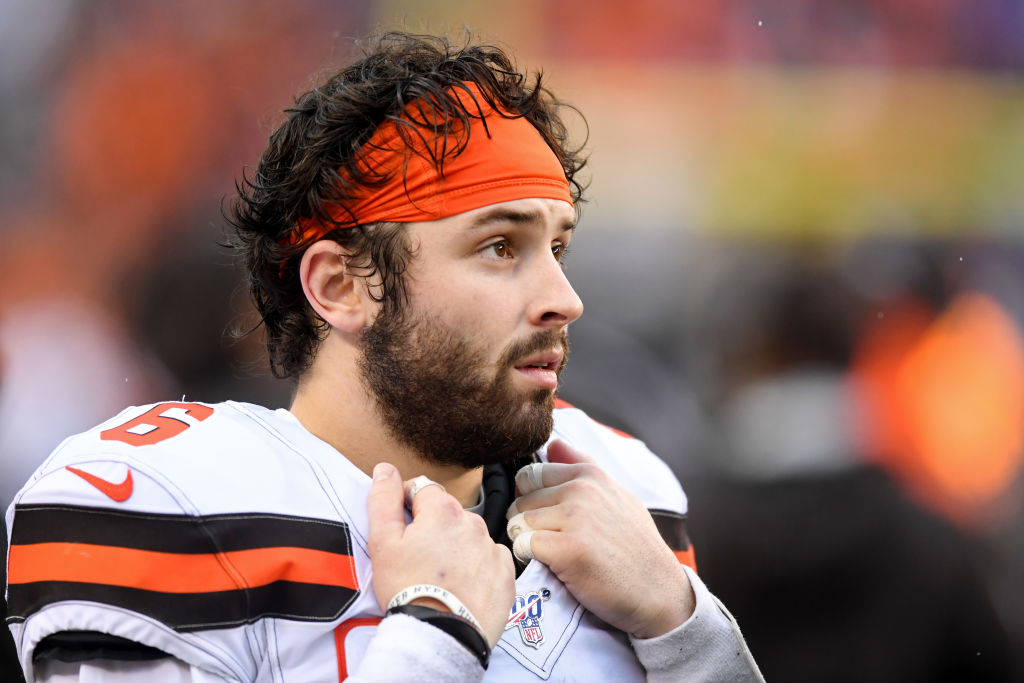 Just last week, the Browns signed 32-year-old quarterback Case Keenum to backup Mayfield. First-year head coach – yes, this is their 11th head coach since 2002 –  Kevin Stefanski made it clear that Keenum is the backup, though. He said that Keenum, "understands as a backup how it's your job to support the starter and be ready to play in a moment's notice," according to ClevelandBrowns.com.
However, former Browns quarterback Jake Delhomme, who also went to a Pro Bowl with the Carolina Panthers, thinks Mayfield could eventually be benched.
"Don't be surprised if you see Case Keenum come November if Baker struggles," Delhomme said on The Zach Gelb Show on CBS Sports Radio, according to Cleveland.com. "I don't think they'll be afraid in the least bit to put in Case. Baker wasn't drafted by this regime that has taken over. If he plays well, great, I'm happy for him. But if he struggles, don't be (surprised if Keenum) takes over." 

Jake Delhomme
Having Keenum as your backup plan is an awful idea. He is a game-manager at best. He won't take this team to the playoffs. Keenum went 1-7 as a starter with the Washington Redskins last season. He threw for 1,707 yards, 11 touchdowns, and five interceptions. In 2018 with the Denver Broncos, he went 6-10 as a starter. Keenum ultimately threw for 3,890 yards, 18 touchdowns, and 15 interceptions that season. He did have a decent year with the Minnesota Vikings in 2017. However, he pretty much just took advantage of having a good team around him. He might have even held them back a bit.
Overall in his career, Keenum's record is 27-35 as a starter. His touchdown-to-interception ratio in his career is only 75-47. That is not the greatest.
Hopefully, Baker Mayfield plays well for the Browns in 2020. If he does, then they have a good chance to go on a playoff run. If they bench him and start their 31st QB since 1999 in Keenum, though, Cleveland fans will just see more of the same – a lot of Ls.