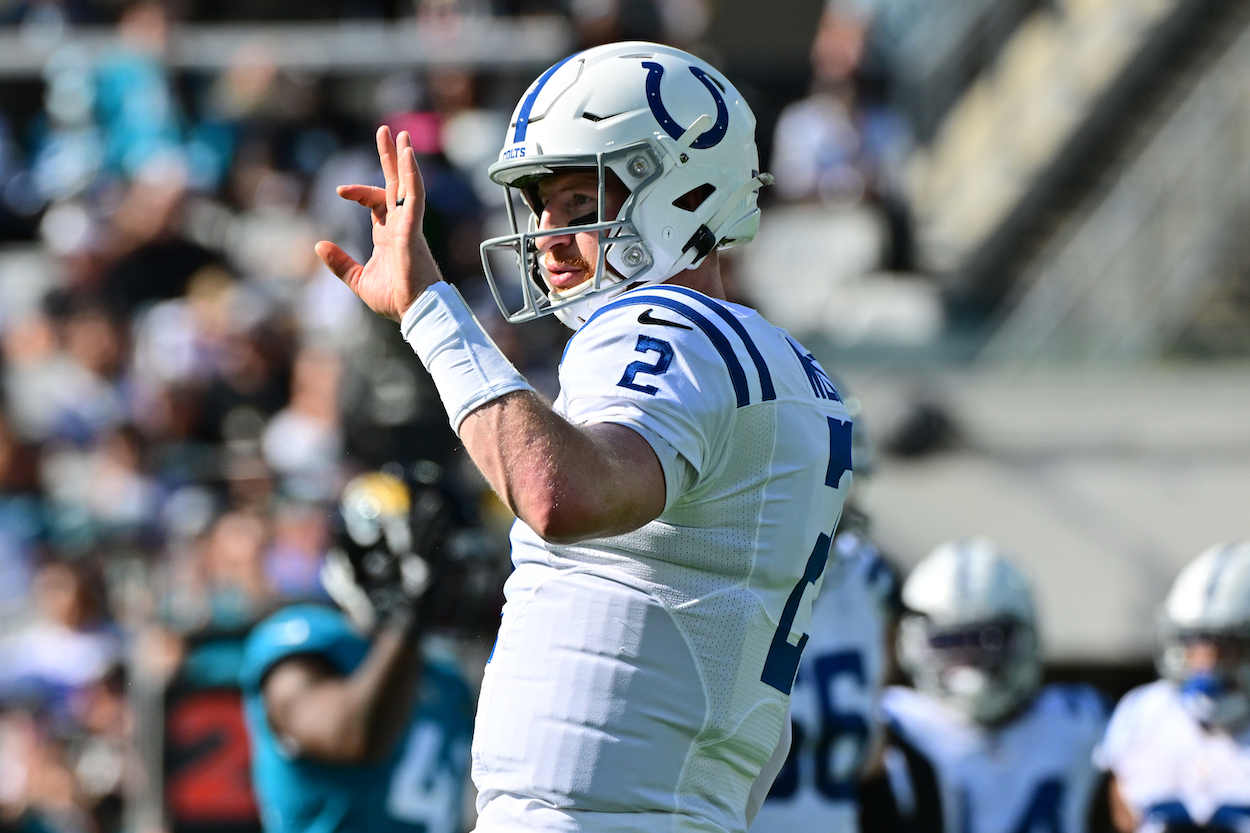 The Buccaneers Are Favorites to Make a Desperate Run at Colts QB Carson Wentz
The Tampa Bay Buccaneers are the current betting favorites to acquire Indianapolis Colts quarterback Carson Wentz.
It's finally official. Tom Brady retired, leaving the Tampa Bay Buccaneers in a cloud of uncertainty regarding their quarterback position.
Tampa Bay could turn things over to 2021 second-round pick Kyle Trask and embrace the rebuild. It could make a surprise run at another all-time great like Aaron Rodgers. Or, it could target a different type of player altogether, someone who would likely come at a far lower price.
Thus enters Indianapolis Colts starter Carson Wentz.
The Colts are considering trading Carson Wentz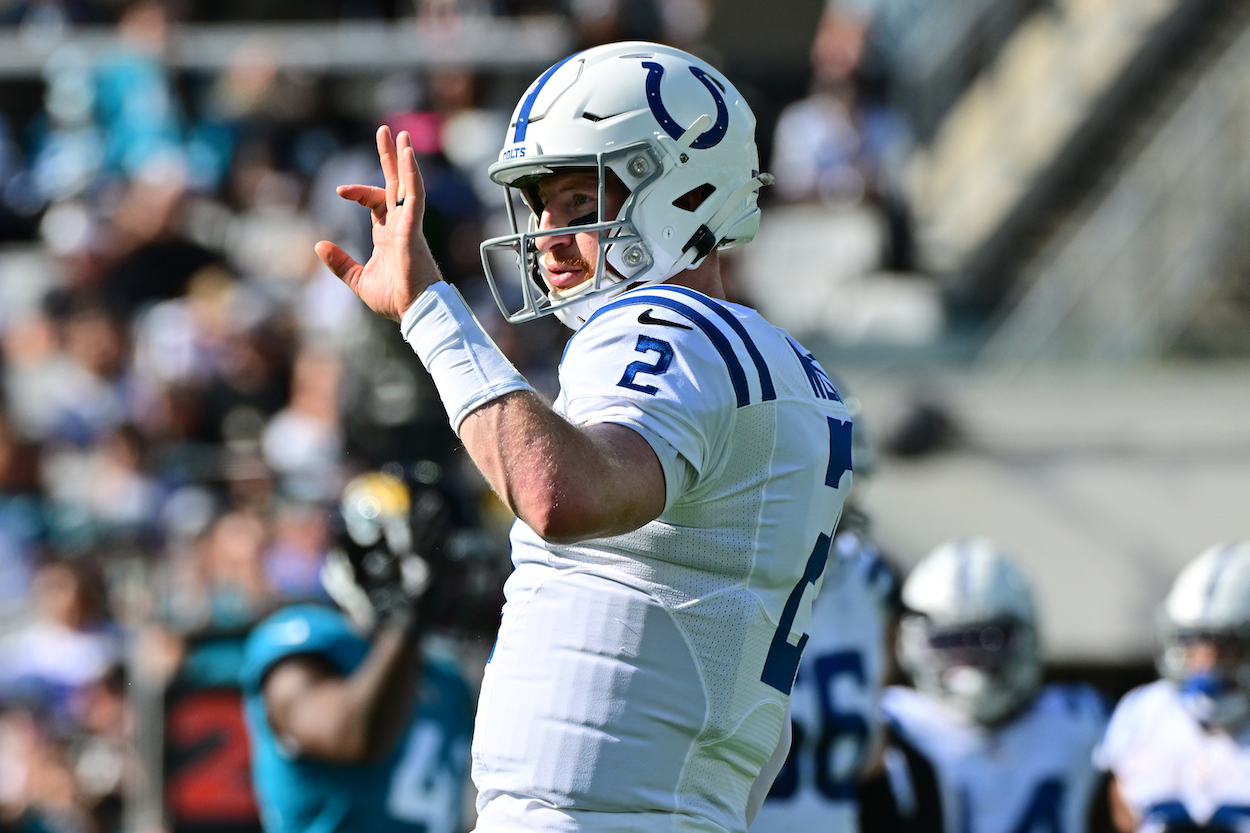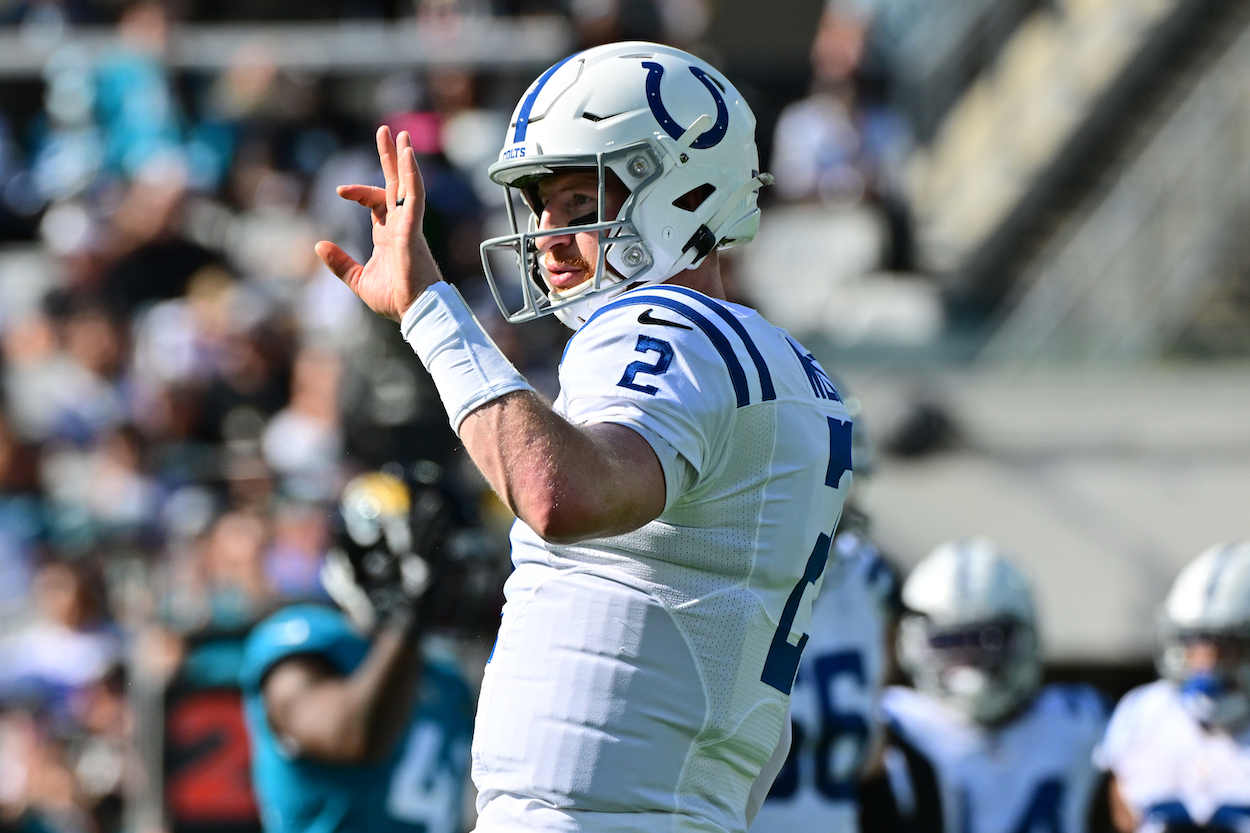 Wentz is coming off a strange season. On the one hand, he finished with a final stat line comparable to most franchise quarterbacks around the NFL. He passed for 3,500-plus yards, 27 touchdowns, and only threw seven interceptions. It was a very similar season to Wentz's 2018 and 2019 with the Philadelphia Eagles.
Wentz couldn't return to his 2017 MVP form with the Colts. However, it was a significant bounce-back season compared to his disastrous 2020 campaign.
However, despite his impressive statistical performance, Wentz struggled down the stretch with Indianapolis. He led the Colts to back-to-back losses at the end of the season, including a gut-wrenching collapse at the hands of the Jacksonville Jaguars.
This puts Wentz and the Colts in an awkward position. Colts general manager Chris Ballard wasn't shy about his frustration with Wentz during his end-of-year press conference, and owner Jim Irsay is putting more pressure on the team to contend for a championship.
This has led many to speculate another Wentz trade could be on the horizon. The Buccaneers need a new starting quarterback post-Brady, which puts them in the mix for someone like Wentz by default.
Carson Wentz is the current betting favorite to be the Buccaneers QB1
According to SportsBetting.ag, Wentz is the outright favorite to land in Tampa Bay.
ESPN's Bill Barnwell also highlighted Wentz as a likely Buccaneers trade target due to Bruce Arians' reported affection toward the former North Dakota State gunslinger.
Barnwell mentions the Buccaneers would have to get creative with their cap space to fit Wentz into the roster. However, it's hard to ignore all the smoke surrounding the situation. Clearly, people in the know think Wentz-to-Tampa is a real possibility.
Potential trade candidates for the Bucs

Carson Wentz, Colts: If you want to know how Arians feels about Wentz, consider who the then-Cardinals coach compared him to in 2017. Arians admitted that he loved Wentz coming out of school and grouped him with Luck and Roethlisberger, Arians' two best pupils. Given Wentz's size (6-foot-5) and almost fatalistic desire to extend plays within the pocket, Arians would likely love to work with Wentz if Brady retires.

Bill Barnwell, ESPN
The move makes sense for the Buccaneers
There's an argument to be made that the Bucs should see what they have in the before-mentioned Trask prior to making another blockbuster move at quarterback. However, it's also essential to acknowledge the Buccaneers have an excellent roster. The time to compete and push for another Super Bowl is now.
Wentz is (obviously) not as good as Tom Brady. However, he does offer Arians the chance to work with another big-armed gunslinger who can push the ball downfield. The Buccaneers have a good offensive line and an elite WR under contract in Mike Evans.
Evans would easily be the best WR Wentz has played with during his NFL career, for whatever that's worth.
It'd be a risky move for Arians and the Bucs. However, it also has the chance to pay significant dividends if Wentz can slightly improve off his 2021 season with Indy.
All stats courtesy of Pro Football Reference.